Chris Rock is an American stand-up comedian, actor, screenwriter, film producer, and director. Rock worked at fast food restaurants before beginning his comedy career at New York City's famous comedy club, Catch a Rising Star – the same club responsible for producing the likes of Jerry Seinfeld, Robin Williams, Ellen DeGeneres, and more.
In no time, Rock became a fixture in the club's circuit and subsequently began landing TV roles. Saturday Night Live gave him his much needed big break in 1990 and since then Rock's career has been on the rise. 1996 was also an exceptional year, as his sophomore HBO special titled "Bring The Pain" earned him much critical acclaim and two Emmy Awards. From performing at sold-out venues to hosting numerous MTV Video Music Awards, BET Awards and Acadamy Awards, and landing major acting gigs, Rock has come a long way.
The multiple Emmy winner has also won a Grammy Award for Best Spoken Comedy Album. This article aims to explore the details of Chris Rock's successful career and his personal life.
Chris Rock Net Worth is $100 Million
Chris Rock has been able to amass a whopping fortune of $100 million. You know a celebrity has done well for himself financially when he get mentioned by Forbes. About 9 years after his major break on the stage of SNL, Rock in 2009, made his first ever debut on Forbes Celebrity 100 list which ranks the top 100 highest earning entertainers in the world.
Read Also: Daniel Tosh Wife, Married, Gay, Girlfriend, Net Worth, Wiki, Height
Forbes estimated Rock's earnings within 12 months at $42 million. The major contributors to that large paycheck included his 2008 HBO special Kill The Messenger, which saw him being named America's funniest man, his No Apologies tour, and salary from 4 films and that one TV show, "Everybody Hates Chris" which became the most watched TV show on the UPN network and later went to syndication.
Since then, the next time Rock appeared on Forbes 100 list was in 2017 with a mammoth paycheck of $57 MILLION. However, it wasn't like Rock wasn't earning from his gigs, they were not just lucrative enough to get his numbers to meet Forbe's cut off.
His 2017 return to the much-coveted list was thanks to his mega deal with Netflix. Rock penned a record-breaking deal with the streaming service to perform two comedy specials worth $20 million each, bringing the total deal to $40 million, per Forbes.
The deal sees Rock return to stand up since his 2008's Kill The Messenger. Netflix is fast becoming a most-preferred destination for comedians and why wouldn't it, Netflix is fast proving to become far more lucrative than touring which has hitherto been the biggest money maker for comedians. Apart from Chris, other comedians to land high 8-figure deals include Dave Chappelle, Jerry Seinfeld, and Ellen DeGeneres.
Read Also: Sal Vulcano Gay, Married, Wife, Sister, Net Worth, Bio, Wiki
But don't get it twisted, Rock still hits the road and when he does, he earns quite an amount per stop, an estimated half a million. It must be good to be Chris Rock.
Chris Rock Wife, Divorce, Family
Chris Rock married businesswoman and actress Malaak Compton in 1996. Unfortunately, nearly two decades after marriage and having two daughters (Lola Simone, born 2002 and Zahra Savannah, born 2004) together, Rock filed for a divorce from Malaak in December 2014 citing irreconcilable differences.
A Howard University alum, Malaak Compton is the founder of StyleWorks, a non-profit full-service salon aimed at providing free services for women abandoning welfare to enter the workforce. She once worked as a public relations executive who booked celebrities for Unicef. Maalak Compton is said to have a net worth of $20 Million.
Read Also: Adam Sandler's Wife, Kids, Family And House
She met Rock at the Essence Festival in 1996 and got married shortly after. The couple lived happily with their two daughters in Alpine, New Jersey, counting the likes of Sean "Diddy" Combs, and Mary J. Blige as neighbors.
The subsequent events after Rock announced his split from Mallak was nasty, to say the least. It took the ex-couple two years before a settlement was reached in August 2016.
Though a prenup was in place upon their marriage, Malaak vetoed it, with claims that it had expired due to the sunset clause. She requested for a large chunk of Rock' s net worth, claiming that she had to give up her career in public relations in order to focus on the family. Court documents revealed that the couple had agreed to a 50-50 custody of their kids. However, the major problem lied in the splitting of the high 8-figure bank account.
Read Also: Ellen DeGeneres Height, Weight And Body Measurements
At the early stages of their divorce, there were rumors that Rock had cheated on Maalak with his Top Five co-star Rosario Dawson. As expected, Chris denied the allegations. However, in May 2017, almost a year after their divorce was finalized, Chris Rock gave an exclusive candid interview with Rolling Stones where he admitted to cheating on Malaak with three different women, one of whom he said was famous and the other semi-famous.
Rock explained to RS that he thought he could get away with his acts as he was the rich one and breadwinner of the family. He then criticized his actions saying they were wrong and that he blames himself for the divorce.
Rock and Malaak reached a settlement in August 2016. However, the details of the settlement were concealed from the public. Judging from the fact that Rock has referred to his 2017 comedy tour as "alimony tour" since "he's got to make some money," we speculate the pay is quite huge.
Read Also: James Corden's Height, Weight And Body Measurements
However, if he keeps being funny about it like he is, paying Malaak off would be the least of his problems.
Chris Rock Girlfriend
Beginning in early 2016, Rock began dating actress Megalyn Echikunwoke. Born on May 28, 1983, in Spokane, Washington, she is 18 years younger than Chris Rock. Megalyn is half Igbo-Nigerian and half half-Navajo Indian. Beginning her career in 1998, she has quite an impressive filmography. However, she is known for her roles in TV shows like Arrows, CSI: Miami, and The 4400.
Speaking of her in his May 2017 interview with Rolling Stones, Chris said "I'm dating a girl now. She's got her own dough, it's amazing." The last part of his statement was perceived as a shade to his ex-wife Malaak.
Read Also: Details About Kevin Hart's Family – Parents And Brother
Well, no matter how cute and loved-up Chris and Megalyn may appear in public, it appears marriage may not be an option for them. Why? When RS asked Rock if he'd ever get married again, he replied; "Not if it would cure AIDS."
Chris Rock Brother
Chris Rock has 7 brothers and two sisters. Three of his brothers namely Tony, Kenny and Jordan are all involved in the entertainment industry. Rock had an older half brother Charles, who died in 2006 following a battle with alcoholism.
Out of Rock's three brothers involved in show biz, Tony Rock is the most popular. Tony was born on June 30, 1974, in Brooklyn, New York City, New York. He first gained recognition performing stand up in New York.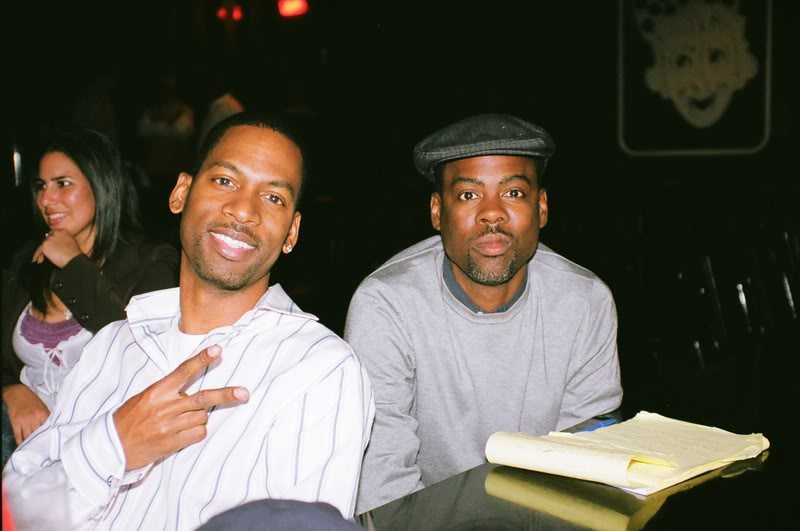 Beginning from 2000, Tony hosted a game show entitled Can You Tell? for Oprah Winfrey's Oh! Oxygen Network. He then became a correspondent for the 5th season of Comedy Central's BattleBots. Tony has worked with his brother Chris. He played the recurring role of uncle Ryan in Chris's UPN hit show Everybody Hates Chris.
Read Also: Jimmy Fallon Height, Weight and Body Measurements
He ran his own sketch comedy show entitled The Tony Rock Project. It aired on  MyNetworkTV, listing a year from 2008 to 2009. In recent times, he hosts the Apollo Live for BET. Tony's movie credits include Think Like A Man. His endeavors have brought him a net worth estimated at $5 million.
Chris Rock Wiki
Chris Rock was born on 7th February 1965 in Andrews South Carolina but grew up in Brooklyn, where his parents would later relocate. Rock's father, Christopher Julius Rock II, was a truck driver and newspaper deliveryman who died in 1988 after ulcer surgery.
His mother Rosalie Rock (née Tingman), was a teacher and social worker. She worked for the mentally handicapped. Rock was a victim of bullying during his high school days at James Madison High School, a white-dominated school. The bullying got so bad that his parents had to remove him from the school. Rock earned his GED later.
Read Also: Ben Stiller's Height, Weight And Body Measurements
His experience as a bully victim would become the inspiration for "Everybody Hates Chris." Rock has mentioned that his comedy style was influenced by his paternal grandfather, Allen Rock who was a preacher.
In addition to his many acting roles, Rock has also been successful as a voice actor voicing a character in the successful film "Madagascar" (2005 – 2012).
Chris Rock Height: ‎178 cm (5 Ft 10 inches)