Ever heard of Christopher Pierre Janson who goes by the stage name Chris Janson? He is an American singer who deals in the country music genre. The singer cum songwriter has released two full albums in his career namely – Buy Me a Boat and Everybody. The former made it to top 5 on the Country Airplay charts and Hot Country Songs and in late 2015, the song hit no 1 on the country music charts published by Mediabase.
The veteran country music singer is described as always being his completely awesome self on stage. He is compared to a wild horse that cannot be tamed. He brings in the ingredient that seems to be lacking in country music today and it is believed that the singer and songwriter Chris Janson is the future of country music with his scintillating and unpredictable performance.
Chris Janson's Bio (Age)
Christopher Pierre Janson known by the stage name Chris Janson was born on the 2nd day of April 1986 in Perryville, Missouri to mother – Carrie Lee (Bowling) Janson and father – Pierre Janson. Chris is renowned for country music and has played harmonica in the past for Lee Brice as well as written singles for Tim McGraw. He has two full-length albums to his credit recorded under Warner Bros. Records Nashville. He also released an extended play each for, Warner Bros. Columbia Records and Bigger Picture Music Group
Net Worth
Although the singer cannot be classified among the crème de la crème of the entertainment industry, his net worth is not insignificant. It is estimated to be below $1 million, and even though there has been no concrete source for determining where it stands currently, some sources peg it at $600,000 while some others will estimate it at $800,000. Whatever it may, we are expectant to hear some news on the appreciation of the singer's net worth in the nearest future.
Family – Wife, Kids
Chris Janson is married to Kelly Lynn, another singer and vocalist who is into Classical and Christian pop, the couple was joined in matrimony on the 4th day of July 2010. According to Chris, he knew immediately he saw Kelly that she was going to be his significant other. In an interview with The Boot, the singer and songwriter said that he saw his wife nine years before their marriage and called it right off the bat, he said to himself that he was gonna marry her and did so a few years later when the opportunity presented itself.
The celebrity couple has four kids with the two older ones from Kelly's past marriage who Chris refers to as his bonus kids. He couldn't hold down his joy on the birth of his first biological kid who he said has really changed his world for the better. According to him, taking on two wonderful stepchildren upon his marriage to Kelly was awesome and when he had his first blood, a sweet little baby girl, he was really thankful to God for his blessings in so many ways including the birth of his second child, a baby boy named Jesse Bo in 2014. The veteran singer believes that kids are truly gifts from God and he loves being a father to them.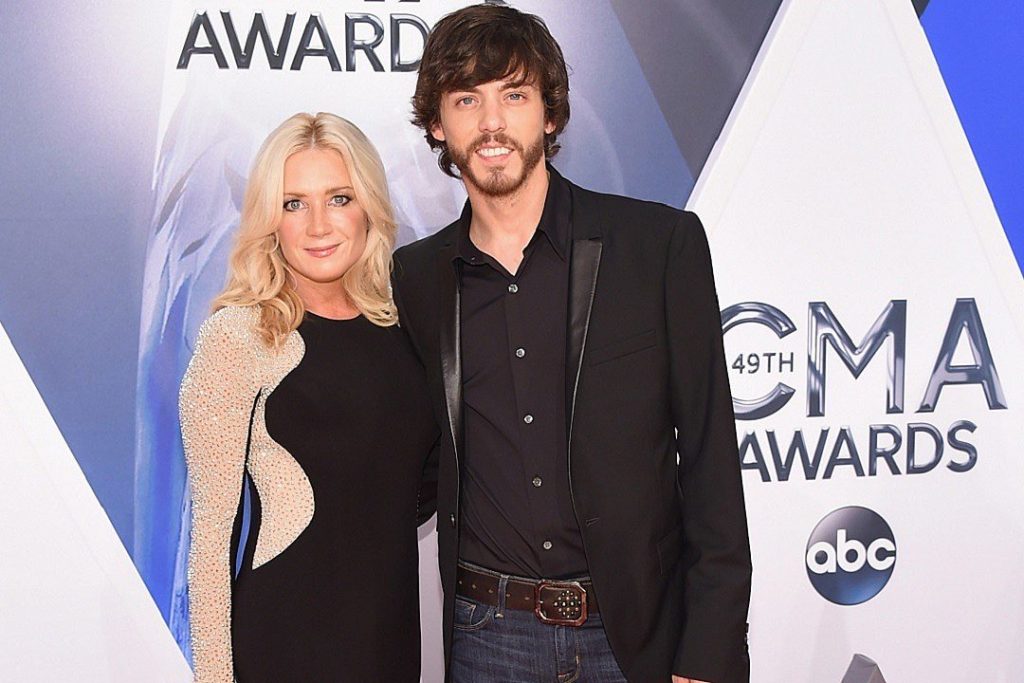 The couple has been living in the proverbial storybook happily ever after and celebrated their seventh wedding anniversary in July 2017. Kelly on her own part has been a supportive and understanding wife and the love between them can only be described as abundant and endless. She compromises her own dreams in other to encourage her husband to follow his. Due to the low budget which the couple had in 2015, Chris Janson found it almost impossible to release his album titled Buy Me a Boat. At the end of the day, he was ready to give up, but being the smart woman she is, Kelly did not allow that particular dream to go down the drain.
Instead of contracting a professional photographer, she opted to take the promotional pictures with her mobile phone just to save cost and to their greatest surprise, the album later became a commercial hit. Kelly was also supportive and understanding when her husband had a problem with alcohol, she aided him as he got over the addiction.
Chris Janson on his own part is said to be a caring and loving husband who loves to constantly surprise his wife with many beautiful things especially flowers. The singer cum songwriter also has his wife's name tattooed on his chest as a sign of his everlasting love for her and as a result, their marriage has only ever been filled with several blissful moments as they keep uploading happy photos as evidence on the social media. Kelly recently posted their holiday picture on her Instagram, it seemed the couple traveled to Hawaii and were having a swell time with Kelly brandishing a cute brown hat and Chris with a cap. The big and happy smile on their faces is a testament to how much fun and good times the couple have had.
Read Also: Who Is Dave Matthews' Wife? Kids, Sister, Family, And His Height
Other Facts
Chris Janson's Body Measurements
The singer stands at an enviable height of 6 feet and has a body weight of 73kg or 161 lbs to match. His hair is light brown in color while his eyes are blue.
Chris is active on social network channels including Instagram, Facebook, and Twitter. On Twitter, Chris has gathered over 97.9k followers, 101,340 on Facebook and more than 141k on his Instagram account.
Chris has had collaborations in the past with country singers like Holly Williams, Frankie Ballard, Tim McGraw, Lee Brice, Justin Moore, Craig Campbell and many others.