He needs no elaborate introduction before people would recognize him; Chris Cuomo as a journalist is a familiar face on television where he presents the Cuomo Prime Time – a regular weeknight CNN show. Before he began working with CNN, he was with ABC News as the co-anchor for ABC's 20/20 and the chief law and justice correspondent. Chris has had a very successful career in the media industry and here, we are going to look at other aspects of his life like his family, height, and everything else you should know.
Chris Cuomo Bio (Age)
On the 9th of August 1970, Chris was born as the youngest of his parents' 5 children in the New York City's borough of Queens. His full name is Christopher Charles Cuomo and he has as his mother, Matilda (Raffa) and father, late Mario Cuomo. His family is one that's very much involved in politics as his father and brother have both contested and won political offices. We will still come to that.
He studied at Albany Academy in Albany, New York, and later went to Yale University where he bagged his undergraduate degree. After this, he further studied at Fordham University for his Juris Doctor (J.D.) as an attorney.
Chris Cuomo later began his career as a journalist, making appearances in CNBC, MSNBC, and ANC in discussions pertaining to social and political issues. At the FOX News channel, he covered a wide range of issues of similar interest including bullying, homeless children, and heroin addiction.
He joined the Cable News Network (CNN) in February 2013 as the co-host of its morning show in addition to working as a field anchor and reporter of major breaking news around the country. He has also been a co-anchor of its New Day morning show. While working on the latter show, it was announced that Chris Cuomo would move to primetime to host Cuomo Primetime.
Over the years, he has proved himself to be one of the best presenters and reporters in the media industry and for this, his career has seen some notable recognitions and awards which include the Polk and Peabody Award for team coverage, the Edward R. Murrow Award for commendable breaking news coverage, the American Bar Association Silver Gavel Award for investigating juvenile justice as well as a Loeb Award for business reporting. Chris is also a multiple Emmy Award nominee and perhaps, at the right time, he will win an Emmy. He is one of the youngest recipients of a News Emmy for his expert presentation of the 12-year-old poet Mattie Stepanek in the Good Morning show.
The New Yorker is still very much active in the media industry living out his career, as the years continue to roll by, we expect to see his cap feathered the more as he reaches more career milestones.
He is reported to be earning as much as $2.5 million annually while his net worth is about $7 million.
See Also: Bonnie Lalich Bio And Everything You Need To Know About The TV Show Host
Family: Father, Wife, and Children
Chris Cuomo was born to the former Democratic Governor of New York, Mario Cuomo and had to move from Queens into the governor's mansion when he was 12. His father was the 52nd Governor of New York for three terms, from 1983 to 1994. From 1979 to 1982, he was the Lieutenant Governor of New York and prior to that, he was the Secretary of the State. This was from 1975 to 1978.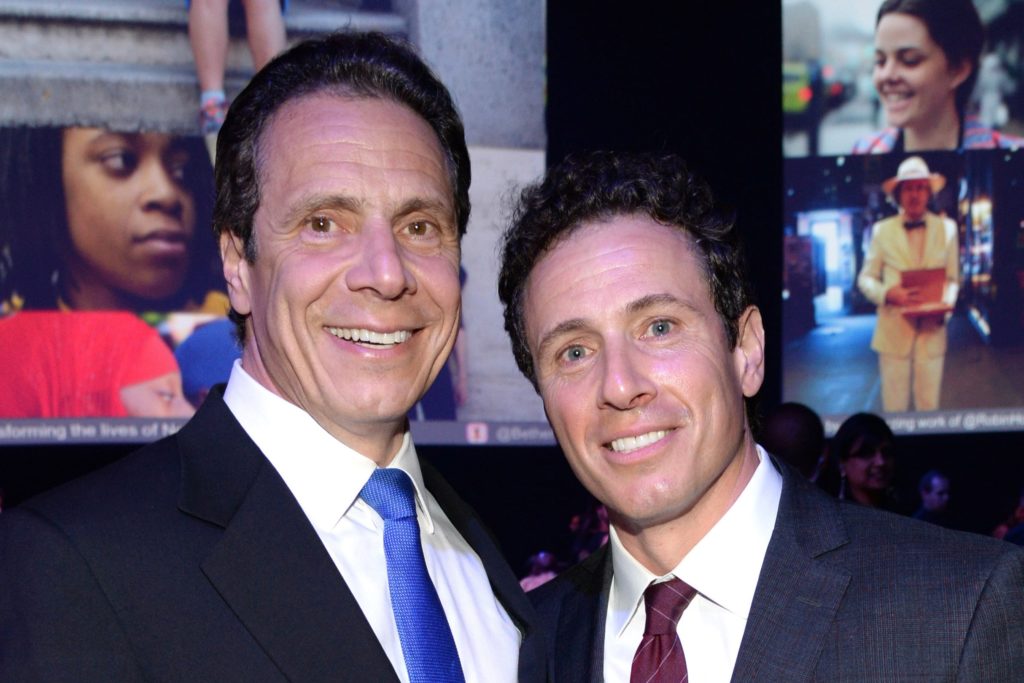 He has as a brother; the serving 56th Governor of New York Andrew Cuomo who is also a Democrat just like their father. He is a graduate of Fordham University and Albany Law School of Union University, New York.
Chris Cuomo took up family responsibilities as a married man when he went down the aisle with Gotham magazine editor, Cristina Greeven in 2001. Their wedding took place in Southampton, New York in a Roman Catholic ceremony. The couple shares three children together; a son named Mario and two daughters named Bella and Carolina Regina. They all reside in their Manhattan family home.
Cuomo's marriage has been one void of controversies or even the slightest inkling of infidelity in it. He has succeeded in replicating the success of his media career in his family and we do hope that it will continue to be so for the attorney-turned television presenter and reporter.
Height and Weight
Chris Cuomo is without any doubt, a handsome young man. He stands at a height of 6 feet 2 inches which equates to 1.9 m. At this height, he weighs 93 kg (205 lb). He has brown hair and eyes.