Charles Bronson was an American TV star who rose to popularity for his unique movie acting preferences. He was famous for playing vigilante-like characters in films that have revenge undertones. He first came to limelight for a supporting role he played in the 1954 movie, Apache. His dexterity made way for him as he was selected for a major role that same year when he played Captain Jack, a murderous Modoc warrior, in Drum Beat.
He continued to advance his career from the late 1950s into the 1960s and beyond. By the early 1970s, Charles Bronson's movies were all over American screens. He got a lot of lead roles after his lead role in the detective series, Man with a Camera. The series ran from 1958 to 1960 and became one of the most viewed Charles Bronson movies in the 1960s.
Just when Americans thought they are getting absorbed into Charles Bronson's movies, he blew everyone away as one of the heroic gunfighters in the 1960 movie, The Magnificent Seven. Almost at the same time, he was featured in some episodes of General Electric Theater, a supporting role that landed him an Emmy nomination. He starred in various other movies between 1963 and 1973 like The Great Escape, 4 for Texas, The Dirty Dozen, Once Upon a Time in the West, Lola, Rider on the Rain and the 20-year-long series, Death Wish (1974 to 1994).
The Good and Bad of Charles Bronson's Works
1. Jubal (1956)
Jubal is an American CinemaScope Technicolor Drama Western film released in 1956. The movie was described as the Othello of the West. It was directed by the phenomenal Delmer Daves and starred great acts such as Glenn Ford, Ernest Borgnine, Rod Steiger, and Charles Bronson.
Jubal (played by Glenn Ford) found himself at the crossroads with Pinky (played by Rod Steiger). As the squabble rises, Jubal finds an ally in Reb (played by Charles Bronson). Everything goes crazy when Pinky succeeded in convincing Horgan (played by Ernest Borgnine) that Jubal was having an affair with his wife. When Horgan made a move to shoot Jubal, Reb was there to save Jubal's life.
This movie received a lot of positive ratings from critics. Little wonder it was able to rake in $1.8 million from Box Office revenue. It has been rated as the best Charles Bronson movie. Though opinions differ, a critic score of 100% can't go unnoticed.
2. Once Upon a Time in the West (1968)
Once Upon a Time in the West is an epic Spaghetti Western film written and directed by Sergio Leone. The list of stars includes Henry Fonda, Charles Bronson, Claudia Cardinale, and Jason Robards. Leone paired up with Sergio Donati to write the screenplay. This Charles Bronson movie was adapted from a story by Dario Argento, Bernardo Bertolucci, and Leone. Charles Bronson was not part of the original cast, he got the role when Clint Eastwood turned down the offer to play the protagonist in the movie.
When the movie was first released in European Cinemas, it was a box office hit. It had about 14.8 million admissions in France and another 13 million in Germany. This made Once Upon a Time in the West the 7th and 3rd most successful movie in France and Germany respectively. The story, however, wasn't the same in the United States. With Paramount Pictures editing the movie, it became a commercial flop in the U.S.
Regardless of the challenges this movie faced, it still got a 98% critique score. It also garnered a lot of accolades and was ranked by The Guardian as number one on itms "Top 10 movie westerns" list in 2014.
3. The Great Escape (1963)
The Great Escape is an American epic war movie featuring the likes of Steve McQueen, James Garner and Richard Attenborough in the lead roles. It also had James Donald, Charles Bronson, Donald Pleasence, James Coburn, and Hannes Messemer playing significant support roles. This Charles Bronson movie is an adaptation of a non-fiction book written by Paul Brickhill in 1950. The book was a narrative of how British Commonwealth prisoners of war escaped from the German POW camp Stalag Luft III in Sagan.
However, in addition to this real-life event, some fictional events came into the movie plot. For example, the movie included Americans among the people who escaped. This was intended to make the film have a commercial appeal, especially among American viewers. It was a box office success raking in over $11.7 million. This was a huge profit compared to its $3.8 million budget. The movie was selected in the 1963 NBR Top Ten Movies and was nominated for Best Motion Picture in the 1964 Golden Globe Awards. Though Charles Bronson never got an award for this movie, the likes of Steve McQueen won the Best Actor in the 1963 Moscow International Film Festival Awards.
4. The Dirty Dozen (1967)
The Dirty Dozen is an American war movie directed by Robert Aldrich and released by MGM with Lee Marvin as the lead cast. The Dirty Dozen also featured supporting cast like Ernest Borgnine, Charles Bronson, Jim Brown, John Cassavetes, Robert Ryan, Telly Savalas, Robert Webber, and Donald Sutherland. This Charles Bronson movie was an adaptation of a novel written by E. M. Nathanson of the same name.
Charles Bronson was well suited for this movie due to his involvement in World War II same as many of the other cast members including Lee Marvin. They served in various capacities and Force departments. The Dirty Dozen was a huge box office hit, it grossed a whopping $45.3 million with an added $24.2 million in domestic rentals in North America. Though it was criticized for its level of violence, it got a critic score of 91%.
5. The Magnificent Seven (1960)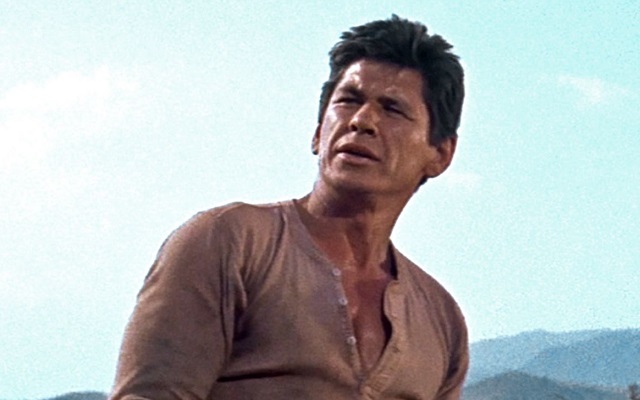 The Magnificent Seven is a remake of the 1954 Japanese movie, Seven Samurai, written and directed by Akira Kurosawa. The cast has an array of popular stars of the 1960s like Yul Brynner, Eli Wallach, Steve McQueen, Charles Bronson, Robert Vaughn, Brad Dexter, James Coburn, and Horst Buchholz. They made up a team of seven gunfighters whose job was to protect a small village in Mexico from some ferocious bandits.
The development of the movie was not without some squabbles. The idea for this remake was suggested by Yul Brynner to the producer, Walter Mirisch. After all green lights were secured for the remake, Brynner faced a court battle against Anthony Quinn who alleged that the movie was his collaborative effort with Brynner. However, the case was dismissed for lack of written evidence. In the end, the movie didn't do very well; it grossed only $2.25 million from box office on a budget of $2 million. However, the movie got a critic score of 88%.
6. Apache (1954)
Apache is an American western movie starring the phenomenal Burt Lancaster in the lead role. The movie was an adaption of the novel, Broncho Apache by Paul Wellman in 1936. It also featured other actors and actresses such as Jean Peters, John McIntire, Charles Bronson, John Dehner, Paul Guilfoyle, Ian MacDonald, Walter Sande, Morris Ankrum, and Monte Blue. During the shooting of the movie, Burt Lancaster had a severe injury, he tore a ligament while riding a horse in one of the scenes. Contrary to the anticipated set-back, Lancaster returned in record time.
Apache was a commercial success, grossing over $3 million in the first year and $6 million in all. This is a hit considering that the movie was made on a budget of $1.24 million. Although critics gave it a handsome 75% score, viewers have another opinion of the movie.; it only managed to get a 45% score from over 7,000 viewers. This was mostly because Lancaster wasn't used in his natural tough-guy role. Most viewers feel it's absurd seeing a white American play the role of a native American.
7. Death Wish (1974)
Death Wish is a 1974 adaptation of a 1972 novel of the same title written by Brian Garfield. The movie was directed by Michael Winner and stars Charles Bronson as Paul Kersey who was forced to leave his architectural practice to become a vigilante after his wife is murdered and his daughter sexually assaulted during an invasion in his home. The movie went on to have so many other installments such as Death Wish II (1982), Death Wish 3 (1985), Death Wish 4: The Crackdown (1987), and Death Wish V: The Face of Death (1994).
It came under heavy criticism for supporting vigilantism and advocating for unlimited punishment of criminals. Even though vigilantism was denounced in the novel, it was highly promoted in the movie. That notwithstanding, the movie was a commercial hit, grossing $22 million in box office revenue from a budget of $3.7 million.