Singer, author, entrepreneur, film, stage, and television actress; these are the various titles that come with the name Catherine Hickland. This multi-talented personality has been on television since 1978, making guest appearances on a few television series. This was until she got her breakthrough with a recurring role in the 1980s tv series Texas, which she starred in from 1980 to 1981.
She then beefed up her portfolio with movies like The Last Married Couple In America (1980), Witchery (1988), and Ghost Town (1988). For her stage performances, she played the character Fantine in a Broadway production of the French historical novel Les Misérables first published in 1862. She also participated as the character Lindsay Rappaport on One Life to Live, an American soap opera, from 1998 to 2012, making it her longest ever participation in a single tv series, or Broadway play.
In 2001, Catherine Hikckland added the prestigious role of CEO to her name. She launched her own cosmetics line, which she named Cat Cosmetics.
Catherine Hickland's Bio, and Age
The actress was born to Arthur and Mary Hickland, on February 11, 1956, in Faut Lauderdale, Florida. Catherine's mother, Mary, worked as a dental ceramist, while her father, Arthur was a dentist. She grew up with two siblings; a brother and a sister. Catherine did her high school education at Fort Lauderdale High School. Graduating in 1974, she moved on to study at Florida Atlantic University, however, her time there did not last. After two years, she left school in favor of employment as a flight attendant for then-National Airlines. Six months into her employment, she was involved in the shooting of a commercial for the airline. This was where she realized the potential she had for acting. This informed her decision to leave for Los Angeles to study acting.
After trying her hands out on acting by starring in a few daytime dramas, she finally started playing in the big leagues with her role in Texas. Here she played the role of Dr. Courtney Marshall from 1980 to 1981. Three years on, she was Julie Clegg McCandless on CBS's soap opera Capitol, a role she performed from 1984 to 1987. Somewhere in between, from 1985 to 1986, she also played a dual role in the series as a character known as Jenny Diamond.
From 1983 to 1986, she was Stephanie "Stevie" Mason in the NBC series, Knight Rider. However, these three years on the show saw her appear in just three episodes. This was probably partially a result of the fact that she was tied up by a host of other movie roles at the time. Catherine Hickland was also on the game show Body Language, for 15 episodes in 1985.
In 1987, she played the role of Brooke Logan in two episodes of The Bold and The Beautiful, filling in for Katherine Kelly Lang who was sick at the time. Coming into the 90s saw Catherine Hickland star in a number of movies and television series. She was Tess Wilder in Loving from 1993 to 1995, and The City from 1995 to 1997. She continued to make guest appearances in television series like CHiPs (1983), Law & Order (2001), and Law & Order: Criminal Intent (2005).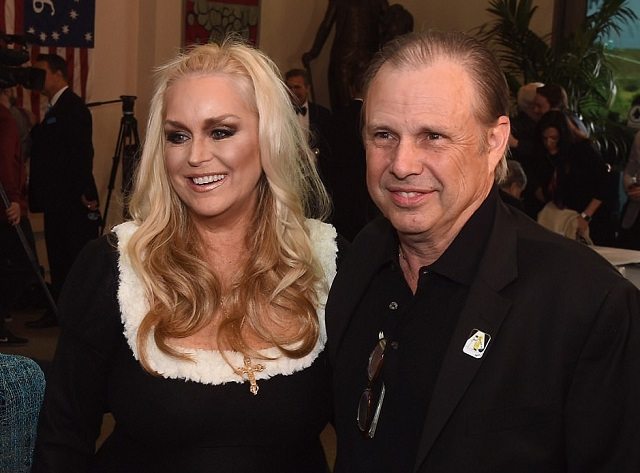 Catherine, who had already started singing in the 1980s, performed live in Lyon, France, with the National Symphony de Lyon in 1995. A few years later, in 2001, she released her first CD, Sincerely Broadway while working to launch her own business. She established Cat Cosmetics in 2001, where she fills the role of Chief Executive Officer. She also once contributed to Soap Opera Digest's cosmetics and skin care column.
Catherine Hickland's first work as an author was released in December 2008. It was titled: The 30 Day Heartbreak Cure – A Guide to Getting Over Him and Back Out There One Month From Today. She followed this up exactly six years later with her second: Cat & Fern's Excellent God Adventure: Daily Inspirations for 365 Days of Heaven On Earth, which she co-wrote with Lindsay Harrison and Fern Underwood. She added hypnotist to her portfolio since 2008 and has kept at it since then.
Her Spouse and Children
Hickland has been married more than once. Her first marriage has the makings of an enviable love story. She met her first husband, Richard Knowlton while they were both in high school. They fell in love and got married a few years later in either 1978 or 1981, according to different sources. However, their love story was short-lived as they divorced barely three months into the marriage.
She then married the famous singer and producer, David Hasselhoff on March 24, 1984. The marriage lasted for five years, ending on March 1, 1989. Catherine then moved on with actor Michael E. Knight on June 27, 1992. This was her longest marriage yet; the couple stayed in New York until they divorced in 2006.
See Also: Sherry Jackson (Actress) – Bio, Measurements, Where Is She Now?
Her fourth marriage was with another actor cum producer: Todd Fisher. The duo got married on Christmas day of 2012. They live in Las Vegas, California, where they also own a ranch. Whether it is due to a series of unfortunate circumstances or it is by design, none of Catherine's marriages have produced any children.
Net worth
The actress is not doing badly on the assets side of things. Over the years, she has made money from a few different things: main roles and guest appearances in movies and television series, and earnings from her cosmetic line. Some would even argue that she may have also made a killing from three divorce settlements, two of which were from high-profile personalities. Celebrity Net Worth places her net worth at $20 million.
Facts about Catherine Hickland
Catherine worked with David Hasselhoff on set and in the studio
While Catherine was engaged to the famous Hasselhoff, the lovebirds worked together on the television series Knight Rider. Her character was also engaged to Hasselhoff's character, Micheal Knight. For their music endeavors, Hickland did some singing on Hasselhoff's debut album Night Rocker. Hickland lent her vocals on the songs Our First Night Together, and Let it Be Me.
Hickland is a hypnotist
Yes, that is right. Hickland is a practicing hypnotist. For some reason, she decided to add this title to her already expansive portfolio, making it her most active title besides CEO since 2008.
Catherine is married into a famous family
Hickland's marriage to Todd Fisher in 2012, associated her with yet another famous face in the industry. However, it also earned her some famous relations. Todd Fisher is a brother to the famous actress, Carrie Fisher. The popular actress starred in popular tv series like Sex and the City, and Smallville. Her most memorable role came as Princess Leia in the Star Wars franchise. The actress died on December 27, 2016. Carrie Fisher's mother was even the more iconic actress Debbie Reynolds, who tragically died a day after Carrie, on December 28, 2016.