Carlos Santana's net worth is $120 million. The iconic Mexican-American guitarist and musician owes the bulk of his fortune to his music career which career spans over five decades and has seen Santana sell more than 100 million records and win many awards including eight Grammys in one night.
Asides from music, Carlos Santana is also an astute businessman and has utilized his fame to set up several businesses over the years. Amongst them is a shoe line, a chain of themed restaurants, a cannabis brand, and a coffee brand. Carlos Santana is not all about the money though as he ensures that a portion of his profits go to the philanthropic foundation that he co-founded with his ex-wife, Deborah King.
A Look at Carlos Santana's Net Worth and Sources of Income
Carlos Santana has a net worth of $120 million. Such a fortune makes him one of the wealthiest Latina artists in the world. Others that join his ranks and even outrank him are the likes of Shakira, J.LO, and Gloria Estefan. Just like his fellow megastars, Carlos Santana makes his money from his music, touring, as well as the several businesses that he owns.
Carlos Santana Has Sold Over 100 Million Records in the Course of his Iconic Career
Carlos Santana primarily makes his money from his music career which dates back to his teens. He was born into a struggling family in the Mexican town of Autlán de Navarro in 1947. His father was in a mariachi band and as such, music was never far away from the home. Carlos Santana learned to play the violin at the age of six and soon mastered the guitar at the age of 8. His family later relocated to California and he completed high school there.
Carlos later decided to eschew college in favor of music. He started busking and playing in any band that would have him. The lucky break for Carlos Santana came in 1966 when he was aged 19. He was asked to temporarily fill in for another musician at Filmore West a, popular rock and roll venue in San Francisco. He gave an exciting performance that pleased the ears of the audience and even more importantly, a producer named Bill Graham.
Santana went on to recruit other street musicians namely David Brown (bass guitar), Marcus Malone (percussion), and Gregg Rolie (lead vocals) and formed a band known as Santana Blues Band. The line-up would change as the years went by but the band later dropped their debut album, Santana, in 1969. It was a decent success and made it to No, 4 on the Billboard top 200 albums.
Since then, Carlos Santana has dropped numerous other albums and hit singles. One of them is 1999's Supernatural. The album spurned his evergreen singles such as Smooth and Mariah Mariah. It won eight Grammy awards in one night, including the coveted awards for song of the year, record of the year, and album of the year. To date, Carlos Santana has sold over 100 million records resulting in tens of millions of dollars in income.
He and His Band Have Toured all Over the Globe
Carlos Santana has also made good money from touring. Ever since he and his Santana band dropped their first album in 1969, they have regularly toured to promote their music. Some of their earliest tours was the Santana Tour of 1969 to 1970 which saw them play 172 shows across North America and Europe. From 1970 to 1971, they embarked on the Abraxas Tour which saw them play 61 shows in North America, Europe, and Africa.
Another major tour was the Borboletta Tour which spanned from 1974 to 1975. They played 121 shows in North America, Europe, and Asia. The band also embarked on a Supernatural Tour from 1999 to 2000. It was to support their superb album, Supernatural. It carried 177 tour dates. Carlos Santana's tour earnings are not known but in 2008, he grossed $15.6 million from 38 concerts that attracted nearly 390,000 concertgoers.
This indicates that he would make quadruple this amount for the 177-show tour. He and his band have embarked on multiple 170+ over the years and could have possibly earned more than $100 million from tour earnings.
There Are Several Businesses Contributing to Carlos Santana's Net Worth, Including a Shoe Line
Carlos Santana also makes money from the several businesses that he has set up over the years. One of them is a shoe brand known as Carlos by Carlos Santana. He initially launched the brand in 2001 and it featured a fine collection of women's footwear. It was a joint collaboration with the footwear company, Brown Shoe Co. (now Caleres). The brand sold well in departmental stores and retail chains in the U.S. and beyond.
They later experienced some difficulties along the way and shut down in 2019. Carlos Santana revived his shoe brand in 2022. They now carry men's footwear as well such as boots, mules, slippers, sneakers, etc. The brand also features different kinds of women's shoes such as casual shoes, dress shoes, boots, and fashion sneakers. They use leather from Brazil and Italy and retail from $100 to $250 online.
He and His Ex-Wife, Deborah King, Also Launched a Chain of Mexican Restaurants in 2007
Another lucrative business that Carlos Santana has made money from is his chain of restaurants. He and his ex-wife, Deborah King, launched the chain of upscale Mexican food restaurants in 2007. The restaurants were named after his hit track, Mariah Mariah, and took over the location of three pre-existing restaurants in Walnut Creek, Mill Valley, and Santa Rosa, all in northern California.
Carlos Santana partnered with a company known as Dudum Sports & Entertainment Corp to set up his restaurants. The restaurants specialized in regional Mexican food and honored Latin American culture and music. The restaurants thrived for some time but later shut down some of their locations. The Walnut Creek restaurant remains active though.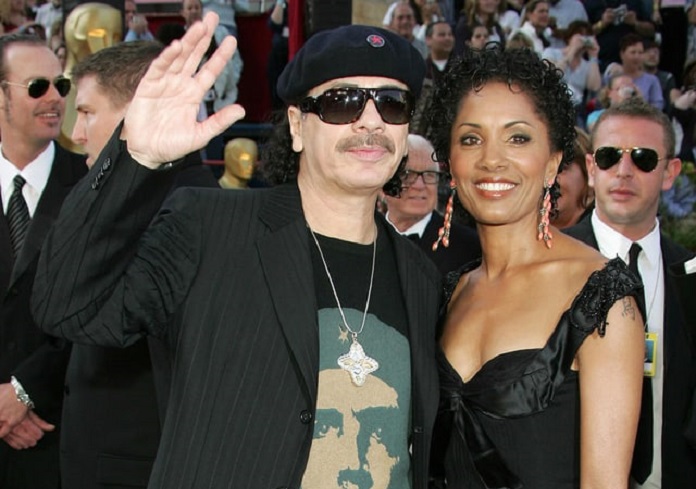 Carlos Santana Set Up his Cannabis Brand in 2020
Thanks to the wave of legalization that has swept through various countries, the cannabis business has become a lucrative one. It has attracted numerous celebrities and among them is Carlos Santana. In October 2020, Carlos Santana joined hands with a California-based company, North Coast Ventures, to launch his own cannabis brand known as Mirayo.
Mirayo is described as a premium brand and a sun-grown cannabis line that pays homage to the spiritual and ancient Latin heritage of the plant. Mirayo features pre-rolls and jars of whole in strains of Sativa, hybrid, and indica. It is sold at selected stores in southern California and beyond. Santana's earnings from his Cannabis brand are not known but it will be handsome given the lucrative nature of the business. The cannabis market in the U.S. was valued at $13.2 billion in 2022.
The Singer also Has a Coffee Company Known as the Carlos Santana Coffee Company
Carlos Santana also owns a coffee brand. The company started operations in December 2020 and boasts of hand-crafted, premium, fresh-roasted blends that are said to soothe one's soul. The brand has six quality blends ranging from light to medium and dark roast. The blends are all named after some of Carlos Santana's most famous songs.
Examples are Smooth Blend, Oye Como Va Blend, Evil Ways Blend, Essential Santana Blend, Power of Peace Fair-Trade Certified Blend, and the Global Consciousness Blend, etc. The coffee goes for $20 per 12-ounce bag and is available online. Just like with most of Santana's businesses, a portion of the profits from his coffee company goes to charity.
Carlos Santana Has Also Embarked on Lucrative Las Vegas Residences Over the Years.
One lucrative way for musicians to make money is Las Vegas residences. i.e. reaching an agreement with any of the casinos or hotels in Las Vegas to perform a series of shows at that venue over several months or even years. Las Vegas residencies provide a cool way for musicians to make money without the stress of touring and Carlos Santana has taken advantage of this. Since 2009 till date, he has embarked on multiple Las Vegas residences. This has seen him perform multiple shows at Hard Rock Hotel and Casino as well as House of Blues Las Vegas inside Mandalay Bay Resort and Casino.
The exact money that Carlos Santana grossed from his Las Vegas residencies is not clear but one thing that is for sure is that it will be handsome. For instance, someone like Celine Dion has earned upwards of $200 million for a single Las Vegas residency while the likes of Britney Spears, Elton John, and Jennifer Lopez have earned upwards of $100 million. Given such records, it is reasonable to assume that Carlos Santana will surely earn above $50 million from his own residency. '
The Mariah Mariah Crooner Has Also Licensed His Music For Use In Movies, Video Games, Etc.
Carlos Santana has licensed his music for use in films such as The Fast and the Furious (2001), How To Lose a Guy in 10 Days (2003), Anger Management (2003), Love Actually (2003), and Dirty Dancing: Havana Nights (2004). Santana has also licensed his music for use in the video game, Guitar Hero 5. Guitar enthusiasts can also use his songs to learn how to play the instrument on the video game, Rocksmith. The Grammy winner will receive royalties for this usage of his music.
He Also Offers Guitar Lessons on the Online Platform, Masterclass
Another way that Carlos Santana makes money is by offering guitar tutorials on the online education platform Masterclass. The iconic singer joined the platform in 2018 and offers classes to help his students become more expressive and authentic artists. He shares the influence on his music as well as how he made some of his most iconic songs. Interested students can sign up for $15 per month
Carlos Santana is not the only celebrity teaching Masterclass. Others are popular singer – Christina Aguilera, celebrity chef – Gordon Ramsay, legendary photographer – Annie Leibowitz, and actor – Samuel L. Jackson. It is believed that these celebrity tutors can earn $100,000 upfront with other bonuses as well. Asides from the money, they also get to retain creative control which is another major perk.
Carlos Santana has also been Featured in Ads for Companies such as Macy's Retail Stores
Carlos Santana has also made money from featuring in commercials for various companies over the years. Back in 2008, he joined hands with singer, Mariah Carey to shoot a commercial for Macy's Department Stores. The commercial highlighted the company's talented and well-known family of fashion and home designers.
The Grammy Winner Also Has an Official Merchandise Store
Another contributor to Carlos Santana's net worth is his earnings from merchandise sales. The Mariah Mariah crooner has an online merch store that is regularly patronized by his devoted fans. On offer include branded apparel such as women's and men's t-shirts, and hoodies.
Others are branded accessories such as bags and caps as well as branded musical instruments such as drums and guitars. These items go for tens of dollars each providing another lucrative source of income for Carlos Santana.
Carlos Santana Has An Enviable Real Estate Portfolio Comprising Exquisite Properties
Carlos Santana has also cashed in on the real estate market. The iconic singer owns multiple exquisite mansions in places such as Las Vegas and Hawaii. He has sold some of these properties off and made good money in the process. For instance, in March 2022, Carlos Santana sold off his four-bedroom located on the island of Kauai. The house featured an infinity-edge, in-ground pool, and spa, an outdoor bar and kitchen, and enviable views of the ocean and surrounding landscape. Santana bought it for around $4.7 million but sold it for $11.9 million making a profit of 7.2 million.
Also in August 2021, Carlos Santana sold off his three-bedroom, four-bath residence in Las Vegas. It featured a soaring ceiling, a linear fireplace, a wet bar, a pool, and covered dining and lounging spaces. The singer bought the house for $2.3 million in 2019 and sold it for $2.7 million meaning a slim profit margin of 400K.
Despite all the sell-offs, Carlos Santana still retains an impressive property portfolio. He has several properties in Las Vegas, where he makes his primary residence, as well as Hawaii.
The Grammy Winner is Also a Part Owner of the Casa Noble Tequila
Carlos Santana originally hails from a part of Mexico that is famed for tequila. It therefore, comes as no surprise that he has also tried his hands at the tequila business. In 2011, the singer bought a stake in the tequila brand, Casa Noble. The brand produced its spirit from organic blue agave grown in the hills of Jalisco, Mexico, and it came in four varieties namely Blanco Crystal Tequila, Reposado, Anejo, and Single Barrel bottlings.
Casa Noble consistently posted double-digit growth during the time that Santana had a stake in the company and the singer made good money. He also made even more money when the brand was acquired by Constellation Brands in 2014.
Sources of Carlos Santana's Net Worth at a Glance
Album sales
Tour earnings
Shoe brand
Restaurant chain
Cannabis brand
Coffee brand
Las Vegas Residencies
Music licensing for movies and video games
Online guitar tutorials on MasterClass
Appearances in TV commercials
Merchandise sales
Real estate sales
Casa Noble tequila brand