Carley Shimkus is an American journalist who currently works for FOX News Channel where she serves as a co-host on FOX & Friends First. She has been married to an American businessman named Peter Buchignani since 2015. 
Frequent watchers of Fox and Friends, the daily morning talk program on Fox News Channel, will definitely recognize the famous journalist Carley Shimkus. One of the best-known American journalists, Carley is also known for her stunning beauty.
Carley Shimkus's success in TV has been boosted also by the US President, Donald Trump, who got slammed with an impeachment query in the later part of 2019. Trump has always maintained that FOX news station is the best and the others are fake news. This has made all Fox correspondents a bit more famous and also under public scrutiny.
Carley Shimkus Bio Summary
Age/Date of Birth:

36 years old (7 November 1986)
Height:

5 feet 10 inches (177.80 cm)
Ethnicity/Race:

Mixed
Nationality:
American
Husband or Boyfriend:
Peter Buchignani (m. 2015)
Parents:
Mother: Zulma Aponte Shimkus,
Father: Edward Shimkus
Net Worth:
$2 million
Who is Carley Shimkus?
Carley Noelle Shimkus was born on November 7, 1986, and was brought up in Long Valley, New Jersey. Carley tried out modeling when she was still in high school. Although she found it was something she liked, she was quick to realize that it wasn't what she wanted to do with her life. With that in mind, she quit the modeling world.
Shimkus studied Broadcast Journalism at Quinnipiac University, Connecticut and graduated in 2009. She also undertook a short course in journalism for a semester at George Washington University.
She Has Worked With FOX Her Entire Career
Shimkus's first work experience with FOX was as an intern during her senior year at the Fox Office, headquartered in Washington D.C. Upon completing her degree, Carley Shimkus worked as a news producer for the channel in 2009.
Fast forward to 2012, Carley was promoted to the position of associate producer of the popular show Imus in the Morning where she earned a lot of on-air experience which prepared her for a decorated career.
Next up, the 5 foot 10 inches former model began serving as a reporter. She reported for acclaimed shows, Fox & Friends and Fox & Friends First and was later made the co-host of Fox Nation alongside Rob Schmitt who would later leave FOX in 2020 to join Newsmax.
Additionally, Shimkus has appeared in online videos for Fox News Magazine including her 2016 appearance on the video series "My Big Fat Digital Wedding" where she was seen dishing out advice to intending brides.
Carley Shimkus now serves as the 24/7 headlines reporter for FOX News Channel. Her current role sees her report on various social media trends and entertainment news across the network's programming. She has also appeared as a guest panelist/co-host on shows such as The Greg Gutfeld Show, Outnumbered, Red Eye w/Tom Shillue, and Kennedy Live.
On November 6, 2018, Carley Shimkus became part of the evening election coverage of Fox News. It was a huge news event as numerous viewing parties were hosted around the country.
Shimkus also appeared on Fox Square as she spoke to voters simultaneously with the release of the election results. In 2019, she served as the co-host of Countdown to All-American New Year alongside Griff Jenkins.
The acclaimed journalist has no doubt led a successful career, however, atypical of journalists, she's had her own fair share of controversies. While covering the court case of Caster Semenya against the International Association of Athletics Federations, Carley Shimkus falsely stated that the track athlete and two-time Olympic champion was transgender.
On May 2, 2019, Shimkus issued an apology for incorrectly stating that Caster Semenya is transgender.
Summary of Carley Shimkus' Education and Career
Bachelor of Arts in Broadcast Journalism from Quinnipiac University 2009
Internship at the D.C. bureau of Fox News 2008
News Producer At Fox 2009 – 2012
Associate Producer for the show Imus in the Morning 2012
Reportage for Fox & Friends and Fox & Friends First
Co-host of Fox Nation Alongside Rob Schmitt
24/7 Headline Reporter for Fox News Channel
Peter Buchignani Became Carley Shimkus' Husband in 2015
On August 8, 2015, the Fox News journalist married her husband, Peter Buchignani. The couple started dating each other in 2013 before tying the knot two years later. Carley also announced her marriage on the Imus in the Morning show. The wedding was held at Fiddlers Elbow, a historic country club in Bedminster Township, New Jersey.
The wedding was one that all attendees wouldn't forget so soon. Peter requested that they use the Game of Thrones theme music as their wedding song, delivering a wedding ceremony unlike any other to guests.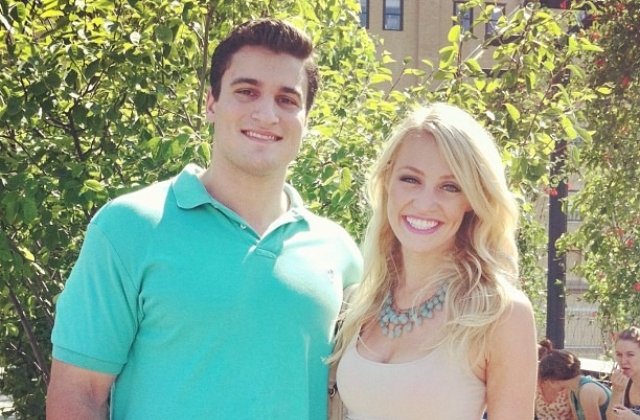 The Couple Met On Shimkus's 23rd birthday, On November 7, 2009
Shimkus's husband after graduating from high school moved to New York City to begin his career in business. His first job came as a sales analyst at Barclays Capital in 2009, he remained in this job until August 2011. It was also around this period that Shimkus was beginning her career at Fox.
While it is not known the exact circumstances that brought them together, it is known that it was on Shimkus's 23rd birthday in 2009, maybe he got an invite to attend the then-burgeoning journalist's birthday party from a mutual friend? However, the couple did not begin a romantic relationship until almost four years later in 2013.
Carley Shimkus's Husband Studied Politics in School Where He was Also An Athlete
Peter Buchignani is an American businessman who was born to Leo Buchignani and Mary Edna on September 21, 1986. He has two siblings; an older brother, and a younger sister. Peter was born and raised in Bloomington, Illinois, later leaving his home state for his college education in New Jersey.
He enrolled at Princeton University in 2005 and graduated there in 2009, receiving a bachelor's degree in political science. Peter had also been widely popular while in Princeton. He played as a defensive end for the college's football team, playing there for three seasons. However, he stopped playing as soon as his senior year kicked off.
After his sales job with Barclays in New York, his next job was with Deutsche Bank.
Carley Shimkus and Peter Buchignani Now Live in Different Cities
It appears as though Shimkus and her husband Buchignani have never lived in the same city for long. No later than 2015, the year that they were also married, Buchignani began working as a sales analyst at Amherst Pierpont Securities which is resident in Chicago.
He currently lives here while his wife Shimkus focuses on her Fox career in New York City. Despite living cities apart, the couple seems to be doing just fine as evidenced in their frequent Instagram posts featuring each other.
The couple seems to be deliberate about keeping their union strong by occasionally going on vacation trips outside cities where they work. They vacationed in Switzerland in August 2018, which appeared to have been the celebration of their 3rd wedding anniversary. As of this writing, the couple is yet to have kids of their own.
Who Are Carley Shimkus Family Members?
Carley Shimkus was born to parents Edward and Zulma Shimkus. On the program Fox News Insider, Carley stated that her parents' meeting was purely by chance. They had met on an airplane in 1982. Her mother, Zulma, was working as a flight attendant for United Airlines and Edward Shimkus was a passenger on the plane she was hosting.
Her mother once joked that Edward's polyester shirt was the reason why they didn't click with love at first sight. The American journalist also has an older sibling; a sister called Margot Shimkus, who Carley has described as an incredible artist. Margot went to the College of New Jersey and studied Art Education. After graduation, she began working as a private art instructor in New York City.
FAQs
Is Carley Shimkus Married?
Carley Shimkus is married to a man named Peter Buchignani. They met on on Shimkus's 23rd birthday in 2009 but never began a romantic relationship until almost four years later. They dated for about two years before eventually getting married on August 8, 2015, at Fiddlers Elbow, New Jersey.
Who Is Carley Shimkus's Husband?
Carley Shimkus is married to an American businessman and Princeton University graduate named Peter Buchignani. He was born on September 21, 1986, in Bloomington, Illinois, to Leo Buchignani and Mary Edna.
Who Are Carley Shimkus 's Parents?
Carley Shimkus was born to parents Edward and Zulma Shimkus. Speaking during the program Fox News Insider, Carley revealed that her parents met by chance on an airplane in 1982. Her mother, Zulma, was working as a flight attendant for United Airlines while her father was a passenger on the plane she was hosting.
What is Carley Shimkus' Net Worth?
According to several reports, the journalist has an estimated net worth of around $1 to $2 million. She has worked with FOX her whole journalism career and made most of her money from it.
What is Carley Shimkus' Fox News Salary?
Carley Shimkus reportedly earns a monthly salary of $17, 870 and an annual pay of $90,000.
What is Carley Shimkus's height?
The Fox News reporter and anchor stands at 5 feet 10 inches tall. Because of her height, she is said to have tried modeling before eventually settling for journalism.
What are Carley Shimkus' Measurements?
Carley Shimkus is no doubt a very beautiful woman with all the right curves in the right places. Although is is known that she is 5 feet 10 inches tall and reportedly weighs about 56 kg, her body measurements are not known.
What is Carley Shimkus' Religion?
Carley Shimkus follows the Christian religion.
Profile Summary
First Name:
Carley
Last Name:
Shimkus
Also Known As:

Carley
Sex/Gender:

Female
Profession:

News anchor and Reporter
Famous For:
Co-host on Fox Nation
Colleges/Universities Attended:

Quinnipiac University
Educational Qualifications:

B.A. in broadcast Journalism
Religion:

Unknown
Birthday & Zodiac

Age/Date of Birth:

36 years old (7 November 1986)
Zodiac Sign:
Scorpio
Birth Place:

Long Valley, New Jersey,
Nationality:
American
Ethnicity/Race:

Mixed
Country of Residence:

United States of America (USA)
Physical Attributes

Height:

5 feet 10 inches (177.80 cm)
Weight:

54 kg (118 lbs)
Eye Colour:

Brown
Hair Color:

Blonde
Other Body Measurements:

N/A
Relationships

Marital Status:

Married
Spouse/Partner:

Peter Buchignani (m. 2015)
Family and Relatives

Father:

Edward Shimkus
Mother:
Zulma Aponte Shimkus
Children:

N/A
Siblings:
Margot - Sister
Other Relatives:

N/A
Net Worth
Estimated Net Worth:

$2 million
Salary:
N/A
Source of Wealth:

Journalism