How tall is Bruno Mars? Bruno Mars' height is listed at 5 feet 5 inches or 1.65 m. This makes him an inch taller than his longtime girlfriend and partner, model Jessica Caban, who is 5'4″.
When it comes to his achievements in the music industry, Bruno Mars is certainly a giant who towers head and shoulders above most of his peers. The Hawaiian-born crooner is the first-ever artist to have five of his songs certified diamond.
It is, however, a different ballgame when he is performing live with his peers as he is quite literally down to earth. This has led to hilarious photos and internet reactions over the years, but Mars doesn't seem to give a hoot. Even though he is conscious about his height and does what he can to buoy it up, he doesn't stress too much over it. He rather focuses his time on continuing to mesmerize the world with his unstoppable creative genius in the form of chart-topping albums and unforgettable stage performances.
What Is The True Height of Bruno Mars?
The Hawaiian-born singer is 5 feet 5 inches tall (1.65 m). This means that he is about 4 inches shorter than the average American man as Data from the National Centre for Health Statistics shows that the average American male is 5 feet 9 inches tall (1.75 m). He is also only about 1.5 inches taller than the average American woman as data has it that the average American woman is about 5 feet 3.5 inches tall (1.61 m). The outlook doesn't get any better when it comes to the music industry as many musicians are at least 5 feet 7 inches and above.
It's alarming how short Bruno Mars is. I'm watching the world's hottest women walk in underwear but his height is all I can think about

— Dillon Cheverere (@DCheverere) December 6, 2016
Such a fact means that Bruno Mars is more often than not the short fellow at various industry events and he tries to supplement his height by wearing elevator shoes that add about 2 inches or more to his height. His trademark hat also helps to buoy his height but there are just some occasions when even these two accessories cannot do the trick.
One of such was the 2016 edition of the Victoria's Secret Fashion Show. Held at the Grand Palais in Paris, France, Mars was one of the musicians that were chosen to serenade the models as they made their way down the catwalk.
bruno mars is so short next to those models, but i'm pretty sure he doesn't care, because he's with victoria's secret models lol

— ashley crowe (@ashley_thebird) December 1, 2016
The Uptown Funk singer was decked out in different outfits at various stages of the show. At some point, he also wore Cuban-heeled shoes which added about 4 inches to his height. Such a boost was however not enough to prevent his looking small alongside the various tall models who sashayed up and down the catwalk. The resultant pictures from the event sparked a storm on the internet as many commented on how short Mars was. Most of the comments were however positive as some praised the singer for rocking his heels with swag. Others pointed out that he will still remain the hottest dude ever even if he were only to be one foot tall!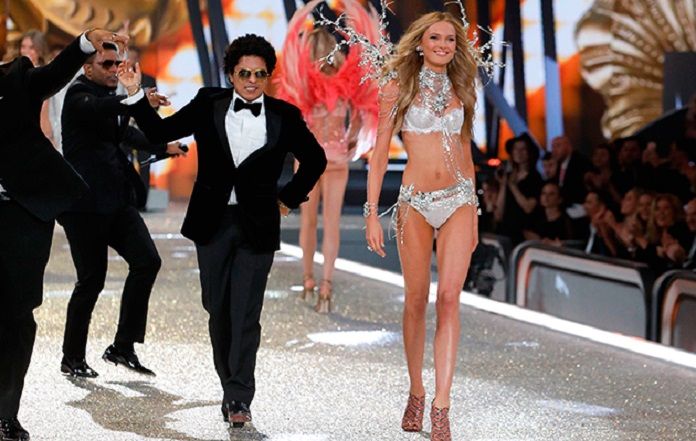 How Does Bruno Mars Feel About His Height?
Despite how positive some of the online comments about Bruno Mars' height have been, the fact that people are even talking about it must have definitely made some impact on the singer and he has been quite sincere about it.
According to Mars, he knows he is a short guy and that is something he has to think about often. Another thing that often weighs on his mind is height enhancement methods which date back to when he was a kid and his mom (Bernie) resorted to blow-drying his hair in hopes that his hair being higher will add some inches to his height.
Mars is all grown up now and rather than blow-drying his hair, has resorted to wearing hats. The singer has admitted that he wears hats with wide brims in order to make himself appear taller. Mars is yet to make a similar admission with regards to high-heeled shoes but it is obvious from his pictures that this is one of the methods he uses to boost his height
Bruno Mars' Height Compared To His Fellow Popstars
As earlier stated, Mars is not only shorter than the average American male but is also shorter than most of his fellow musicians as we shall see below.
Taylor Swift vs Bruno Mars Height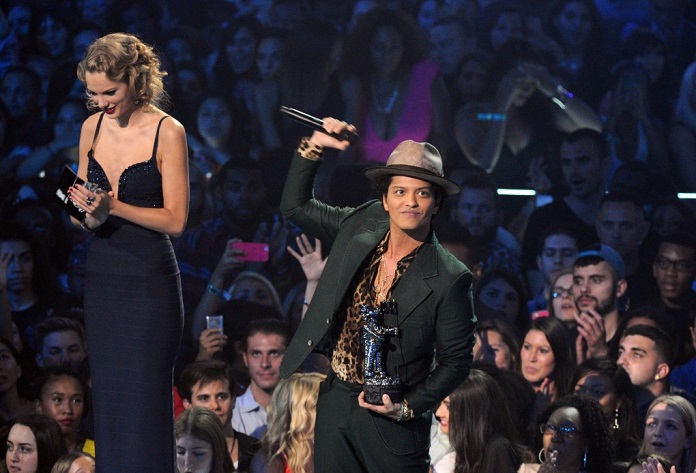 The award-winning Taylor Swift stands at about 5 feet 10 inches tall (1.78 m) which means that she could have easily had a career as a model or even a basketball player if she wanted. Nonetheless, she went into music, and even though she has yet to collaborate with Mars, they have worked with each other at several industry events. One of them was the 2013 VMAs where Swift presented Mars with one of the two awards that he won that night. During the occasion, Swift easily towered above Mars which is not surprising given that she is 5 inches taller than him.
Beyoncé Height vs Bruno Mars Height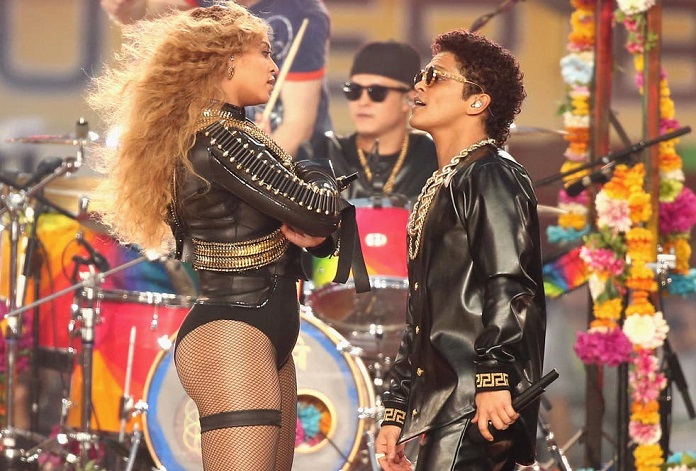 Queen Bey may not be as tall as Taylor Swift but she is doing quite well at 5 feet 7 inches (1.70 m). This makes her 3.5 inches taller than the average American woman out there. It also means that the 28-time Grammy winner is 2 inches taller than Bruno Mars.
Both Beyoncé and Mars did get a chance to work together at the 2016 Super Bowl Halftime Show and while the latter was obviously shorter than Queen Bey physically, he measured up in terms of his amazing performance.
Rihanna and Bruno Mars Height Compared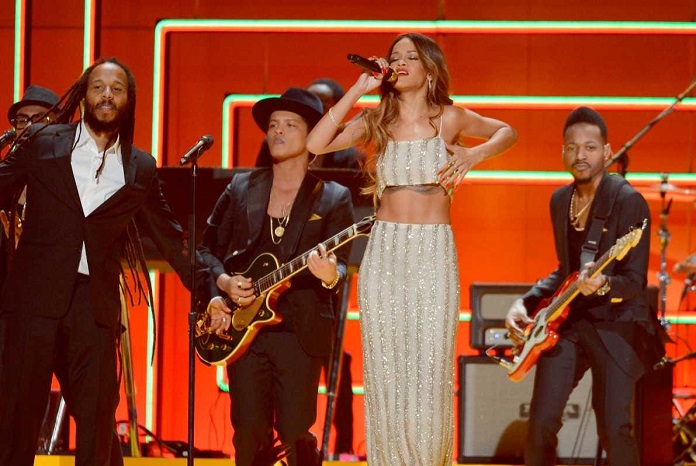 Being short may make one conscious about hanging out with tall people but Bruno Mars seems to have none of such problems as he has exemplified on several occasions. One of these occasions was the 2013 Grammy Awards when he paid a tribute to Reggae legend Bob Marley alongside the likes of Rihanna.
Riri is 5 feet 8 inches (1.73 m) which makes her about 3 inches taller than Mars but she additionally wore high-heeled shoes which meant that she was towering above him. This did not stop Mars from giving a wonderful performance that roused both members of the audience and the viewing public.
Mark Ronson vs Bruno Mars Height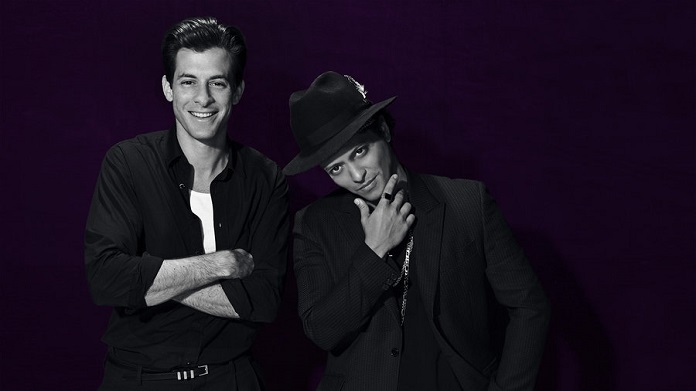 Away from the ladies, one particularly tall male singer that Bruno Mars has worked with is Mark Ronson. The British-American DJ and Record Producer is a whopping 6 feet tall (1.83 m) which means that he is about 7 inches taller than Bruno Mars. Such a glaring gap did not get in the way of their collaborating together and they blessed the world with the 2015 monster hit, "Uptown Funk". The song topped the Billboard Hot 100 for 14 weeks and won a slew of awards, including the Record of the Year at the 2016 Grammy Awards.
Bruno Mars Height Compared To Girlfriend Jessica Caban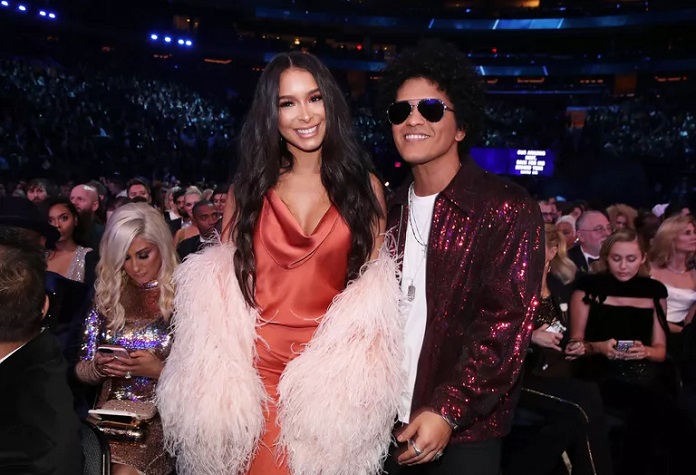 By now, you may be wondering if there is anybody in the world that Bruno Mars is taller than and the answer is yes, there is. The crooner is one inch taller than his longtime girlfriend, Jessica Caban, who is 5 feet 4 inches or 1.63 m tall.
Some other records however put it that Caban is 5 feet 6 inches tall or 1.68 m which would make her one inch taller than her famous boyfriend. Whichever it is, there is no doubt that height hasn't gotten in the way of the couple's love which stretches back to 2011.
Mars reportedly first spotted Jessica at a co-op restaurant in a New York hotel. He was immediately smitten with the beautiful, vivacious lady at a nearby table and wasted no time going over. They began talking and the rest is history.