Patti Scialfa is married to the famous rock singer, Bruce Springsteen. Together Bruce and his wife Patti have three lovely children, Evan, Jessica, and Sam. She is also an American singer, songwriter, guitarist, and long-time member of the E Street Band.
You must have heard of Springsteen, the famous rock singer who was known as the "Boss" of the E Street Band. Both members of the Rock and Roll Hall of Fame, the couple have been bandmates even longer than they have been married.
However, before Patti Scialfa became Bruce's wife, she was already an accomplished solo artist but her career took a new turn after she joined her husband's famous band.
Since they got married, Bruce and Patti have been practically inseparable, becoming a beacon for near-perfect marriages in the rock music industry.
With an almost 30-year-marriage and their three adults kids, Patti and Bruce might be worth learning a thing or two from, especially how one can smash record sales with the love of their life.
Patti Scialfa Is Part-Sicilian and Part-Irish
Vivienne Patricia Scialfa was born in New Jersey on July 29, 1953. She grew up in a small town off the shore of Jersey called Deal, as the middle child of Joseph, who was a real estate developer and businessman, and Patricia (née Morris) Scialfa. Her father had Sicilian roots while her mother is Irish. This means that even though Patti had an exotic background, she was still purely Caucasian. Her parents were married for years before their marriage crashed, resulting in a divorce. Afterward, her father remarried and the union produced Patti's half-siblings.
Patti attended the Asbury Park High School in Jersey and graduated in 1971 when she was 18 years old. When she was younger, she had loved writing songs and so was naturally inclined towards music. As a result, after graduating high school, she wasted no time pursuing a musical career and spent the next couple of months working as a backup singer for some bars in her neighborhood.
Although she didn't really want to go to college, Patti Scialfa decided that it was better to kill two birds with that stone – improve her employment chances in the performing Arts, while fulfilling her parents' expectations of her. In a magazine interview a few years later, the singer revealed that she didn't think she had a talent for anything except music anyways. So she attended the Jazz Conservatory at the University of Miami and later transferred to New York University where she obtained her music degree from.
Patti Scialfa Met Her Husband In A Bar, As A Backup Singer
Bruce and Patti might have been making beautiful music together, and their marriage might be turning out to be one of the longest-lasting rock marriages, but their love story had quite a scandalous start. Apparently, Patti's love for Bruce began when she was still in high school. Her Arts teacher at Ashbury high school confirmed that Patti had had a crush on Bruce for quite a long time. It would seem like the rock singer finally manifested this long-time crush in reality.
It is no news that both of them worked together and were part of the same band, however, they first met at the Stone Pony bar in New Jersey where Patti worked as a waitress. In 1984, Patti was made a member of the E Street Band, and sources say the two bandmates had developed romantic feelings for each other. But these feelings did not lead them to the alter as Springsteen got married to actress and model Julianne Phillips in 1985.
During this period, Patti left E Street to focus on her solo career, however, she came back in 1987 to join the band on their 'Tunnel of Love Express Tour.' The love-struck pair discovered that three years apart had done nothing to abate their attraction to each other and so they began dating, albeit secretly. During this period, Bruce and Julianne were going through a rough patch in their marriage and were on the brink of a divorce.
Nobody was surprised when Patti moved in with Bruce, but it did not stop the backlash he received for apparently moving on too quickly from his marriage. Bruce would later say in an interview that he ignored the gossip, and focused on his new relationship. He also confessed that what Patti and he had felt was "real" and that he was going to focus on that alone.
Against Most Expectations, Bruce and Patti Have Been Married for the Past 30 Years
After an almost four-year courtship, Patti and her new superstar beau decided to finally legalize their union. They got married on June 8, 1991, at their home in Los Angeles and have been together since then. Both notorious for their passionate onstage duets, they got hitched in a private wedding ceremony at their Los Angeles mansion, with only close friends in attendance. Since then, they have been touring together, no longer needing to hide anymore.
However, as their family grew, Patti's presence in the band kept reducing until she no longer made public appearances, choosing rather to "guard the fort," while letting her husband run the show from outside; an arrangement that seems to be perfect for the star couple. Even though they live in Colts Neck, New Jersey, most of the time, Patti and Bruce also own homes in Wellington, Florida, near West Palm Beach, and Los Angeles.
Patti Scialfa and Bruce Springsteen Have Three Grown-Up Children Together
We already stated that Bruce and Patti have three kids together. What you might not have known, however, is that Patti gave birth to their first child Evan, a year before she got married to Bruce. They later went on to have two more children, Jessica and Samuel.
Evan James Springsteen
Gender: Male
Date of Birth: 25th of July in 1990
Age: 33 years old
Place of Birth: Los Angeles, California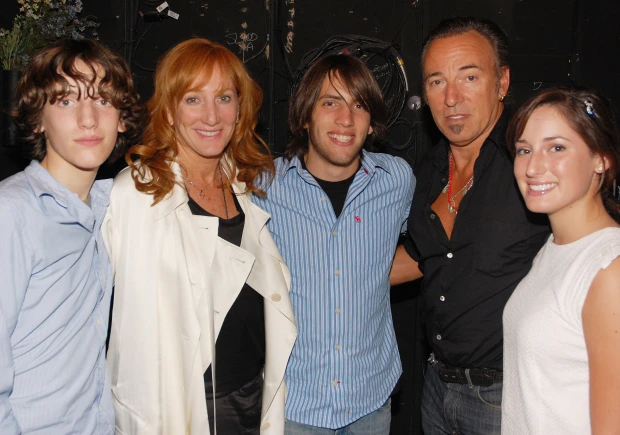 Evan James Springsteen is the first son of singers Patti and Bruce. He was born in Los Angeles, California on the 25th of July in 1990 and is currently 33 years old. Evan is passionate about music and just like his father, he ventured into the musical field as a singer and musician after he graduated from the Ranney School and Rumson Country Day School.
He also attended Boston College from where he bagged a music degree and while there, he emerged the winner of the Singer/ Songwriter Competition during Boston College's Arts Festival in 2012. Evan has been on stage together with his father and he was also worked as a program director and festival producer at Sirius XM Radio. Though he is the son of a famous couple and a fledgling musician, Evan prefers to stay out of the spotlight and can only be seen sparingly when escorting his parents to a red carpet event, or posing for the gram.
Jessica Rae Springsteen
Gender: Female
Date of Birth: 30th of December in 1991
Age: 31 years old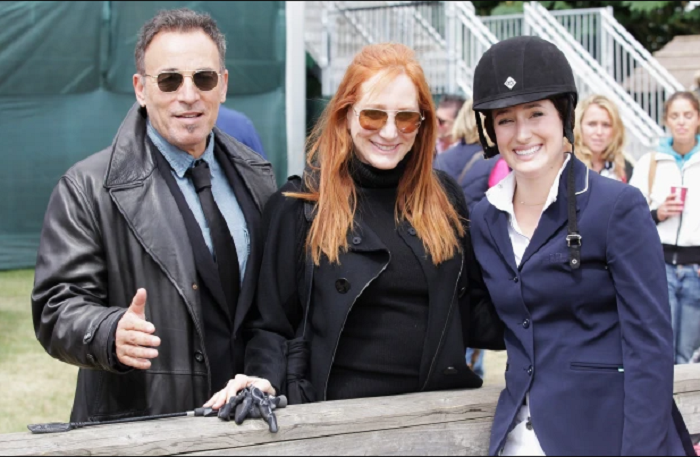 The couple's second child, Jessica Rae Springsteen, is the more outgoing sibling. Born on the 30th of December in 1991, she is 31 years old. Jessica began riding the horses on her parents' New Jersey ranch from the age of four and is now a professional equestrian with many medals in her name. She has represented America many times internationally and currently holds a silver medal for representing the USA Equestrian Team in the Team jumping during the 2020 Tokyo Olympics. According to the National Broadcasting Company (NBC), Jessica is also ranked 3rd in the US.
Samuel Ryan Springsteen
Gender: Male
Date of Birth: January 5, 1994
Age: 29 years old
Their third and youngest child, Samuel Ryan Springsteen, was born on January 5, 1994. Samuel is 29 years old. As opposed to his parents and siblings, he decided to tow a path that took him away from being in the eyes of the public. Samuel is a firefighter. He started working for the New Jersey City fire department in 2020 after he was sworn in during a City Hall ceremony in January alongside 14 others.
The three siblings grew up together in Colts Neck, New Jersey, but now live in various parts of the country, chasing their dreams.
How Bruce Springsteen's Wife's Career Has Progressed
Life didn't exactly go according to plan for Patti as she struggled to land a record deal within her first few months in college. She began by submitting her materials to recording companies, hoping that someone would be impressed enough to record them.
Sadly, none of her songs were picked and after she graduated, she found herself working as a street performer, singing in public places for small monetary donations. She also worked as a waitress in Greenwich village. Later on, she formed a street group named Trickster, with Soozie Tyrell and Lisa Lowell.
After years of trying to break onto the music scene, Patti was invited to play at the Folk City Show. Gigs at Kenny's Castaway and The Stone Pony followed. At Asbury Park, she was featured briefly in The Stone Pony's house band named Cats on a Smooth Surface, and this was the beginning of an upward rise in Patti Scialfa's music career. She later secured a recording deal with Southside Johnny and David Johansen.
In 1984, she joined the E Street Band, just in time to perform at the opening show of the 'Born in the U.S.A. Tour.' In 1986, she worked with the Rolling Stones on their Dirty Work album, providing the vocals for their hit single One Hit (To the Body), and a few other songs. Alongside her Trickster group members, Patti Scialfa did background work on Johansen's album, particularly on a song called Hot Hot Hot, released in 1987.
She also worked with blues singer Keith Richards on his first solo album Talk is Cheap, a job she got due to a long-term friendship with Steve Jordan, the album's producer, whom she had met during her time in Greenwich Village. Once she started running, it was impossible for Patti to slow down. While with the E Street Band, she recorded and toured extensively with her future husband, Bruce Springsteen.
Patti Scialfa didn't spend all her professional career making and producing songs for others, however. In fact, she has recorded three solo albums to date: Rumble Doll – released in 1993. This first album revealed Scialfa's tough younger days, especially about the times she was practically earning her living off the streets of Manhattan in New York. The period of this album release coincided with rumors of her and Bruce's illicit affair. This made Scialfa go to the extra lengths of trying to screen out lyrics that might have alluded to love, or to any kind of affair with Springsteen.
Her second album, 23rd Street Lullaby – was released nearly eleven years later in 2004, and Play It As It Lays, her last known album, was released in 2007. Musically, Patti is critically acclaimed for her emotional songwriting, her impressive vocal range, and her eccentric use of traditional, rock and folk tunes.
As a result, her first two albums received almost 100% perfect reviews from Rolling Stone magazine – even though she couldn't garner many commercial sales, as she was also raising children, which prevented her from going on tour. In the same vein, her third and last solo album got a 3-star rating.
So far, the singer and songwriter seem to have gone into partial retirement. In the years 2009 and 2011, there was talk about a fourth album being released, but it never came. According to an interview on the radio show, Bruce Brunch, she confirmed that she had written all the songs and just needed to find the time out of her busy schedule to record the album.
Who Was Bruce Springsteen's Former Wife?
Before Bruce decided he wanted to be with Ms. Scialfa for the rest of his life, he was married to an American model and actress, Julianne Phillips. They met sometime in 1984 and by 1985, precisely on the 13th of May, they got married at the Lake Oswego at midnight.
Theirs was a romantic story cut short as they were estranged a few years down the line and eventually divorced. The divorce was filed by Julianne, who cited "irreconcilable differences" as the reason for the breakdown of the marriage.
Phillips filed for divorce in 1988 and it was finalized in March, the following year. A lot of reports suggest that their split might have had something to do with Bruce and Patti's unresolved romance. It was also a popular opinion that Bruce's commitment issues sabotaged his marriage, and this was even confirmed by the singer himself in his memoir. He also blamed himself for not having more in common with the woman he called his wife.
Anyways, Bruce, like we all know, moved on a few years later. Julianne on the other hand never got remarried and faded slowly from the limelight. She has recently spoken about finding peace in herself, and she obviously doesn't need fame and money to fill in for her.