He made the headlines in 1976 as Bruce Jenner, the Olympic gold-winning decathlete. Today, Bruce is repeating the trend not as an athlete this time but as a transwoman, Caitlyn Jenner. The former Keeping Up With The Kardashians star, felt liberated after coming out as a transgender woman in 2015 and has been praised for saving people's lives with her decision.
Before she was called the most famous openly "Transgender" woman in the world, she lived as a man. Read the article to find out more about her.
Before Caitlyn Jenner
The Secret of My Life is the memoir Caitlyn Jenner released which is focused on her journey to becoming a transwoman. And today, she is the spokesperson for the LGBT community. But before she became Cait, she was identified as a male and that was Bruce Jenner. Let's talk about Bruce Jenner a little.
Bruce was born at Mount Kisco, New York on October 28, 1948. He was the Olympic gold medalist, 1976 decathlon at the summer Olympics in Montreal. The feat earned him an unofficial title as the "World's Greatest Athlete".
He became a spokesperson for Wheaties cereal following his fame and subsequently established a career in television, film, writing, auto racing, business and as a Playgirl cover model. The reality TV show Keeping Up With The Kardashians which he started appearing in in 2007 further boosted his prominence.
Bruce Jenner's Transformation to Caitlyn Jenner
Growing up as a boy among two sisters and getting fascinated with their clothes could be dismissed as a normal thing but when it turns out that you loathe your image in the mirror, it becomes something serious. Jenner as a child struggled with undiagnosed dyslexia as much as he did with gender dysphoria, a condition which had no information nor name in the conservative Westchester County, New York.
There were many unanswered questions for Jenner which ranges from whether he's just a crossdresser or simply gay. He, however, did not get solutions to his inner turmoil and resorted to athletics, being the fastest kid in school. But not even winning the Olympic gold medal and being publicly acclaimed sorted his uneasiness.
See Also: Kim Kardashian Dad, Mother, Kids, Family
Bruce wore her first female dress at the age of 8 and started hormone treatment in the 80's. His second wife, Linda found him a specialist who specialized in gender dysphoria when she discovered his inner turmoil. That did not stop him from his quest which caused the failure of the marriage when Bruce revealed his intention to undergo gender reassignment and began taking female hormones.
Before meeting Kris, Bruce had made up his mind to transition before he turns 40. Thus he had been on hormone replacement therapy for four and a half years and had a bust size of 36B as revealed in Caitlyn's memoir. However, it took Bruce 65 years to come out as a transgender in an interview with Diane Sawyer in 2015, taking up the name Caitlyn Marie Jenner as revealed in the July 2015 issue of Vanity Fair. As part of the gender transition, Bruce has been into cosmetic surgeries. Fast forward to 2017, he had his sex reassignment surgery which he kept a secret from the Kardashians, stating that it was none of their business.
Post Caitlyn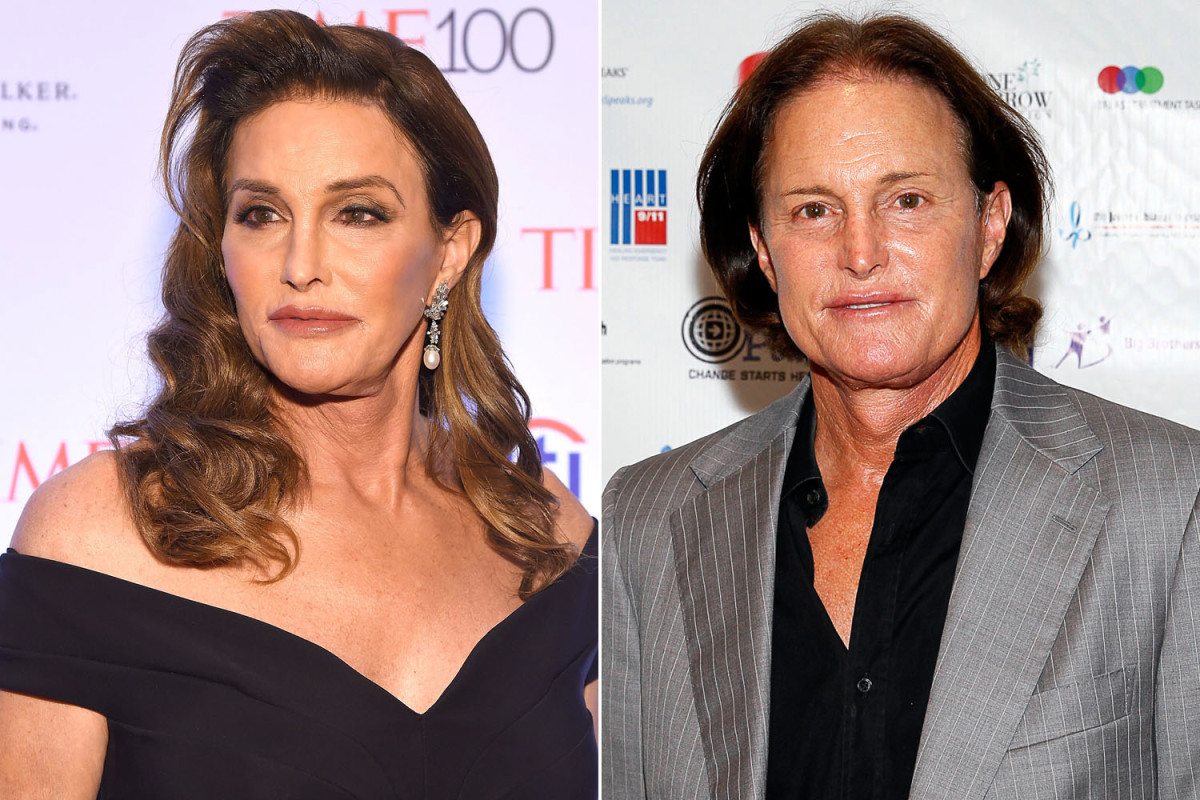 Now a transwoman, Caitlyn was glad she had a successful transition surgery into her dream image, describing it as a complex decision she had to make. She now prefers to be referred to as 'she', no longer 'he'. Though she admitted that giving up old Bruce may be hard, she, however, confided that he still lives inside her and she does a lot of things he used to do like flying aeroplanes and going racing once in a while. She desires to make a difference in the world with the new platform Caitlyn has.
Caitlyn ran a documentary on her transition from 2015-2016 in an E! reality show called I Am Cait. The show filmed Jenner's transition and how it affected her relationships, as well as examined her role within the LGBT and transgender communities. Since her transition, she has garnered a lot of awards among which is the Arthur Ashe Courage Award at the ESPY's on July 15, 2015. She was named one of the women in Glamour magazine's Women of the Year Awards in 2015.
See Also: Caitlyn Jenner's Height, Weight, And Body Measurements
Bruce Jenner's Kids
Bruce's married life is as remarkable and interesting as his personality. He was married thrice which covered more than half of his life and had two children from each of the marriages.
His first marriage was to his high school sweetheart, Chrystie Crownover who he married after graduating from college in 1972 and divorced in 1980. The marriage produced a son, Burt, and a daughter, Cassandra (Casey). He met his second wife, Linda Thompson, a model and actress at the Playboy Mansion in 1979 while still married to his first wife. They were married on January 5, 1981, but got divorced by 1986 after having two sons, Brody and Brandon.
His third and longest marriage was to Kris Jenner in 1991 who he dated for only 5 months. They had two daughters, Kendall and Kylie and announced their split in October 2013. Their divorce came through in March 2015. Bruce was also a stepfather to reality TV stars, Kourtney, Kim and Khloe Kardashian and a son, Rob Kardashian from Kris's first marriage.
Bruce's relationship with her children seems to have taken a plunge. For instance, she found out about her daughter, Kylie's pregnancy through the media – and not by talking with her which left her heartbroken. She has been open about the fact that her relationship with her step-children has also turned sour, especially Kim.
The rift which was created because she hid her transition journey from her family was further deepened after exposing the inner workings of her marriage to Kris in her book, The Secrets of My Life.
Bruce Jenner's Net Worth
Bruce Jenner has done a lot of things which turned out successful and raked in the money. Her wealth can be attributed to sports accolades, KUWTK paycheques, book royalties, public appearances not excluding her own reality TV series I Am Cait.
With this record, her estimated net worth is $100 million (£73.8million).