Brittany Favre-Mallion is the daughter of former American football quarterback Brett Favre and his wife Deanna Tynes-Favre. She was born on February 6, 1989, and is currently 34 years old.
Not depending solely on the celebrity status of her father, Brittany strove to carve a niche for herself in entertainment and sports law. What she has made out of her career over the years is part of the reason she is recognized as a celebrity today and not just the daughter of an NFL star. Find out more details about her life and activities here.
Brittany Favre's Biography Summary
Full Name: Brittany Favre-Mallion
Nickname: Brittany
Gender: Female
Date of Birth: February 6, 1989
Brittany Favre's Age: 34 years old
Birthplace: Hattiesburg, Mississippi, United States.
Ethnicity: White
Nationality: American
Zodiac sign: Aquarius
Education: Loyola University College of Law
Brittany Favre's sexual Orientation: Straight
Religion: Christianity
Marital Status: Married
Brittany Favre's Husband: Alex Mallion
Brittany Favre's Children: Parker Brett & A.J
Brittany Favre's Parents: Brett Lorenzo Favre & Deanna Tynes-Favre
Sibling: Breleigh Favre
Occupation: Lawyer
Brittany Favre's Net Worth: $750,000
Famous as: Brett Favre's Daughter
Brittany Favre's Instagram: brittanyfavre
Brittany Favre was Born to Celebrity Parents in 1989
Brittany was born on February 6, 1989, in Mississippi, United States, and is currently 34 years old. Her parents are celebrities in their own rights; the now-retired National Football League quarterback Brett Favre and author Deanna Tynes Favre.
Her parents had her when they were still dating in high school. At that time, her mother Deanna was only 19 years old and although the news greatly disappointed her parents who had high hopes of her attending college and building a great family, the Tynes and Favre families both came together and supported the young lovers all through the pregnancy and birth of Brittany.
She was Raised Almost Singlehandedly by Her Mum
The couple had a rough life given the nature of Brett Favre's football career. He was constantly moving around following his drafting to various teams. As a result, Deanna was majorly a single parent to Brittany Favre. She, however, supported Brett's career and in 1995, she moved with Brittany to Green Bay to be together with Brett. The couple officially got married in 1996, six years after the birth of their daughter. They have lived together ever since.
Three years after the marriage of Brett and Deanna, the couple welcomed their second daughter Breleigh in July 1999, making Brittany Favre ten years older than her sister. Breleigh is an accomplished volleyball player and while the two sisters differ in their personalities and temperaments, they enjoy a uniquely close relationship with each other.
Brett Favre's Daughter Towed a Different Career Path From Her Parents
Growing up, Brittany Favre attended the best schools, courtesy of her father's fame and wealth. Brittany was raised in Hattiesburg, Mississippi where she got a Bachelor's degree in psychology from the University of Southern Mississippi, and after her matriculation in 2012, she proceeded to Loyola University College of Law. She graduated in 2015 and began her career as a lawyer, specializing in entertainment and sports litigation.
Although Brittany towed a different career path from the rest of her famous family members by becoming a lawyer, her upbringing in a sporty environment is still clearly reflected in her choice of sports litigation as an area of specialization in law.
She Has Been Practicing Law Since 2015 and is Also Art Inclined
After she graduated from Loyola University College of Law in 2015, Brittany Favre launched her career by joining a law firm in Hattiesburg and has been practicing ever since. Brittany leads a very private life, away from the media. As such, we could not find verifiable information about her career accomplishments, recognitions, and/or awards.
While there is also no verifiable figure pertaining to her salary, Brittany's estimated net worth of $750,000 shows she is doing fairly well for herself in her chosen career path. Asides from being a practicing lawyer, Brittany featured in a 2016 documentary, alongside her father. The series A Football Life detailed the major career achievements of Brett Favre.
Aside from practicing law, Brittany is also artistically inclined and has a dedicated Instagram page @brittanyisanartist and a website where she regularly publishes her artworks. On her website where her artworks are listed for sale, she describes herself as a reluctant artist, a mom, writer, vegan, and a bookworm.
Brittany's Parents are Individually Successful in Their Careers
Brett Favre is an American football legend who gained popularity for his skills as a quarterback. He spent twenty seasons in NFL and played for teams like the Atlanta Falcons (1991), Green Bay Packers (1992-2007), New York Jets (2008), and Minnesota Vikings (2009-2010).
In the course of his almost 2-decade old football career, the prolific quarterback won several awards, including 3x NFL Most Valuable Player (1995-1997), NFL Offensive Player of the Year (1995), 2x NFL Passing Yards Leader (1995, 1998), and 2x Bert Bell Award (1995, 1996).
Similarly, Deanna Favre was a lover of sports and this made her get a degree in Exercise Science. Furthermore, she was inspired by her breast cancer diagnosis in 2015 to set up the Deanna Favre Hope Foundation, a foundation solely focused on creating awareness and diagnosing breast cancer in women of all economic statuses.
Brittany Favre Got Married in 2010 but Divorced a Year Later
At about 21, Brittany Favre dated and got pregnant for her then-boyfriend Patrick Valkenburg. On April 2, 2010, she gave birth to her son Parker Brett. The two eventually got married in 2011 only to divorce a year after. Although we could not verify the exact reason for their divorce, we, however, gathered that it was a very long and tedious process that lasted over 18 months.
Following the divorce, Brittany devoted her time to her studies and the care of her son, although it was difficult combining studies with single parenting. Thus, she quickly moved on and put the ordeals of her failed marriage behind her, but little did she know she won't be single for long.
She Got Married a Second Time in 2011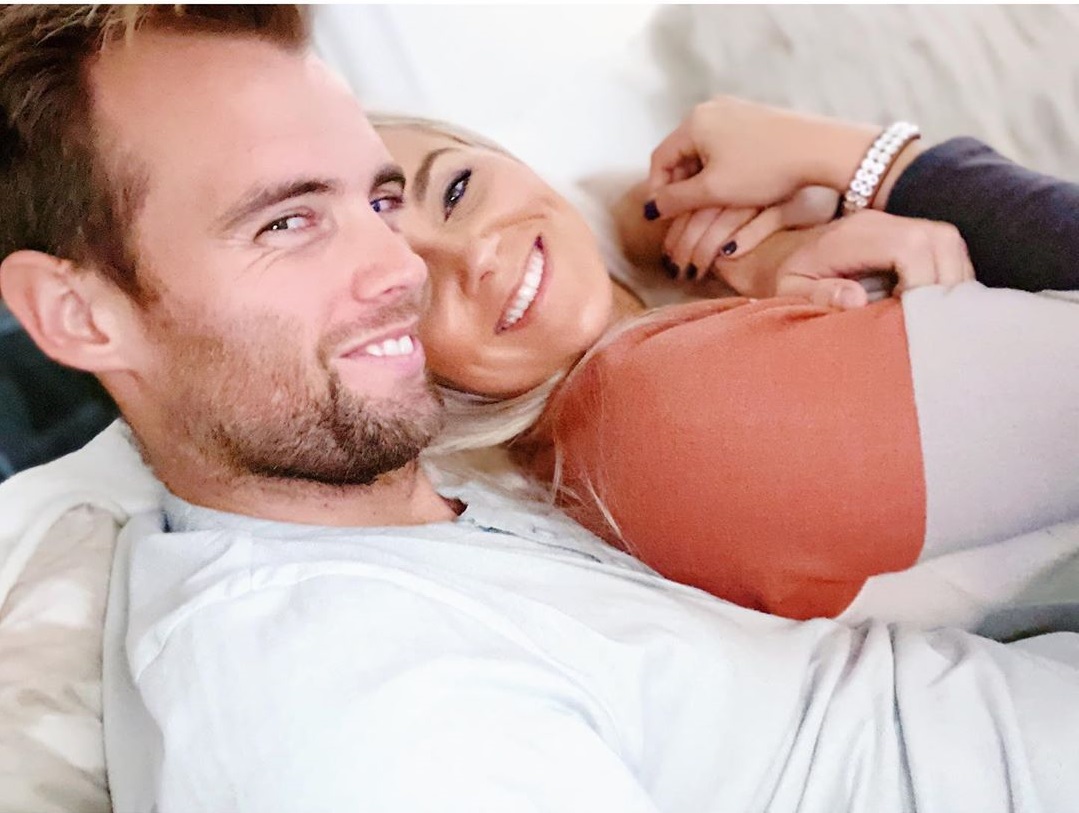 Soon after her divorce from her first husband, Brittany met and went into a relationship with a new man named Alex Mallion. In a statement, Britt disclosed that meeting Alex helped her refocus on her goals. The lovers got married in 2011, during Britt's second year in college.
They welcomed their first child together a year after and named him A.J. Brittany was only 23 when she had her second child and the birth of her kids incidentally made Brett Favre the very first NFL player to become a grandfather while still actively playing. While currently married to Alex Mallion, the details of Brittany's two children and their activities remain unknown.
Brittany Favre's Social Media Presence
Given the private lifestyle of Brittany Favre, she is not very active on social media. She has an Instagram page @brittanyfavre where she has only made one post despite having thousands of followers. However, she has another Instagram handle (@brittanyisanartist) dedicated to her art where she is a lot more active. Aside from these, she is not active on any other social media platform/s and this has made it difficult to know what she is up to at any particular time.