If Hollywood would ever want to take a head count of all the actresses who came bountifully endowed, then Brigid Brannagh will definitely be among those who will make the top of the list.
Brigid is a famous American actress who is best known for her role in the Lifetime series Army Wives. Her generous natural endowments make her stand out in the crowd and has earned her several roles in certain films like Life Without Dick.
Brigid Brannagh Bio
Although the actress is popularly known as Brigid Brannagh, she was born as Brigid E. Walsh on the 3rd day of August 1972. Brigid whose Zodiac sign is Leo was born in San Francisco, California in the United States of America. Of course, she is an American but has Irish ancestry. Brigid was born the fourth child in a family of nine children and started auditioning for roles when she was 13 years of age.
Her first appearance in a movie was in 1988 with her role in the movie The Wrong Guys. She made a guest appearance in an episode of Jake and the Fatman the following year and the sitcom True Colors which was about an interracial family afforded her the chance to take on her first notable role from 1991 to 1992 and consequently, she took other notable roles in Kindred: The Embraced and Brooklyn South in the 1990s. Brigid Brannagh also starred in the television series Over There and guest starred in a season two episode of the television series titled Charmed where she played the part of an old witch named Tuatha in 1999.
She made appearances in four episodes of Angel as Virginia Bryce between 2000 and 2001 and in 2003, appeared in the Star Trek: Enterprise episode First Flight where she was cast in the role of Rubie. However, her breakthrough role came on the television series Army Wives in 2007 where she acted the part of Pamela Moran. As one of the main casts, she appeared from season 1 to season 6 until spring of 2012.
The celebrated actress will star in the upcoming television series Runaways. She has also made appearances in other movies like The Man in the Iron Mask and Quest of the Delta Knights.
In several shows and movies, the famous actress has been credited as Brigid Walsh, Brigid Brannaugh, Brigid Conley Walsh, Brigid Brannagh and Brigid Brannah. She made an appearance on CSI: Crime Scene Investigation alongside William Petersen where she played Tammy Felton in the first two seasons. More to that, you will find her in the movie Crush on You and Not That Funny.
Her Body Measurements
When you think of a woman that has the hourglass shape then you think of Brigid. The popular actress' body measurement can only be described as gorgeous, with her natural large breast of 35 inches, she has a contrasting tiny waist measured at 25 inches complementing her neat hip of 36 inches, flaring out to give her a shape most janes wish for.
Brigid who wears a D cup bra size of 34D has never had a breast implant or any other breast surgery to enlarge the size of her breasts. Although rumors have been flying around about the actress having her breasts enlarged, this has not been proven to be true.
She gives the credit to her gorgeous breasts for making it possible for her to be cast in a lot of roles that requires wearing of costumes with very deep cleavage like the movie she acted in 2002, Life Without Dick which required that she wear very revealing clothes.
The actress has other beautiful natural endowments which add up to her perfect looks. She wears a dress size of 10, and her shoe size is 7.5. Brigid stands at a height of 5 feet 3 inches (160cm) and her weight of 57kg (126 lb) agrees with her height. The actress' eye color is hazel and her hair is brown in color. All of these features give her a unique look which never fails to attract attention.
See Also: Who Is Amber Scott (The American Actress) And What Is She Up To Now?
Other Facts You Need To Know 
1. Marital status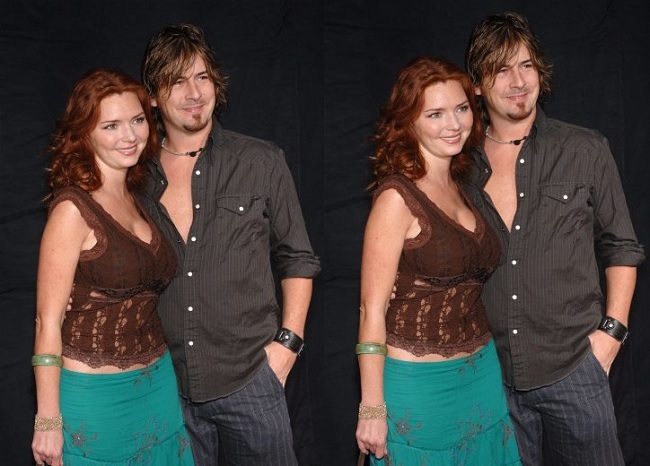 Brigid has been married to her spouse Justin Lyons since 2000 and they seem to be living in marital bliss since there has not been any sign of friction between them. The couple currently lives in Los Angeles, California
2. Net Worth
The renowned actress' net worth is pegged at $14 million dollars which is really high.
3. Family Background
Brigid comes from a large family of nine children where she has the position of the fourth child.