Remember Kevin Malone in the American adaptation of The Office? Well, that amazing character was played by Brian Baumgartner and here is all you need to know about him.
Brian was born on November 29, 1972, in Atlanta, Georgia. He attended Holy Innocents' Episcopal School and The Westminster Schools from where he graduated in 1992. He is also a graduate of Southern Methodist University's Meadows School of the Arts.
He originally wanted to choose a career in sports but his dreams were shattered by a significant injury and surgery at the age of 13. This, as fate would have it, sent him into acting.
He began acting in high school appearing in school plays; he even went to the cherub program at Northwestern University after his junior high.
Not many know Brian as a director, but interestingly, Baumgartner served as an Artistic Director of Hidden Theatre located in Minneapolis, Minnesota and received so many awards for doing an excellent job not just as a director but also as an actor. He also performed in several other theatres that include the Guthrie Theater, Theatre de la Jeune Lune, Berkeley Repertory Theatre and Children's Theater Company.
Before starring alongside Kate Flannery in The Office, he starred in Everwood, Arrested Development, Jake in Progress, and Last Comic Standing. More to that, he starred in 2007's American romantic comedy film License to Wed alongside Mandy Moore, Robin Williams, and John Krasinski. In the same year, Baumgartner won a Daytime Emmy Award for his on The Office: Accountants webisodes.
He also appeared in NBA 2K13 – all-star celebrity team alongside other celebrities like Bow Wow, Justin Bieber, Mac Miller, Wale, Sean Kingston, JB Smoove, Meek Mill, Pauly D and Vinny.
Baumgartner is an accomplished golfer, who also loves watching and talking about football.
Awards And Nominations
In 2006, Brian was nominated for the Screen Actors Guild Awards for Outstanding Performance by an Ensemble in a Comedy Series which he won.
While he got nominated and won the same award the following year (2007), he was again nominated for the same award the next year but failed to walk home with the accolade. Subsequently, Brian was nominated for the award in 2009, 2010, 2011 and 2102. But the honour only stopped at being nominated, he didn't pocket the prize.
Brian has a net worth of $6 million, which he earned majorly from his acting career.
Also Read: French Stewart Biography, Family Life and All You Must Know About Him
Brian Baumgartner's Wife
The man got married to Celeste Ackelson in April 2014 and they have remained together ever since. The couple tied the knots in a ceremony that took place in the star's backyard in LA, the reception was at the Wilshire Country Club.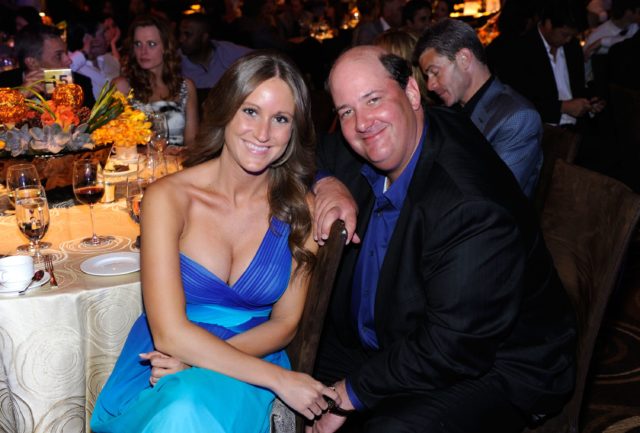 Baumgartner and Celeste welcomed a daughter Brylee Bea Baumgartner the following year. The Office actor took to his Instagram page to announce the arrival of his bundle of joy with a photo and caption that expressed how he felt about the newborn; describing the baby as his latest, 9 months project.
His Weight Loss
After The Office ended in 2014, fans began noticing that Brian Baumgartner may have lost significant weight, some said he lost as much as 100 pounds while others believe he only lost about 50 pounds.
There were also several explanations from different quarters as to why the weight loss occurred. While some explained that it was possible the producers of the show asked Baumgartner to maintain his size until the show ended, others pointed at his wedding as a possible reason for shedding some weight in order to look good on his wedding day.
His weight loss could also be attributed to his change of diet since he moved to L.A. According to Baumgartner, it is easy for him to find good quality food in the city. He also disclosed that he now ensures his meals are made with simple, farm-fresh ingredients.
What Happened To His Teeth?
The actor's teeth are among the things people want to know about him as it is widely assumed that something is not right with them. If you are one of those people wondering what happened to Brian's teeth, here's your answer:
Nothing actually happened to his teeth. Yeah, Mr Brian has a full and complete set of front teeth contrary to what many think.
Quick Facts About Brian Baumgartner
Full Name: Brian Bruce Baumgartner
Date of Birth: November 29, 1972
Place of Birth: Atlanta, Georgia
Nationality: American
Ethnicity: White
Height: 1.85 m
Weight: 250lbs
Net Worth: $6 million
Education: Southern Methodist University, The Westminster Schools
Marital Status: Married
Spouse: Celeste Ackelson
Children: 1 (Brylee Bea Baumgartner)