Since he made his MLB debut on June 30, 2008, American professional baseball outfielder, Brett Gardner has not ceased to show his natural affiliation to the sports. He is a versatile player and plays for the New York Yankee where he is currently the longest-tenured Yankee. Brett is reputed as one of the leagues fastest players and best outfielders which earned him the nickname Brett the jet from his fans.
He was defined by The New York Times in 2015 as the kind of player who makes an organization happy, and true to their definition, Brett does make for happy times for the Yankees. A force, as he's called by his manager, Joe Girardi, Brett is also known for stealing bases and being very disciplined at the plate. He makes contact with 93% of his swings which place him third best in the American League.
His impressive career records include clinching the 2010 Fielding Bible Award as the best defensive left fielder in MLB, winning the Gold Glove Award for American League left fielders in 2016 and still counting as he is yet to get to the end of his career.
Brett Gardner's Bio, Age
The outfielder apparently took the path of his father, Jerry Gardner who played as an outfielder in the Minor League for the Philadelphia Phillies. Thus, he had for himself, an inspiration and a coach in the early stages of his aspirations to be a baseball player. Furthermore, his father's work ethic and firmness on what he wants spurred him to make the most of his abilities at any time. That has not only gotten him to where he is but has also helped him to remain steady.
He was born on August 24, 1983, in Holby Hill, South Carolina and raised on his family's 2,600-acre (1,100 ha) farm in Holly Hill alongside his older brother, Glen. His mother's name is Faye Gardner.
He played Baseball for his school team at Holly Hill Academy as well as American Legion Baseball for St. George Post 105. Although he could not get an athletic scholarship, he attended walk-on tryout in 2001 for the College of Charleston Cougars. His dedication and enthusiasm, however, secured him a place in the team where he excelled greatly, proving to have a knack for the game. Eventually, he finished his college career as the highest-drafted player in school history, a far cry from his start as a non-scholarship baseman.
Following his successful college career, he was drafted in 2005 by the New York Yankees in the 3rd round, with the 109th overall selection. After a successful stint in the minor league, he made his MLB debut in 2008 and was part of the Yankees' 2009 World Series championship against Philadelphia Phillies.
Brett Gardner Salary
Brett Gardner sees baseball as a job and a really cool one at that. As a result, he gives it all it demands to be a success therein and record huge success as well in the course of his doing the job. Although he has faced challenges, no job is without its challenges anyway. Thus, he met obstacles such as being sent back to the minors in 2008 before being called back up at the end of the season, or being benched after having been named the starting centerfielder in 2009, he does not allow himself to get deterred by such pasts whatsoever. He believes that in the game, one has to adopt the style of living in the present, irrespective of failures or successes.
He devotes hours daily to workouts, batting practice, fielding drills and time reviewing videos of pitchers, his swing mechanics, and footwork. This he does all in a bid to be well posited for success which he has been achieving thus far. Going by his dedication, skills, talent, and discipline, his salary and net worth won't be anything less than commensurate.
Brett Gardners has an annual average salary of $13 million and a net worth estimated at $25 million.
Read Also: Aaron Judge Parents, Brother, Ethnicity (Is He Black?), Girlfriend, Height
Brett Gardner Wife (Jessica Clendenin)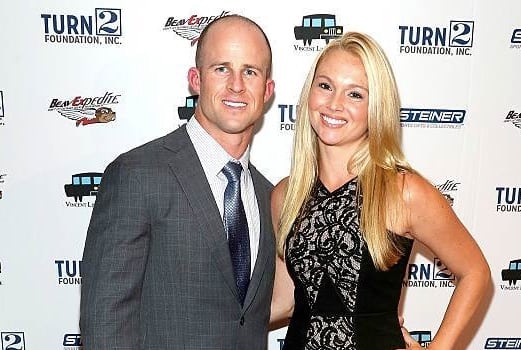 Brett is enjoying a happy and beautiful married life with his wife, Jessica Clendenin. She was born on the 4th day of July 1984 in Georgia where she grew up with her two brothers, John and Joshua.
The duo got married on December 1, 2007, at 1st Presbyterian Church on Peachtree. Their union has been blessed with two sons, Hunter and Miller.
His Height, Weight
Well built for the sports, Brett Gardner is 5 feet 11 inches tall and weighs 195 lbs (1.8 m).