While going to college may be the right path for some people, many celebrities we know today found success in a different way. As you already know, not everyone in the Los Angeles-based entertainment hub Hollywood has a college degree and Brandi Carlile is one of them. Not just her, showbiz powerhouses such as Oprah Winfrey, Ellen DeGeneres, John Mayer, Tom Hanks, Lady Gaga, Brad Pitt and many others became successful despite dropping out of school to pursue their dream career.
Brandi is one amazing singer-songwriter who rose to immense popularity for excelling in music genres like alternative rock, Folk rock, alternative country, and Americana. A multi-instrumentalist, she became an instant icon for splitting the difference between pop/rock and folksy Americana in the music industry.
Her Age and Background Details
Though the singer is popularly called Carlile, her birth name is Brandi M. Carlile. The Story crooner was born in the small town of Ravensdale, Washington, which is an isolated community in the neighborhood of Seattle and her date of birth is June 1, 1981. Brandi grew up working on how to carve her own niche, including teaching herself vocal lessons, playing music with her siblings, building forts, and playing in the woods. Her mother is a singer and a lover of country music while her brother Jay and sister Tiffany are all talented singers as well.
Upon completing her elementary education, Carlile's mom decided to move her to Tahoma High School to further her education. While she was in school as a teen, the singer was diagnosed with Attention-deficit/hyperactivity disorder (ADHD), which would impact her studies. She later decided to drop out of school to give her musical ambition the full attention it deserves.
Did we mention Brandi Carlile started performing at the age of eight? Yes, at exactly eight, the singer had her first stint with her mother on the stage, where they performed iconic country singer Johnny Cash's song, Tennessee Flat Top Box. By fifteen, she was already writing songs and playing the guitar. Brandi became a backup singer for an Elvis impersonator at the age of sixteen and later taught herself how to play piano at the age of seventeen, shortly after she was introduced Elton John's music.
The singer debuted in 2004 and eventually had her career breakthrough in 2007 with her second album The Story. So far, Carlile's career timeline boasts six sterling studio albums – Brandi Carlile (2005), The Story (2007), Give Up the Ghost (2009), Bear Creek (2012), The Firewatcher's Daughter (2015), and By the Way, I Forgive You (2018), for which she received six Grammy nominations (the most nominations for a female in the year 2019) in December 2018, including three of the biggest categories: Song of the Year, Record of the Year, and Album of the Year. The album, to date, remains the highest charting album of her career while its first single The Joke was included in the year-end playlist of former US President Barack Obama.
Apart from her music career, the multi-instrumentalist is into activism and charity as well. Famed for her philanthropic gestures, Brandi, to date, through The Story Campaign, donates fund to War Child UK. She donates $1 from every concert ticket sale to her charity home, Looking Out Foundation and has also donated more than $675,000 to War Child UK. Her foundation is known to have awarded grants to organizations such as UNICEF, Doctors Without Borders, Reverb, The Bridge School, the HRC, Honor the Earth, The Women's Funding Alliance, the American Diabetes Association and other organizations.
Is Brandi Carlile Gay?
Yes, she is a lesbian. She first came out of her closet in an interview in November 2002 and later announced in June 2012 that she was engaged to her sweetheart, Catherine Shepherd. Brandi and Shepherd eventually got married on 15th September 2012, in Boston, Massachusetts. The pair have been enjoying a blissful union since then.
See Also: Is Doris Day still Alive, Who Is The Spouse? Net Worth, Children, And Family Life
Who is The Wife – Catherine Shepherd?
Catherine Shepherd is not just Carlie's wife, she also works for her foundation – Looking Out Foundation. The sweethearts first met while Shepherd was working for English singer/songwriter Paul McCartney's charity as its coordinator. After their first meeting, the pair reached out to each other a lot over email and later met again at one of Brandi's
shows at the US, where Catherine had come to do some work for McCartney. From establishing a wonderful relationship, Carlie and Shepherd ended up tying the knot. Although the latter is not a professional musician, she is a wonderful guitarist and singer.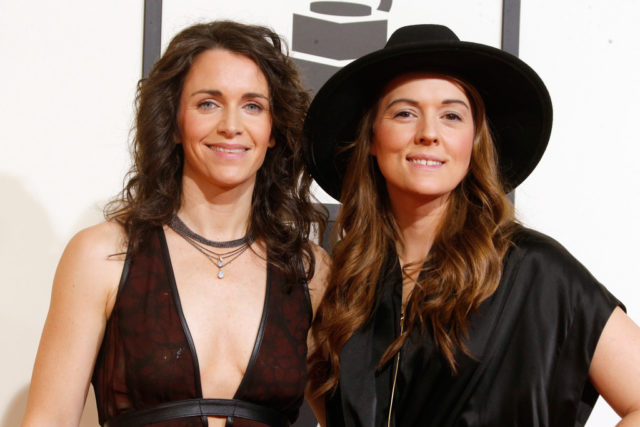 Shepherd currently lives in Maple Valley, Washington, with her darling Brandi Carlile and the two share two daughters together. Their names are Evangeline Ruth Carlile (born June 15, 2014) and Elijah (born March 18, 2018).