Brandi Carlile is an American alternative country singer-songwriter and producer with a natural skill for crossing genres. She came into the limelight following the release of her second album, The Story.
Brandi Carlile is a talented singer and one of the world's finest female country artists and multi-instrumentalists. The microphone diva is very knowledgeable in several music genres like alternative rock, folk-rock, alternative country, and Americana.
Since she released her first eponymous in the year 2005, she has also collaborated with notable musicians in the industry, including Elton John, Pearl Jam, and Dave Cobb. The solo female singer's flourishing career has earned her fame, fortune, three Grammys and other prestigious awards.
Background Information on Brandi Carlile
Brandi Carlile was born on June 1, 1981, in Ravensdale, Washington, an isolated community in the neighborhood of Seattle. The Story crooner grew up working on how to carve her own niche, including giving herself vocal lessons, playing music with her siblings, and playing in the woods. Her mother is a singer and a lover of country music while her brother Jay and sister Tiffany are all talented singers as well.
Upon completing her elementary education, Carlile's mom enrolled her at Tahoma High School to further her education. The singer was later diagnosed with Attention-deficit/hyperactivity disorder (ADHD), which impacted her studies and led to her dropping out of school. It was at this point that she decided to give her musical ambition the full attention it deserves.
Brandi Carlile started performing before the audience at the age of eight. She did her first music gig alongside her mother on the stage, where they performed iconic country singer Johnny Cash's song, Tennessee Flat Top Box. By fifteen, she was already writing songs and playing the guitar. Brandi became a backup singer for an Elvis impersonator at the age of sixteen and later taught herself how to play piano at the age of seventeen, just shortly after she was introduced to Elton John's music.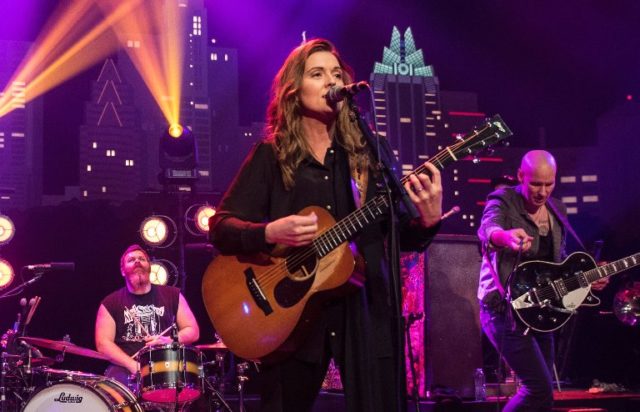 The singer debuted in 2004 and eventually had her career breakthrough in 2007 with her second album The Story. So far, Carlile's career timeline boasts six sterling studio albums – Brandi Carlile (2005), The Story (2007), Give Up the Ghost (2009), Bear Creek (2012), The Firewatcher's Daughter (2015), and By the Way, I Forgive You (2018), for which she received six Grammy nominations and eventually won three in February 2019. The album, to date, remains the highest-charting album of her career while its first single The Joke is one of former US President, Barack Obama's favorites.
Since her debut, Carlile has been working closely with the Hanseroth brothers – Tim and Phil. The three musicians have performed together severally and are popular for their songs rooted in folk, rock, and country.
In addition to her music career, the multi-instrumentalist is into activism and charity as well. Known for her philanthropic gestures, Brandi Carlile, to date, through The Story Campaign, donates funds to War Child UK. She donates $1 from every concert ticket sale to her charity home, Looking Out Foundation and has also donated more than $675,000 to War Child UK. Her foundation is known to have awarded grants to organizations such as UNICEF, Doctors Without Borders, Reverb, The Bridge School, the HRC, Honor the Earth, The Women's Funding Alliance, the American Diabetes Association and other organizations.
Brandi Carlile is openly gay and married to her best friend. The singer first came out of her closet in an interview in November 2002 and later announced in June 2012 that she was engaged to her sweetheart, Catherine Shepherd. They eventually tied the knot in the same year.
Brandi Carlile's Fact Card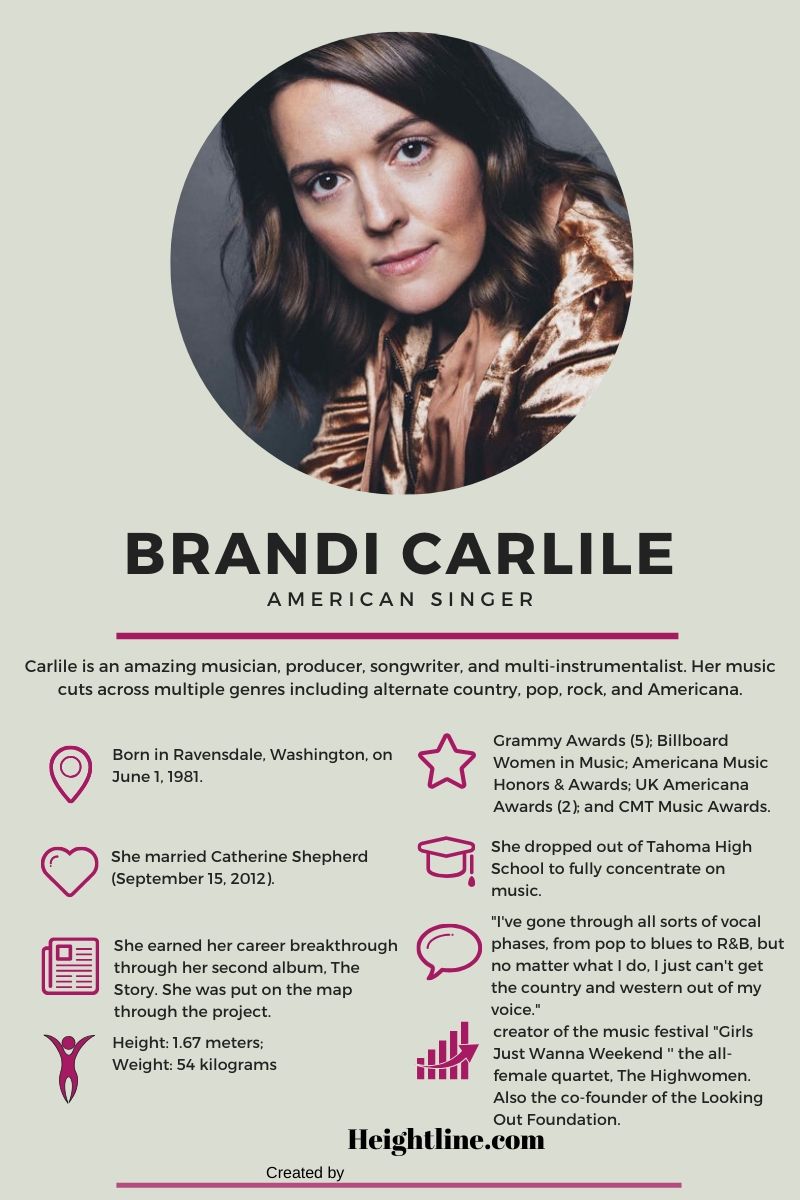 What To Know About Brandi and Her Wife
The country singer and her wife got married and have been lowkey as regards their individual lives and marriage. They cherish their privacy so much and have successfully kept things that pertain to their family away from the public. This explains why there's little information about their union and kids. Nevertheless, here are some lesser-known facts about the couple.
1. Carlile And Shepherd Got Connected Through The Latter's Job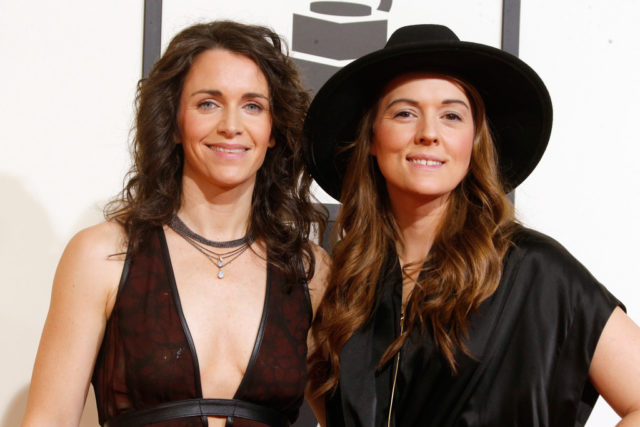 Catherine Shepherd was working as the coordinator of English singer/songwriter Paul McCartney's charity when her path crossed with that of Brandi Carlile. The pair became friends and met again at one of Brandi's shows in the US, where Catherine had come to do some work for Sir McCartney. The two subsequently dated each other for about one year, a period that saw them establish a wonderful relationship that eventually led to their marriage.
Carlile and her wife sealed their love in the presence of their loved ones on 15th September 2012 in Boston, Massachusetts. Since they legally tied the knot, the sweethearts have been enjoying a blissful marital relationship.
2. The Two Have No Dating History
Both Brandi Carlile and Shepherd have never been linked to any man in the past. It is not known if they had secret affairs before fame or if they have never had any man in their life before. Brandi's love life began attracting public and media interest after she came out as a lesbian many years ago. Although Shepherd has been under the spotlight since she started dating the singer, information about her past life is still under the radar. Neither the singer nor her wife has come out to comment about their personal life and relationship with the opposite gender.
3. Catherine Works At Brandi's Foundation
The singer and her wife have a lot in common, including their great interest in activism and passion for charity. Prior to their marriage, Catherine worked for McCartney for 10 years but currently, she works at her wife's foundation – Looking Out Foundation. Shepherd occupies a top position at the organization, which has garnered over $800,000 for the nonprofit group War Child UK. Ever since she joined Looking Out, the foundation has witnessed tremendous growth and commendable achievements.
4. Carlile's Wife Is A Great Singer
Although Catherine Shepherd is not a music star like her wife, she is a wonderful guitarist and singer. She has been a great inspiration to her wife – many thanks to her natural singing talent and knowledge in some musical instruments. The couple has never performed together on stage but they have walked the red carpet at several celebrity events and award shows.
5. Their Favorite City Is Tucson
Brandi Carlile and her wife's favorite vacation destination is Tucson, a mega town in Arizona. They've been there a couple of times with her family. She loves playing golf whenever she is in the city.
6. The Lovebirds Have Two Children
The Grammy award-winning singer and her wife are parents to two adorable daughters named Evangeline Ruth Carlile (born June 15, 2014) and Elijah (born March 18, 2018). She announced their birth on her various social media pages, to great fanfare. Brandi Carlile and Catherine Shepherd are currently raising their kids in their mansion in Maple Valley, Washington.
FAQs 
How Old is Brandi Carlile?
Brandi Carlile is 42 years old. She was born on June 1, 1981, in Ravensdale, Washington, U.S.

Where Does Brandi Carlile Live?
Brandi Carlile lives in Maple Valley in King County, Washington, United States.
Who is Brandi Carlile Married To?
The musician is married to Catherine Shepherd. They met in 2009 and announced their engagement in June 2012. They subsequently got married in Wareham, Massachusetts, on September 15, 2012, and now have two daughters.
Is Brandi Carlile Gay?
During an interview in November 2002, Brandi Carlile opened up about her sexuality, identifying herself as a lesbian.
Is Brandi Carlile related to Belinda Carlisle? 
Brandi Carlile and Belinda Carlisle are not biologically related. It is easy to assume that they share some sort of relationship owing to their similar but different last names. Brandi Carlile is the daughter of Teresa Carlile (her father's name is unknown). She was born in Ravensdale, Washington, a small town 30 miles outside Seattle, and has two siblings – Jay (brother) and Tiffany (sister) while Belinda was born in Hollywood, Los Angeles, California, to Harold Carlisle and Joanne Carlisle (née Thompson) and has six siblings – three brothers and three sisters.