While it may be difficult to know exactly how many tattoos Pitt actually has, it is obvious that he has over ten tattoos with special meanings. These includes a tree tattoo, a bee tattoo, and an abstract tattoo on his chest among many others.
Unarguably one of the most stylish men in Hollywood, Brad Pitt has stunned his fans over the years with his fascinating sense of style. Through the years, his style has evolved, and every appearance on the red carpet came with a new dimension to his effortless charm.
Blessed with boyish looks and a smile that never seems to fade, one integral part of the Brad Pitt style is his tattoos, most of which still leave his fans fascinated and wondering what they mean.
Though Brad has been in the limelight for the better part of three decades, it is near impossible to fully know all the parts of his body he has inked. He keeps them private but strategically shows off a few depending on his outfit and occasion. Let's find out more about some of the most prominent tattoos on his body.
List of Brad Pitt's Known Tattoos
First let's take a quick look at all of Brad Pitt's tattoos, categorized according to the part of his body they can be found;
Left Forearm Tattoos

The Iceman Tattoo
Invictus Tattoo
French Tattoo
Height of the Largest Sequoia Tattoo
Right Forearm Tattoos

Cross Tattoo with Family Initials
Tank Tattoo
Bee Tattoo
Right Inner Bicep Tattoos

Rumi's Poem Tattoo
Tree Tattoo
Silhouette Tattoo
Right Outer Bicep Tattoos

Skull Tattoo
Amor Fati Tattoo
Stomach/Chest Tattoos

Angelina's Date Of Birth and Cursive Tattoo
Tree Tattoo
Sak Yant Tattoo
The Bob Dylan lyric Tattoo
Abstract Chest Tattoo
Back Tattoos

Angelina's Scribblings
Whirlwind Tattoo
Sanskrit Tattoo
Random Back Tattoos

Leg Tattoos
I bet you want to know the details of these tattoos; how and when they came about, what they mean, and probably if any has been erased following his divorce. Well buckle up, seat back, and enjoy the ride;
Left Forearm Tattoos
The Iceman Tattoo
A prominent tattoo on Brad's left forearm strongly resembles the outline of the 5300-year-old mummy, Ötzi The Iceman, aka Frozen Fritz and Similaun Man. A man climbed up the icy heights of the Schnalstal glacier and died. He was found by accident in 1991 with his clothes and equipment all frozen and mummified.
We may never know what Brad found so interesting about this mummy, but we know that they do share something in common; The Iceman spots the world's oldest tattoos–a series of blue-black lines and crosses–which may have inspired Brad to choose this unusual image.
Invictus Tattoo
On his lower left forearm, Brad has 'Invictus' tattooed underneath The Iceman. Invictus means "unconquerable" or "undefeated" in Latin, and is attributed to a poem of the same name by the 19th-century poet, William Ernest Henley, which finishes thus; "I am the master of my fate, I am the captain of my soul."
We can easily decipher what this tat means to Brad; striving in the face of difficulties, bent but not broken. This is very apt this period, seeing as Brad went through a lot with his divorce, alcohol addiction, therapy, etc
French Tattoo
Brad has a French tattoo on his left forearm that reads "Absurdites de l' existence" which means "absurdities of existence." His inspiration was the preface of the book by Daniel Pearl Collected Writings from The Wall Street Journal;
"I wish you a good journey through Danny's writings. It is my sincere hope that his spirit and values will radiate from all of you who he inspires. I hope that, like me, you will be able to laugh with Danny as he navigates you through the 'absurdités de l'existence'. Mainly, I trust that Danny's flame will keep burning in you as it does in me, his wife. — Mariane Pearl, Paris, France".
Aside from the book's reference, Brad was no doubt contemplating the absurdities of life; the inexplicable happenings that seem to dot man's journey through life, perhaps with reference to his life experiences.
Height of the Largest Sequoia Tattoo
94.9 m (311.4 ft) is tattooed on Brad Pitt's left foreman, just beside the iceman. If you guessed that it is the height of the largest sequoia, then you are right. Brad loved the outdoors, growing up in the Ozarks. His favorite pastime involves spending time in wild nature.
According to him, "the woods, rivers, bluffs, lakes, and caves have all left an indelible mark on me…" The tat which was first spotted in 2014, perhaps means much more to Brad; a reminder to always aim higher.
Right Forearm Tattoos
Cross Tattoo with Family initials
Quite a number of Brad's tattoos are sentimental and are a way of expressing his love for his spouses and family. Brad has a dedicated tattoo on his right forearm to his entire family. The tattoo is a thin-lined cross that contains the initials of everyone in his immediate family.
The A in it stands for his ex-wife Angelina, M for Maddox, P for Pax, Z for Zahara, S for Shiloh, K for Knox, and V for Vivienne. The cross was first spotted in 2013 and the letters in 2014. The 'A' was later covered with a star, which first appeared on November 12, 2019.
Tank Tattoo
Brad's Tank Tattoo has been causing quite the stir; mainly because of its location. The tank tattoo, which was first noticed on July 24 2020, depicts a tank driving on the longest line of the cross tattoo (third quadrant), with its gun aiming at the 'A' that was supposed to stand for Angelina in the second quadrant. But as the 'A' has been covered with a star, the star probably wasn't aiming at Angelina as some people might have suggested. It is perhaps a reference to Brad's 2014 movie Fury which was about a tank and its crew.
Bee Tattoo
It was first spotted on November 12, 2019, and it isn't surprising as Brad loves his bees. He was introduced to beekeeping by his Once Upon A Time In Hollywood co-star Leonardo DiCaprio and has since been obsessed, hence the bee tattoo. He is said to even have "bee villas" in the backyard of his Los Angeles property. Well, it is nice that he can move about with a bee on his arm without getting stung.
Right Inner Bicep Tattoos
Rumi's Poem Tattoo
Prior to their wedding in 2014, Brad got a touching tattoo on his right bicep from a quote by Jalal ad-Din Rumi, a 13th century Sufi Poet. The quote reads, "There exists a field, beyond all notions of right and wrong. I will meet you there." Of course this cryptic tattoo was specially for Angelina and Angelina likewise has a Persian version of the same quote.
Tree Tattoo
Brad appears to have tattooed a tree right next to the Rumi quote. The tattoo which was first spotted in 2019 depicts the outlines of a tree, however, the meaning of the tattoo isn't clear. Interestingly it seems to intersect with the Rumi quotes that had been previously inked there. Brad in an interview once mentioned that he is quite reverential when it comes to a tree and we know so far that he has three tattoos relating to trees; this tattoo is one of his newest.
Silhouette Tattoo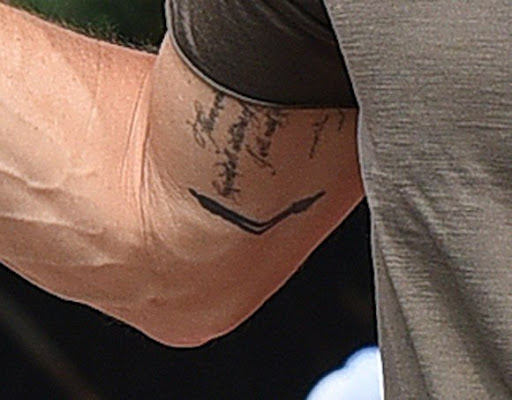 Fans were surprised to see a new tattoo on Brad's inner bicep at the Venice Film Festival on August 28, 2019. The new tattoo appears to be a silhouette of a man standing over his own shadow. The shadow also appeared smaller than the man. Interestingly, the tattoo is right next to Rumi's poetic tattoo that Pitt previously got in honor of ex-wife Angelina Jolie.
Was the tattoo taking a jab at Angelina or is it just an ode to his character in either Meet Joe Black or The Curious Case of Benjamin Button? Only Brad would know and he isn't talking.
Right Outer Bicep Tattoos
Skull Tattoo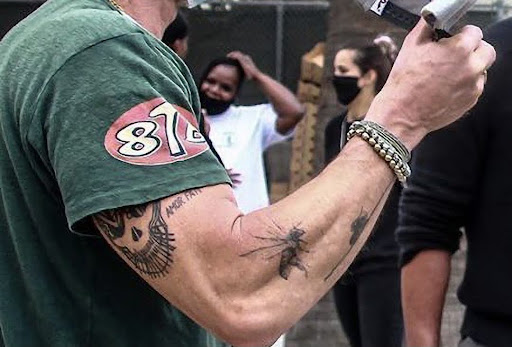 Yes, Brad has a skull tattooed on his right bicep. It was first spotted in August 2020 and interestingly, it has a subtle resemblance to the Marvel character Thanos. Anyway, this is one tattoo we might never get to know its true meaning for Brad, but it sure looks nice.
Amor Fati Tattoo
An 'Amor Fati' tattoo is just beside the skull tattoo. The tat which was first spotted in October 2020 translates to: 'To love one's fate'. Perhaps, Brad has begun to accept and appreciate the current state of life. He mentioned that he has been going to therapy and has successfully given up alcohol (Brad spent a year and a half in Alcoholics Anonymous).
In an interview he said; "I had taken things as far as I could take it, so I removed my drinking privileges." Hopefully, he is loving his life right now.
Left Bicep Tattoo
Motorbike Tattoo
Brad Pitt absolutely loves his motorbikes, his favorites being Rad Café Racers and Samurai choppers. No wonder he had Shinya Kimura build a customized motorcycle. He also owns one of the most expensive bikes in the world – the Ecosse Titanium Series XX – as well as a Yamaha R1, a Ducati Desmosedici RR, and a custom Indian Larry.
So where are we going with all this info; of course, it explains the motorbike tattoo on his left bicep. The tattoo, which debuted in May 2017, shows the front view of a motorcycle and is the only tattoo gracing his left bicep.
Stomach/Chest Tattoos
Angelina's Date Of Birth and Cursive Tattoo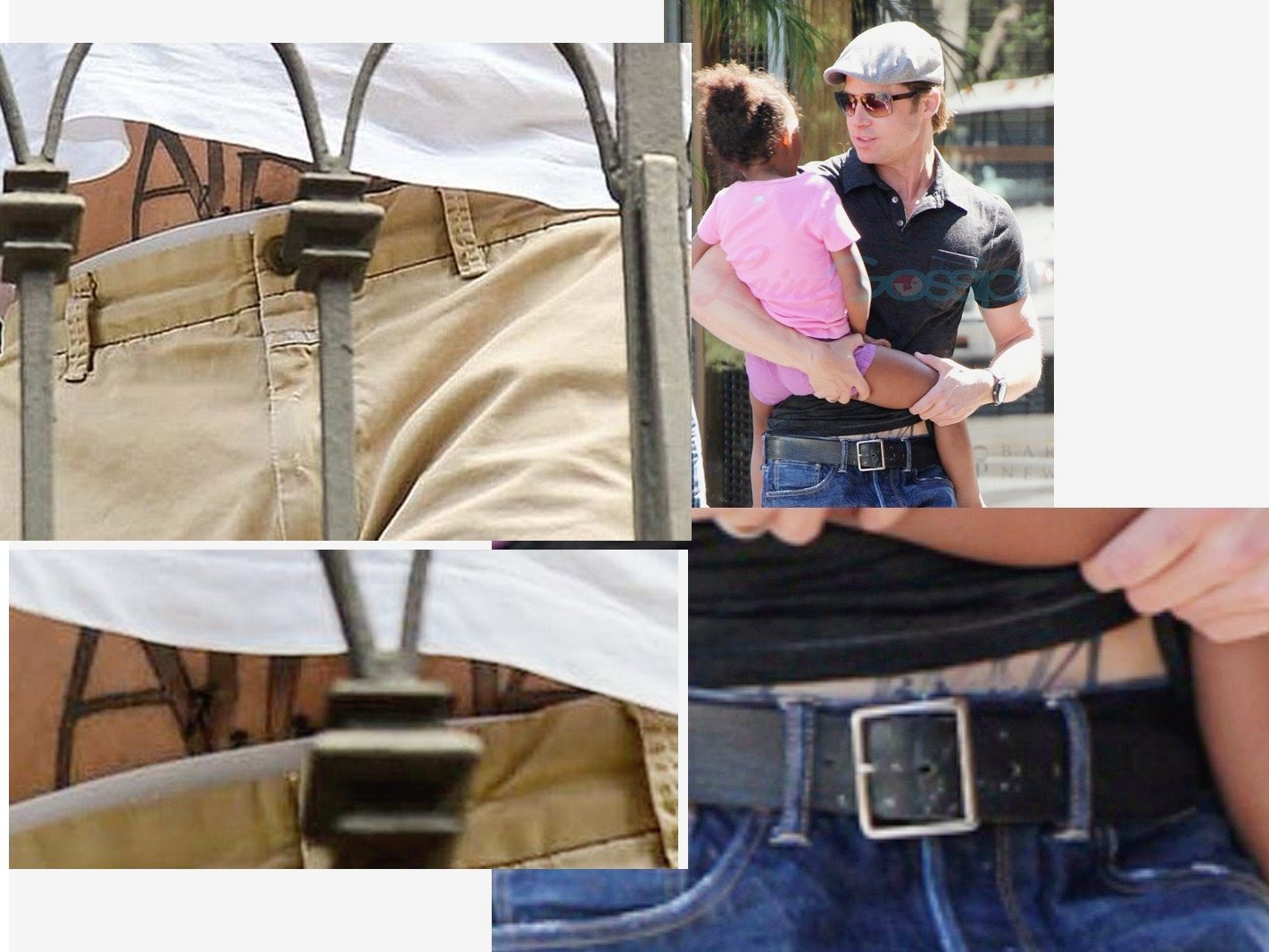 Brad has a tattoo on his lower right stomach in Khmer – the official language of Cambodia. It bears the birth dates of his ex-wife Angelina Jolie, which is 6-4-75. On that same spot where Brad had tattooed Angelina's birth dates in Khmer is a black cursive tattoo and although we haven't been fortunate to see the whole thing, it can be seen that it starts with an 'A', so it might be related with Angelina, or not.
Tree Tattoo
Brad Pitt has another tree tattoo on his lower right flank. This tree is more detailed than the one on his bicep and was first spotted in 2019. The tree takes semblance to 'the tree of life' and Brad has actually acted in a 2011 movie by the same name. Of course, we haven't forgotten that Brad loves trees. Underneath the tree is a writing that first appeared on November 20, 2020.
Sak Yant Tattoo
On a vacation with his family in Thailand in early 2016, Brad got a matching tattoo with his then-wife Angelina. The Sak Yant tattoo, which is on his left flank, was inked by none other than Ajarn Noo "Sompong" Kanpai, who had also done Angelina's Sak Yant style tattoo, and Hah Taew. Hah Taew or Five Sacred Lines represents five chants in an effort to create magical spells for protection, success in love, and in life. The Sak Yant offers power, protection, fortune, charisma, and other benefits for the bearer.
Abstract Chest Tattoo
On the far right side of Brad's chest is a tattoo that can be best described as abstract. It looks like an abstract line art reproduction. It was first spotted in 2017 and we are lost as to what it represents. It would definitely mean something to Brad as do most of his tattoos.
The Bob Dylan lyric Tattoo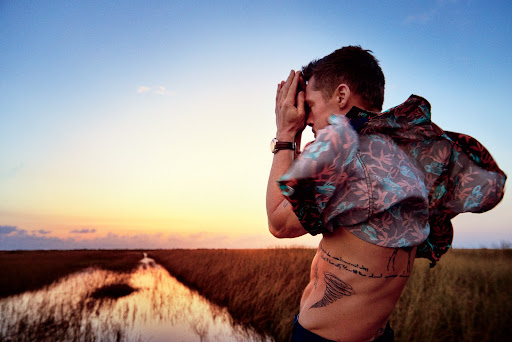 An interesting and deep tattoo traverses from Brad's left rib cage through the sides and stops at the back. The ink which is just above the Sak Yant tattoo is a Bob Dylan lyric from the song "When The Deal Goes Down". He wrote: "We live, we die, we know not why; But I'll be with you." This tattoo is supposedly done in Angelina's handwriting, which makes it more interesting and of course, the meaning isn't lost to us.
It is obviously a promise between the two to go through thick and thin together, however, seeing that the couple are now divorced, it is just sad that this promise got broken.
Back Tattoos
Angelina's Scribblings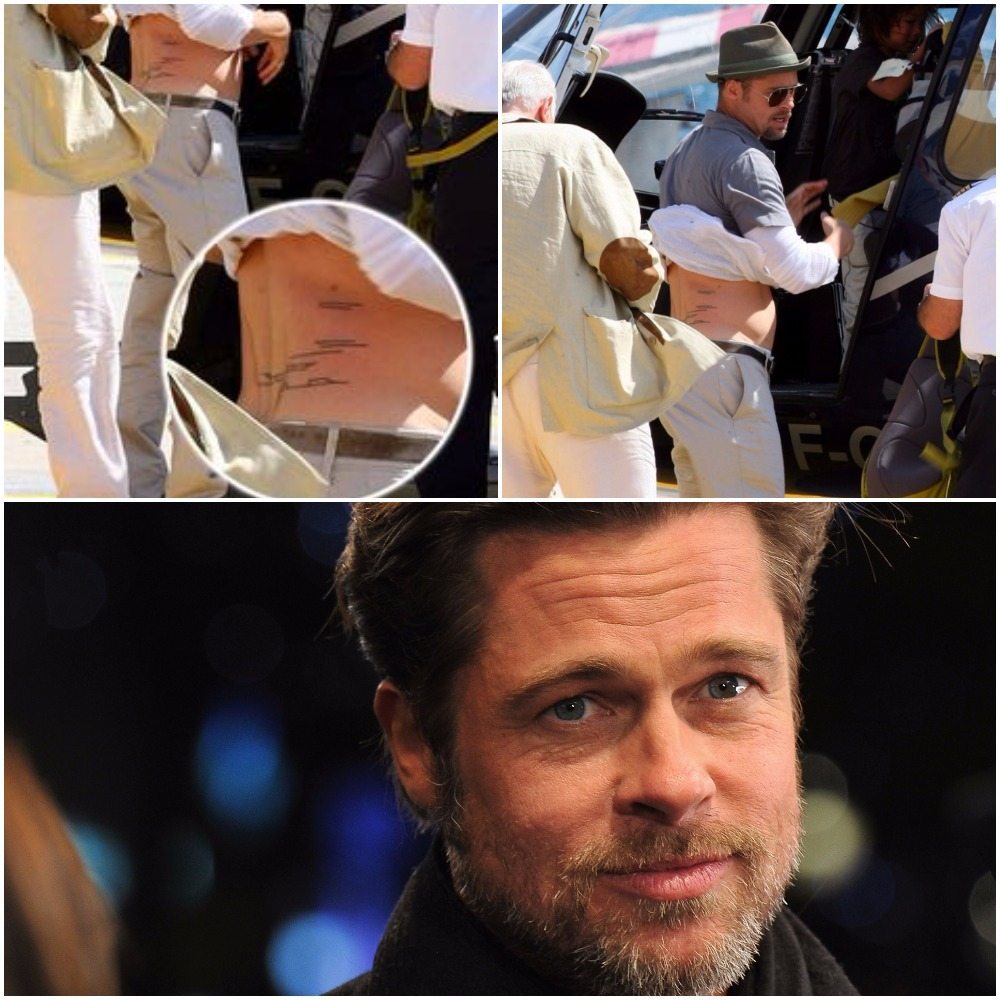 Brad created quite the media frenzy when he sported a very unusual tattoo, which consisted of a sketched linear pattern with a collection of several small choppy lines that had seemingly no relation to one another. There were insinuations that it had something to do with the New Orleans catastrophe after Hurricane Katrina, which Brad was very committed to. Interestingly, it was his then-wife Angelina, that shed light on that tattoo, saying she drew the random patterns on his back and he liked it, then made it permanent.
Whirlwind Tattoo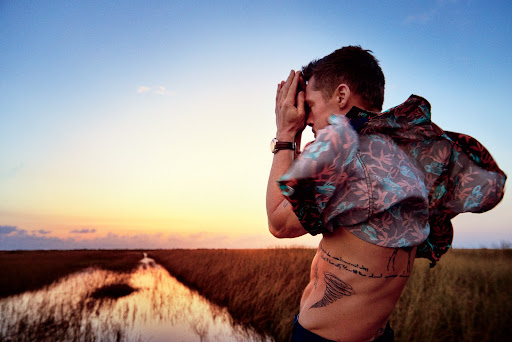 Just to Brad's left torso is a whirlwind/tornado tattoo, just below the Bob Dylan lyric tattoo. We can only guess as to what it means to the actor. Perhaps it is a reference to the upheavals of his life, just like his "Absurdites de l' existence" tattoo. The whirlwind romances of one of Hollywood's sex icons aren't exactly news anymore. If anything, Brad's life journey, both professional and personal, hasn't been smooth sailing.
Or it might be a reference to Hurricane Katrina, which Brad was deeply committed to. Or perhaps Brad is just a really big fan of the 1996 film Twister.
Sanskrit Tattoo
On the left side of Brad's lower back, there is a Sanskrit tattoo that was similar to one Angelina got when she adopted her oldest son, Maddox. And just like Angelina's, the tattoo is rumored to be for the protection of his eldest son Maddox. This should be one of Brad's earliest tattoos, dating back to 2005.
Random Back Tattoos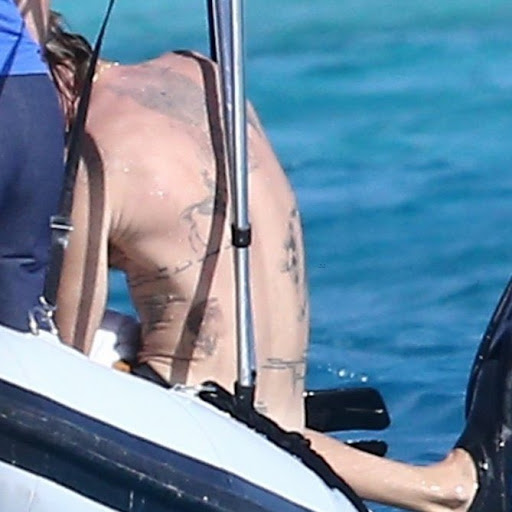 In January 2021, we were fortunate to catch a rare glimpse of Brad Pitt's back tattoos. While snorkeling in Turks and Caicos with friends, a shirtless Brad was photographed with his bareback showing nothing less than seven tattoos on different parts of his back. Unfortunately, the tattoos are not that clear as to decipher what they depict or mean but they are quite interesting and you bet they have some special meaning to the actor.
Leg Tattoos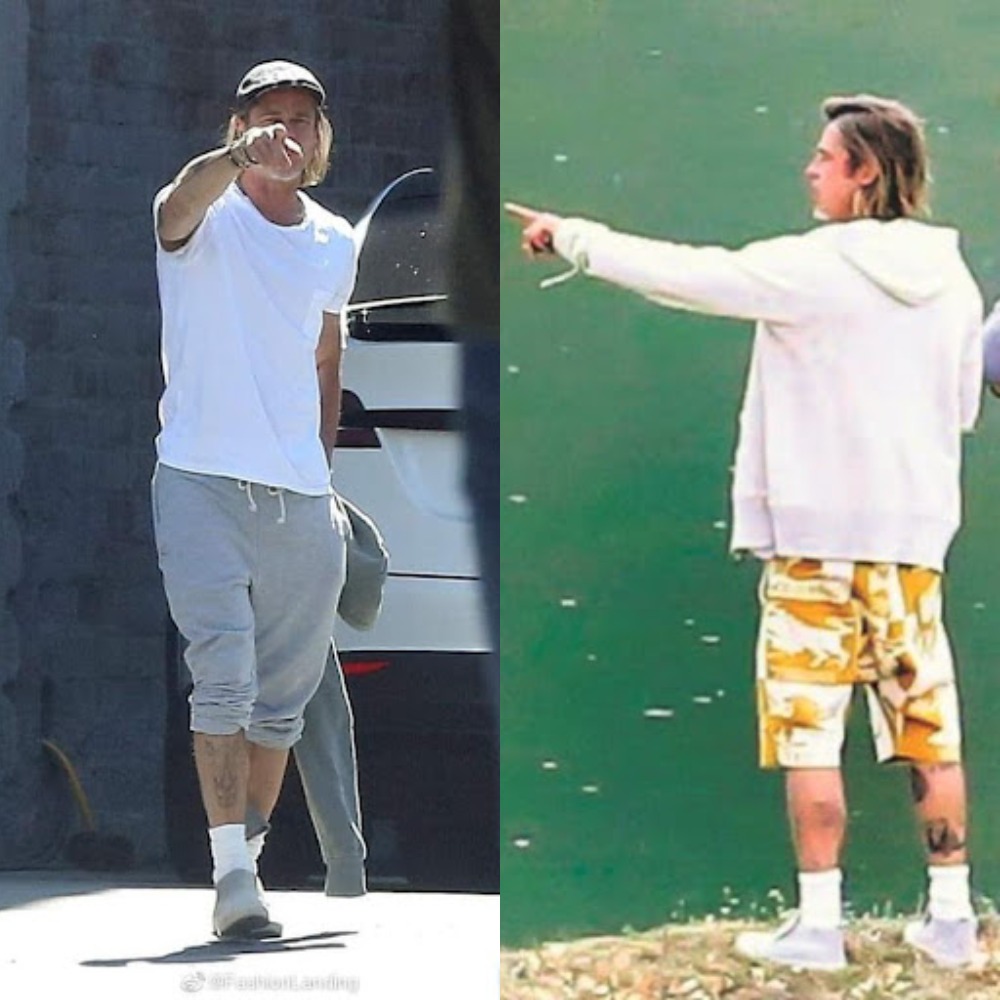 Surprisingly, Brad Pitt does have some leg tattoos! We don't usually get to see them up close, as the movie star always has them covered. As to what these tattoos are and what they mean to the actor, we can only guess. One of the tattoos appears to be an outline of a rhino, front view.
It seems Brad Pitt's tattoos cover most of his body in random and interesting ways, except his face and neck. He obviously loves getting tatted up and there is no sign he will be stopping anytime soon.