Unarguably one of the most stylish men in Hollywood, Brad Pitt has stunned his fans over the years with his fascinating sense of style. Through the years his style has evolved, and with every appearance on the red carpet came a new dimension to the effortless charm. Blessed with boyish looks and a smile that never seems to fade, another integral part of the Brad Pitt Style arsenal is his tattoos, most of which still leaves his fans fascinated and wondering what they mean.
Though Brad has been in the limelight for the better part of three decades, it is near impossible to fully know all the parts of his body he has inked. He keeps them private but strategically shows off a few depending on his outfit and occasion. Let's find out more about some of the most prominent tattoos on his body.
1. Brad Pitt Rarely Discusses The Meaning of His Tattoos
A lot about his tattoos are shrouded in mystery. A very private person, Brad rarely talks about his inkings and that leaves the public to decipher them. This makes people even more curious because it is apparent that all of his tattoos usually have a very distinctive meaning. On a certain occasion, Brad created quite the media frenzy when he sported a very unusual tattoo, which consisted of a sketched linear pattern with a collection of several small choppy lines that had seemingly no relation to one another.
There were insinuations that it had something to do with the New Orleans catastrophe after Hurricane Katrina, which Brad was very committed. Interestingly, it was his then-wife Angelina, that shed light on that tattoo, saying she drew the random patterns on his back and he liked it, then made it permanent.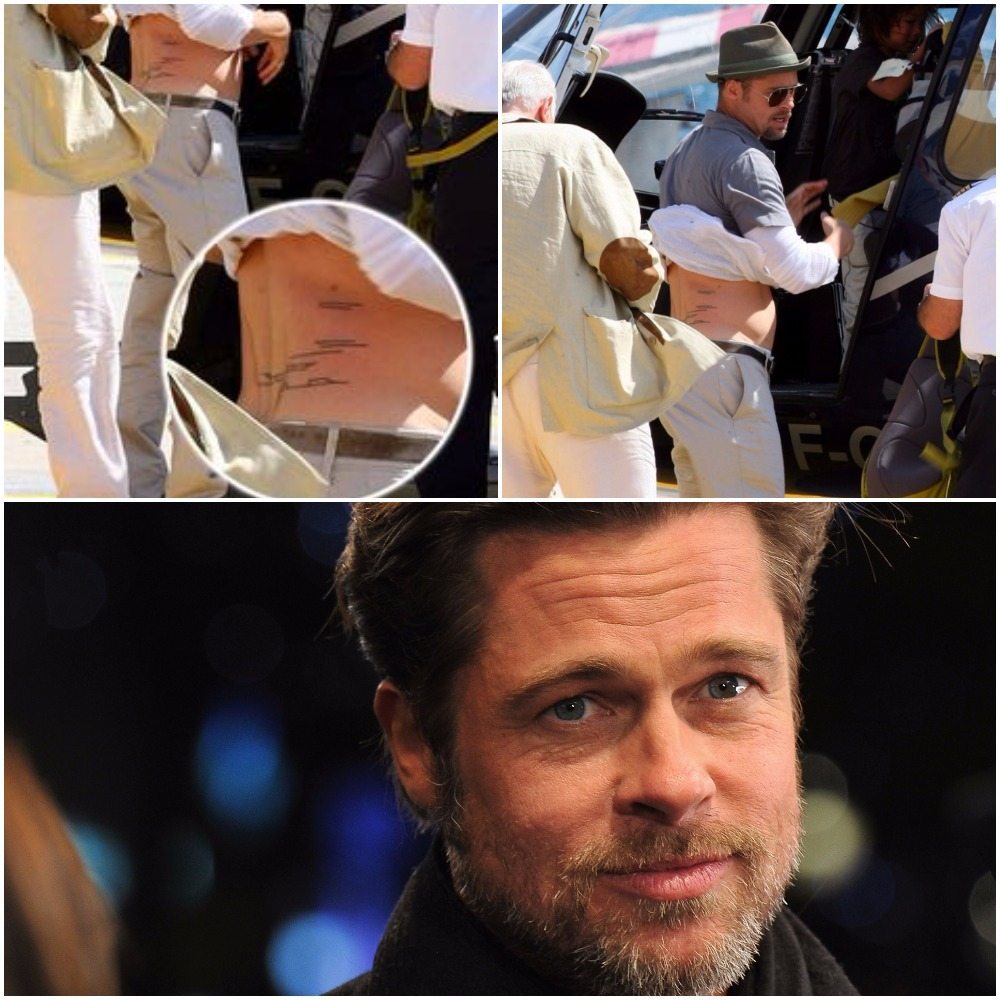 2. He Incorporates Foreign Languages Into His Tattoos
Brad likes his tattoos cryptic. He has a tattoo on his left forearm that reads, 'Absurdites de l' existence,' this French phrase can be translated to mean 'life is absurd.' His inspiration was the preface of the book of Daniel Pearl. On his lower left hand, he has 'Invictus' meaning 'invisible' attributed to a William Ernest Henley poem.
He also has a tattoo on his lower stomach in Khmer – the official language of Cambodia. It bears the birth dates of his ex-wife Angelina Jolie, and she also has one in the same language. It translates to, 'May your enemies run far away from you. If you acquire riches, may they remain yours always. Your beauty will be that of Apsara. Wherever you may go, many will attend, serve and protect you, surrounding you on all sides.' Brad also has another on his lower left back in the ancient Sanskrit language.
3. The Total Number of Brad Pitt's Tattoos Remain A Mystery
When a man never discloses when he gets inked and why, it makes it more difficult to keep tabs with him. Sometimes it takes a new movie or a zoomed picture taken by a nosy journalist to discover that the actor has got another one hiding somewhere on his body no one knew about. No one knows the exact number of tattoos Brad Pitt has; they kind of just show up on his outings, and he never makes any comments about them.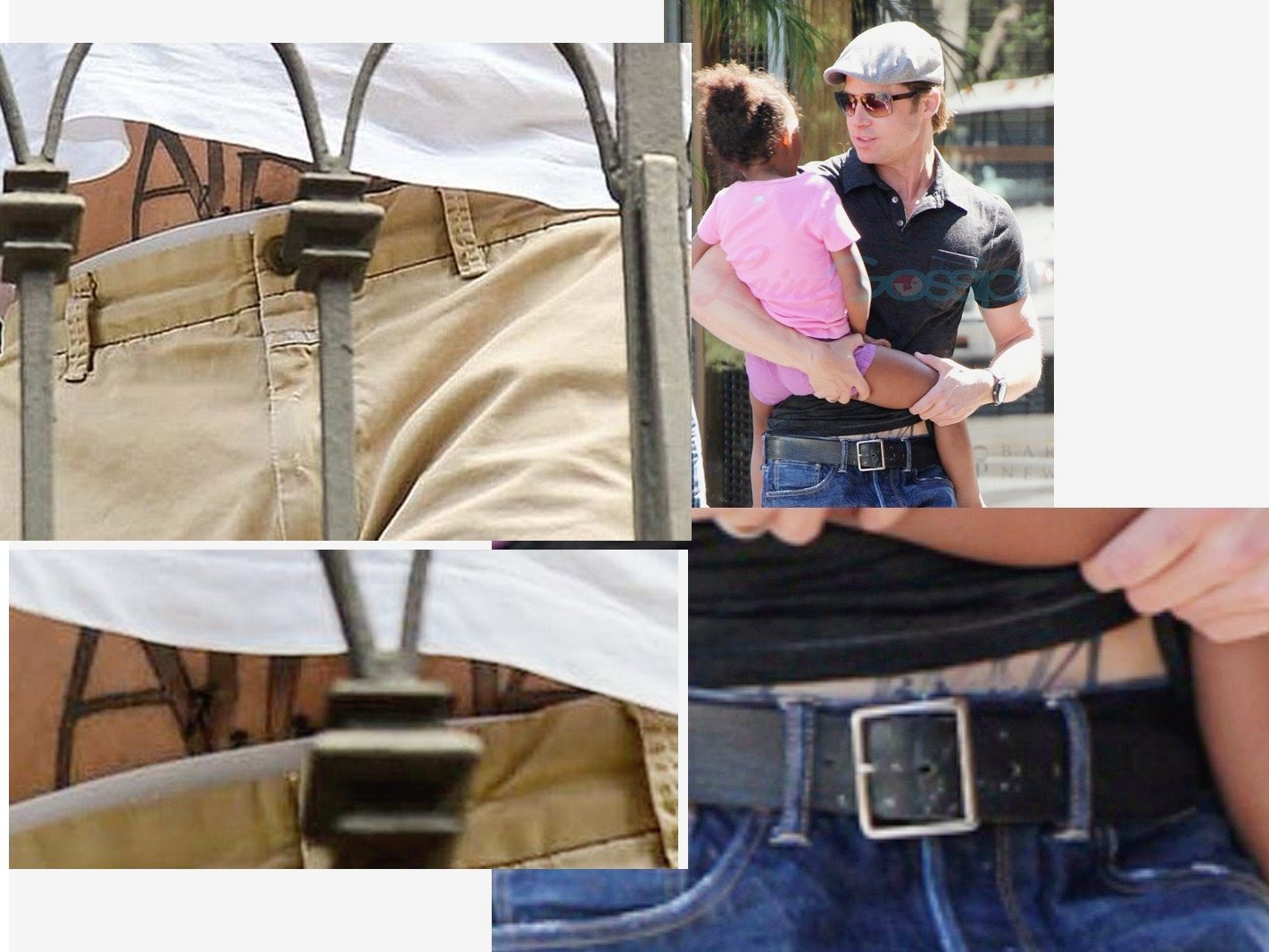 4. He Likes Them Poetic
When Brad isn't inscribing birth dates of loved ones, he is putting up a quote of some sort. The tattoo on his right bicep is a quote by Jalal ad-Din Rumi, a 13th century Sufi Poet. The quote reads, "There exists a field, beyond all notions of right and wrong. I will meet you there." The tat on his left arm is a verse of a 19th-century poet William Henley's work, which reads, "I am the master of my fate, I am the captain of my soul."
5. Brad Expresses Emotion Through His Inkings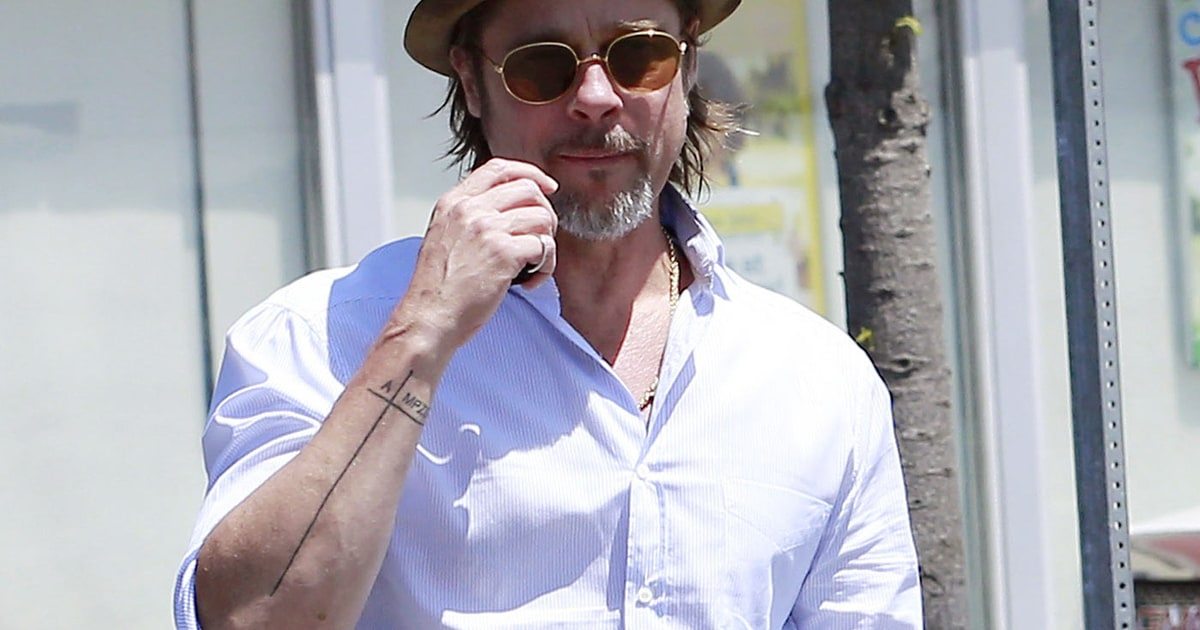 Quite a number of Brad's tattoos are sentimental and are a way of expressing his love for his spouses and family. Brad has a dedicated tattoo on his right forearm to his entire family. The tattoo is a thin-lined cross that contains the initials of everyone in his immediate family. The A in it stands for his ex-wife Angelina, M for Maddox, P for Pax, Z for Zahara, S for Shiloh, K for Knox, and V for Vivienne.