Boogie2988, also known as Boogie or Steven Jay Williams, is an American YouTuber best known for uploading video rants about video games and nerd culture using his character, Francis. On May 7, 2021, Boogie was arrested for aggravated assault following an incident where he fired a warning shot in September 2020 after his rival Frank Hassle showed up at his house.
The YouTube star was previously married to Desiree Williams. They met online and tied the knot in 2013, and after about four years of being together, they separated in 2017 and their divorce was finalized in 2018. With millions of people subscribed to his channel, it is only natural that his life story and personal life has become something that interests many people.
Profile Summary of Boogie2988
Real Name: Steven Jay Williams
Nationality: American
Place of Birth: St. Paul, Virginia, U.S.
Date of Birth: July 24, 1974
Age: 48 Years Old
Occupation: YouTuber
Years Active: 2006 – Present
High School: St. Paul High School, Virginia
College: University of Virginia's College at Wise (dropout)
The 48 Years YouTuber Was Born and Raised In St. Paul, Virginia
As you would easily find, the American YouTuber was born on the 24th of July 1974 and his place of birth was in St. Paul, a town located in Russell and Wise counties in the state of Virginia. According to Boogie, his family was a dysfunctional one that warranted the two siblings he has living away from them.
His older sister named Karla was removed and taken to a foster home because of abuse issues and his older brother, Bryan, also left home as he could no longer tolerate their mother's prevailing mood. As his father was also almost always not at home due to his work as a coal miner, Boogie2988 was all alone with his mother who worked as a teacher.
He had no friends and struggled with his obesity while his mother relentlessly abused him every day of the week. If everything he has claimed is true, he was verbally and physically abused so much that he attempted to commit suicide. He said he was stabbed and burned with a cigarette but an incident that stood out was when he jumped out of a moving vehicle to escape an attack from his mother.
Boogie has battled with maintaining a healthy weight since his childhood and also suffers from posttraumatic stress disorder (PTSD) and anxiety. All of these, he claims, have something to do with the psychological and physical abuse he endured. The YouTuber had his high school education at St. Paul High School in Virginia.
After that, he proceeded to a public liberal arts college in the same state, the University of Virginia's College at Wise. He would later drop out and relocate to Arkansas where he settled in Fayetteville. It is said that his quality of life improved for a while and deteriorated before he discovered YouTube which gave him a purpose.
He Has Been A YouTuber Since 2006 and It Accounts for His $2 Million Net Worth
The YouTuber lost his father to cancer and his mother passed in 2009. Much isn't known about his sister but it seems he has maintained some kind of relationship with his brother who reportedly nudged him towards what he now does for a living. It is said that Bryan got him to learn coding and web design which somehow made a vlogger out of Boogie. He created his YouTube channel, Boogie2988, in April 2006.
On YouTube, Boogie uploads comedy sketches, parodies, rage videos, gaming videos, and what have you. As of September 2021, the channel had over 4.2 million subscribers and more than 911 million views. The channel has been his major source of income through which he has accumulated quite an enviable wealth estimated at $2 million.
Boogie2988 Was Arrested In May 2021 For Firing a Warning Shot at Another YouTuber
It was sometime in 2020 that the conflict between Boogie2988 and another YouTuber named Frank Hassle began. Hassle believed that Boogie had a hand in the termination of his channels and would harass him because of this for several months to come. Their conflict culminated in Hassle visiting Boogie in Abingdon, Virginia, for a face-to-face confrontation.
Another YouTuber known as Keemstar tried to mediate peace between the two but nothing positive came out of the effort; it ended with Boogie threatening to kill Hassle should he step on his property. To call his bluff, Hassle went looking for Boogie2988 at his home with a camera to record the encounter. Boogie would eventually fire a warning shot to get Hassle out of his property.
A police investigation ensued and a warrant for Boogie's arrest was issued. The YouTuber turned himself in and was booked into the Washington County Jail. He was held on a $5,000 bond for aggravated assault. Court documents show that the state contends that he manifested an extreme indifference to the value of human life. Boogie pleaded "Not Guilty" and would be back in court in 2020 for trial.
He Got Married To Desiree in 2013 After They Met Online and They Divorced in 2018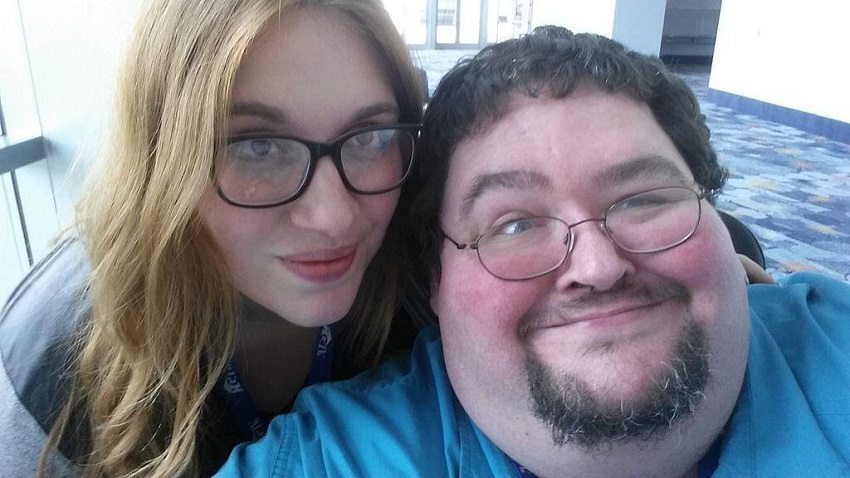 Details of how the YouTuber met his ex-wife, Desiree "Dez" Williams, are hard to come but some reports have it that they met online around the time Boogie2988 lost his mother in 2009. They started dating and soon, Dez was convinced she wanted to be with him, so she moved to Arkansas and began cohabiting with the love of her life.
Dez became very supportive of Boogie and began featuring in his YouTube videos; thus she became known as Dez2988. 2013 came and sometime in October of that year, they got married. Now a couple, Boogie and Dez continued working together but were struggling to have a happy marriage.
Their multitude of fans knew nothing about that until it emerged in December 2017 that they were getting a divorce. As one would expect, people became curious about what led to that and who made the move to end the marriage. It was soon confirmed that Dez filed for divorce on the 19th of December 2017. Apparently, she had been wanting to do that several months earlier but had to wait and nurse the YouTuber until he fully recovered from a gastric bypass surgery he had.
The divorce was finalized on the 13th of February 2018 and the two went their separate ways but remained friends. Their union didn't produce any child and Boogie2988 would later disclose in one of his videos that his PTSD and anxiety disorder led to the end of the marriage. He wanted to keep fighting for the union but Dez had simply had enough of it.
Other Interesting Facts About Boogie2988
What is Boogie2988's Net Worth?
Boogie2988's net worth is currently estimated at $2 million. He made his wealth largely through his YouTube career. The YouTube star makes an average of $1.3k monthly.
Who is Boogie2988's Wife?
Boogie2988 was married to Desiree Williams, fondly called Dez. The couple met online and got married in 2013 and divorced in 2018.
What is Boogie2988's Age?
Boogie2988 is currently 48 years old. He was born Steven Jay Williams on July 24, 1974 in St. Paul, Virginia, United States.