A true son of his father, Bol Bol is gunning for a spot at the top of his game as a basketball player, a sport wherein his father broke several barriers. Bol, a Sudanese-born American basketballer, currently plays in the center position for the University of Oregon's team – Oregon Ducks.
Born to one of the best the sport has ever seen, a lot is expected from Bol Bol and he doesn't look like he has any plans of not meeting the expectations. This notwithstanding, he has some really big shoes to fill as attaining half his father's record is no walk in the park. Anyway, the younger Bol seems to be busy building his personal legacy and he hasn't even gone pro yet. Get to know more about him and his father below.
Bol Bol Bio
He was born on November 16, 1999, in Khartoum, Sudan, and named Bol Manute Bol, after his father, the former National Basketball Association (NBA) star, Manute Bol. His mother, Ajok Kuag, and father, welcomed him as their first offspring. The family later relocated to Cairo, Egypt, with plans of immigrating to the United States but due to issues with their visas, they were delayed. They later made it to Connecticut the next year, posing as refugees and by this time, Bol was 2 years old.
Inspired by his father who played a key role in honing his skills, Bol started shooting hoops at the age of 4 and also joined his father in the gym. As expected, he took to the basketball court in high school and finished among the best players in the class of 2018.
His high school career took off at Blue Valley Northwest High School after which he transferred to Bishop Miege High School. In his junior year, he played for Mater Dei High School, Santa Ana, California, and wrapped up this level as a player for Findlay Prep in Henderson, Nevada. His record sheet in his final year shows 20.4 points average, 8.2 rebounds, and 2.4 blocks per game. This feat earned him All-USA Boys Basketball Second-Team honors, handed down by USA Today High School Sports.
Current Team
By mid-2019, Bol would have joined a professional team in the NBA but for now, he is known to play for the Oregon Ducks which he joined in the 2018–19 season for his college freshman year. Under head coach Dana Altman, Bol raked in a double-double of 12 points, 12 rebounds, and 3 blocks in 23 minutes during a match (his first in college) against Portland State.
In view of the brief action he displayed in college and his high school reputation which precedes him, Bol ranks among the best prospects for the 2019 NBA Draft. He sustained an injury to his foot during a 66–54 win over San Diego in December 2018 and after that, he declared his intention to enter the 2019 NBA Draft.
His Father – Manute Bol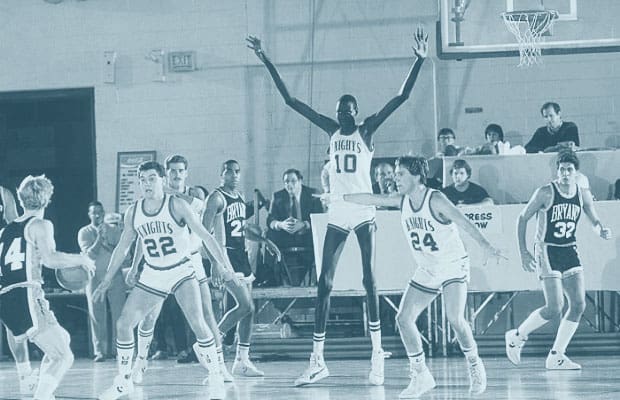 Manute Bol was the life of the game in his heydays. The former Sudanese-born American basketball player stood at a gigantic height of 7 ft. 7 in. (2.31 m), making him one of the two tallest NBA stars to ever grace the court. He played for the University of Bridgeport and joined the big league (NBA) in 1985 after signing with the Washington Bullets. Other teams that he played for include Golden State Warriors, Philadelphia 76ers, and Miami Heat. He is the second in the history of the NBA in blocked shots per game and ranks 15th in total blocked shots.
Asides basketball, Manute Bol was an activist; he fought for human rights and aid for Sudanese refugees. Acute kidney failure and complications from Stevens-Johnson syndrome claimed his life on June 19, 2010.
Read Also: Fred Hoiberg Wife, Daughter, Age, Height, Weight, NBA Career
Height And Other Facts About Bol Bol
1. As a seventh grader, Bol was already 6 ft. 5 in. (1.96 m) tall and by the time he hit 14, he added five more inches to the already intimidating height. His listed height is now 7 ft. 2 in. (2.18 m).
2. At the end of a successful high school stint, Bol was rated as a consensus five-star recruit, in addition to a McDonald's All-American honors which was bestowed on him.
3. As a finalist in training camp, he stood a chance to join the United States team for the 2017 FIBA Under-19 Basketball World Cup but didn't make the cut in the end.
4. He represented the United States junior national team at the Nike Hoop Summit where he posted exceptional records.