A somewhat perfect mixture of both parents, with her blonde hair and bright blue eyes, Shiloh Jolie Pitt is the oldest biological child of Jolie-Pitt clan. Shiloh is known to be gender neutral and for her fondness for tomboy style. There were unconfirmed reports that she is transgender since she was 2. Think the rumors have been laid to rest, they only sparked off a new interest and concern for Shiloh.
Biography of Shiloh Jolie Pitt
Shiloh Nouvel Jolie Pitt nicknamed Shi or John is the famous daughter of the prominent Hollywood film stars, Angelina Jolie and Brad Pitt. She was born through a scheduled Caesarean section in Swakopmund, Namibia at the Cottage Medi-Clinic Hospital on May 27, 2006. She holds a dual citizenship of Namibia and the United States.
Shi is the oldest biological child of the famous duo and has two younger siblings. The Jolie-Pitt pack is made up of six children: Maddox, Pax, Zahara, Shiloh and the twins, Knox Leon and Vivienne Marcheline.
Shiloh sprung up from a famous ancestry beyond her parents. She is the granddaughter of Marcheline Bertrand, Academy Award winner, Jon Voight, Jane Etta Pitt and, William Alvin Pitt. She is also the grand-niece of the American songwriter, Chip Taylor.
Her name, Shiloh originated from the name, Shiloh Baptist, her maternal grandparents wanted to give to their first child which was unfortunately miscarried. However, her mother loved the name enough to suggest it as their (Angie and Brad) own first's name. It was then chosen by the parents as her first name. About her middle name, Nouvel, it is thought to be in honor of Brad's favorite architect, Jean Nouvel.
The preteen became famous even before her birth, thanks to her parents' celebrity status. At the time of her birth, a whopping sum of $7.6 million was paid by magazines for her pictures. Her first baby pictures to be published turned out to the most expensive celebrity images of all time. The money was, however, donated by Angelina and Brad to an undisclosed charity.
Two months after her birth, the tot became the youngest person ever to have a wax figurine of her immortalized at the legendary Madame Tussaud's in London.
Her mother described her as goofy and verbal, which is the early signs of a performer. In spite of her parent's fame, Shiloh Jolie Pitt has already started out on her way to fame. She is an actress and has starred in films such as Kung Fu Panda 3 (2016), VH1: All Access (2001) and Nickelodeon Kids' Choice Awards 2015 (2015). She also had a cameo in her father's film, The Curious Case of Benjamin Button (2008) where she played the baby daughter of Brad's character, Benjamin and Cate Blanchett's, Daisy.
Shiloh Jolie Pitt's Transgender Moves
You know this belief in being a strong support to your children as they take their life decisions usually helps them to settle for what best suits them. Most parents believe in the philosophy of letting their children be themselves. Yeah, Shiloh Jolie Pitt is allowed to take her own fashion choices while her parents form a huge support for her. She, who would rather dress up in suits than frocks started her gender exploration at the age of 2 when she opted to be called John. And, of course, she has her parents support in her journey.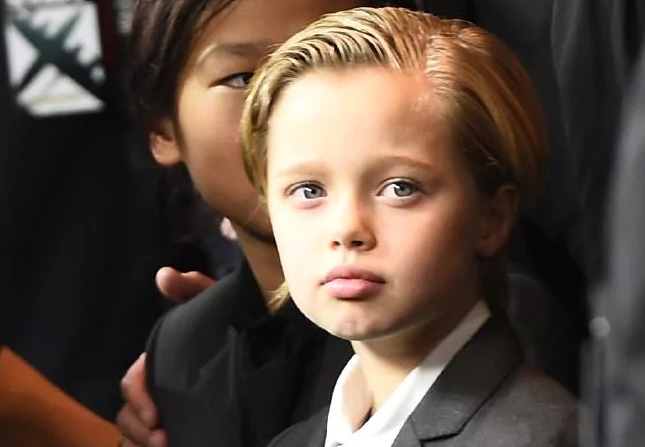 Either because she has older brothers or maybe as a matter of choice, she loves sporting boyish haircuts and dressing up as a boy showing off her tomboy side thinking she is one of her brothers. Another side huh? As though other sides are in existence for her, like girly. Angelina Jolie once mentioned that her little girl has the Montenegro style and prefers regular suits and tracksuits.
While there are many questions as to why the parents have allowed their daughter to continue to dress as a boy donning pants and suits, they have not stopped referring to her as "she". Shiloh is still a preteen and her parents have allegedly deferred discussing gender identity with her until she is set for high school. They have also sought advice from experts on the issue in order not to damage their child.
Read Also: Brad Pitt's Children, Wife, Brother, And Daughter
However, the transgender rumors may have been sparked as a result of Angelina's comments. She has said that her daughter "likes to dress like a boy" and "wants to be a boy." Some people like Amber Rose had even gone ahead to address the little girl as a Transkid even though her parents have never alluded to any of their kids as such.
As strange as the girl's choice may seem, to be identified as a boy, it would be unfair to jump to conclusion that she is trans. She might just be copying her brothers and might even give up the whole practice with time. What should we do then? Allow her to explore her identity at her own pace and on her own terms just like her parents has done.