Billy McFarland's Parents' are real estate developers named Steven H. McFarland and Irene McFarland. Although he has some sort of resemblance with Hollywood star, Seth McFarlane, and also bears a similar surname as he, Billy McFarland and Seth McFarlane are not related, and there's nothing that shows they have any form of biological relationship.
In 2017, Billy McFarland gained international attention for his role in the Fyre Festival debacle. The Fyre festival gained infamy after attendees were left without accommodation, food and were attacked by feral dogs. Billy McFarland, who organized the event alongside American rapper, Ja Rule, was exposed as a fraud and was later arrested and arraigned. He was then sentenced to six years in prison.
Who Are Billy McFarland's Parents?
Billy McFarland is the son of Steven H. McFarland (father) and Irene McFarland (mother), both of who have built a very solid career in real estate. Although information about their education and successful careers abound, details about their background and family life are unavailable.
Steven H. McFarland (Billy McFarland's Father)
Billy McFarland's father is a graduate of Bucknell University from where he bagged a Bachelor of Science degree in Civil Engineering before moving on to Temple University for his master's program.
He began his career in real estate in the 1980's by renovating property in in Philadelphia, Pennsylvania, while also working for Moore Products Co. as a sales engineer. He later founded his own company known as RS Development and incorporated it in Hoboken in 1988.
As the company's founding principal, Steven is responsible for overseeing acquisition, leasing and sales of residential buildings, construction, as well as planning and regulatory approval. He also serves as general contractor and developer for all his projects.
Being a professional in real estate, Steve is a member of the National Association of Home Builders. In the state of New Jersey, he is a licensed real estate agent, home improvement contractor, and new home builder. He also belongs to the New Jersey Builders Association and Builders and Remodelers Association of Northern New Jersey.
Irene McFarland (Billy McFarland's Mother)
Billy's mother, Irene, is a Professor of Real Estate & Finance at Monmouth University. She is also a Principal at RS Development/McFarland Properties where she oversees finance, commercial leasing and asset management. Other than that, she is also involved in project design and acquisitions for the company. Before she got to this point, Irene invested many years to get educated.
She enrolled in Bucknell University in 1979 and graduated with a Bachelor of Science Degree in Business Administration in 1983. She then continued her education at The Wharton School, University of Pennsylvania, in 1986, graduating two years later with a BSBA in Real Estate and Finance.
In 1996, she got a job with The Town Bank of Westfield as an Original Incorporator and Advisory Director. While on the job, she ventured into real estate investment banking following as she joined the investment bank and financial services company, Morgan Stanley, as Vice President and Consultant.
From 2011 to 2013, Irene worked as a part time lecturer at the Edward J. Bloustein School of Planning & Public Policy, Rutgers University–New Brunswick. She also served as the  Executive Director, Equity Capital Markets for PGIM Real Estate, Madison, New Jersey, from February 2013 – April 2015.
In January 2019, the real estate guru became a full-time lecturer at Monmouth University, Leon Hell Business School, West Long Branch, New Jersey. There, she was a Specialist Professor, Finance and Real Estate until December 2021.
Is Billy McFarland Related To Seth MacFarlane?
Billy McFarland is not related to Seth McFarlane, although they share a striking resemblance and similar last names.
As far as we know, questions about Billy Mcfarland and Seth Macfarlane being related began in 2017. Billy and rapper Ja-Rule founded a company called Fyre Media Inc. and in an attempt to promote their Fyre music-booking app, they organized Fyre Festival, a luxury music festival that was slated to hold for two weekends in April/May 2017 at the Great Exuma island in Bahamas.
The services of popular models such as Bella Hadid, Kendall Jenner, Emily Ratajkowski, and Hailey Baldwin were employed to promote the event and tickets were sold for $500, $1,500 and $12,000 (for VIP packages). Shockingly, the festival never happened as it was canceled just after guests had started arriving on Great Exuma island.
As a result of this, coupled with other illegal activities, Billy Mcfarland was slammed with several lawsuits that eventually earned him a 6-year jail term, which he is still serving at the Milan Federal Correctional Institution in Milan, Michigan.
Within this period, a lot of people came to know who Billy was and couldn't help noticing how much he looked like Seth MacFarlane, who is best known for being the creator of the television series, The Family Guy. Thus, the question of whether or not they were related came to be, not only because of their resemblance but also because of their similar surname, which at first glance, appears to be the same.
Speculations about the two being related began to make the rounds again on the internet, even more strongly than before, in 2019. This was after two documentary films, Fyre Fraud and Fyre: The Greatest Party That Never Happened, which detailed the controversy around Fyre Festival, were released by Hulu and Netflix respectively.
Most viewers of the documentary noticed that Billy looked like Seth, with some theorizing that the difference in their surnames are due to typographical errors in the family census and some others concluding that they might be brothers or have some sort of blood relationship. To find out the truth, a lot of people resorted to Google.
Anyway, Mcfarland and Macfarlane do not share any known familial relationship. Although they are both American citizens, they are from different states and background. Billy was raised in Millburn, New Jersey while Seth was born and raised in Kent, Connecticut. Billy's parents are real estate developers while Seth's parents are educators and school officials.
So, as it stands now, there is little to suggest the two are related. However, further investigation in the future might unveil a more distant relationship.
Is He Dating Anyone?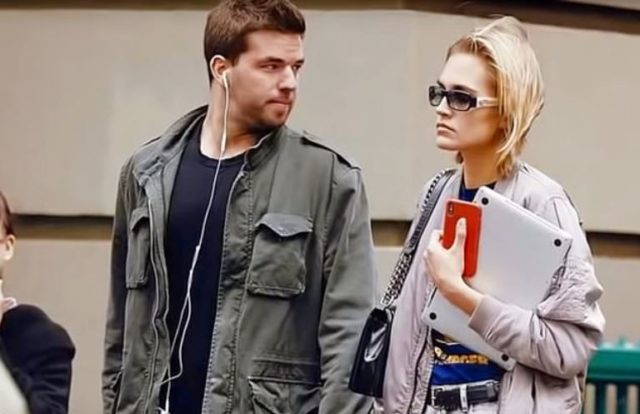 Hulu's 2019 documentary, Fyre Fraud, revealed that Billy McFarland was in a relationship with Anastasia Eremenko, a Russian model. Billy's model girlfriend, who was born in 1990, is a native of Rostov-on-Don, a town in southeastern Russia.
Records show that Anastasia relocated to Delaware, in the United States, when she was seventeen years old. In 2012, she officially launched her modeling career and she has since worked with several major brands, including Balmain and Guess. Anastasia Eremenko is currently signed with Silent Models. For her education, she obtained an M.B.A. from Goldey-Beacom College.
The two are said to have met after the Fyre Festival fraud came to the light. Though McFarland is in jail, it is assumed he is still in a relationship with the model.