For those who love retro style music or are old enough to have grown up listening to rock and blues music of the 60s and 70s, Billy Gibbons is not a name that can be easily forgotten. He is most known for his contribution as a guitarist and lead vocalist for the long-serving rock band ZZ Top.
He is one-third of the three-man band involving bassist Dusty Hill and drummer Frank Beard. Billy and his boys have been rocking out stages all over since 1969. They have also opened for big acts such as the Jimi Hendrix Experience. The 1980s and early 90s were the years when the band met with their biggest career success. They sold three of their best ever selling albums at this time: Eliminator (1983); Afterburner (1985); and Recycler (1990). Songs like Give Me All your Lovin' and Sharped Dressed Man did very well and almost became temporary fixtures on MTV.
As is common in the entertainment industry, Gibbons has also been involved in television shows. Most notably is his appearance on FOX's the perennial crime series, Bones as Mr. Montenegro.
Billy Gibbons's Biography, Age
Gibbons came into the world on December 16, 1949, as William Frederick Gibbons. He was born in Houston, Texas, in a neighborhood called Tanglewood. The rock head got his musical influences from his father who was also a musician.
Gibbons most exciting birthday gift was an electric guitar, and a Fender Champ amplifier to go along with it. These were gifted to him on his 13th birthday.
For his education, Gibbons went to Hollywood, California. Here he studied at Warner Brothers' art school. It was during his time here he did work with several bands such as The Coachmen and Billy G & the Blueflames. At the age of 18, Gibbons put together his first carefully taught out band which he named The Moving Sidewalks. The concept and objective of the musical group were inspired by Billy's musician friend, Roky Erikson and his own rock group, The 13th Floor Elevators. The Moving Sidewalks had three other members, bassist Don Summers, drummer Dan Mitchell, and keyboardist Tom Moore.
His rock group started to make music amongst which came their hugely successful single 99th Floor. He also met the famous rock star Jimi Hendrix during this time and the duo quickly became best buddies. This friendship spurned some business arrangements. Gibbon's The Moving Sidewalk memorably opened for The Jimi Hendrix Experience four times in their career. They also released a full-length album Flash in 1968.
Late the following year, Gibbons decided it was time to move on from The Moving Sidewalks. He put together the band ZZ Top with Dusty Hill and Frank Beard both of whom he snatched from the band American Blues. The similarity in their styles of music made it easy for the trio to bond musically and on a personal level. In 1971, under the auspices of London Records, the group released their debut project titled ZZ Top's First Album.
The band was growing in reputation and fan base. They continued to fire on all cylinders, touring cities and releasing albums non-stop. They eventually decided to take a break in 1977. Their time-off lasted for two-and-a-half years, and during this time they engineered a new recording deal that saw them leave London records for Warner Bros. Records.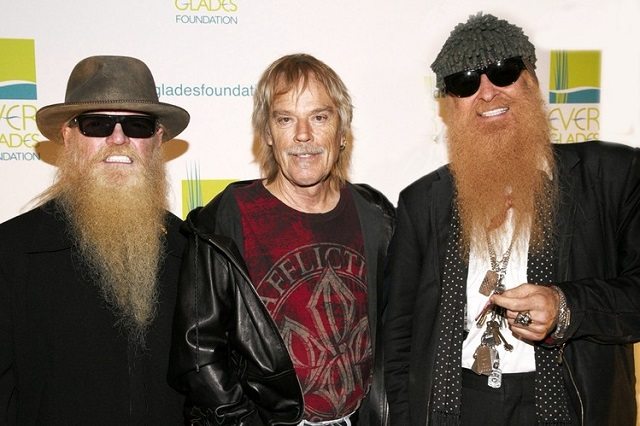 It turns out that the two-year rest and the new deal with Warner Bros. paid off. They released their album Eliminator to immense success in 1983. The album had hit songs like "Legs", and "Gimmie All your Lovin'". Eliminator remains ZZ Top's most commercially successful album, selling over 10 million copies in the US alone, and being certified Diamond by the RIAA.
By 1994 the band had established themselves as an international act to reckon with and this reputation needed a new deal to match. They left Warner Bros. and moved on with a multi-million dollar deal under RCA Records. In the same year, the band was rewarded for their contribution to music over the years by being inducted into the Rock and Roll Hall of fame.
Besides his extensive work with ZZ Top, Billy Gibbons has also worked with different acts from different generations. He performed with the rock group The Raconteurs during the 2006 MTV  Music Video Awards. He has worked with several names from B.B. King and Nickelback to Kid Rock and Luis Fonsi. He also appeared on the final episode of The Tonight Show With Conan O'Brien on January 2010.
See Also: Elton John Bio, Net Worth, Age, Height, Husband, Kids, Is He Gay?
Billy Gibbons has done a series of tv commercial for the Texas supermarket chain Fiesta. for his television efforts, he is most notably remembered for playing the father of Angele Gates Montenegro, the character played by Michaela Conlin. Interestingly, he is only referred to as "Angela's father" in the series, as his character does not have a name.
Family: Parents, Wife, and Daughter
Gibbons' father is his earliest musical influence and support. His father's name is Frederick Royal. He was an orchestra conductor and a concert pianist. He worked under the employment of Samuel Goldwyn Mayer at MGM Studios. Sometime in his teenage years, Billy's father sent him to New York City to work for and glean from professional musical composer Tito Puente. Billy's mother's name is Lorraine Gibbons (formerly Duffy).
The iconic rock star was in a relationship with Gilligan Stillwater long before he married her. He finally tied the knot with her on the 14th of December, 2005. The union has not produced any child. A number of unreliable online sources have reported that Billy has a daughter named Angela Montenegro. This is false news, as that is just the name of a fictional character who is Billy's daughter in the television series Bones.
His Net worth
Considering the length of his career, the tours, the RIAA gold, platinum, double platinum, and diamond certified albums, he is definitely sitting on a sizable wad of cash. According to Celebrity Net Worth, the rock out icon sits on a net worth of $60 million.
Height and Body Measurement of the music legend
Gibbons definitely stands tall as one of the most recognized faces in the evolution of the genre of rock and blues music. In reality, though, the musician does not stand that tall – he has a height of 5 feet 10 inches (1.79 m). His height may be average but trying to achieve what he has is definitely a tall order for any other band.