Some families are political, others are hugely invested in sports, while some others live for entertainment, like Bill Skarsgård's family. Every member of the family he hails from is in some way involved with the entertainment/showbiz industry. The Hollywood actor from Sweden grew up playing around with the idea of becoming a doctor, engineer, or something along the line of sciences. But then, fate had destined he would follow the footsteps of his parents and older siblings to foster the family tradition of acting for a living.
Bill Istvan Günther Skarsgård was born in Stockholm, Sweden on the 9th of August 1990. The 31 years old debuted as a professional actor in 2000 when he played Klasse in White Water Fury, a Swedish thriller film. Many years later, in 2016, he played Matthew in his first major American film, the dystopian science fiction action film, The Divergent Series: Allegiant. After that came the role he is best known for: Pennywise the Dancing Clown in the American coming-of-age supernatural horror film, It (2017), and its 2019 sequel, It Chapter Two.
Who Are Bill Skarsgård's Siblings?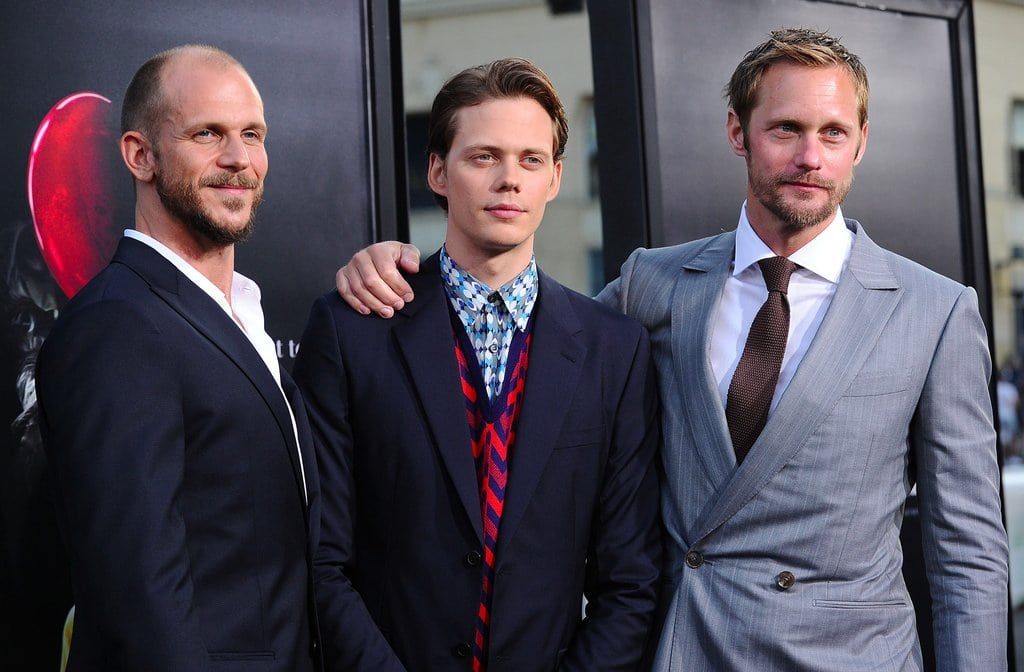 Bill Skarsgård is one of the many children of the famous Swedish actor, Stellan Skarsgård. He has a total of seven siblings, five of them are his full siblings and two are his half-brothers. Stellan Skarsgård and his ex-wife, My Skarsgård, had six kids: five sons and a daughter. Following the end of their marriage in May 2007, Stellan got married to Megan Everett and they had two sons named Ossian and Kolbjörn.
While it is hard to tell anything about Bill's half-brothers, below are his full siblings and the things one should know about them.
Alexander Skarsgård
Full Name: Alexander Johan Hjalmar Skarsgård
Place of Birth: Vällingby, Stockholm, Sweden
Date of Birth: August 25, 1976
Age: 45 Years Old
Occupation: Actor
The oldest of the Skarsgård siblings, Alexander, began acting when he was only a seven years old boy. To the best of our knowledge, his first acting role was as Kalle Nubb in the 1984 Swedish drama film, Ake and His World. This was followed by his role as Pojken in a 1987 television movie titled Idag röd. Reports have it that Alexander Skarsgård abandoned acting when he was 13 but returned to the profession after serving in the Swedish military.
He had portrayed dozens of characters across the small and big screens but his most popular roles are that of Eric Northman in True Blood, Perry Wright in Big Little Lies, Meekus in Zoolander, and Tarzan/John Clayton in The Legend of Tarzan. His career has earned him multiple coveted awards, including a Golden Globe for Best Supporting Actor and a Primetime Emmy for Outstanding Supporting Actor; these were both for his role in Big Little Lies.
Gustaf Skarsgård
Full Name: Gustaf Caspar Orm Skarsgård
Place of Birth: Stockholm, Stockholms län, Sweden
Date of Birth: November 12, 1980
Age: 41 Years Old
Occupation: Actor
The second son of Stellan and My Skarsgård, Gustaf Skarsgård, has been acting since he was nine years old. From what we gathered, his career took off in 1989 when he played Spinken in a short film titled Prima ballerina and a feature-length thriller film directed by Per Berglund, Codename Coq Rouge. Over the decades that followed, he has been seen in several notable productions.
Gustaf is most known for playing Otto Silverhielm in Evil, Voss in The Way Back, and Bengt Danielsson in Kon-Tiki. Apart from these, you will find him as Merlin in Cursed, Karl Strand in Westworld, and Floki in Vikings. He is the brain behind Människor helt utan betydelse, a 2011 short drama film he directed and co-wrote with Johan Kling. In 2013, he executed the production of Vi, a drama film he starred in alongside Anna Åström and Rebecca Ferguson.
Sam Skarsgård
Full Name: Samuel Kristoffer Ymer Skarsgård
Place of Birth: Vällingby, Stockholm, Sweden
Date of Birth: June 5, 1982
Age: 39 Years Old
Occupation: Medical Doctor
Sam is the third child of Stellan and My. He is the immediate older brother of Bill Skarsgård. Like his mother, he is a medical doctor and is often described as the only brother of the Skarsgård siblings who is not an actor.
While he doesn't entertain people for a living, Sam has been involved in a few productions in the movie industry. In 1987, he appeared as a little child in Jim & Piraterna Blom. This is the only credit he has as an actor but he served as an assistant production manager for Skuggvärld (2005), production assistant for Att döda ett barn, and a body double for Nicklas (portrayed by Gustaf Skarsgård) in The Invisible (2002).
Eija Skarsgård
Full Name: Undetermined
Place of Birth: Vällingby, Stockholm, Sweden
Date of Birth: February 27, 1992
Age: 29 Years Old
Occupation: Model
The only girl child of the Skarsgård family, Eija, is the immediate younger sibling of Bill Skarsgård. Like the rest of her siblings, she has also been involved in showbiz. Her modeling career began when she was 14 years old. It is said that she was spotted by a manager of a modeling agency at the premiere of Pirate of the Caribbean wherein her dad played Bootstrap Bill Turner.
Eija has had the opportunity to explore acting but she refused to embrace them because she believes enough members of her family were already involved in the business. Nonetheless, she has worked in the movie industry as a casting assistant. She served in that capacity in at least six episodes of the TV series, Young Royals.
Valter Skarsgård
Full Name: Undetermined
Place of Birth: Vällingby, Stockholm, Sweden
Date of Birth: October 25, 1995
Age: 26 Years Old
Occupation: Actor
The youngest of the Skarsgård siblings, Valter is also an actor. He began acting when he was eight years old, making his professional debut as Daniel and The Child respectively in Details and To Kill a Child which were both released in 2003. Thereafter, he was seen as Jon in Arn: The Kingdom at the End of the Road (2008), Igor in Portkod 1321 (2012), and Elias in IRL (2013).
You will also find Valter as Bård Guldvik "Faust" Eithun in Lord of Chaos, Lippi in Black Lake, and Björn in Katla amongst other roles.