As sad as it is, famous actor Bill Paxton passed away on the 25th of February, 2017 due to a stroke he suffered after open-heart surgery. He died at the age of 61, which was just a day to the 2017 Oscar ceremony. Taking a look at all that he was able to achieve in his acting career during his lifetime, it is obvious that he will continue to live in our memories for many years to come. in this regard, the greatest Bill Paxton movies are of honorable mention.
The acclaimed actor had a rough time, struggling for nearly a decade before he eventually got noticed for a minor role which turned out to be a memorable one in the 1984 sci-fiction film The Terminator. It was here that his acting career was launched and Bill Paxton went on to build a cordial working relationship with the film director, James Cameron. It was a great partnership because both of them would go on to partner again and again over time; with Cameron providing Paxton with some of the most important roles of his career and the immense exposure he got when he landed a role in the 1997 all-time top blockbuster movie "Titanic."
He ventured into TV in 2006 following a prolonged career in film. He featured in Big Love a TV series that eventually earned him three Golden Globe award nominations. Bill got nominated in 2012 for his role in the TV miniseries, "Hatfields & McCoys", in which he was the leader of McCoy clan. In remembering his milestone achievement in the movie industry, here are the greatest Bill Paxton movies rated from best to worst.
Greatest Bill Paxton Movies Rated From Best to Worst 
1. Aliens (1986)
This movie brought together Paxton and Cameron for the second time after their encounter in the 1984 Terminator. The collaboration between the two provided the much-needed effect which is a sequel to the 1979 Alien. The director James Cameron did a perfect job by creating one of the rarest sequels we have seen and it almost got to the same level as the original.
Though Paxton played the role of Private Hudson, which was termed by critics as "showy, irritating, loud, hysterical and cowardly;" an individual who knows how to argue and complain, it still got him into the hearts of the fans.
Upon its release, the movie grossed $180 million worldwide and got seven academy awards nomination and won eight Saturn Awards, in which Paxton won the best supporting actor.
2. Apollo 13 (1995)
This Ron Howard directed film brings together Paxton, Tom Hanks, and Kevin Bacon as the three astronauts who find themselves completely trapped in space after the heavy damage of their spacecraft. Now the three of them must work closely and unite with people at the ground control unit to find a way to fix their spaceship and return home.
The film was nominated for 9 Oscars, which included the best picture. However, the film's director was shockingly not included in the list. The reason for not being recognized was because he was a former sitcom star turned director. Apollo 13 made $335 million at the box office on a budget of $52 million.
3. A Simple Plan (1998)
This movie further reinforced the partnership between Billy Bob Thornton and Bill Paxton after working together at the beginning of their careers in One False Move. They were reunited in this film by director Sam Raimi as brothers who discover a stash of money worth millions of dollars. Instead of using the bogus amount to build and enhance their lives, it rather destroys them.
Paxton plays the role of the brother with high social confidence and conviction, whereas Thornton plays the role of the clumsy brother. Reviews applauded many aspects of the film's production, including the storytelling technique, performance of the casts and the director's focus. It got several awards nominations, including; 2 academy award nominations for best supporting actor and best-adapted screenplay.
4. Twister (1997)
Director Jan de Bont makes use of special effects to bring to the surface the suspense of the story that involves two of the characters in the movie who were chasing a storm, Bill Paxton and Helen Hunt.
They tried to have an understanding and find ways to predict tornado activities by putting themselves at the heart of the storms which took place during a severe outbreak in the city of Oklahoma. After its release, the movie made a total of $494.5 million in box office sales. It also got mixed reviews with critics criticizing its screenplay, but it was applauded for its visual effects and sound design. The movie earned two academy award nominations for the best visual effect and best sound mixing.
5. Titanic (1997)
This film is one that is forever glued to the hearts of people that saw it. The way and manner in which the director did his thing with the cast is amazing; presenting the film in two separate sections. The first part presents how Jack played by Leonardo DiCaprio and Rose (Kate Winslet) come in contact and fall in love on the ship heading for destruction.
The second part is a story of the old and elder Rose (Gloria Stewart) narrating her experiences to a man (Bill Paxton) who is in search of the wreckage of the Titanic. Paxton once again linked up with James Cameron; plays the role of the man searching the wrecked ship, not for anything but financial purposes but gradually discovers the degree of the human tragedy involved. Although Bill's role is quite little in the film, it is still significant and can be listed as one of Bill Paxton movies everyone should see. The movie earned 11 Oscars plus best picture.
6. The Terminator (1984)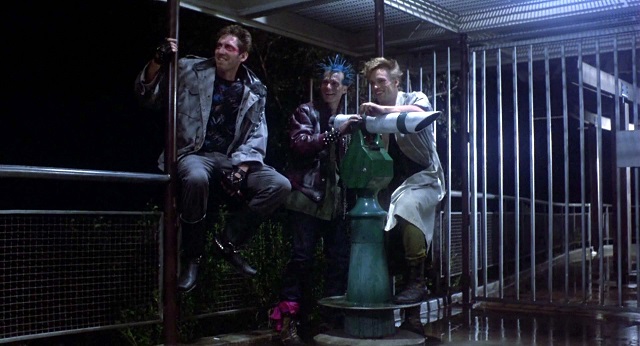 This movie ultimately boosted Bill Paxton's career in acting, serving as his breakthrough. It was here that James Cameron and Paxton first made contact in which he plays the role of a "punk leader" in this landmark sci-fiction piece. Although he did make a great impact and impression on the director, the two would continue to partner in more of Cameron's big projects with Paxton given key roles.
His characterization here depicts a leader of a bunch of street links who decide to mess with the wrong-kind-of-guy, who turns out to be the time-traveling killing machine called "The Terminator." He was sent to terminate Sara O'Connor even before she gets pregnant and birth a son that would eventually end the reign of the machines.
7. Tombstone (1993)
Tombstone starred Helen Hunt and Bill Paxton in Twister, Val Kilmer, and Sam Elliott. Others are Bill Paxton, Powers Boothe, Michael Biehn, and Dana Delany who are all in supporting roles. The story behind the movie is based on the events that took place in Tombstone, Arizona, the gunfight at the O.K Corral and Earp Vendetta Ride in the 1880s.
It highlights a few outlaws and lawmen including Witty Earp and Doc Holliday. The movie gave stiff competition to Kevin Costner's film "Wyatt Earp" which was regarded as bigger, but Tombstone hit it big at the box office despite running on a low budget as compared to the latter, grossing $56.5 million in domestic sales and ranking 16 on the list of highest-grossing films since 1979. All the actors were applauded for their roles in the movie, including Bill Paxton.
8. True Lies (1994)
Director James Cameron is good at finding roles that often place Paxton in a higher pedestal than his previous performances. In this movie, Arnold Schwarzenegger plays the role of a top-secret government agent who disguises himself as a computer salesman to his wife and daughter. It was extremely difficult for him to strike a balance between his spying job and his family duties.
Now, Paxton plays a stereotypical role as a used car dealer who is good at telling lies, claiming to be a spy. The movie grossed $378 million globally at the box office and earned an academy award and BAFTA nominations for best visual effect and also won seven Saturn awards. It received positive reviews.
9. Near Dark (1989)
Near Drak saw Paxton playing a minor role in the vampire-studded piece starring Adrian Pasdar and Jenny Wright. The plot centers on a young man in a tiny Midwestern town who joins a bunch of vampires after being bitten.
This movie served as the beginning of a wake-up call for the production of vampire movies in the late 80s. Though it underperformed at the box office, it received positive reviews and gained massive followership in the years that follow.
10. Frality (2001)
in 2001 Bill Paxton decided to test his directorial wits with his first-ever feature film sitting on the director's chair and also acting. The whole feeling of the movie is rather psychological.
See Also: 15 Agnes Moorehead Movies and TV Shows Rated From Best To Worst
Though the plot is a bit complicated; it tells the story of how a young man (Matthew McConaughey) goes to an FBI office and tells a shocking tale. When he was a little boy with his brother, they were awoken by their father, a kind-hearted Paxton, a widower. He claimed that his father had seen a vision in which he was commanded by God to kill monsters who walk in the form of men. This began the start of their serial killing.
At the end of the day, even among those who may find this film not great, the performance of Bill is unarguably one of his best.