Beyonce has had nothing less than 4 known tattoos of which two of them are on her fingers to represent her marriage and her children. While all her tattoos may not be conspicuous but they are there and they all have stories behind them
Most people who attain fame at a young age usually get carried away and in the euphoria of the amazing moments surrounding them, they get their bodies inked. Beyonce is not an exception but in her own case, the first attempt came with regrets. This is probably why we don't see her flaunting many tattoos like most people in the spotlight. Nevertheless, she does have a few body arts but they are so tiny you need to come really close to steal a glimpse.
List Of Beyonce's Tattoos
An angel on her left hip
Roman numeral four (IV) on her ring finger
Three tiny dots on her finger
Brooklyn tat
Beyonce's First Tattoo Was An Angel But It Came With Regrets
The pop superstar was 21 at the time she had an angel tattooed on her left hip. It was a work of art she designed by herself, depicting an angel in prayer. She then took the idea to Mister Cartoon's tattoo studio where many Hollywood stars go to get their body inked. At first, the singer didn't know what she wanted and since it was her first time, the tattoo artist was patient and helped her in making a decision that seemed cool at the time.

When she finally settled for the angel, the tattoo artist pulled all the stops to give Beyonce his best shot, bearing in mind that she was young and new to tattoos and in the end, the work of art was perfect. Sadly, due to its position, fans didn't get to see Beyonce's first tattoo often. Again, the body art didn't last more than a week before she painfully had it removed.
Why Beyonce Had Her First Tattoo Removed
The truth is, no matter how cool it seems to get your body inked, most people live to regret it once it's done. Beyonce started having tattoo regrets the next day after getting the angel inked on her left hip. She woke up the next morning and it didn't seem cool anymore. She was like, "Oh my God! What did I do?" The performer probably covered it up for a few days and the ensuing week saw her on the path of tattoo removal.

Getting her tattoo removed was a painful journey and she wished she could have recorded the process to show the younger generation who are prone to making rash decisions they might regret later.

"When I was 21, I actually did get a tattoo of an angel that I had painted. It was very, very beautiful. But the next day I woke up, and I was like, "Oh my God! What did I do?" So literally the next week, I started getting it removed. It's gone now. I went through so many years of pain. I wish I'd taped it for young people to see."

In her song Daddy from her Dangerously in Love album, Beyonce sang about how her family reacted to her first tattoo. Though the disappointment was obvious, her parents didn't openly condemn her decision but promised to get matching tattoos. The lyrics go thus;

I still remember I caught you crying cause of my tattoo
Could have said Beyoncé I told you so
Instead, you said you'd get one too (Even my mama said y'all get one just like mine

In all, Beyonce had her first tattoo removed because it didn't feel right at the time but that didn't discourage her from getting more in the future. Also, the angel tattoo was quite big for her and if the size of the tattoos she currently sports is anything to go by, the pop superstar likes them small. So, she may have had the angel removed because of the size.
Her Brooklyn Tat Was Fake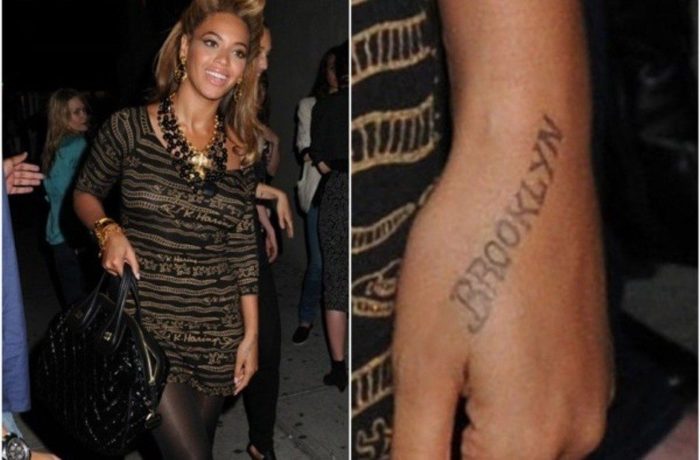 In her interview with People, Beyonce shared how she had so much fun with the fake tattoos she got for her House of Deréon ad campaigns. While they were meant for shooting videos on set, she wore the one that spelled out 'Brooklyn Foxes' home just to prank her friends and family who are mostly from Brooklyn.

The paparazzi also captured her big tat and it went viral with many tabloids spreading the news that she got a new tattoo of Brooklyn on her hand. Apparently, she has gotten more temporary tattoos in the past than permanent ones. Perhaps she's happier knowing they can easily be removed, unlike the permanent ones.
Beyonce's Tattoos and What They Mean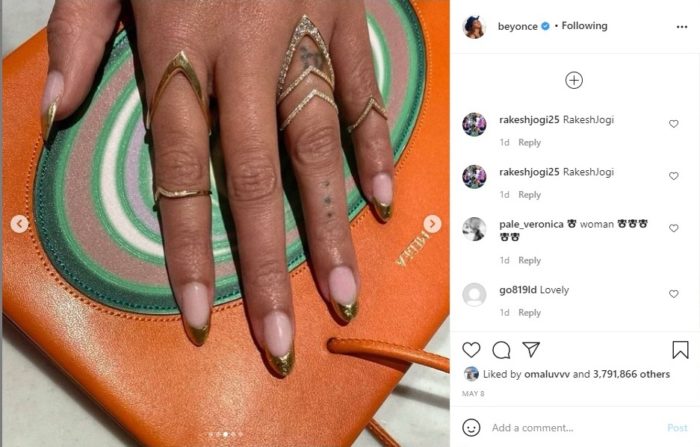 After her first body art which didn't last longer than a week, Beyonce kept her body clean for years without getting any tattoo. Things, however, changed when she became a wife and mother. Let's look at the two significant tattoos the Grammy queen has right now
Roman Numeral Four (IV)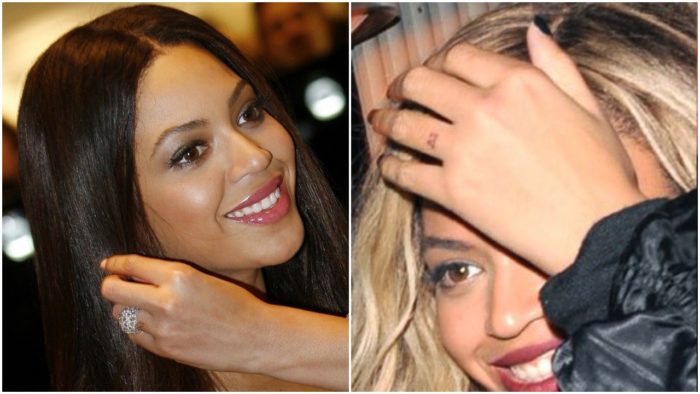 Beyonce got her second real tattoo when she had become Mrs. Carter in 2008. The singer and her husband Jay-Z got matching tats on the ring finger to cement their union. So, instead of wearing the traditional wedding bands on the finger, they opted for the tattoos. This way, they get to wear them all the time, unlike rings that you have to remove at some point.

The meaning of the tattoos can be linked to the date the couple got married – 4/4 (April 4th). Another possible reference to the number 4 is the couple's birthdays. Beyonce was born on Sept. 4 while Jay-Z celebrates his birth on Dec. 4. Again, when they unveiled the name of their first child as Blue Ivy Carter, it was speculated that 'Ivy' was inspired by the letters in the Roman numeral on their fingers.

However, in August 2016, the Halo singer made some alterations to the tattoo, and instead of IV, it looked like a combination of the number 4 and the letter J.
Three Tiny Dots On Her Finger
Just a few months after welcoming her twins into the family, the singer revealed another tattoo on the same finger. This time, she got 3 tiny dots. Though she never made the meaning open to the media, it has been rumored that the dots represent her 3 children Blue Ivy, Sir, and Rumi Carter.

The first and last dots which are in light black color can be rightly attributed to the twins – Sir and Rumi while her first child Blue Ivy is depicted in dark blue color in the middle, surrounded by the twins. The songstress got the tattoo in 2017, shortly after the birth of her twins.