At the moment, there is no concrete proof that Beyonce has had a nose job or plastic surgery. However, judging by how she looks in her before and after pictures, a lot of people strongly believe that she has gone under the knife.
Beyonce rose to fame as the lead singer of Destiny's Child, which is counted among the best-selling girl groups of all time. But her solo career has belittled what she achieved with the group as she became one of the best-selling artists in the world with over 118 million records sold.
Apart from her career, Beyonce's marriage to Jay Z has also contributed to her enormous fame. Her status in the entertainment industry means she has been at the receiving end of Bizarre conspiracy theories like being a secret member of the Illuminati or an Italian posing as an African-American.
The "Crazy in Love" singer has also been accused of going under the knife to improve her looks. Can this claim be substantiated in any meaningful way; did the singer truly get a nose job?
Here's Why People Think Beyonce Has Had a Nose Job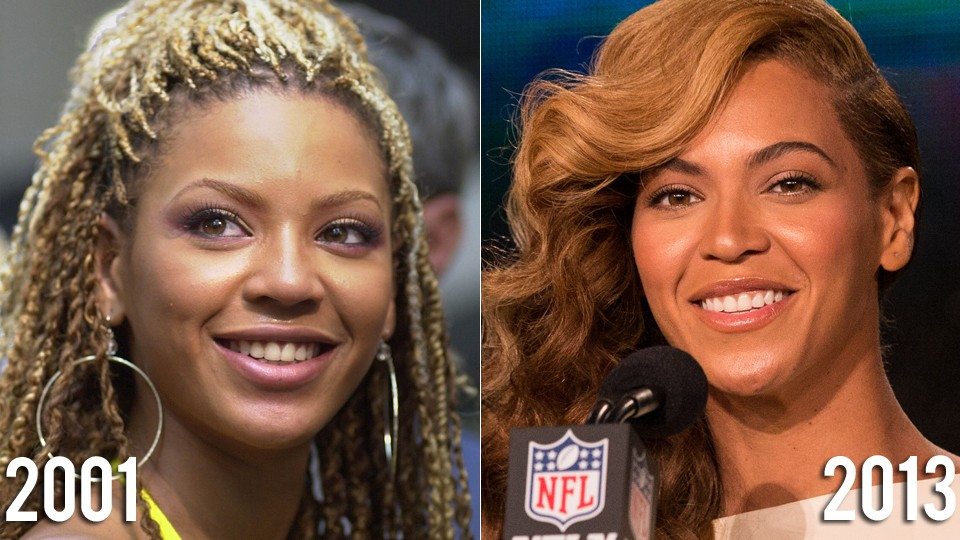 It has been claimed on various social media platforms that Beyonce's recent pictures are very different from her old ones. One might think that's something that happens naturally as one gets older, but for many, it's proof that the singer has had surgery to change the shape of her nose.
As claimed, the shape of the singer's nose, until sometime in 2012, was wider than it is now and had a rounded tip. Those who have spread this narrative believe that Beyonce patronized an expert plastic surgeon who did a nice job in contouring her nose to bring out a thinner bridge and a pointier tip. It is said that the nose job was nicely done to fit on her naturally.
This debate has gone on for a long time and even some experts have been interviewed to shed more light on this matter. One of these experts was Dr. Jason Hamilton, who is a specialist in facial plastic and reconstructive surgery. The specialist stated that it is very hard to conclude just by comparing her photos that the singer had a rhinoplasty.
The doctor pointed out that some artists are masters of camera angles, make-up, and lighting. So, they can utilize this skill to make sure that they have the best look while performing or posing for pictures.
He claims that when artists change the environment of their performance, there is also change in their images because of different lighting and camera angles. While Beyoncé may have done nothing to her face, the photos can look really different.
Reiterating that the speculations about Beyoncé having a rhinoplasty are completely based on a comparison of her earlier pictures and those that were taken from her super bowl performance on February 3, 2013, this expert argued that people are comparing photos taken when she had worn different makeup and from different angles.
With that, the doctor concluded that the lighting of the stage, the angle at which the picture was taken, her make-up, and her facial expression can affect the look of her nose.
She Has Also Been Accused of Breast Augmentation and Some Form of Buttock Surgery
Unlike Dr. Jason Hamilton, who contended that one shouldn't conclude with pictures whether or not Beyonce has had a nose job, Dr. Daniel Barrett, a plastic surgeon based in Los Angeles, affirmed that the singer had a rhinoplasty.
Offering his opinion on the age-long debate on Tik Tok, the surgeon upheld that Beyonce has had not only a nose job but other forms of plastic surgeries like breast augmentation and what have you.
Essentially, even plastic surgeons are not on the same page about Beyonce getting a nose job. This is also the case with the claims about the singer getting some form of butt surgery, breast augmentation, liposuction, and lip reduction. It was once rumored that the singer had a lip reduction to enhance her facial appearance but this was only based on the suspicion that her lips seem to be a bit thinner than before – there is no concrete proof.
It has also circulated that her breasts are curvier and bigger than before. People have sworn by things dear to them that Beyonce augmented her breasts. They say it was done to look natural but some analysts beg to differ.
According to some experts, the breast augmentation claim is just a speculation that is not based on any valid piece of evidence. These analysts have pointed out that many celebrities achieve rounder breasts by wearing smart push-up bras and, that the size of a woman's breasts can increase due to weight gain.
Similarly, people have vowed online that the "Baby Boy" singer had some form of butt surgery. Some claim it's a Brazilian butt lift, a cosmetic procedure that revolves around removing excess skin and transferring fat to tighten the buttocks and achieve a full and shapely derrière.
The singer had been accused of this earlier in her career but it resurfaced in 2019 when she shared promotional pictures from her Ivy Park athleisure line in December 2019.
What Has The Singer Said About The Plastic Surgery Rumors?
Beyonce has largely been silent about the various claims about her going under the knife to improve her looks. But in April 2020 when she released her remix to Megan Thee Stallion's "Savage", it was widely expressed that she addressed the rumors in the song, or at least the ones about butt surgery.
Some lines of Beyonce's verse in the song read thus:
"…Big B and that B stands for bands. If you wanna see some real ass, baby, here's your chance…

Texas up in this thang, put you up on this game, Ivy Park on my frame…If you don't jump to put jeans on, baby, you don't feel my pain…Please don't get me hyped…Can't argue with these lazy bitches…"
The only evidence that exists in all the Beyonce plastic surgery rumors is her before-and-now pictures. We just have to agree that we have always known a beautiful Beyonce and whether she had these plastic surgeries or they are just mere speculations, she remains beautiful.