Elizabeth "Betsy" Russell is a 60-year-old American actress best known for portraying the characters of Jordan Leigh-Jensen in Private School (1983), Tomasina "Tommy" Boyd in Tomboy (1985), and Jill Tuck in the Saw movie series (2006 to 2010).

Being an actress, Betsy Russell has played numerous roles in movies and television series. As such, she has faced the same fate as most actors who have had their real-life personalities confused with that of the characters they brought to life on the screen. For most people, she is just that actress that played Jill Tuck in the splatter film franchise, Saw.
But there is much more to who Betsy is, as captured in her social media pages, she is also a certified life coach and a proud mom. While much hasn't been heard from her in terms of being an actress, she is still active in the industry.
There are quite a good number of facts that are worth knowing about the American actress For instance, she is the maternal granddaughter of Max Lerner, a Russian-born American journalist who was famous for the controversial syndicated column he wrote. Lerner published several books and taught in several colleges including the University of Notre Dame, Harvard University, Sarah Lawrence College, United States International University, and more.
Profile Summary Of Betsy Russell
Birth Name: Elizabeth Russell
Nationality: American
Place of Birth: San Diego, California, U.S.
Date of Birth: September 6, 1963
Age: 60 Years Old
Occupation: Actress and Life Coach
Parents: Constance (née Lerner) and Richard Lion Russell
Ex-husband: Vincent Van Patten
Duration of Marriage: 1989 – 2001
No. of Children: Two Sons (Duke Van and Vince Van Patten)
10. The American Actress Was Born and Raised In San Diego, California
The actress came from a prominent family that had nothing to do with the entertainment industry but it didn't stop her from aspiring to become an actress. As you would easily find, Besty Russell was born on the 6th of September 1963 to Constance (née Lerner) and Richard Lion Russell. Her place of birth was in San Diego, California, and she was also raised in the city on the coast of the Pacific Ocean. She attended a popular public high school in the area, Mission Bay High School, and graduated in 1981.
With the quest to become a professional actress since she was eight years old, it was not much of a surprise that Besty decided to relocate to Los Angeles after she graduated from high school to pursue her dreams of becoming an actress. Although she acted in school plays, Besty wouldn't delude herself into thinking she has all she needed to thrive in the field. So when moved to Los Angeles, she started taking acting classes to polish her skills. It was only a matter of time before she landed her first role.
Even as she attained her dream of becoming a professional actress, Besty didn't sacrifice other things that captured her interest for that. She would later attend the University of Santa Monica where she was trained as a life coach and obtained a master's degree in Spiritual Psychology.
9. Her Father Richard Russell Was a Famous Writer on Finance
As stated earlier, the actress' maternal grandfather Max Lerner was a famous columnist. Apart from him, other relatives of Betsy Russell were also prominent writers. Her paternal grandmother, Hortense Russell was a novelist and her son, Betsy's father Richard Russell was also a writer. Richard was a famous writer on finance remembered for his Dow Theory Letters which he began publishing in 1958. The newsletter particularly revolved around the stock market, precious metals, and things of that sort.
Richard passed on the 21st of November 2015. At the time of his death, his Dow Theory Letters was said to be the longest-running newsletter written continuously by a single writer. On her father's side, Betsy is of Jewish ancestry. Her mother Constance Lerner is of Russian-Jewish heritage. Constance's father Max Lerner was born in Minsk, in the Russian Empire. His parents Bessie (Podel) and Benjamin Lerner emigrated to the United States sometime in 1970.
Betsy isn't the only child of her parents; it is said that she has four siblings; three sisters and a brother. Much isn't known about them and what they are up to.
8. Betsy Russell's Acting Career Began With a Pepsi Commercial When She Was 16 Years Old
Going with the records of her filmography, one would conclude that Betsy Russell's career took off in 1982 when she was 19 years old; this is not false but it is not where the story began. Betsy was quite obsessed with becoming an actress when she was a kid and because of this, she participated in various school plays. When she was 16, Betsy got what she considered to be an affirmation that she was meant to become an actress: she was hired for a role in a Pepsi commercial wherein she rode a horse. This gained her the attention of stakeholders in the industry and motivated her to intensify her plans towards becoming a mainstream actress.
As soon as she was done with high school, she started taking acting classes and in 1982, Betsy realized her dream of becoming a professional actress. She got to portray a character named Kittie in Let's Do It!, a comedy film written and directed by Bert I. Gordon. That same year, she was seen as Dawn in the "Jackal" episode of the sci-fi television series, The Power of Matthew Star. In addition to that, she made appearances in the "Second Chance" episode of T. J. Hooker and the "Not with My Sister You Don't" episode of the NBC sitcom, Family Ties.
7. Her Breakthrough Came With The Role of Jordan Leigh-Jensen In Private School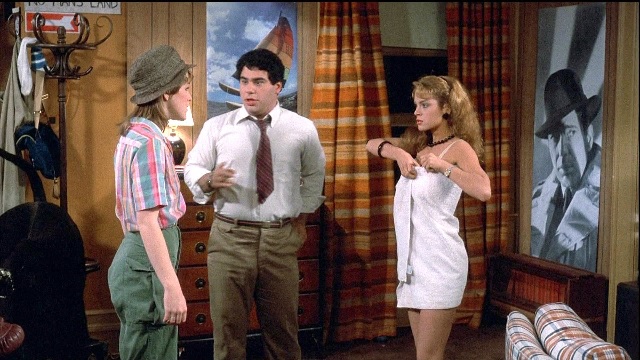 Betsy Russell wasted no time in popularizing her name after she debuted as a professional actress. Her breakthrough came in the year that followed the one she made her acting debut. The actress played her first starring role as Jordan Leigh-Jensen in the 1983 teen comedy film, Private School, alongside Phoebe Cates, Matthew Modine, Michael Zorek, Ray Walston, and Sylvia Kristel. The movie directed by Noel Black received mixed reviews but it went a long way in making Betsy Russell a mainstream actress.
Private School revolves around a teenage couple trying to have sex for the first time and has a scene where Betsy rode a horse topless. This left a lot of people curious about her and it was only natural that casting directors began looking for ways to capitalize on that. What this meant was more roles for Betsy. So in the years that followed, she was seen in other projects like Avenging Angel and Tomboy. Both were released in 1985 and the former is an action thriller film directed by Robert Vincent O'Neil whereas the latter is a teen comedy film directed by Herb Freed.
6. Playing Jill Tuck In The Saw Film Series Is The Role That Has Defined Her Career
Following her breakthrough with Private School and the subsequent roles that followed, Betsy Russell didn't slow down. She was seen in big-screen productions like Out of Control, Cheerleader Camp, and Trapper County War; in addition to appearances in series like The A-Team, Murder, She Wrote, 1st & Ten, Roxanne: The Prize Pulitzer, and Superboy; these were all in the 1980s. In the 1990s, she had roles in Platypus Man, Camp Fear, Delta Heat, Amore!, and The Break. Some of these were horror/slasher projects which prepared her for the role of Jill Tuck in the Saw film series.
Saw is a popular splatter film franchise that consists of nine feature films thus far. Betsy has portrayed Jill Tuck in multiple installments of the series and it is the work that has defined her career. The first time she played the character was in 2006's Saw III, the third installment of the film series. She reprised the role in Saw IV (2007), Saw V (2008), Saw VI (2009), and Saw 3D (2010). The Saw franchise isn't a film for the faint-hearted. But while it has received mixed and negative reviews for the physical and psychological torture it depicts, it is one of the highest-grossing horror film franchises of all time. In all, it has grossed over $1 billion from a total budget of only $97 million at the worldwide box office.
5. Betsy Russell Is Also a Producer
For someone who has been a part of the motion picture industry for almost four decades as an actress, it would be quite surprising if Betsy Russell hasn't explored other facets of the industry. As an actress, much hasn't been heard from her in recent time and this has left many of her fans wondering if she has given up acting. Her last notable big-screen project was in 2014 when she played Destiny in the thriller film, My Trip Back to the Dark Side. On the small screen, she had a role in the "Your Mouth Is Hanging off Your Face" episode of the adult sketch comedy series, Robot Chicken, in 2018.
From what we gathered, Betsy hasn't retired but is working on her first project as a producer. She is co-producing a drama film titled Bully High; it revolves around a Muslim high school girl who is being bullied for wearing a hijab. Alongside Augie Duke and Duke Van Patten, the actress also stars in the film written and directed by Bill McAdams Jr. As of September 2021, the film filmed in Hermosa Beach, California, is in its post-production stage.
4. The Actress Runs a Blog Called Betsy's World and Is Also a Life Coach
In addition to her exploits in the motion pictures industry, the San Diego native has pursued other interests. As hinted earlier, she pursued a master's program in Spiritual Psychology. The actress is thus a certified life coach in Spiritual Psychology from the University of Santa Monica.
As culled from her website, imbetsyrussell.com, she coaches people with a modality called "The Three Principles". Essentially, she helps people understand how their thoughts shape their realities. The Saw actress also runs a blog called Betsy's World; through it, she interacts with people and shares everything from health to beauty tips and what have you
3. She Was Married to Vincent Van Patten From 1989 to 2001 and They Had Two Kids Together
It's really not a secret that Betsy Russell is a divorcee and a mother of two. She was once married to Vincent Van Patten, an American actor who was once a professional tennis player. Details of how the two met have been sketchy but it is known that they started dating during the early days of Betsy's career as an actress. By August 1988, they were engaged and walked down the aisle the following year, precisely on the 27th of May 1989.
They welcomed their first child, a son named Duke Van Patten on the 13th of March 1993 and then his younger brother named Vince Van Patten on the 3rd of September 1995. Five years later, in 2001, the Betsy-Vincent union packed up.
2. Betsy Was Once Engaged to The American Film Producer, Mark Burg
Mark Burg is known for his work on the CBS sitcom, Two and a Half Men, as much as he is respected for executing the production of the Saw film series. He is a prominent figure in Hollywood and is often credited for giving Halle Berry her first leading role; this was in the 1991 comedy film Strictly Business. He also helped Betsy Russell rekindle her career.
After the actress got married and became a mother, she devoted most of her time to raising her kid. She later parted ways with her husband and needed to get back to work. Meanwhile, she had started dating Mark Burg and they were engaged when he offered her a small part in Saw III; this was how Betsy got involved with the franchise. Betsy and Mark never got married.
1. Her First Son

Duke Van Patten

Is Also An Actor
When Betsy Russell was 29 years old, she had her first child with her ex-husband, Vincent Van Patten. Given that both of his parents are actors, it is only natural that Duke has settled for a career in the field as well. The 30 years old is a part of his mom's debut project as a producer, Bully High.
Disregarding that, he has had roles in other productions like the 2013 TV movie Miracle at Gate 213, The Guest House, Born and Missing, Velvet Porzak, and more. His younger brother Vince Van Patten is yet to debut as a professional actor but he has appeared in TV shows like Red Carpet Report, The Real Housewives of Beverly Hills, and The King's Celebrity Poker Challenge on ClubWPT.