Berry Gordy is a retired American record executive best known as the founder of the Motown record label. In addition to running the music label, he also served as a record producer, songwriter, film producer, and television producer, amassing a net worth of $450 million as a result of his work.
Gordy and his Motown record label played a key role in the rise of many R&B performers of the '60s and '70s, including Diana Ross and the Supremes, the Marvelettes, Marvin Gaye, Michael Jackson and the Jackson Five, Smokey Robinson and the Miracles, Stevie Wonder, The Temptations, etc. The success of these musicians meant that the record label was one of the most successful music companies in America owned by a black man.
Berry Gordy's Biography Summary
Full Name: Berry Gordy III
Gender: Male
Date of Birth: 28 November 1929
Bol Bol's Age: 93 years old
Ethnicity: African American
Nationality: American
Zodiac Sign: Sagittarius
Sexual Orientation: Straight
Religion: Christianity
Marital Status: Divorced
Berry Gordy Spouses: Grace Eaton (m. 1990–1993), Ray Singleton (m. 1960–1964), Thelma Coleman (m. 1953–1959)
Children: Rhonda Ross Kendrick, Redfoo, Rockwell, Hazel Gordy, Berry Gordy IV, Kerry Gordy, Sherry Gordy, Terry James Gordy
Berry Gordy Parents: Berry Gordy II and Bertha Fuller Gordy
Siblings: Fuller, Esther, Anna, Loucye, George, Gwen, and Robert
Berry Gordy's Height in Inches: 5 feet and 8 inches
Berry Gordy's Height in Centimetres: 175 cm
Berry Gordy's Weight: 80 kg
Berry Gordy's Net Worth: $450 million
Famous for: Being the founder of the Motown record label and its subsidiaries
Berry Gordy At A Glance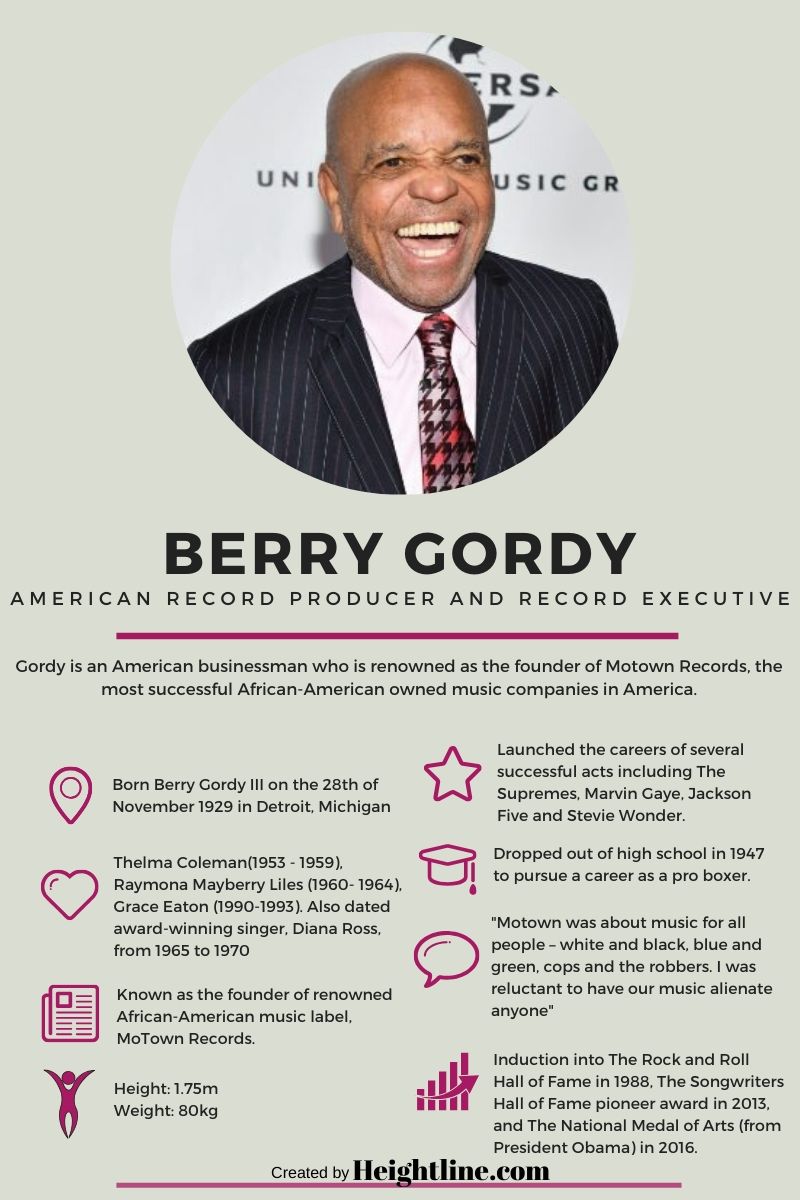 Berry Gordy's Relationships and Family Life
Like most celebrities, Berry Gordy has been involved in multiple relationships – both marital and non-marital relationships. His first wife was Thelma Coleman. They got married in 1953, on his return from serving his country through the military. The marriage lasted for just six years before they got officially divorced in 1959.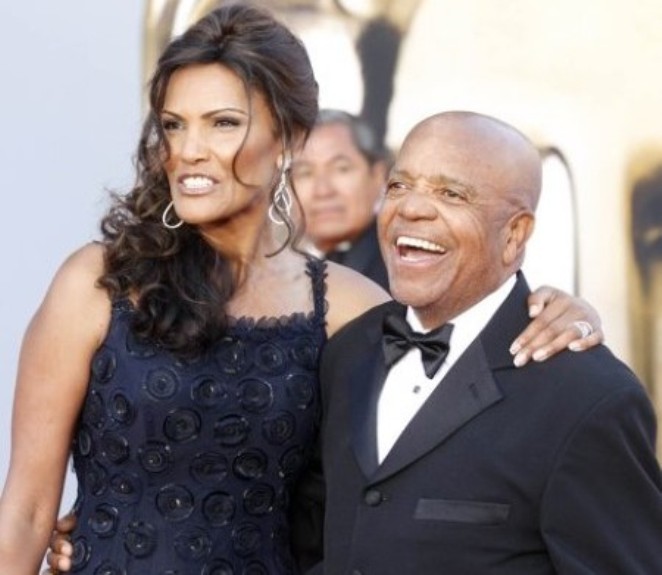 One year after his failed marriage with Thelma, he got married to Raynoma Mayberry Liles. However, before getting married to Raynoma, he had a brief affair with Jeana Jackson and also had a mistress, Margaret Norton. Berry and Raynoma wedded in the spring of 1960 but the marriage suffered a lot as a result of his infidelity issues. So, in 1964, they got divorced just four years later, making it his second divorce.
In 1965, he was involved in a romantic fling with Diana Ross, who was a Motown artist at the time. Though they never got married, they were in the relationship for quite a while. Their intimate relationship lasted for five years (between 1965 and 1970).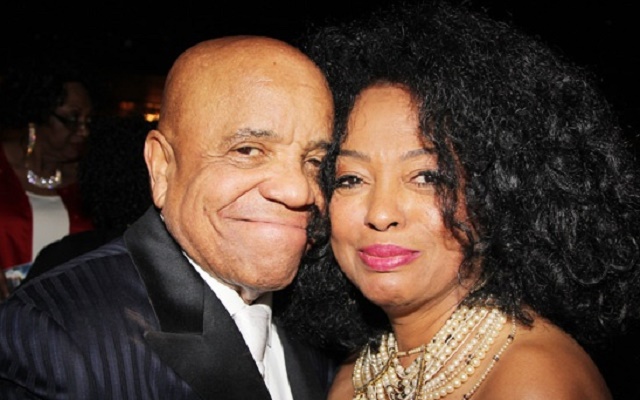 After the relationship with Diana Ross, it took him a long time to hook up with anyone. Finally, in 1982, he found Grace Eaton. In what seemed to be a perfect match-up, they dated for eight years. It still didn't stop him from having a fling with Nancy Leiviska. However, in 1990, both decided to legalize their relationship, having spent a long time together. The marriage didn't live up to expectation as it became Berry's least lasting marriage. After being married for three years, Berry filed for a divorce. The divorce officially happened in 1993.
He had eight children from five women. His first wife, Thelma, gave birth to three children – Hazel (born in 1954 and married to Jermaine Jackson), Berry IV (born in 1955 and father to Skyler Austen Gordy), and Terry (born in 1956).
His second wife, Raynoma, gave birth to a child, Kerry (born in 1959). Jeana had one daughter for him, Sherry (born in 1960). Margaret had a son, Kennedy William that was born in 1964 and goes by the stage name, Rockwell.
Berry Gordy also had a daughter with Diana Ross, Rhonda Suzanne in 1971. However, her legal father is Robert Ellis Silberstein under California family law. His eight child is Stephan Kendal, born to him by Nancy. He was born in 1975 and goes by the stage name, Redfoo.
What is Berry Gordy's Net Worth?
Gordy is more than just a music producer, his Motown Records remains one of the most successful business enterprises ever owned by an African American. In 1960 Gordy merged two record labels to form Motown Records. After decades of success, he sold Motown in 1988 to MCA Records for around $61 million.
Over the years, there have been few names that can match Berry Gordy's reputation and success within the music industry. He is estimated to have a net worth of $345 million, placing him among the richest black music producers.
Other Facts About Berry Gordy
He has 12 Golden Glove titles. As a boxer, he fought 15 Golden Glove matches and won 12 of them.

He was the first person alive to be inducted into the pioneer Songwriters Hall of Fame award in 2013.

Gordy has been inducted into the Rock and Roll Hall of Fame for his contribution to music.
Former American President Barrack Obama in 2016 bestowed on Berry Gordon the National Medal of Arts for his influence on American music.