Ben Affleck's relationship history and love life has never been a secret. The acclaimed actor and filmmaker has only been married once, to actress Jennifer Garner from 2005 to 2018, but has dated numerous other high-profile ladies in Hollywood.
Ben Affleck has been in a relationship with Cheyenne Rothman (1990 – 1997), Gwyneth Paltrow (1997 – 2000), Jennifer Lopez (2002 – 2004; 2021-present), Lindsay Shookus (2017 – 2018; 2019), Shauna Sexton (2018), and Ana de Armas (2020 – 2021), this all happened either before or after his marriage.
A Guide Through All The Women The Argo Actor Has Loved
Ben Affleck got married to Jennifer Garner in 2005, the union failed and they divorced in 2018. Before and after this marriage, he dated a handful of other famous women in showbiz; Jennifer Lopez is one of them. As you would soon learn, he dated the prominent singer-actress before he got married and reconnected with her a few years after his marriage packed up.
Cheyenne Rothman (1990 – 1997)
As far as the public knows, Ben Affleck's relationship history began with Cheyenne Rothman. Although she is not as popular as Ben, she is a member of the entertainment industry wherein she has built a career as a director and producer. Her exploits date back to the 90s, she was among the people who received "thanks" credit for their contributions to the making of 1997's Good Will Hunting. Rothman directed and produced Release the Cracken, a short film released in June 2004.
Her relationship with the Hollywood superstar began before Ben Affleck became a big deal and they dated for a long time, for at least seven years, beginning from 1990. Apparently, Cheyenne Rothman was Ben Affleck's high school sweetheart. They reportedly met and started dating while they were both students of Cambridge Rindge and Latin High School located in Cambridge, Massachusetts.
The relationship flourished until 1997, the same year Ben Affleck recorded the first exponential leap in his career. Because of this, one might be tempted to conclude that the new height he attained in the entertainment business pulled him and Cheyenne away from each other. The fact of the matter is that why the relationship ended is best known to the two.
Gwyneth Paltrow (1997 – 2000)
While Cheyenne Rothman is the first woman known to be the romantic partner of Ben Affleck, Gwyneth Paltrow is his first high-profile relationship and it began in October 1997, the same year he parted ways with Rothman. Gwyneth Paltrow is arguable as accomplished in showbiz as Ben. The American actress is also a model, singer, author, and entrepreneur. She has been active in the industry since 1989 and has received prestigious awards including an Academy Award, Golden Globe, and a Primetime Emmy.
As one would expect, Paltrow has dated more than her fair share of Hollywood hunks. Before her relationship with Ben Affleck began, she notably dated Brad Pitt from 1994 to 1997. They got engaged at some point but called it off because she wasn't ready for marriage.
In October of the same year she parted ways with Brad Pitt, Gwyneth Paltrow met Ben Affleck at a dinner hosted by Harvey Weinstein's Miramax Film company and it marked the beginning of their relationship. Moviegoers enthusiastically followed the relationship which culminated in starring together in the 1998 romantic period comedy-drama film, Shakespeare in Love.
For reasons that are not clear, they separated in January of the following year. However, they rekindled their love as they again co-starred in the 2000 drama film, Bounce (2000). But their love wasn't meant to be as they parted ways for good in October 2000. Why they broke up has been left to speculation but they are friends and have clearly moved on. Paltrow was married to Chris Martin from 2003 to 2016 and has been married to Brad Falchuk since 2018.
Jennifer Lopez (2002 – 2004)
Following the end of his relationship with Gwyneth Paltrow, much wasn't heard about the actor's love life until it emerged in 2002 that he was in a relationship with the superstar singer-actress Jennifer Lopez. It is said that they met on the set of Gigil, a 2003 comedy film in late 2001 and began dating in July 2002. As they were among the most influential Hollywood entertainers, it was only natural that the relation generated a lot of media buzz. It arguably remains the most publicized relationship of both parties who were fondly called Bennifer.
Three months later, Ben and Jennifer were convinced they were ready for the next phase of the relationship, thus they got engaged. Gossips site and bloggers had a field day covering how the actor proposed to the actress with a 6.1-carat pink diamond ring in November 2002. Soon, it emerged that the power couple would be walking down the aisle on the 14th of September 2003. It was said that they planned for a big wedding in Santa Barbara but no one got to witness the anticipated event.
They called off the wedding which was poised to be one of the most glamorous events of the year to the surprise of many. The couple explained that they decided to postpone the wedding because of the massive media attention it received. But as fate would have it, the Hollywood stars never got to exchange marital vows as it emerged in January 2004 that they have fallen apart. As much as the media strived to uncover what led to the breakup, neither of the two offered any meaningful information but requested privacy to deal with the development. JLo would later relate in her 2014 memoir, True Love, that she had a hard time dealing with the end of the relationship.
Marriage to Jennifer Garner (2005 – 2018)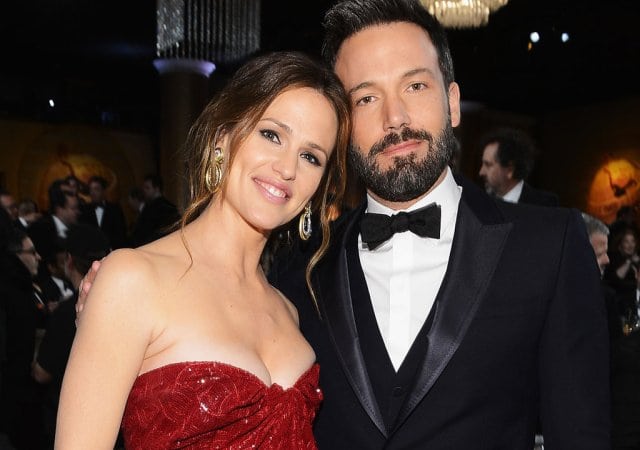 The Ben Affleck-Jennifer Garner relationship began almost as soon as the foundation upon which Bennifer was built collapsed. What the actor had with Garner is his longest relationship so far. Like most of the women he has loved, Jennifer Garner is also an accomplished figure in Hollywood. The American actress and producer is known for her role in the action-thriller and science fiction television series, Alias, which won her a Golden Globe award in 2002 with multiple Primetime Emmy Award nominations.
Before her relationship with Ben began, she dated The Uint actor whom she met on the set of Felicity in 1998 and they subsequently got married in 2000 only to divorce in 2004.
While she met Ben on the set of the 2001 romantic war drama film, Pearl Harbor, it is believed that they connected in 2003 as they worked together in Daredevil, a superhero film that was released that same year. Nonetheless, records have it that they began dating in mid-2004, a few months after Ben and JLo separated.
Things happened quickly between the two as they got married the following year, precisely on the 29th of June 2005. It was a private wedding witnessed by only Rainer Andreesen and his husband Victor Garber who officiated the ceremony that was held in the Turks and Caicos Islands.
Ben and Jennifer later became parents to three children: two daughters named Violet Anne (born in December 2005) and Seraphina Rose Elizabeth (born in January 2009) and a son named Samuel Garner (born in February 2012). The kids couldn't keep the union from falling apart as the couple announced their decision to part ways in June 2015 after 10 years of marriage. They didn't file for divorce until April 2017 and it was finalized in October 2018. They both have joint custody of their kids and the reason behind the end of their marriage has been quite a mystery.
It was claimed in some quarters that the actor had a drinking problem that took a toll on the marriage. He would later confirm this to The New York Times. Based on what he said, he drank more instead of confronting and dealing with the marital issues they were having. This only exacerbated the issues to the point that getting a divorce became a bright idea.
Lindsay Shookus (2017 – 2018; 2019)
Lindsay Shookus is an American television producer known for her work on Saturday Night Life which has earned her no fewer than 10 nominations for Emmy out of which he has won at least four. She has been active in the industry since 2002 and was married to a fellow named Kevin Miller. They reportedly got married sometime in 2010, had a daughter named Madeline in 2013, and divorced in 2014.
The following year Lindsay Shookus met Ben Affleck but to the best of our knowledge, they remained friends until 2017. They began dating but broke up for some unknown reasons in 2018 only to rekindle the relationship in early 2019. Before the year ran out, they parted for good.
Shauna Sexton (2018) 
A veterinary technician from Virginia who doubles as a model, it seems Shauna Sexton was the reason Ben Affleck briefly broke up with Lindsay Shookus in 2018. Reports have it that the two have a two-month fling that ended in October.
Much isn't known about how they met and the circumstances surrounding the beginning of what they had and its end. But sources close to them reportedly divulged that they broke up a few days after the actor completed a stint in rehab for alcoholism. It is said that the relationship was difficult for Sexton as Affleck's drinking problem subjected him to mood swings.
Ana de Armas (2020 – 2021)
Ana de Armas is a Cuban-Spanish actress. She has been acting since 2006 and penetrated the mainstream industry in 2015 when she played Bel in Knock Knock. In the years that followed she has been seen in Exposed, War Dogs, Hands of Stone, Overdrive, The Informer, Wasp Network. No Time to Die, and much more. De Armas has had her fair share of high-profile relationships. She began dating the Spanish actor Marc Clotet sometime in the mid-2010 and they got married in July 2011 only to divorce in 2013.
Thereafter she dated an American talent agent named Franklin Latt from 2015 to 2016; it is said that they were engaged at some point. Ana de Armas and Ben Affleck met on the set of Deep Water, an upcoming erotic psychological thriller film in late 2019 and dated until January 2021. Reports have it that Ana ended the relationship because she didn't want to settle in Los Angeles where Ben is based, and he can't compromise as his kids are in Los Angeles.
The Return of Bennifer (2021 – Present): Here Is What We Know So Far
In 2004, the same year that Ben Affleck and Jennifer Lopez ended their relationship, the Hustlers actress got married to Marc Anthony. The marriage lasted for about a decade as they divorced in 2014. Before Marc, she had been married to Ojani Noa from 1997 to 1998 and Cris Judd from 2001 to 2003. While she was still married to Marc, she began dating her former backup dancer named Casper Smart. They reportedly dated from October 2011 to August 2017.
After that, she dated the New York Yankees baseball player Alex Rodriguez. The relationship began in February 2017 and they got engaged in March 2019, postponed their wedding twice, and ultimately announced that they are parting ways in April 2021. It was after this that Affleck and Lopez got back together. The same month JLo and Rodriguez announced their breakup, it circulated that the actress and Ben Affleck have resumed being lovers. This was widely considered to be a rumor until the actress-singer confirmed it on her 52nd birth anniversary.