Beena Patel is the wife of Hasan Minhaj, a multi-award-winning American comedian, TV host, actor, and political commentator. The couple, who dated for ten years after having met in college, married in January 2015. They have two children.
Beena Patel is a health professional who has been publicly recognized for her work on the implementation of disruptive technology solutions and patient-centered innovations. Following her passion for improving the quality of health care and delivery across the continuum, she wrote a dissertation on the implementation of a patient-centered medical home for homeless veterans in West Los Angeles, which has been replicated as the best across the country.
Summary of Beena Patel's Biography
Full name:

Beena Patel

Gender: Female
Place of Birth: United States
Ethnicity: Indian
Nationality: Indian-American
Sexual Orientation: Straight
Religion: Hindu
Marital Status: Married
Beena Patel's Husband: Hasan Minhaj
Beena Patel's Children: one daughter
Education: University of California, Davis; University of California, Davis – School of Medicine; University of California, Los Angeles
Famous for: Being the wife of Hasan Minhaj
Beena Patel's Instagram: beenapatel
Who is Beena Patel?
Beena Patel is an accomplished medical expert who was born into an Indian family in the 1980s in the United States. She is known to be a very secretive person as she has kept her birth date, the identity of her parents and siblings under wraps. However, we know that she practices Hinduism and can eloquently speak English, Spanish, Hindi and Gujarati. She has an alluring profile of educational achievements which clearly depicts her quick-witted persona.
Upon completion of high school, Beena Patel furthered her education at the University of California, Davis. There, she achieved a Bachelor of Science degree in Neurobiology, Physiology and Behavior, with a minor in Exercise Biology. Following her graduation in 2007, she enrolled at the University of California, Davis – School of Medicine, where she earned a Master of Public Health (MPH) degree in Epidemiology, Biostatistics and Health Policy.
Patel further proceeded to the University of California, Los Angeles (UCLA) and there, she acquired a doctorate degree in Health/Health Care Administration/Management in the year 2013. She made her presence felt in the school as she was a recipient of the Ruth Romer Fellowship Award. In a like manner, during her post-graduate studies at UC, Davis, she worked as a member of the Admission Committee.
Beena Patel's Fact Sheet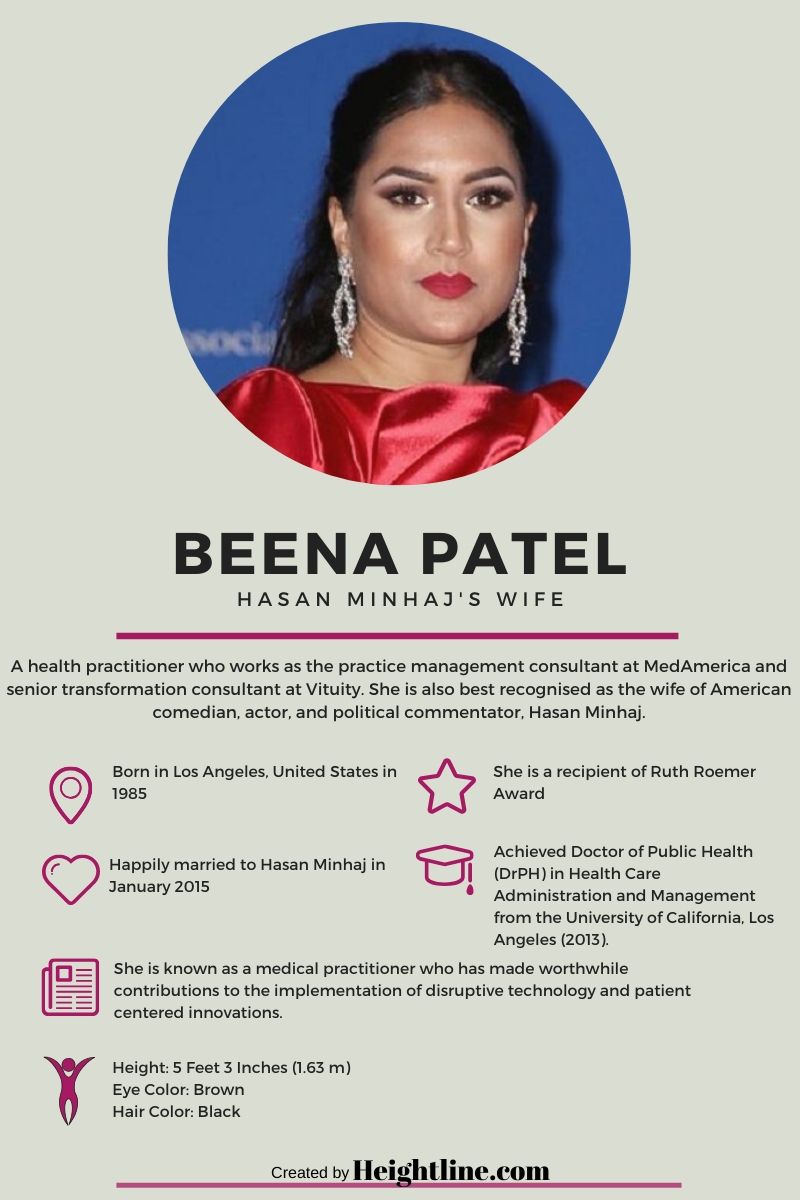 Her Professional Career
Prior to carving out a niche for herself in the medical field, Beena Patel garnered experience from working at different consulting firms and health care systems. She actually began her professional career at Retinal Consultants in March 2007. There, she worked as the coordinator of clinical research.
During this time, she managed and maintained patient's study records and pharmaceutical logs from several concurrent studies. Afterwards, she started working as a clearinghouse analyst at the Office of Statewide Health Planning and Development State of California. While she was there for eleven months, she carried out several works, which included the performance of surveys and personal interviews to access public health data needs amongst leading individuals representing the public health industry in California.
In 2008, Hasan Minjah's wife joined Cave Consulting Group where she served as a lead account manager. She also worked as a clinical operations analyst during her time at the firm which spanned for close to two years. Having upgraded her portfolio with her working experience, Beena Patel rose through the ranks in October 2010 when she landed the position of State of Health Insurance in California and California Health Interview Survey Project Manager at the UCLA Center for Health Research Policy.
Thereafter, she had a three year and six months stint at VA Greater Los Angeles Healthcare System. There, she was among the West Los Angeles Homeless Patient Aligned Care Team and equally served as a program director and health system specialist. Following her works at VA Greater Los Angeles Healthcare System which was nationally recognized, the services of the distinguished health specialist was sought after by MedAmerica. There, she has worked as a practice management consultant for more than six years now, providing subject matter expertise on quality improvement methodologies.
Asides her consultancy gig at MedAmerica, Beena Patel currently leads the external consulting division at Vituity, a position she has held for more than two years. She has indeed established herself in the health sector through her outstanding works so far.
Beena Patel's Family Life
Love, they say conquers all fears and barriers. Beena Patel and Hasan Minjah's love story clearly shows how love conquered the boundaries set by their different religious beliefs to unite them as a couple.
Patel who is from a Hindu family fell in love with her beau Hasan Minjah, a Muslim, while they were undergraduates at the University of California, Davis. After being in a romantic relationship for a few years, the cute couple went on to seal their love with a nuptial bond in January 2015.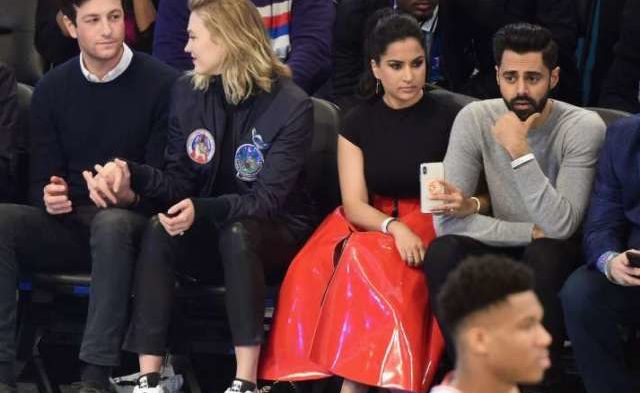 On 22nd April 2018, the pair expanded their small circle with the arrival of their daughter whose name is yet unknown. The lovebirds are very much in love with each other and have graced several functions together. They seem to be ardent sports lovers as they have shown up at multiple sports events, including the 68th NBA All-Star Game at Spectrum Center in February 2019. They also attended the 2019 NBA Awards held at Barker Hangar, Santa Monica, California.