Barbara Walters is currently single. She was previously married to Merv Adelson (1986 – 1992), Lee Guber (1963 – 1976) and Robert Henry Katz (1952 – 1958). Barbara Walters has been in relationships with Edward Brooke (1974 – 1977), Roy Cohn and Henry Kissinger.
Barbara Walters' First Husband Was Robert Henry Katz (1955 – 1957)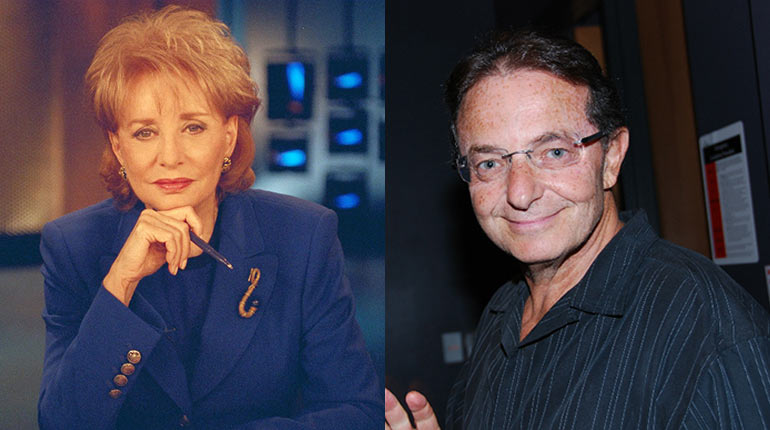 Barbara's marital journey began when she was just 26 years old in 1955 and was relatively unknown in the television world. According to information from the New York Times, she married businessman and Navy veteran Robert Henry Katz at the Plaza Hotel in New York City. The marriage, however, turned out to be a mistake made in the throes of youth and passion, and just two years later, it was annulled.
Despite how vocal Barbara Walters is, she has never spoken publicly about her first marriage in an interview and as far as public knowledge goes, the reason for their divorce has never been revealed. Although it took her a while, Barbara found love once again and decided to give marriage a second shot.
Barbara Walters's Next Marriage Was To Lee Guber (1963 – 1976)
In December 1963, Barbara, who was still with the NBC at the time, got married to Broadway producer Lee Guber, according to The New York Times. Lee Guber was a theater mogul who produced several Broadway classics. The Philadelphia-born businessman was also known for his company, Valley Forge Music Fair, which he opened with business partners Frank Ford and Shelly Grow. Some of the classics produced by him include Gypsy, How to Succeed in Business Without Really Trying, I Do! I Do!, and The King and I.
The marriage was the second for both Walters and Guber as the latter was previously married to Edna Shanis. During the period they spent as a couple, they decided to adopt a daughter, Jacqueline Danforth, after it was reported that Barbara had suffered multiple miscarriages. But after exactly thirteen years, the marriage ran its course and by 1976, they were done. Barbara went on to marry a TV mogul, while Guber married Lois Wyse in 1982. His marriage to Lois lasted until his death due to cancer in 1988 at age 67.
Barbara Walters Tied the Nuptial Knot For The Last Time with Merv Adelson (1981 – 1984; 1986 – 1992)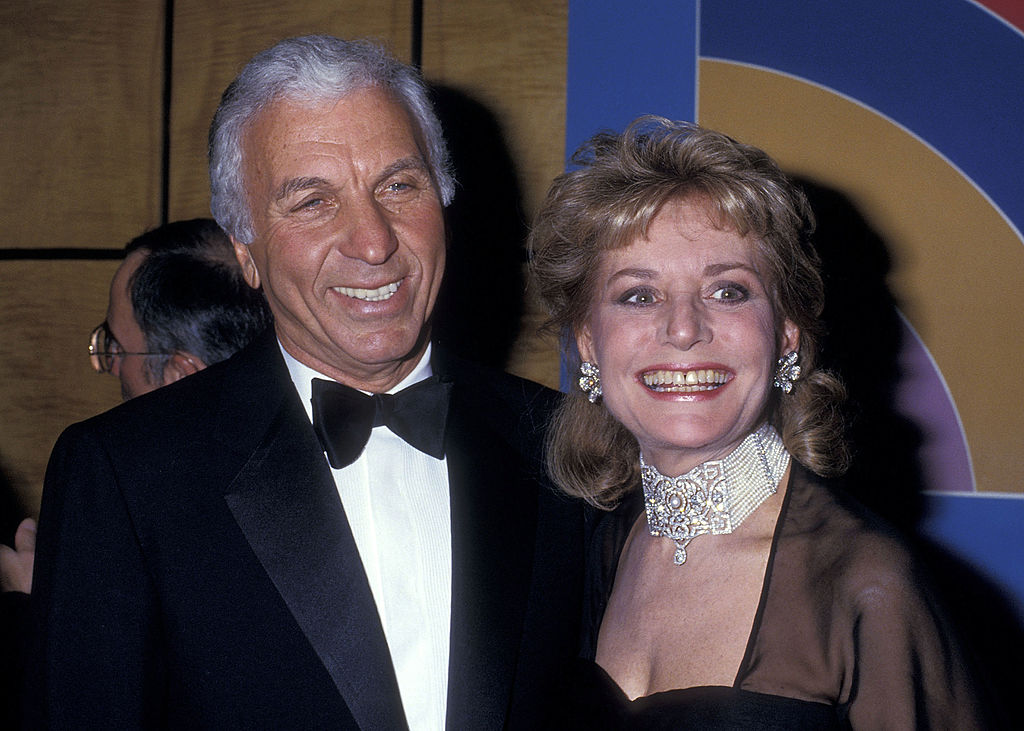 The award-winning journalist decided to walk down the aisle one last time, this time with American real estate developer and television producer, Merv Lee Adelson. Adelson is best known as the co-founder of Lorimar Television and the media house is popular for making some of the hit TV shows of the eighties such as Dallas, The Waltons, and Knots Landing, as well as the movies titled An Officer and a Gentleman and Being There, both of which have become classics.
According to reports from the Los Angeles Times, Walter and Adelson met each other on a blind date and got married soon after in 1981 only to divorce three years later in 1984. However, their relationship did not immediately end as they continued to see each other, rekindling the embers of their love to the point that they decided to give marriage another try together. Consequently, they got married for the second time in 1986 at Lee Goldberg's house.
Meanwhile, prior to their second marriage, Walters disclosed that they would be living in different cities after their wedding, splitting time between New York City and Los Angeles. Speaking to the New York Times in 1985, she explained that when you have an independent life and can support yourself, your reason for getting married becomes different. According to her, "you really want to be with this person, and you don't get married for security or position. You just want to be with that person."
Sadly, as much as Walters wanted to be with her third husband, their relationship was destined to last only a short while. As a result, even though they tried their very best to ensure the success of their marriage this time, the distance notwithstanding, Barbara and Merv could not keep up and so they got divorced in 1992.
That was the last straw for Barbara, and she has remained unmarried since then. Before Merv got involved with the television personality, he had been married to Lori Kaufman and Gail Kenaston. After his second divorce from Walters, he then married Thea Nesis, whom he stayed with until his death on September 8, 2015. He died from brain cancer.
In a May 2014 interview with her longtime business partner, Bill Geddie of ABC News, Barbara Walters frankly discussed, among other things, how her super-successful career affected her relationships. "I don't think that I was very good at marriage.
It may be that my career was just too important," she expressed. She further said that her failed marriages might have been an indication that she was a difficult person to be married to, adding that she just seems to be better off alone. The journalist, however, made it clear that even though she was alone, she was not lonely.
Barbara Walters Has Also Been Romantically Linked To A Few Other Men
Apart from her well-known, and pretty publicized marriages (and divorces), Barbara is also known to have been involved in some romantic relationships with other men, a handful of which were high-profile people.
Claude Phillippe
According to The National Enquirer, print edition, published on the 19th of May 2008, after her first failed marriage, Barbara got involved in a secret illicit affair with the head of catering at various Posh New York hotels, a married man named Claude Phillippe.
He knew everything about food, wine, and restaurants and was an epitome of sophistication, according to Barbara. "He started to call. I was thrilled. And so began two of the most romantic years of my life," says Barbara. Because she had no intention of getting married again at that time, she was not bothered about the fact that he was married.
Edward Brooke
One of Barbara's relationships with a well-known man was with a married United States Senator named Edward Brooke. Brooke is known to be the first African-American to have been elected into the Senate. At the time they hit it off, Barbara was in her forties, unmarried (having divorced her second husband), and in the dating pool with a lot of men trying to get her attention. At this point also, she was quickly becoming popular in television news and served as co-host of the Today Show on NBC (but later moved to ABC News).
Writing about this period in her life in her autobiography titled, "Audition: A Memoir" published in 2008, Walters explained how Senator Edward Brooke, whom she met for the first time in 1973, stole her heart. She also stated that she never set out to engage in an affair with him.
According to her, she certainly was not lacking for men in her life, or for romance at that time, as she was dating more than she ever had. Why, therefore, did I have a clandestine affair with a married man? A Black married man?", she wrote.
The journalist pointed out that during the period she was involved with Edward, racial discrimination was already changing but relationships between people of different races were not common. A love affair of such nature would be scandalous in those times not only because the man in question was married, but because he was also black. However, Barbara wrote, none of that mattered to her.
Knowing that if information about the affair reached the public, it could mean the end of her career and that of Brooke's, Barbara kept mum about it to the public. She recalled that the people who were aware of it were her closest friends and one set of Brooke's friends, as far as she knew.
The affair carried on for some years and since they both lived in different cities (Barbara Walters lived in New York and Brooke resided in Washington, D.C.) they would usually either meet up at one of Brooke's properties or stay at a Virginia home belonging to one of his friends.
Two years down the line, Walters got tired of the sneaking around and started feeling resentful about the whole thing. Around this time also, Brooke's wife as well as people in Washington started having suspicions.
A notorious gossip columnist equally had a hunch that there was something going on between Brooke and Walters and she began writing about them. As a result, Walters wanted to walk away from the relationship, but the Senator made matters worse by asking his wife for a divorce.
Unsurprisingly, this did not go down well as Mrs. Brooke employed the services of a private investigator and revealed the secret affair to a friend of hers who worked at the National Enquirer. Not long after, the news began to spread quietly.
A friend of Walter's, Pete Peterson, who worked in the Nixon government got information that the story was about to come out on the major news networks. Heeding his warning to stop seeing Brooke in order to save her career and that of the Senator, she told Brooke that it was over but by that time, he had already asked for a divorce from his wife of 30 years.
Their breakup notwithstanding, Walters wrote: "Brooke still divorced his wife who went on to expose his private life to the media. This damaged his credibility and made him lose his bid for re-election, ultimately resulting in the end of his career." According to Barbara Walters, it was then 1978, and although they had not seen each other for several years, a part of her always felt it was her fault.
For three decades before "Audition: A Memoir" was published, Barbara never said a word about the illicit affair. However, during her appearance on "The Oprah Winfrey Show" in May 2008 to discuss the memoir, which covers her long, successful television career, in addition to her off-camera life, she shared a few details of the affair that lasted for years in the 1970s for the first time.
When Oprah asked her if she was in love with Brooke, she responded, "I was certainly – I don't know – I was certainly infatuated…I was certainly involved. He was exciting. He was brilliant. It was exciting times in Washington."
Alan "Ace" Greenberg and Alan Greenspan
At the time she was seeing Edward Brooke, Barbara Walters was also seeing Alan "Ace" Greenberg, who eventually became chairman of Bear Stearns as she admitted in her autobiography.
The memoir also disclosed that after she broke up with Brooke, she continued her affair with Greenberg while simultaneously dating Alan Greenspan, who eventually became Chairman of the Board of the Federal Reserve and White House financial adviser (it isn't really certain how long they dated for).
Her Latina housekeeper had a hard time differentiating between the two Alans and as Walters wrote, "when they gave me the message, I could only ask, which one talked louder?" According to her, Alan Greenberg talked in a normal tone of voice while Alan Greenspan was so soft-spoken that he almost whispered. And that was how she would know which of the Alans' it was.
Other men who are said to have been romantically involved with Barbara Walters include American diplomat Henry Kissinger and financial broker Roy Colin. She was also involved in a very public flirtation with actor Clint Eastwood and jokingly considered marrying him.