Barbara Stanwyck was an American actress, dancer, and model who lived from July 16, 1907 to January 20, 1990. She is best remembered for her strong and realistic presence on screen and also for her versatility. 
Actress Barbara Stanwyck, had a 60-year long career in the American movie industry, thus, becoming one of the greatest stars to ever grace the screen in the process. Thanks to her outstanding acting talent, Barbara Stanwyck rose to become the highest-paid female actress in America in 1944.
The high profile actress was paid $400,000 ($5.4 million today) in total for her films that year and after her retirement and several charity donations, Barbara Stanwyck was worth $1 million at the time of her death in 1990.
An industry as old and influential as Hollywood has a history filled with secrets, excellence, and drama; so does the life of Barbara Stanwyck. Her name is in the roster of the men and women who have received the Cecil B. DeMille Award, an Honorary Oscar and she's ranked as the 11th greatest female star of classic American cinema by the American Film Institute.
Find out more about her life and career in this article.
Barbara Stanwyck's Bumpy Beginning
For 60 years of excellence, the legendary actress went by the name Barbara Stanwyck but she was born Ruby Catherine Stevens to two working-class parents, Byron Stevens and Catherine Ann McPhee, on the 16th of July 1907.
Barbara had a really difficult childhood, such that it would have been understandable if she never made anything meaningful off her life. She lost her mother at the age of four and just two weeks after her mother's funeral, her father, who had gone to work with a crew digging the Panama Canal, disappeared. Barbara, along with her sibling, an older brother named Malcolm Byron, were then raised by their eldest sister, Laura Mildred.
How Barbara Stanwyck Developed Her Love For Acting
In a bid to make ends meet and to take care of her younger siblings, Mildred started working as a showgirl. Consequently, Barbara spent some part of her childhood in a lot of foster homes where she never stayed long enough to develop an attachment. For two summers (1916 and 1917), Barbara toured with her sister, Mildred, and practised her dance routines backstage. This, in addition to watching the movies of her idol, Pearl White, kindled her interest in becoming a performer.
Meanwhile, right from her early days, Barbara started displaying the independence and formidable personality that would make her one of Hollywood's best talents. Having realized she was never going to be the girl who hung around waiting for a man to take care of her, she quit school at 14 and started taking different odd jobs. However, none of them gave her the satisfaction she wanted as her dream was to get into the show business, but sadly, her sister was not in support of the idea.
Eventually, Mildred, having seen her sister's unwavering interest to work in show business, gave her blessings. Subsequently, Barbara Stanwyck landed a dancing job in the 1922 and 1923 editions of the Ziegfeld Follies, dancing at the New Amsterdam Theater.
Accolades and Acting Career Achievements
Barbara's journey to becoming a legendary actress began on Broadway. She was cast to play a chorus girl in The Noose and with the play's success came a lot of admiration for the actress who changed her name after the show, picking her character's first name (Barbara Frietchie) and an actress' last name (Jane Stanwyck) to get Barbara Stanwyck. Not long after The Noose, she was cast in a leading role for a play titled Burlesque in 1927.
Barbara could have had a magnificent career as a Broadway actress, according to Arthur Hopkins, but just the same way Broadway writers wanted her for their plays, so did Hollywood producers. In the end, Hollywood won and she rose to become a film legend. She had her first film appearance in Broadway Nights (1927) – a silent film. Her first speaking role was in The Locked Door in 1929. It was indeed the beginning of an illustrious film career. Over the course of the next thirty-something years, she would appear in films like Baby Face, A Lost Lady, Flesh and Fantasy, The Gay Sisters and Stella Dallas.
However, having recorded a huge success as a movie actress, Barbara decided it was time to switch to television but prior to this time, she appeared in more than 85 films over a period of 38 years. Being a consummate and versatile actress known for her strong and realistic on-screen presence, there's no need explaining why Barbara Stanwyck was a favourite of many movie directors. For this same reason, she also bagged a number of awards and nominations, including Academy Awards, Golden Globe Awards and Emmy Awards.
Oscar, Golden Globe, and Emmy Award Recognitions
Eight years before her death, precisely in 1982, the actress was honoured with an Oscar in recognition of her contributions to Hollywood. Speaking of Barbara's reaction to the honorary Oscar Award, Paul Sheehan of GoldDerby.com said she revelled in the standing ovation before making her way to the podium. Acknowledging William Holden who had passed on four months earlier, the Hollywood star said he always wished that she would win an Oscar, so she dedicated the award to him, saying he got his wish.
Meanwhile, before then, she was nominated for an Academy Award on four different occasions with the first being in 1938 for her role in Stella Dallas, a drama film based on a novel of the same name written by Olive Higgins Prouty. The second and third nominations came in 1942 and 1945 for her part in Ball of Fire and Double Indemnity respectively while the last was in 1949 for Sorry, Wrong Number.
Barbara was also nominated for four Golden Globe Awards, three of which she received from 1966 through 1968 for her outstanding performance in the television show The Big Valley. With the fourth nomination which was for Best Performance by an Actress in a Supporting Role in The Thorn Birds, Stanwyck finally racked up the Golden Globe in 1984. She also received the Cecil B. DeMille Award, an honorary Golden Globe Award, in 1986.
Barbara Stanwyck earned her first Emmy nomination in 1961 for Outstanding Performance by an Actress in a Series (The Barbara Stanwyck Show) and won. In 1966, she won another award for Outstanding Continued Performance by an Actress in a Leading Role as a result of her role in the series The Big Valley. In the following two years, she was nominated in the same category for the same TV series but lost. However, her performance in The Thorn Birds led to her third Emmy victory in 1983.
Life Achievements And Hollywood Walk of Fame
The Screen Actors Guild gave Barbara a lifetime achievement award in 1967 and in 1973, she received another one from Hall of Great Western Performers, Cowboy Hall of Fame Oklahoma City. This was followed by a career achievement award from the Los Angeles Film Critics Association in 1981 and an American Film Institute life achievement award in 1987.
Judging by her works in America's film industry, giving Barbara Stanwyck a star on the Hollywood Walk of Fame was the right decision as she was honoured in 1960 with her star located at 1751 Vine Street.
Would-Have-Been Major Scandals
All through her career, Barbara was never involved in any form of controversy. However, a piece of information that would have caused a scandal if made public at the time in the early 1950s cropped up more than a decade after she had died, precisely in September 2008. The well-kept secret was made public following the release of a memoir, Pieces of My Heart, by actor Robert Wagner, who revealed that he had an affair with Barbara Stanwyck when he was 22 and she was 45 years old.
According to Robert, he fell in love with the actress who was among Hollywood's biggest names at the time and it started on the set of the film Titanic. While some of their closest friends such as Nancy Sinatra, ex-wife of Frank Sinatra, and Spencer Tracey, knew about their relationship, some others were ignorant of it and the lovers decided to keep the information away from both the public and the media. Meanwhile, the duo was single at the time as Barbara had been divorced from her actor husband for two years. Later on, Wagner revealed, the 23-year difference in age caused some frictions in their relationship, which made Barbara put an end to it.
A 2007 autobiography by Farley Granger titled Include Me Out: My Life from Goldwyn to Broadway also revealed that the actress had a one-night stand with him in the 1950s.
Was Barbara Stanwyck A Lesbian?
Barbara Stanwyck was never confirmed to be gay during her lifetime but several behaviours and statements lent themselves to the rumours that she was a lesbian. The iconic actress had been exposed to the homosexual community at the age of 16 when she served as an occasional dance teacher at a speakeasy for gays and lesbians.
While a singer, who was popularly known to be a lesbian, claimed to have had sexual intercourse with Barbara, a biography writer, Axel Madsen is said to have described people's opinion of Stanwyck as the biggest closet lesbian in Hollywood. There was no confirmation from the actress while she was alive of her sexuality, but if accounts of those who knew her are to be believed, she was at the very least, bisexual.
Meanwhile, she was married twice, first to actor Frank Fay and then Robert Taylor. She got to know her first husband through Oscar Levant, who introduced her to the actor while they (Barbara and Fay) were working on Burlesque. At first, Barbara and Fay never liked each other but they eventually became close after the death of Barbara's The Noose co-star and lover, Rex Cherryman. Their friendship later culminated in marriage on August 26, 1928, and soon after they tied the knot, they moved to Hollywood.
Sadly, their union was full of troubles and while Barbara made a smooth transition to the big screen and became a Hollywood star, it was not the same for her husband, who, according to reports, physically abused the actress, particularly when he got drunk. This subsequently led to the end of the marriage on the 30th of December 1935.
Meanwhile, after their relocation to Hollywood, Barbra Stanwyck and Fay adopted a son on December 5, 1932, owing to the fact that the actress was not capable of having children as a result of complications she suffered when she had a botched abortion at 15. After their divorce, Barbara won custody of their son, who by the way, was named Dion at first and later amended to Anthony Dion.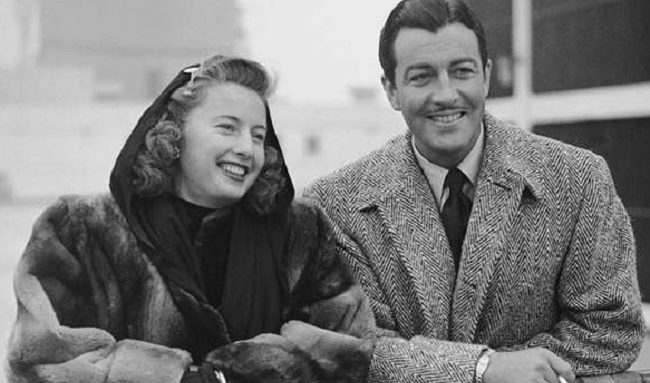 In 1939, the Hollywood star tied the knot again, this time, with her His Brother's Wife co-star, Robert Taylor. She became involved with the actor during the filming of the afore-mentioned movie but at first, it was just a mentor/pupil relationship with Barbara serving as a career advisor to Robert, who was her junior both in age and in the industry. However, as time went by, the duo started co-habiting, setting off reports on newspaper.
Following the common practice of getting two stars married in Hollywood's golden age, Robert Taylor's studio, Metro-Goldwyn-Mayer, arranged a marriage between the duo in 1939. Everything was fine between the couple until they had a mutual agreement to get divorced in 1950 without revealing any reason for their decision to the public. However, there were speculations that both parties had extramarital affairs.
Sequel to their divorce, Barbara remained unmarried and as revealed by her friend and co-star on Big Valley, Linda Evans, she had told her that Taylor was the love of her life. This explains why his death in 1969 was a big blow on the actress, making her go on a hiatus from the acting business.
The Final Days Of Barbara Stanwyck
Barbara Stanwyck died in 1990 in Saint John's Health Center, Santa Monica, California, due to congestive heart failure and chronic obstructive pulmonary disease. Her death probably came as a surprise to the general public because they never saw her fall to pieces. Barbara aged gracefully and even while in her 80s, she never lost her trim stature, long, narrow waistline, and sense of style. However, retaining that star image was a hard struggle during her last years.
She started declining after she was robbed and beaten at her home in Beverly Hills in 1981. Subsequently, she inhaled special-effects smoke during the making of The Thorn Birds in 1982 and this led to her contracting bronchitis, an illness that was worsened by Barbara's cigarette smoking habit which she started right from the age of nine and continued until four years before her eventual death.
The entertainer was admitted to the hospital from time to time to have her lungs cleaned but on the 9th of January 1990, she was hospitalized for back issues due to a slipped disk and 11 days later, she passed on.