How Old is Azzyland? Azzyland whose real name is Azra Bajrami is 32 years old. She was born on 23 February 1991. The Canadian YouTube and Instagram star was born and brought up in an upper-middle-class Christian family in Toronto, Canada. Azzyland is a Canadian by nationality and her religion is Christianity.
At the age of seven, Azzyland was introduced to the game, The Legend of Zelda: Ocarina of Time, this turned out to be a life-changing experience for her. With millions of dedicated followers scattered across the globe, a massive fanbase that takes pride in regarding themselves as citizens of Azzyland, Azzy is clearly a social media phenomenon.
Azzyland is one of the most popular and successful female YouTubers. YouTube acknowledged her for this in 2019 when the platform named Azzy as one of their top 10 most vies YouTubers in the world. She pulled off 1.9 billion views that year and as of October 2021, her channel has accumulated over 5.806 billion views with 13.4 million subscribers.
Bio and Profile Summary of Azzyland
Birth Name: Azra Bajrami
Nationality: Canadian
Place of Birth: Toronto, Ontario, Canada
Date of Birth: February 23, 1991
Age: 32 Years Old
Occupation: YouTuber
Years Active: 2015 – Present
Parents: N/A
Net Worth: $4 Million
The Real Name of The 32 Years Old YouTuber Is Azra Bajrami
It's no secret that the YouTuber is a citizen of Canada just as it is common knowledge that she was born on the 23rd of February 1991. What has largely remained unknown are the details of her family background and the kind of upbringing she had. However, reports have it that her parents aren't originally from Canada. It is said that they are Albanians who immigrated into the North American country from North Macedonia.
Azzy isn't the only child of her parents. She has a younger sister who according to some sources, is her twin sister and named Veronica. As it is with their parents, much isn't known about Veronica apart from the fact that she is also into gaming like her older sister, Azzyland. Born and raised in Toronto, Ontario, Canada, the sisters grew up playing games.
While the YouTuber is known across the world as Azzyland or simply Azzy, her real name is Azra Bajrami. From what we gathered, Bajrami means "celebration" in Albanian while "Azra" is of Bosnian origin and means "purity".
Azzyland Began Her YouTube Career In May 2015 When She Was 24 Years Old
Most of Azzyland's outputs as a content creator are relatable and this is because they are drawn from her experiences in real life. For instance, her impressive gaming videos can be attributed to the fact that she has been gaming since she was a kid. She grew up watching her father play games with his brother. They taught her how to play and by the time she was seven years old, she was already good at games like The Legend of Zelda: Ocarina of Time. 
Creating and sharing videos online wasn't something Azra planned to do for a living. She intended to become a doctor. After she graduated from Wilfrid Laurier University with a double degree in Chemistry and Biology, she was going to further her education and become a doctor as her parents desired. But then, she had a thing for cosplay and had been gaining significant attention as a cosplayer.
She cosplayed in many popular conventions and after one of her performances, she was invited for an interview on a YouTube show hosted by McCrudden. At the end of the day, he hired her as a co-host of a popular show titled Before They Were Famous, which also aired on YouTube. While at the job, she created her channel on the 8th of May 2015, posted her first video on the 27th of that same month, and the rest is history.
She Attained The One Million Subscribers Milestone At The Age of 26
Azra Bajrami was initially inconsistent with uploading videos on her channel but when she resolved to take it seriously, she took aggressive measures to grow her channel, apart from gaming and cosplaying videos, she took part in all kinds of social media challenges, created DIY videos, commentaries, and what have you.
In addition to the above, she took to daring the YouTube community to gain more subscribers. For instance, she recorded significant growth when she promised to set a twerking record. Azra bragged that she would pull off a "twerkathon", twerk for 24 hours non-stop.
She kept her promise and made a twerking video that lasted for 23 hours, 28 minutes. Even though it was claimed that the video was wound back to the beginning repeatedly, it gained Azra millions of views and hundreds of subscribers.
Another significant growth moment in her career was when she vowed to share her nudes if she reach one million subscribers. On the 26th of May 2017 when she was 26 years old, Azzyland reached the one million subscribers milestone and she kept her promise; albeit she has a skin-colored dress on.
While it is hard to argue that the promise of going nude didn't help her quickly attain the feat, Azra's entertaining content facilitated her fast growth as a YouTuber and continues to sustain her.
AzzyLand Met Jordi van den Bussche When She Was 25 and They Broke Up When She Was 29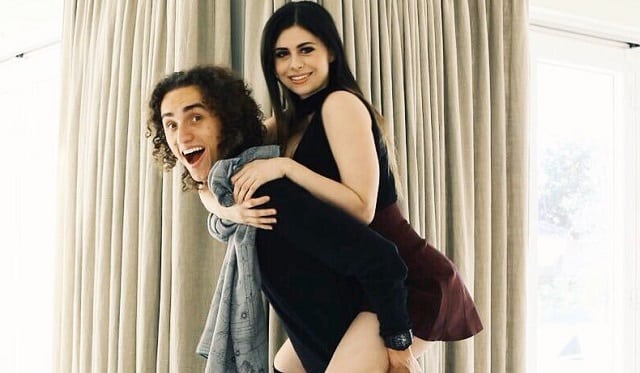 With her popularity came the invasion of her private life as people wanted to know more about the YouTuber, especially her love life. For a while, nothing was known about that but it later emerged that she was in a relationship with another YouTuber, the famous Dutch gamer, Jordi van den Bussche, better known online as Kwebbelkop.
Kwebbelkop is also very successful in the business. As the story goes, Azzyland met him sometime in 2016. She had attended an after-party for a gaming conference. Being a gamer, Jordi Van den Bussche was at the party and the two were introduced to each other.  They started dating thereafter but kept the relationship a secret until a fellow YouTuber, John Scarce, talked about their romance online.
The relationship started when Azra Bajrami was 25 years old and ended almost as soon as she turned 29. It is hard to tell what drove them apart but Kwebbelkop confirmed that were no longer together in a tweet on the 29th of February 2020.