Austin Jones is a 30-year-old American former musician and YouTuber. He is best known as a convicted sex offender who was arrested in 2017 for the production of child pornography and sentenced to 10 years in federal prison in 2019.
The YouTuber had been on the platform for 10 successful years, starting in 2007. However, his story changed in 2017 when he was arrested for several sexual offenses and things started to go downhill from there. Now, whenever anyone thinks of the name Austin Jones, all they can imagine is a blonde-haired young man dressed in traditional inmate orange garb and standing before a judge.
Early Life and Career
Maybe Austin likes to keep a private life or there really isn't much to talk about. Either way, there isn't much information regarding his life before he started a career on Youtube. Perhaps the only known public information is that his middle name is Jefferson and, that he was born on December 12, 1992, in Bloomingdale, Illinois, although some sources say it's Chicago.
Coming to recognition with his foray into Youtube content creation in 2007, the then-boy from Illinois decided to focus on music and music-related content. Launching his Youtube channel "AusdudePro", he published everything from original music to acapella renditions of popular songs from popular solo artists and groups.
In his time as a Youtuber, Austin Jefferson Jones did covers for songs by Panic! at the Disco, My Chemical Romance, Twenty One Pilots, Fall Out Boys, and a host of other musical outfits. Some of his covers were for famous songs such as Welcome to the Black Parade, Pierce the Veil, Sugar We're Goin' Down and I Write Sins Not Tragedies. He also did a cover for every track on the album Blurryface by Twenty One Pilots.
After years of getting famous off other people's music, the self-described alternative pop vocalist released his first project. The EP was titled We'll Fall Together and was released in 2014. Two years on, following the success of his EP, Austin Jones put out his first studio album Pitch Imperfect, obviously a nod to the musical Pitch Perfect movie franchise.
In 2017, he teamed up with a few other Youtube personalities to embark on an international tour for his album. Tour locations included Germany and Poland where he performed with fellow internet stars, Johnny Orlando and Bars & Melody.
Before his problems began, the musician's channel had recorded over 530,000 subscriptions and his 40 videos had been viewed over 40 million times.
Austin Jones At A Glance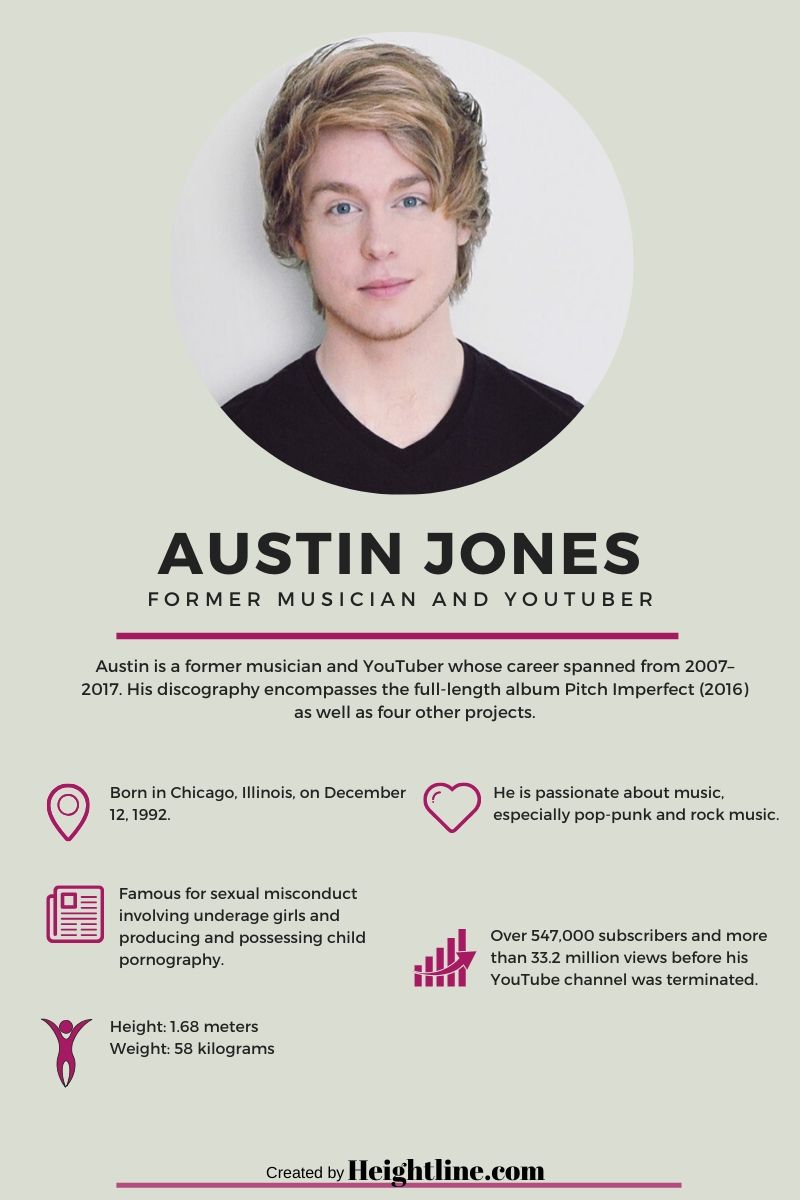 Child Pornography Charges
Before the gavel finally came down in judgment on the Illinois native in 2017, Jones had escaped a similar possibility in 2015 for the way he had acted with a few of his female fans who were underage at the time. The YouTuber had persuaded the girls in question to make a video of themselves twerking. He even offered instructions on how to perform the dance while self-recording.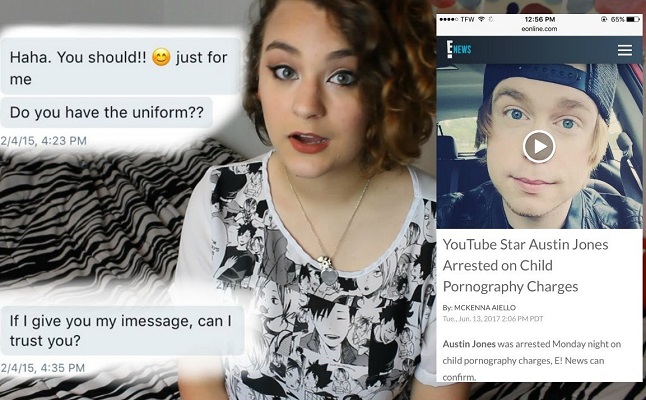 After these incidents were made public by PupFresh, a music website in May 2015, the public began to hit back. A petition was started to repeal his participation in the Warped Tour, an event that he had already been slated for. However, he would later perform in the show since the petition didn't rack up the required number of signatures.
He later made a video on his channel titled "Setting the Record Straight". Here, he admitted to the allegations, apologized for his actions, and pointed out that there was no nudity involved throughout his correspondence with the fans. The video was over 16 minutes long and has recorded over 860,000 views as of December 2018.
His demons came back to haunt him, however, when he was arrested on a Monday, June 12, 2017, by Homeland Security at the Chicago O'Hare International Airport. Austin Jones was arrested on counts of child pornography production. It had come to light that he had again contacted an underaged female fan and had tried to get her to film herself in sexually explicit and compromising scenarios, following his detailed instructions. According to their correspondence, this was a way for her to prove that she was his biggest fan.
There would be no free pass this time. Nonetheless, he was allowed to go home to his mother three days after his arrest upon posting a $100,000 bail. His release was on the condition that he would remain confined in his mother's home and would be barred from using the internet while he awaited his trial date to roll around.
Subsequently, he was arraigned on February 1, 2019, and he pleaded guilty to a single count of "receipt of child pornography." On the 3rd of May 2019, Austin was sentenced to a 10-year jail term in federal prison. However, following a court hearing that took place three days after, he was permitted to remain under house arrest until June 28, 2019, when he reported to the Federal Correctional Institution, Loretto.