Atta Johnson is the mother of Dwayne Johnson (The Rock), the famous American former professional wrestler turned actor. She is an actress known for her appearances in WrestleMania 31 (2015), WrestleMAnia (2018), and Young Rock (2021). In addition to being known as Dwayne Johnson's mother she is also known for being the former wife of ex-wrestler Rocky Johnson.
Notably, Atta Johnson has been popular for a long time, even before The Rock was born. Prior to the emergence of Dwayne as a superstar, Ata was famed as the wife of late Canadian professional wrestler, Rocky Johnson. And before Rocky became a part of her life, she was well-known as the daughter of Lia and Peter Maivia, a couple that dominated the professional wrestling scene from the 1960s through to the 1980s.
Almost for all of her life, Dwayne Johnson's mother has been someone who piques the curiosity of a lot of people. The first time she gained public attention, the interest was all about knowing the girl child adopted into the famous Anoa'i wrestling family by Peter Maivia.
She grew up, became involved with Rocky, and it became all about her life as the second wife of the WWW Hall of Famer who passed in January 2020. It was her marriage to Rocky that made her the mother of The Rock, the major reason for people's obsession with her in recent times.
Profile Summary of Ata Johnson
Birth Name: Feagaimaleata Fitisemanu Maivia
Nationality: American, Canadian
Place of Birth: Hawaii, USA
Date of Birth: October 25, 1948
Age: 75 Years Old
Occupation: Actress and Media Personality
Father: Peter Maivia
Mother: Lia Maivia
Sibling: Peter Maivia Jr.
Spouse: Rocky Johnson ( 1978 – 2003)
Children: Dwayne Johnson
Dwayne Johnson's Mother Is 75 Years Old and Was Adopted Into The Famous Anoa'i Family
Ofelia "Lia" Maivia is the biological mother of Ata Johnson. She had her on the 25th of October 1948 in Hawaii, with her first husband who has always been an obscure figure. Lia, often credited as one of the first female professional wrestling promoters, was a Samoan just as her second husband, Peter Maivia. So, Dwayne Johnson's mother is an American of Samoan heritage.
It was in 1953 that Peter and Lia got married. Shortly after that, Peter adopted Ata who was about five or six years old. As hinted earlier, Peter was a famous professional wrestler who dominated his era with his intimidating tribal tattoos.
He was a member of the famous Anoa'i family, a family of professional wrestlers with members like Roman Reigns, Nia Jax, and The Usos who continue to dominate the profession. Until the year he died (1982), Peter was a prominent wrestler. He won numerous heavyweight championships across the world and was inducted into the WWE Hall of Fame in 2008.
While Peter died of cancer at the age of 45, his wife died of a heart attack many years later, precisely on the 19th of October 2008 and at the age of 81. Ata Johnson isn't their only child. She has a younger brother named Peter Jr. Mavia. He was born on the 14th of August 1965 and was also a professional wrestler. It is said that he wrestled in Hawaii amongst other places after their father's death.
Ata Johnson's Popularity Soared When She Began Dating Rocky Johnson Who Later Became Her Husband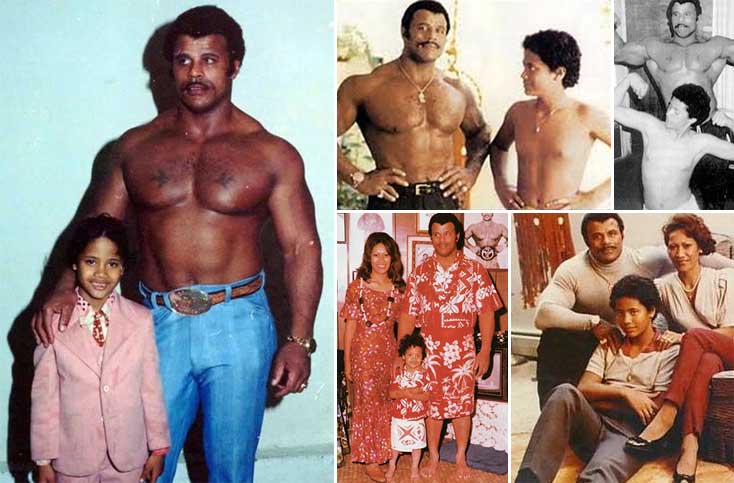 While Dwayne Johnson's mother was popular as the daughter of Lia and Peter Maivia, she became more famous when her relationship with Rocky Johnson came to light. Ata met Wayde Douglas through her father; the Canadian wrestler and Peter Maivia were tag team partners at some point. Even though Rocky was already married to his first wife Una Sparks with whom he had two kids, it didn't stop him from pursuing a romance with Ata.
Against the wish of her father, Ata committed to a relationship with Rocky and by 1972, precisely on the 2nd of May, they welcomed a child together – The Rock. Rocky maintained both of his families with Una and Ata until 1978 when he divorced the former. They reportedly parted amicably after Una gave Rocky an ultimatum to quit wrestling.
The same year he divorced Una, the late professional wrestler got married to Ata and became an honorary member of the Samoan Anoa'i family. If you imagined that Ata Johnson remained married to Rocky until his death, you are wrong.
Rocky Johnson and Ata divorced in 2003 for reasons that are not clear to the public. Nonetheless, we know that the man got involved and married Sheila Northern in 2004: he remained married to the speech pathologist until his death on the 15th of January 2020.
Dwayne "The Rock" Johnson Is The Only Child of His Mother
Rocky and Ata Johnson, before they got married, welcomed a child together, Dwayne Johnson, who remains the only child of his mother. As you would easily find, The Rock was born in Hayward, California. He took to wrestling and became famous as "The Rock", one of the greatest wrestling persona of all time.
While he conquered the world of wrestling, The Rock took to acting and has conquered the industry as well. He is counted among the highest-paid actors in the world and is admired for his roles in popular productions like Snitch, Central Intelligence, Skyscraper, Hercules, Faster, Hobbs & Shaw, Red Notice, The Mummy, Fast and Furious, and Jumanji franchises.
Ata speaks highly of her son. She has shared a few times that he used to get into trouble growing up but has been relentless about living an impactful life since he decided to change.
She has a great bond with her son who has expressed gratitude for having a mother like her several times. Ata devoted most of her life to raising and providing for her son. The famous actor once shared that she was evicted from their apartment at some point because she couldn't afford to pay rent.
What Does Ata Johnson Do For a Living?
Reports have it that The Rock's mother was interested in modeling when she was a teenager. It is said that she was very fashionable. However, she never got to pursue a career in the industry. Anyone who knows her knows that Ata has a thing for singing as well; she didn't pursue a professional career in that either.
It's hard to tell what she has done with most of her life career-wise. But in recent times, she is regarded as an actress. This is so because she has appeared in several episodes of Young Rock, a sitcom based on the life of her son, Dwayne Johnson.
Key Takeaways
Was Ata Johnson Ever on Star Search?
There is no public record of Ata Johnson appearing on Star Search. She has however made appearances in WrestleMania and Young Rock.
What is Ata Johnson's Height?
Ata Johson has a height of 5'8″ which shrinks when compared to her son's intimidating height of 6 feet 5 inches.
What is Ata Johnson's Age?
Ata Johnson is 75 years old. She was born on October 25, 1948, in Hawaii, United States.
What are Ata Johnson's Ethnicity and Nationality?
Born in Hawaii, in the United States of America, Ata Johnson's nationality is American and her ethnicity is Samoan.
What is Ata Johnson's Net Worth?
Atta Johnson has not been active in her career life so it's difficult to estimate her net worth but her celebrity son Dwayne Johnson is worth a whopping $800 million.