Ashley Olsen is not married but she has a boyfriend named Louis Eisner whom she has been involved with since 2017.
The Olsen Twins have been popular since they were kids and have been able to sustain their relevance in showbiz as adults. The inseparable pair, Mary-Kate Olsen and her sister Ashley Olsen have pulled giant strides in the American entertainment industry, thanks to their exceptional acting prowess and entrepreneurial capabilities. They began acting when they were nine months old and have played remarkable roles in various movies and TV series including Full House, Winning London, Holiday in the Sun, and Passport to Paris, among others. In addition to their exceptional acting skills, they founded a production company called Dualstar Entertainment during the '90s and are also well-known for their fashion line called Real fashion For Real Girls.
With such a robust resume, it is only natural that almost everything about the twins is newsworthy, including their love lives. Ashley Olsen and her sister have made headlines because of the men in their lives. While Mary-Kate got married to Olivier Sarkozy in 2015 and parted ways with the French banker in January 2021, Ashley came close to walking down the aisle but it never materialized. She has been in a relationship with several popular men and is currently dating Louis Eisner. Her fame has rubbed off on Louis who has had his space invaded by the media and the public in a quest to learn a thing or two about him. In all of this, Ashley Olsen and Louis Eisner continue to thrive and have left many predicting they might be getting married in the nearest future. 
Who Is Ashley Olsen's Boyfriend, Louis Eisner?
Full Name: Louis Mozart Eisner
Place of Birth: California, U.S.
Date of Birth: July 31, 1988
Age: 34 Years Old
Occupation: Artist
As hinted earlier, it was Louis' relationship with Ashley Olsen that dragged him to the limelight, much wasn't known about him until he began dating the actress. As soon as it was suspected that he's Ashley's lover, people began prying into his private life, and soon enough, it was confirmed that he is an artist.
Many things are yet to be learned about Loius but through his Instagram page, it was uncovered that he was born on the 31st of July 1998. This means he is roughly two years younger than his girlfriend, Ashley Olsen, who was born on the 13th of June 1986. Raised in California, Loius, during his senior year in high school, was thought of as someone who would most likely become a well-decorated army general among his peers.
After high school, Loius Eisner proceeded to Columbia University where he studied Art History. Before that, he interned at Sotheby's, an auction house in New York where he was introduced to the history of art. Following his graduation from college, Loius started practicing what he learned for a career in Los Angeles and would become known for his collaboration with Stillhouse, a group of young artists.
It is believed he got his love for the arts from his mother, Lisa Eisner – a popular fashion photographer and jewelry designer. Since Loius began dating Ashley, he has gained more attention for his paintings which vary in imagery and subject. His 2011 "Void Paintings" is one of his most unique series. Unlike his other works that feature recognizable images, the Void paintings have no subjects. They are basically portraits of nothing, paintings of ambient backgrounds with no identifiable subjects. Among other popular figures, Donald Trump's daughter Ivanka Trump has Loius Eisner's work in her art collection.
Loius Eisner Became Ashley Olsen's Boyfriend In October 2017
When it emerged in March 2017 that Ashley Olsen had broken up with Richard Sachs whom she had been dating for about five months, the media and her fans became vigilant in a quest to spot who the new man in her life would be. For a good while, nothing was heard of the actress' love life until October 2017 when she was seen with an unknown fellow in Los Angeles. The unknown man who would later be identified as Loius Eisner was first seen in public with Ashley at the Hammer Museum's Gala in the Garden.
With the first sighting, much wasn't thought of the two. They kept things discreet until the following year when they were seen holding hands and taking a walk in Bel Air. This became the confirmation that the two were an item. Even though neither of the two confirmed or denied they were dating, it has become apparent they are lovers as they have been spotted in public cozying up to each other several times since then.
It is no longer in contention if the two are dating, but when they met and how they fell in love are part of the pieces of information that are yet to be learned about the two. Ashley Olsen and Loius Eisner have largely kept their relationship away from the scrutiny of the public. Nonetheless, some reports have claimed that the two were friends for a while before they started dating.
It Was Rumored That Ashley Olsen and Louis Eisner Got Engaged In July 2019
As one would expect, Ashley and Loius' decision to keep the public away from their relationship has led to several unconfirmed reports and speculations about the couple. It is not known why the two decided to keep what they're having low-key, but one might as well conclude that they are trying to avoid unnecessary attention and scrutiny which have ruined several relationships of popular figures.
Despite their resolve to keep things simple and not attract attention, Ashley Olsen and Loius Eisner have not been able to get the media off their affair. Paparazzi have always been all over them whenever they are seen in public. In one of the instances in 2019, precisely on the 29th of July, the couple were seen in Pacific Palisades, California. They were out for a date that had them visit the cinema to see "Once Upon a Time in Hollywood", after which they had dinner at a local Italian restaurant.
Pictures of the couple showed that Ashley had a ring on her left finger. With that, it circulated that Ashley and Louis are engaged and would be getting married soon. This has not been confirmed in any meaningful way as the private couple has completely refrained from discussing anything about their relationship. In fact, they don't even share pictures of each other on their social media pages.
Subsequently, There Was a Rumor That Ashley Olsen and Loius Eisner Parted Ways
After the engagement rumor, people became more curious about the couple. Expectedly, bloggers and celebrity gossip outlets embarked on a mission to find more of whatsoever that would back up the rumor about Ashley and Loius working towards getting married.
As though the couple knew what was to come, they completely stayed away from the limelight. For a year or thereabout, the two were not seen together; also, the fact that they had always refrained from sharing pictures or talking about their relationship online didn't help matters.
With many months of silence from the two, the media began to consider that they might have fallen apart. But then, they were seen in March 2021 in New York City hanging out with friends. It was reported that they had a double date with the fashion photographer Jeff Henrikson and his girlfriend, the editor in chief of W Magazine, Sara Moonves.
The COVID-19 Lockdown That Ruined Mary-Kate's Marriage Didn't Have Any Negative Impact On Their Relationship
Ashley's twin sister Mary-Kate Olsen finalized her divorce from Olivier Sarkozy in January 2021. She began dating the French banker famed as the half-brother of Nicolas Sarkozy, the former president of France, in May 2012. They got engaged in 2014 and became a married couple on the 27th of November 2015. Things were fine for Mary and Olivier until April 2020 when it emerged that she filed for divorce.
The end of their marriage has been blamed on the COVID-19 pandemic and the lockdown that followed. It was said that Mary decided to walk out of the marriage after Olivier insisted on having his ex-wife, Charlotte Bernard, their kids, and his mother move in with them in their Bridgehampton home during the pandemic.
From what is obvious, the lockdown didn't affect Ashley's relationship in any negative way. When Mary and Olivier were still together, they were seen hanging out with Ashley and Loius several times. They had a double-date at Bowery Hotel's Gemma restaurant in New York City sometime in November 2019. Earlier that year, in June, when the twins marked their 33rd birth anniversary, they were seen with Loius and Olivier. If anything, all of these shows that Ashley Olsen's boyfriend, Loius Eisner, gets along with her twin sister, Mary-Kate Olsen.
List of Past Ashley Olsen's Boyfriends
Richard Sachs (October 2016 – March 2017)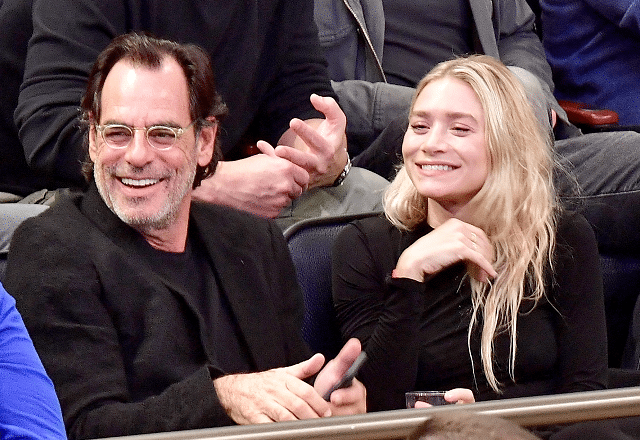 Before Ashley Olsen and Loius Eisner began dating, she dated Richard Sachs, a financier and art dealer. Sachs is twenty-eight years older than the fashion queen and they began dating in October 2016. The pair were spotted together on several occasions and they both went on vacation to the Caribbean for the 2016 Holiday weekend.
It was speculated that it was only a matter of time before Ashley and Richy walk down the aisle, but this never happened. Ashley Olsen reportedly called off the relationship so she could focus on her fashion business. However, she began dating Loius a few months later.
Bennett Miller (February 2014 – October 2015)
Soon after her break up with David Schulte, the gorgeous fashionista started dating the award-winning American movie director, Bennett Miller in February 2014. Miller is famous for his excellent performance in blockbuster movies like Moneyball, Foxcatcher, Capote, among others.
Their relationship saw the light of day when the pair was spotted in West Hollywood while on a dinner date. But it didn't last long before hitting the rocks and they went their separate ways. Miller went on to start another relationship with Sienna Miller in 2016.
David Schulte (2013 – 2014)
The Full House star has a thing for dating rich and successful older men and David Schulte is one of them. He is a millionaire and the CEO of luxury eyewear brand, Oliver Peoples. The duo had a short-lived romance that lasted for only a few months before it packed up. After their split in January 2014, the lovebirds were spotted a few times but they never got back together.
Justin Bartha (May 2008 – March 2011)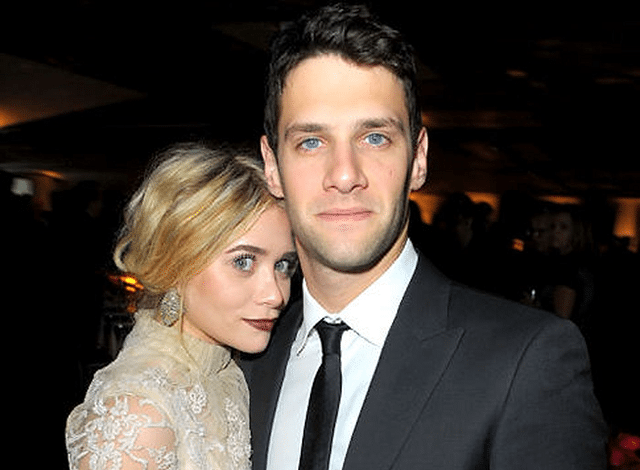 Ashley started dating the brilliant American actor Justin Bartha in 2008. Justin is best known for his appearances on the NBC comedy series, The New Normal, The Hangover Trilogy, and National Treasure film series. He is currently one of the casts of the CBS political drama titled The Good Fight. After about three years of a romantic relationship, the pair went their separate ways in 2011. While there were rumors that Ashley started dating Johnny Depp, Justin went on to marry Lia Smith, an American fitness instructor in 2014 and they both have a daughter named Asa Charlotte.
Greg Chait (September 2005 – Janaury 2007)
Greg Chait is one of those shaping the global fashion industry and he is the founder of the popular fashion line called The Elder Statesman. Ashley started dating Chait in 2005 and less than two years they went their separate ways in January 2007. After their breakup, Ashley had a fling with Lance Edward Armstrong who is an American professional cyclist. Their short-lived romance ended after a few months in the same year.
Scott Sartiano (September 2004 – June 2005)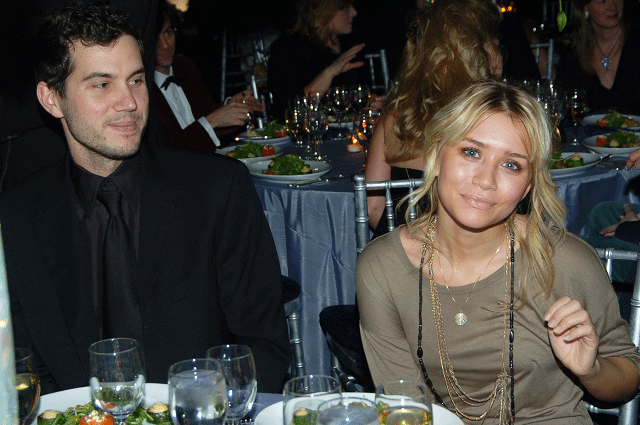 Ashley Olsen also dated the former tennis player and famous American restaurateur, Scott Sartiano. The duo had a brief relationship from 2004 to 2005. Sartiano is well-known as the owner of the notable Butter Restaurant situated in New York City, as well as a nightclub called 10Ak which he founded in 2007. After their brief romance, Sartiano went on to marry a model named Allie Rizzo in 2014. He had also dated other movie stars such as Lindsay Lohan and Anne Hathaway, among others.
Matt Kaplan (June 2001 –  May 2004)
Ashley had a relationship with the American film producer Matthew Kaplan. Meeting each other in 2001, their relationship lasted till 2004 when they went their separate ways. After their breakup, Kaplan got married to Australian actress and the Vampire Diaries star Claire Holt. The couple announced their engagement in 2015 and tied the knot the following year. After one year of marriage, they went their separate ways following a series of irreconcilable differences.