Ashley Graham is quite tall as she stands at 5 feet 9 inches (175cm). This height is used to carry a beautiful body with a mass of 91kg before her weight loss and as a result, her exact weight is not known currently. However, on a general note, Ashley's body measurement is said to be bust-42″, hips-30", and waist- 46″. She also wears shoe size 10 (US) and dress size 16.
Ashley Graham's Height: 175 cm and 5 feet 9 inch
Ashley Graham's Weight: 91 kg or 201 lbs
The definition of 'beautiful' for some people is tall, slim, and blond, just like most models we see. However, we dare say that people in this category of mindset will definitely have a change in their outlook upon seeing a woman like Ashley Graham.
She is a plus-sized model and with her thick body ensemble, Graham is undeniably sexy as she has all the curves in the right places. Being an early bloomer, she began her modelling career as a teenager and today, she is among the handful of women who have managed to make their way to the top in the plus-sized modelling industry, becoming a force to be reckoned with both within and outside the industry.
Information About Her Early Life
Born Ashley Ann Graham on the 30th of October 1987, in Lincoln, Nebraska, the model enrolled in Scott Middle School in 1999 but left there three years later, changing to Southwest High School in Lincoln, Nebraska. Although details of her father are not publicly known, it is common knowledge that her mother's named Linda Graham.
Ashley had a very difficult childhood as a result of her body which began changing when she was still very young. Describing the experience in her memoir titled A New Model: What Confidence, Beauty & Power Really Look Like (via Hollywood Reporter), she revealed that her body was already developing into womanhood with her breasts growing fast at the time she was just a 4th grader. At that time, men began noticing her and at the age of 14, she started getting sexual advances from them.
Even though Ashley Graham was at a loss on how to handle the situation in her preteen, she enjoyed the attention she got. Reflecting on this stage of her life in her memoir, she said that as a 12 year-old-girl, she loved to flirt and be flirted with, irrespective of how improper, unsought-for, or confusing it was.
As far as she was concerned, any form of attention from a male, was a good one. However, she was able to realize later on that this craving for love was caused by the fact that she was starved of fatherly love.
Just as her body was a point of attraction to men, it equally attracted a lot of bullying from among her female peers in high school as she was called names such as "cottage cheese thighs" and "thunder thighs".
Still in the memoir, Ashley disclosed one of her worst high school memories to be when her boyfriend broke up with her because of two crazy reasons – she chose not to have sex with him and he feared she was going to be as fat as his mother. Ashley was just 16 at this time.
In addition to her troubles growing up, the plus-sized model was also diagnosed with attention deficit disorder (ADD) and dyslexia. Thankfully though, she managed to rise above her challenges, using them as stepping stones to achieve the success she enjoys today.
Ashley Graham's Height, Weight, and Body Measurements
Ashley Graham stands tall at a height of 5 feet 9 inches or 175 cm (1.75 m) tall. On a general note, Ashley's body measurement is bust-42″, hips-30", and waist- 46″. She also wears shoe size 10 (US) and dress size 16.
Ashley Graham Body Measurements: 42-30-46 inches
Ashley Graham Hip Size: 46 in
Ashley Graham Waist: 30 in
Ashley Graham Breast: 42 in
Ashley Graham Height: 5 feet 9 in or 175 cm
Ashley Graham Weight: 201 lbs, 91 KG
Ashley Graham Bra Size: 38D
Ashley Graham Cup Size: D
Ashley Graham Body Type: Massive, Curvy
Ashley Graham Shoe Size: 10 (US), 41 (EU)
Ashley Graham Dress Size: 16 (US), 44 (EU)
Ashley Graham Eye Color: Dark Brown
Ashley Graham Hair Color: Brown
Ashley Graham Skin Color: White
Ashley Graham Breast Surgery: Natural Breast
Ashley Graham At A Glance
Journey To Becoming An Icon In The Modeling Industry
Sometime in 1999, Ashley went shopping at Oak View Mall in Omaha, Nebraska, unknown to her, her presence there on that day and at that time would mark the beginning of her career as a model. While she was there, an international modelling agency known as I & I discovered her and that was it!
Thanks to her already developed feminine features, she began modelling bras for a Midwestern brand and was, without wasting time, thrown under the "plus-size" category. She sealed her first deal as a model in 2000 and by the following year, she landed her second deal with Wilhelmina Models following her attendance at a model convention and in the year 2003, she signed a contract with Ford Models. She also appeared on YM magazine early in her career.
Seeing that she had a shot at becoming a hit in the modelling industry, young Ashley Graham moved to New York City as a teenager to pursue that career path. However, the freedom she had all by herself almost destroyed her as she began experimenting with drugs and alcohol and had to be rushed to the hospital at one time due to an overdose of alcohol.
Nevertheless, she was successful in her career at this time, earning a whopping $100,000 as a seventeen-year-old. Unfortunately, she spent all of her money sponsoring her lavish/partying lifestyle.
Despite being good at her job and making good money from it, she still had to deal with negative feedback from agents and fellow models who tried talking her into losing weight in order to be super-successful in the modelling industry. Unable to withstand the pressures anymore, Ashley, who was 18 at this time, called her mom to tell her she was quitting modelling and coming back home.
However, instead of encouraging her to throw in the towel, her mom gave her the perfect solution, which was encouraging her to adopt an attitudinal change about the situation. From then onward, the model would stand in front of the mirror, loving on her image by reminding herself that she's bold, brilliant and beautiful.
As a result of this, she stopped comparing herself and competing with other women in the industry and began to focus on what she was doing and how she was making an impact in her own career. This turned out to be the magic she needed to excel in her career.
Ashley Graham's Success Story in The Modeling World
Having understood that she could have whatever she wanted, Ashley's career soon went off the ground. In the fourth month of 2007, Vogue magazine's Sally Singer profiled her and in 2009, she appeared on the October issue of Glamour editorial, alongside six other plus-size models. The following year, she appeared in a Lane Bryant television commercial in which she was going to meet her boyfriend for lunch dressed in lingerie and a trench coat.
This became the subject of heavy controversy as it was tagged "too risqué" for television and was almost taken off the air if not for the intervention of people who cried out that it was fat-shaming. Nevertheless, Ashley Graham sees the occurrence as what put her on the map.
The well-rounded model has had international jobs that saw her walking for Christian Siriano, H&M, Prabal Gurung, Rag and Bone, Dolce and Gabbana, Michael Kors, Tommy Hilfiger, Love Mag, among other top designers. In December 2010, she appeared on Bust magazine's editorial page and in 2011, she appeared with other models in different Levi's campaigns.
Ashley Graham was also involved in a number of Marina Rinaldi campaigns in 2012 in addition to working for other brands like Target, Elomi lingerie, Addition Elle, Simply Be, Bloomingdale's, Liz Claiborne Macy's, Evans, Nordstrom, and Hanes.
In the last month of 2012, the prolific model occupied two billboards in New York for Lane Bryant and by the time that year came to an end, Ashely has worked so much to earn the Full Figured Fashion Week's Model of the Year 2012.
The next year, beautiful Asley showed the world another side of her by designing a lingerie line for Addition Elle, a Canadian clothing retailer targeting full-figured women. She later went on to appear on MTV's self-improvement reality TV series titled Made, as a coach for plus-size women that aspired to be models.
In 2014, she appeared in the May issue of Harper's Bazaar pre-fall collection and beauty editorial, following it up in June by appearing on the cover Elle Quebec for that month's issue.
In February 2015, a plus-size women swimwear retailer known as Swimsuits For All launched a campaign tagged #CurvesInBikinis and featured Asley Graham in an advertisement in the Sports Illustrated Swimsuit Issue for that year. This made her the first model in her size category to achieve this feat.
Not only that, but she also covered the 2016 Sports Illustrated Swimsuit Issue, becoming the first plus-size model to do so in history. She also made it onto Forbes' list of the World's Highest Paid Models in 2017.
Having gained international recognition through her modelling work, Ashley was opportune to serve as the backstage host of Miss USA twice and Miss Universe thrice. She was also one of the judges on the show America's Next Top Model and has authored a book titled A New Model: What Confidence, Beauty, and Power Really Look Like, which was published in 2017. She is also getting set to host season two of the television show, American Beauty Star.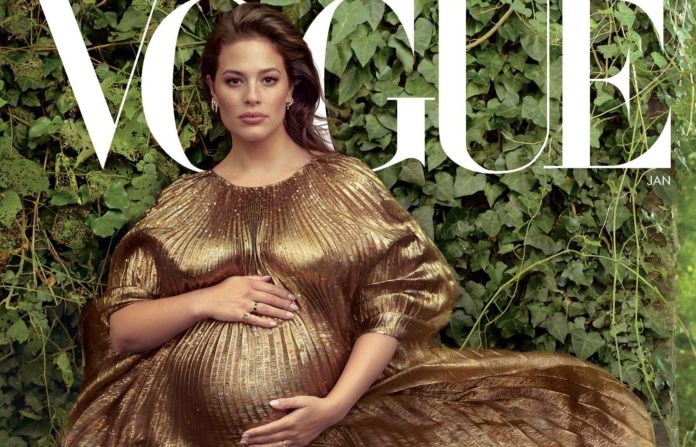 How Did Ashley Graham's Body Stats Aid Her Career?
For what it is worth, the plus-size modelling industry is not one that anybody can just waltz into simply because they are on the big side. There are certain criteria that aspiring plus-size models must meet and these include having a height of at least 5'7" to 6 feet, being able to wear a minimum clothe size of 10, and possessing shapely and well-defined legs. They are also required to have a proportional body figure that is very much liked among plus-size women.
Back to Ashley Graham! Judging by her looks, it is very obvious why she has been able to make it this far as a model. She more than meets the above-stated requirements with her voluptuous body build that is adorned with curves men would love to have in a real thick woman.
Ashley Graham has an impressive height which has helped her score big in the world of modeling. She stands 5 ft 9 inches or 175 cm (1.75 m) tall, and her weight is only 91 kg or 200 pounds.