English actor, Asa Butterfield scored it big with The Boy in the Striped Pajamas in 2008 and went on to prove it wasn't a fluke with another stellar performance in Martin Scorsese's 2011 film Hugo which earned him his first award – a Las Vegas Film Critics Society Award for Best Youth in Film. Since then, he's gone on to score notable roles in Ender's Game, X+Y, The House of Tomorrow and more.
Though he pretty much sticks to the big screen, Butterfield, during his early years in acting impressed with his recurring role as Mordred in the British fantasy adventure drama, Merlin.
Asa Butterfield Biography (Age and Background Info)
Butterfield was born as Asa Maxwell Thornton Farr Butterfield on the 1st of April 1997 in Islington, London to Jacqueline Farr and Sam Butterfield. Fans often wonder what his first name means and it does mean many things. In Portuguese, it means "Wing," the name of Jesus in Arabic, and healer in Hebrew. He has an older brother named Morgan who is into music. He was once the drummer for the band, Underneath the Tallest Tree.
Asa began acting when he was 7 years old at a local theatre. Three years later, he was landing film and TV roles first in the TV film After Thomas. He then scored roles in films; Son of Rambow and beat hundreds of boys to the lead role of Bruno in The Boy in the Striped Pyjamas.
However, at his point, Asa wasn't so sure if he wanted to pursue acting full time until he landed the titular role in Hugo. The film received rave reviews and earned several Academy and Golden Globe Awards.
Butterfield was hugely praised for his portrayal of a young mathematician on the autism spectrum in the drama X+Y released in 2014. The following year, 2015, Asa appeared in Ten Thousand Saints and also graduated from high school. During the time he was filming Miss Peregrine's Home, Asa sat for his A levels. His GCSE result included 1 A*, 3 A's and 6 B's.
When asked in a 2015 interview with Time Magazine about his school, Asa revealed that he attended a regular school and that being in the film industry did little or nothing to affect his schooling. "I'm a pretty normal person, outside of the film world," the actor revealed. "It doesn't really affect me when I'm at school or with my mates."
Asa continues to act, some of his recent works include comedy horror, Slaughterhouse Rulez, Time Freak, and more.
Net Worth
Asa Butterfield has done very well for himself since the beginning of his entertainment career in 2006. His net worth is currently estimated at $5 million, a figure that is certain to rise should he keep up with his current pace.
Read Also: Maisie Williams Bio, Height, Feet, Body Measurements, Net Worth, Boyfriend
Girlfriend
Asa Butterfield isn't one to document his personal life on social media, thus, his relationship status is quite difficult to tell per time. However, he was once in a relationship with actress Ella Purnell. They both met on the set of the 2016 film, Miss Peregrine's Home for Peculiar Children where Asa played Jacob "Jake" Portman.
Their relationship is said to have begun in 2015 when Asa took to his Instagram page to post a photo of them enjoying a vacation in Mauritius. Other photos of them which later surfaced online served as more proof that they were actually in a relationship.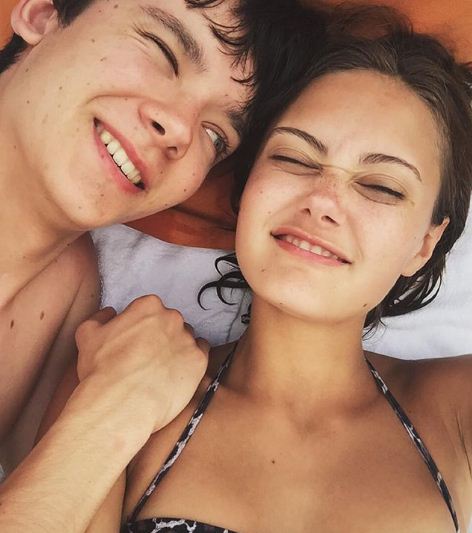 However, it was only short-lived as the pair were said to have ended things by 2016.
It's been pretty much quiet from Asa since his relationship with Ella ended. On the other hand, Ella, by February 2017, was linked with Spiderman actor Tom Holland with whom she attended the year's BAFTAs. The Angelina Jolie look-alike was also rumored to be dating Brad Pitt, a year after his split from Jolie, but it was only a rumor.
Height and Other Facts
He is a huge fan of science fiction. His favorite science-fiction film is The Matrix while his favorite sci-fi book is The Knife of Never Letting Go.
During his downtime, Asa loves to play video games or hang out at the park with friends.
He looks up to American actor Leonardo DiCaprio whom he has met a few times.
One of his dreams would come true the day he gets selected to play James Bond.
Butterfield has an interest in wildlife and hopes to film documentaries about them.
He stands at 6 feet (1.83 m) tall.