Few people can boast of the achievements Arnold Schwarzenegger has attained throughout his career. From a professional bodybuilder to a blockbuster action hero movie star, to becoming the governor of a state, Schwarzenegger always found time to keep his body fit and as toned as can be. Known for iconic roles like Conan in Conan the Barbarian and T-300 in The Terminator, the former California state governor always followed a strict regime to make sure he was fit for the roles he had to play. It's no wonder he performs most of his stunts. But how did he get his body into its chiselled shape and how has he managed to keep it so over the years? what's the deal with his height? Let's find out.
Arnold Schwarzenegger at a Glance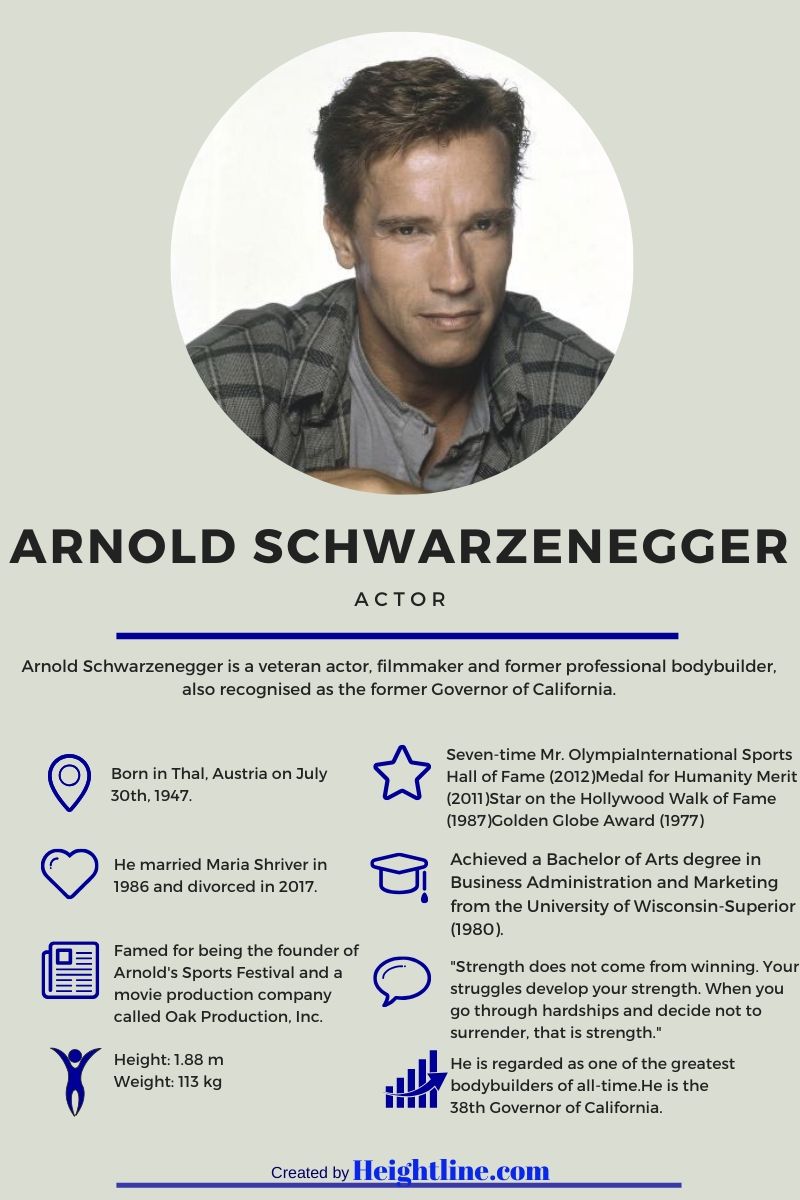 How It All Began For Arnold Schwarzenegger
Arnold Schwarzenegger was just 14 years old when he set his mind on bodybuilding. Already heavily involved in sports, including soccer, all it took was a trip to a local gym for the young Arnold to switch gears and consider the prospects of being a bodybuilder. By 15, Schwarzenegger started weight training. While he was at it, he would watch bodybuilding idols like Steve Reeves and Reg Park—who he would later befriend—at a local theater, drawing inspiration from the accomplishments of his idols.
After a mandatory one-year stint in the Austrian Army (during which he won the Junior Mr. Europe contest), Arnold Schwarzenegger would make his first attempt at the Mr. Universe title in 1966. Held in London, Schwarzenegger came in second behind America's Chester Yorton. Impressed by his performance, one of the judges, Charles 'Wag' Bennett, invited young Arnold to stay with him in East London and train to better his form. It was during this stay that he met and befriended Reg Park.
In 1967, he took another shot at the Mr. Universe title and won it. He would go on to win it three years in a row. By this time, his movie career began to pick up. Whenever he was fitted with a role, the four-time Mr. Universe would adopt a workout regime to suit the character he had to embody. For his part as Joe Santo in 1976's Stay Hungry, Arnold lost 30 pounds (13.6kg); his workout was two-thirds cardio and one-third weight training. When he needed to be Conan The Barbarian, he took on heavier weight training.
How Did Arnold Schwarzenegger Stay in Shape?
During his peak years, Arnold Schwarzenegger went through a strict fitness regime that trained each major muscle group 2-3 times weekly. Each day was focused on two muscle groups, with the seventh day of the workout being a day of rest. The first day worked on the chest and back, the second day on shoulders and arms, and the third on legs and lower back. Days 4, 5, and 6 repeat the same routine as days 1, 2, and 3 respectively. The workout includes crunches, bench presses, dumbbells, curls, and more.
Arnold Schwarzenegger didn't skimp out on meals either. Known as the 'garbage disposal' by his friends, the bodybuilder ate 5-6 times daily for the amount of training he underwent. This was also supplemented with protein shakes as well as vitamin and mineral supplements. Arnold always stressed the essence of having a lot of protein in one's diet, as it greatly helped the body add muscle mass. Whole eggs, bacon, oats, avocado, brown rice, and even red meat are among the things the bodybuilder had on a weekly basis. As the years went by, he switched to a diet with more focus on greens, vegetables, oatmeal, and fruits.
In 1997, he had to undergo open-heart surgery to fix a defective valve. Doctors cautioned the movie star that he needed to reduce the intensity of his training, which he adhered to. In 2003, he underwent shoulder surgery after an accident on the set of Terminator 3. The same shoulder needed some fixing again in 2012.
While he was the governor of California from 2003 – 2011, he focused more on cardio exercises to improve his heart and burn off fat. No longer lifting as he used to, Arnold Schwarzenegger still retains a very muscular body. In a 2019 Men's Health interview, he disclosed that he gyms every morning at Gold's Gym, Venice, California and invites people looking to have him as a training partner.
What We Know About His Body Measurements
Arnold Schwarzenegger's height is a topic that has come under debate several times. Officially, the 38th Governor of California is listed with a height of 6 ft 2 in (1.88m). In the late 1960s, his height was listed as 6ft 1.5 in (1.87m). In 1988, articles in both Daily Mail and Time Out alleged he looked shorter. In 1999, Men's Health listed his height as 5 ft 10 in (1.78m). During his bodybuilding days, Schwarzenegger was able to keep a bodyweight of 225lb. (102kg) at his lightest and 250 lb. (110kg) at his heaviest. He had a chest width of 57 in, a waist size of 34 in, arms, thighs, and calves at 22, 28.5, and 20 inches respectively.