Billy Mcfarland and Seth Macfarlane are not brothers and neither are they related in any way. Even though they look alike and have almost the same surname, they have no relationship whatsoever and have probably never met each other.
If there is anything in common between Billy Mcfarland and Seth Macfarlane, it's the fact that they are both famous citizens of the United States of America who work in the entertainment industry. While Seth is famous for his exploits as an actor, screenwriter, producer, director, and singer, Billy is infamous for being the brain behind the Fyre Fraud.
Why People Often Wonder If The Two Are Related
To the best of our knowledge, people began wondering if the two are related in January 2019. The reason for this boils down to their similar surnames and looks. Speculations about the two being relatives spread like wildfire on the internet following the release of two documentary films in January 2019; Fyre Fraud and Fyre: The Greatest Party That Never Happened.
The respective Hulu and Netflix distributed productions revolve around Billy. Some of the earliest viewers of the documentary noticed he looked like Seth and out of curiosity, began querying Google if they are related.
Anyway, Mcfarland and Macfarlane are not related. They are not even from the same state. While the two are both citizens of the United States, they come from different backgrounds: Billy is from Millburn, New Jersey whereas Seth is from Kenk, Connecticut.
Insight Into The Family Backgrounds of Billy Mcfarland and Seth Macfarlane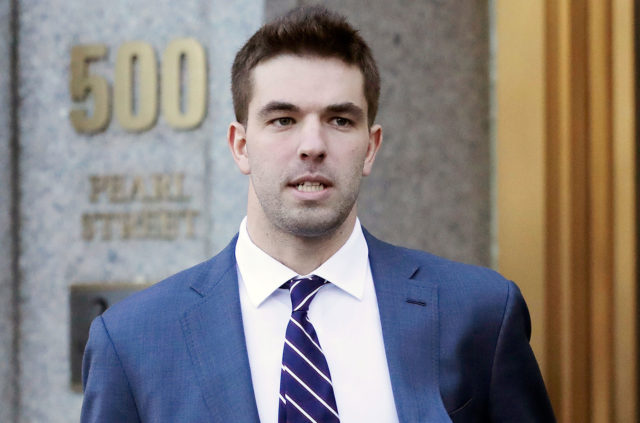 Born sometime in 1991, records have it that Billy's place of birth was in New York City, New York. However, his hometown is Millburn, New Jersey. It is said that he was raised in Short Hills, located within Millburn Township in Essex County. He had his high school education at The Pingry School located in Martinsville Road, Basking Ridge, New Jersey. Billy graduated in 2010 and proceeded to the private liberal arts college in Lewisburg, Pennsylvania called Bucknell University.
Billy McFarland was to acquire a degree in computer engineering from the institution but dropped out in his first year to focus on launching a content-sharing site called Spling. Much is yet to be learned about the family Billy came from but we gathered his parents are successful real estate developers in New Jersey.
As for Seth MacFarlane, it's no secret that the 50 years old Hollywood star was born and raised in Kent, Connecticut. His parents are Ronald Milton MacFarlane and Ann Perry (nee Sager). They are originally from Newburyport, Massachusetts, and met in Boston in 1970 before relocating to Kent in 1972 to start their family. Both of Seth's parents worked in the education sector. He lost his mother to cancer in July 2010. His only known sibling is Rachael Ann Laudiero (nee Macfarlane), a voice actress and singer.
Billy and Seth Are Both Popular For Their Works In The Entertainment Industry
While Billy Mcfarland and Seth Macfarlane do not have any form of relationship, they are both known for their involvement in the entertainment industry. For Billy, it's majorly because of his company, Fyre Media Inc.
Billy Mcfarland Is Infamous For The Fraudulently Marketed Fyre Festival
After he abandoned school to form Spling, an online advertisement platform that disappeared almost as soon as it emerged, Billy began looking for ways to create a unique business out of the entertainment industry. First, he came up with a card-based membership club, Magnises, that promised exclusive perks like VIP access to top clubs across popular cities and things of that sort.
Later, Billy founded Fyre Media Inc. with rapper Ja Rule and the company soon embraced the idea of hosting the greatest party ever to promote its Fyre mobile app, a platform where people can book music performers for shows. With that, Billy and Ja Rule began promoting Fyre Festival as a luxury music festival scheduled for two weekends in April/May 2017 at the Great Exuma island of the Bahamas. They got famous Instagram models like Kendall Jenner, Hailey Baldwin, Emily Ratajkowski, and Bella Hadid to promote the festival and sold tickets from $500 to $1,500 and as much as $12,000 for VIP packages.
At the end of the day, the music festival never saw the light of the day. It was canceled just as people began arriving at the venue. Because of this and other fraudulent activities, Billy Mcfarland faced a series of lawsuits that eventually landed him in federal prison. He pleaded guilty to two counts of wire fraud and admitted that he used fake documents to lure investors into investing over $26 million in his company. Thus, he was sentenced to 6 years in federal prison and is serving his time at the Milan Federal Correctional Institution in Milan, Michigan.
Seth MacFarlane Is Famous For Creating Family Guy Among Other Popular TV Shows and Movies
Seth Macfarlane has become quite notorious for his edgy sense of humor as seen in shows like Family Guy. The Kent native is the creator of the adult animated sitcom which has been airing since 1999. Apart from Family Guy, he is the brain behind other shows like American Dad!, The Cleveland Show, and The Orville.
Seth has also left his mark on the industry with projects made for the big screen. Notably, he wrote, directed, and starred in the 2012 American comedy film, Ted, and its sequel, Ted 2. With Alec Sulkin, he wrote the screenplay for the 2014 Western comedy film, A Million Ways to Die in the West, which he further directed and starred in.
Also a pianist and singer, Seth is clearly an entertainer of many parts. His efforts have earned him numerous nominations for prestigious awards, including an Academy Award for Best Original Song: this was for "Everybody Needs a Best Friend", a song from his 2012 movie, Ted. The Television Hall of Famer has won multiple Emmys and has a star on the Hollywood Walk of Fame amongst other recognitions. He is easily one of the most accomplished animators in Hollywood.
Although Billy Mcfarland and Seth Macfarlane are both known for their activities in the entertainment industry, the latter is vastly admired and celebrated whereas the former is behind bars paying for his fraudulent activities.