Anya Chalotra is a British actress who rose to prominence through her role as Yennefer of Vengerberg in the Netflix series, The Witcher. She also portrayed Jennifer Ashman in Wanderlust. The actress made her acting debut in 2017, appearing in the Shakespeare comedy, Much Ado About Nothing, performed at the Globe Theatre in London.
Even as adults, many people are yet to figure out what they want to do with their lives, unlike Anya Chalotra who was passionate about performing arts right from when she was a kid. Although the family she came from pushed her towards having a career that's academically inclined other than entertaining people for a living, her flair for acting which saw her perform in several school plays triumphed, and she has become a mainstream actress.
Profile Summary of Anya Chalotra
Full Name: Anya Chalotra
Nationality: British
Place of Birth: Wolverhampton, England, UK
Date of Birth: July 21, 1996
Age: 27 Years Old
Height: 5 feet 6 inches, 1.68 meters or 168 cm
Weight: 55kg
High School: St Dominic's Grammar School, Brewood
Drama Schools:

London Academy of Music and Dramatic Art (LAMDA)
Guildhall School of Music and Drama

Occupation: Actress
Years Active: 2016 – Present
Father: Madan Chalotra
Mother: April Chalotra
Siblings: Two (Reeya and Arun Chalotra)
Boyfriend: Josh Dylan
The British Actress Was Born to An Indian Father and English Mother
Anya Chalotra is 27 years old as she was born in Wolverhampton, England, the United Kingdom on the 21st of July 1996. As she is still an up-and-coming actress, a lot of facts are yet to be uncovered about her early life and upbringing. A few years ago, several platforms reported that she is originally from India. This is not true; the actress was born and bred in the United Kingdom.
That she was born and brought up in the United Kingdom doesn't mean she doesn't have Indian roots. Anya is partly Indian as her father Madan Chalotra is originally from the Asian country whereas her mother, April Chalotra, is English. Disregarding these facts, it is hard to tell anything else about her parents but we can confirm that she is not their only child.
The actress is the second of Mandan and April Chalotra's three children. She has an older sister named Reeya and a younger brother named Arun. Although she was born in Wolverhampton, England, Anya and her siblings were mostly raised in Lower Penn, a village located in South Staffordshire. She had her high school education at St Dominic's Grammar School located in Brewood, also in South Staffordshire.
10 Facts About The Life and Career of Anya Chalotra
As she continues to push her career as an actress forward, more and more information would emerge about her. At the moment, the following are facts worth knowing about Anya.
10. She Is a Professionally Trained Actress
While Anya has always had a thing for performing arts, it was when she was 18 that she started considering herself as someone who could become a professional actress. This was after she was accepted at the London Academy of Music and Dramatic Art (LAMDA) after an audition.
She did her foundation course at LAMDA which saw her interest in acting soar so much that she sought more professional training which took her to the Guildhall School of Music and Drama where she studied for three years and bagged a degree.
9. Anya Made Her Professional Debut As an Actress On Stage In 2017
The British actress is a thorough-bred actress who began her career on stage before she took it to the screen. If we are not mistaken, she pulled off her first professional role as an actress in 2017 when she played Hero in a theatre production of the popular William Shakespeare comedy, Much Ado About Nothing. It was performed at the Globe Theatre in London associated with William Shakespeare.
The following year, Anya Chalotra earned the attention of many in the industry with her portrayal of Jyoti in the Theatre Royal Stratford East production of The Village. Her other theatre roles are as Sabine in the Royal National Theatre production of Peter Gynt and Mary 2 in the Theatre Royal Stratford East production of Maryland.
8. The Actress Made Her Screen Debut In 2018 As Jennifer Ashman In Wanderlust
Her journey as a mainstream actress began in 2018 when she was cast to play the main role of Jennifer Ashman in Wanderlust, a British television drama series co-produced between BBC One and Netflix. The series created by Nick Payne aired for only one season that spewed a total of six episodes.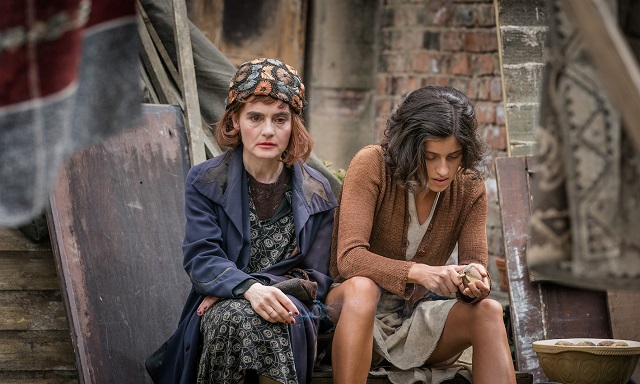 Anya appeared in all of the episodes of the series and it gained her enough publicity to push her career forward. Also in 2018, she was seen as Lily Marbury in The ABC Murders, a BBC One mystery-thriller television miniseries that aired for three nights, starting from the 26th of December.
7. Her Most Popular Role So Far Is As Yennefer of Vengerberg In The Witcher 
In 2019, Anya Chalotra voiced the main role of Robin Loxley in Sherwood, an American-Irish-New Zealander animated science fiction created by Diana Manson and Megan Laughton. It was after this that she landed the role that continues to define her career — Yennefer of Vengerberg in The Witcher.
The fantasy series created by Lauren Schmidt Hissrich has been airing since December 2019 and Anya's character has become a fan favorite, spreading her fame across the world. While The Witcher is her most prominent work as an actress thus far, she has been seen in other productions like No Mask, a 2020 short television film wherein she played a character named Dr. Anuja.
More so, she has several works in the pipeline, including voicing major characters in New-Gen and Army of the Dead: Lost Vegas. As stated earlier, she is an up-and-coming actress. While she is yet to make her big-screen debut, there is no doubt she has what it takes to pocket Hollywood.
6. She Believes That The Witcher Role Has Changed and Made Her More Confident
Anya Chalotra portrayed one of the main characters in the series based on Andrzej Sapkowski's book series of the same title and she claims the role has positively changed her life. The British actress portrayed a quarter-elf sorceress who first appeared as a hunchback with a misaligned jaw sold to a witch.
From this, her character developed into a powerful one entangled with every bit of the plot. In all, Yennefer of Vengerberg is a central character to the series and Anya brought it to life in the first season to the admiration of its over 76 million viewers. Her fine portrayal of the character didn't only contribute to the success of the series but has also changed Anya's life for good.
Apart from the fact that it has laid the foundation for her to attract more roles that would push her career forward, the actress said the role has made her much more confident, that she has changed as a person through the series. She buttressed that quarter-elf sorceress she portrays has a magnetism she didn't recognize in herself. Based on what she said, there are parts of her life that she doesn't know so well, and playing Yennefer made her realize this about herself.
5. Anya Chalotra Abandoned Social Media for Eight Months Due to The Negative Reaction That Followed The Decision to Cast Her as Yennefer
When it emerged that Anya had been hired to portray Yennefer in the fantasy series, many fans of The Witcher novel series, on which the show is based, were not happy with it for at least two reasons: the novels depict Yennefer as a white character and Anya Chalotra is way younger than the fictional character.
Those who were not happy about this took to various social media platforms to express their grievances. Some went as far as asserting that she doesn't have what it takes to play such a complex character. Partly because of that, the British actress decided to stay away from social media and did so for up to eight months.
In one of her several interviews, she recalled that the decision to boycott social media while she was filming the first season of the show was also inspired by her desire to see the character evolve organically without any pressure. It seems her plan worked as the common opinion is that she has so far done justice to the portrayal of Yennefer.
4. The Witcher Actress Stands at 5 Feet 6 Inches (168 cm)
Anya Chalotra is a tall woman, she stands at 5 feet 6 inches and according to some sources, she maintains her weight at around 55 kg. While one might describe her height as average, she is taller than most women in the world and in the industry she works in.
It is said that the average height for women in the movie industry is 5 feet 5 inches whereas that of men is 5 feet 10 inches. Anya is also taller than most of the people in the country her father originally came from. From what we gathered, the average height for Indian men is 164.9 cm (5 feet 4.9 inches), and that of women is 152.6 cm (5 feet).
More so, she is taller than most women in her country as several credible platforms have it that the average height for women in the U.K. is 5 feet 3 inches. The actress is only an inch shorter than women in the Netherlands: the European country is said to be home to the tallest women in the world and their average height is 5 feet 7 inches (170 cm).
3. She Is Not Married But Is Believed to Be Dating Fellow British Actor Josh Dylan
Since Anya stormed the limelight, people have been curious about her love life. Her on-screen romance with Henry Cavill who portrayed Geralt of Rivia in The Witcher fueled this curiosity but the actress has endeavored to keep her private life away from her career. At some point, it was rumored that she was dating a journalist named Juan F Sánchez but the actress never confirmed or denied this.
At the moment, it is believed that Chalotra is dating Josh Dylan, a British actor known for playing Young Bill in Mamma Mia! Here We Go Again and Captian Adam Hunter in Allied. While details of how they met and fell in love are yet to be revealed, it is said that they have been dating since early 2020. Although neither of the two has openly talked about what is going on between them, Josh has shared a few pictures of him and the actress on his social media pages.
If one must believe everything that has been reported about the two, Josh has met Anya's relatives and is close to her family. In all, the only thing that is certain about the actress' love life is that she has never been married, nor has she been in any relationship that came close to that.
2. She Regards Zoë Kravitz as Her Beauty Icon and Kate Moss as Her Fashion Icon
Many would agree that Anya Chalotra's beauty is one of the factors that earned her the Yennefer role. The character is famous for her beauty and the British actress embodies that. Her height and brown hair with matching brown eyes are some of the physical features that accentuate Chalotra's beauty.
In an interview with W magazine, the actress disclosed that the famous American actress, singer, and model, Zoë Kravitz, is her beauty icon whereas British supermodel and businesswoman, Kate Moss, is her fashion icon. She also loves Penélope Cruz and Thandiwe Newton in this regard.
She shared that her sink care routine revolves around having a cold shower and using coconut oil on her skin. Anya prefers less makeup but likes to experiment with lipstick or eye shadow.
1. Anya Chalotra Struggles With Anxiety
The Witcher role, as stated earlier, has made Chalotra much more confident. The actress has learned to look out for her mental health as she has been struggling with anxiety. She revealed that it emanated from her internal struggle with the expectations she have for herself and the quest to fulfill them.
According to her, she is not always as confident as she seems; sometimes she is afraid of being in a group and at times she becomes so uneasy that she can't clearly express her thoughts and feelings. Thankfully, she has learned how to deal with being anxious through meditation and controlling her breath.
More Facts about Anya Chalotra
What is Anya Chalotra's Height?
The English actress stands at the height of 5 feet 6 inches, equivalent to 1.68 meters. She also weighs 55 Kg or 121 lbs and has body measurements of 34-26-35 inches.
Who are Anya Chalotra's Parents?
Anya Chalotra was born to an Indian father, Madan Chalotra, and a British mother, April Chalotra. She also has an older sister, Reeya Chalotra, and a younger brother named Arun Chalotra.
What is Anya Chalotra's Age?
Anya Chalotra is 27 years old as she was born in Wolverhampton, England, the United Kingdom on the 21st of July 1996.
What is Anya Chalotra's Ethnicity and Nationality?
Anya Chalotra's ethnicity is British-Indian. She was born to an Indian father and an English mother. Her nationality is British.
What is Anya Chalotra's Net Worth?
According to Celebrity Net Worth, Anya Chalotra's net worth is estimated at $4 million. She made her wealth largely through her acting career. She reportedly earns about $100 thousand in salary from her appearance on The Witcher.