Anthony Joshua is not only a British boxer but also a certified heartthrob. He is a unified world heavyweight champion holding the International Boxing Federation Title, the International Boxing Organization Title and the World Boxing Association (Super) title.
At the 2011 AIBA World Championships, he represented England as an amateur in the super-heavyweight division; he came home with the silver medal. He also represented Great Britain at the 2012 Olympics where he won the gold. He became a professional boxer in 2014 and was named the 'Prospect Of The Year' by Ring Magazine.
Anthony Joshua is also known for being exceptionally strong and his 'punching power' is beyond the charts. He has also finished most of his fights by knocking out his opponents.
Here are other interesting details you probably didn't know about the boxing legend.
Bio & Age
Anthony Oluwafemi Olaseni Joshua was born on the 15th of October, 1989 in Watford, Hertfordshire to Nigerian parents – Robert and Yeta. He also has a cousin, Ben Lleyemi, who is also a professional boxer.
As a child, he spent some of his early years in Nigeria at boarding school. However, when his parents divorced, he returned to the United Kingdom and joined Kings Langley Secondary School. He is commonly called 'Femi' (a shortened version of his middle name, Oluwafemi) by his close friends and family.
Prior to boxing, Anthony worked as a bricklayer. He has also led an 'interesting' life to say the least. In 2009, he was remanded into custody at Reading Prison for fighting; upon his release, he was made to wear an electronic monitoring ankle bracelet. He was also once pulled over for speeding and found with eight ounces of Marijuana and he was charged with possession with intent to distribute as a result of this. This led to him being suspended from the Great Britain boxing squad and he was also sentenced to a year-long community service.
In 2016, he invested in a members-only gym, BXR, which opened in in 2017 on Marylebone, London and has also often expressed a desire to learn chess as a way to improve his tactical and boxing capabilities.
Anthony Joshua's Girlfriend, Wife & Son
Anthony's personal life is something that has come under scrutiny a lot in recent years, not out of judgment but out of curiosity. Being one of the most famous people in the world, as at now, people want to know who he is dating or isn't dating.
Currently, Anthony is not in a relationship. He has repeatedly stated that he wishes to focus on his career at this moment, saying a relationship will only be a distraction. But this has not stopped people from linking him to several celebrities including Bella Hadid.
However, he does have a child, a son – Joseph Bayley Temiloluwa Prince Joshua, with his ex-girlfriend – Nicole Osborne, a pole dancing teacher, and yoga instructor.
Anthony and Nicole have been on-and-off since their days at school. The boxer bought a flat in Finchley, North London for £500,000 for Nicole and their child to live comfortably.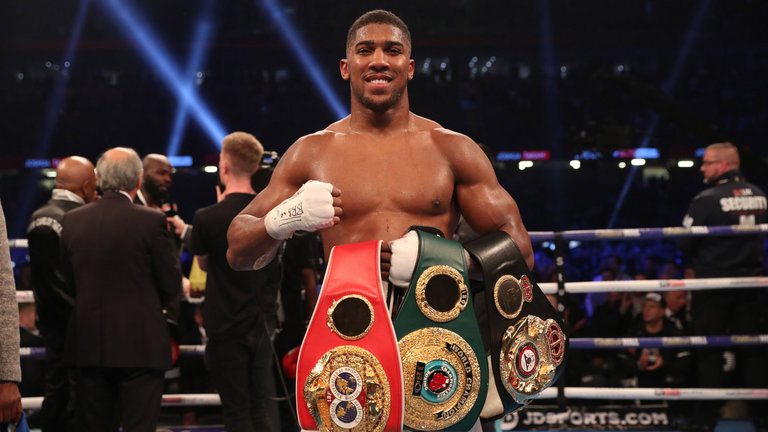 Height, Weight & Body Stats
As one of the foremost athletes in the world, it is expected that Anthony Joshua is in excellent shape; and he is. He currently weighs 113kg and stands tall at 1.98m.
To achieve his near-perfect physique, the sportsman spends a lot of time training and working out. Being in top shape is not only necessary for aesthetic purposes but also for the sake of his profession. When it comes to his fitness, Anthony does a little bit of everything including cardio, heavy bag, weight training, speedbag training, strength and conditioning, running and bike work.
Prior to a fight, the athlete can train up to 30 hours a week to be at his peak. He is able to do all these by maintaining a 4,500cal diet which consists primarily of a lot of protein such as salmon, chicken, and eggs. He consumes these much calories because his workout routine is quite demanding and it burns many calories.
His diet also is also one of the best when it comes to putting on muscles, which he needs to maximize his athletic and professional potential.
Recommended: Floyd Mayweather's Height Weight And Body Measurements
Net Worth
Anthony Joshua currently has a net worth of £32 million ($45m) and apparently this is only the beginning for him. His career is relatively new and he has already made it into 'icon' status. By the time he is done, at retirement, he hopes to become the first billionaire boxer ever. To be honest, with his career trajectory, business dealings, investments and current earnings per match, we have to say – this is all entirely possible. Best of luck to the British powerhouse.