| Net Worth: | $30 million |
| --- | --- |
| Salary: | $400,000 Per Episode of Black-ish |
| Income Sources: | Films/Movies, Game shows |
| Age/Date of Birth: | 53 years old (15 August 1970) |
| Height: | 5 feet, 11 inches (1.8 m) |
| Nationality: | American |
Anthony Anderson's net worth is currently estimated at around $30 million.
He has had more of a successful career than many would have expected of him. The African-American isn't just a successful actor but also a game show host, writer, and comedian. He is known for his work as the lead character in the television series Black-ish, where he also serves as an executive producer. Before landing his critically acclaimed role in the series, he previously starred in All About the Andersons, a sitcom that aired from 2003 to 2004. Since then, Anthony Anderson's net worth has been on a steady increase to date.
Although he is known for his comedic acts, Anthony has also taken on some dramatic roles in several television shows, including The Shield, K-Ville, and Law & Order. Besides TV shows, he has also appeared in several feature films, including Romeo Must Die, Me, Myself & Irene, Agent Cody Banks 2: Destination London, Transformers, Scream 4, Kangaroo Jack, and The Departed. Expanding his résumé, he is also a frequent judge on Iron Chef America which airs on the Food Network. Besides being a guest panelist for different game shows, he is also the host of, To Tell the Truth, a game show on ABC Network.
Stand-up Comedy Was The Earliest Source of Income for The Famous Actor
The story of how Anthony Anderson achieved his net worth can never be complete without an adequate reference to how it all started. For instance, one of the most telling early influences that stimulated his early career interest was his mother, Doris, who was an actress, although it was on a part-time basis as she also worked as a telephone operator.
Anthony got his start in the entertainment industry through stand-up comedy. However, he has mentioned that his first attempt at it was a disaster. Even though he didn't do so well during his first time on the stage, he persevered and was encouraged by Guy Torry (a fellow actor and comedian) to continue to try stand-up acts, as well as working on his performance. Anthony would later star with Guy Torry in the film, Life.
The actor was a member of the Hollywood High School Performing Arts Magnet's Class of 1988. Also, he is an alumnus of the historically black university, Howard University. While stand-up comedy has not contributed much to Anthony Anderson's net worth, it laid the foundation for the actor to build his career in the entertainment industry and make money through other means. From acting in movies and TV series to hosting shows, writing, directing, and producing various kinds of projects.
Anthony Anderson's Movies Have Grossed Over $4.1 Billion At The Box Office
Anthony Anderson is mostly known for his television roles but he has also pulled off many roles for the big screen. He is mostly known for playing supporting roles and to the best of our knowledge, his first movie roles were in 1999 when he appeared in Trippin', Life, and Liberty Heights. The following year, he respectively played Stan Washington, Jamaal Baileygates, Nolan, and Maurice in Urban Legends: Final Cut, Me, Myself & Irene, Big Momma's House, and Romeo Must Die.
For the rest of the 00s, he was seen in no fewer than 21 big-screen projects. Prominent among them include Exit Wounds, Barbershop, Cradle 2 the Grave, My Baby's Daddy, Hustle & Flow, Hoodwinked!, The Departed, Transformers, and much more. The following decade had him appear in at least 13 movies. A few of them, like A Turtle's Tale: Sammy's Adventures, The Star, and Ferdinand were voice roles. Apart from these, he was seen as Mr. Sandpaper Hands in Grudge Match, Bill Clemens in The Big Year, and J.D. in Barbershop: The Next Cut.
It is hard to tell what he earned from each of these roles but there is no doubt they contributed in no small manner to his $30 million net worth. In all, his movies have grossed over $4.1 billion at the worldwide box office. Below is a list of his popular movies and what they grossed.
Ferdinand (2017)

Budget: $111 million
Box Office: $296.1 million

Transformers (2007)

Budget: $200 million
Box Office: 709.7 million

Arthur & the Invisibles (2006)

Budget: $85 million
Box Office: $107.9 million

The Departed (2006)

Budget: $90 million
Box Office: $291.5 million

Scary Movie 4 (2006)

Budget: $40 million
Box Office: $178.3 million

Hoodwinked! (2005)

Budget: $8 million
Box Office: $110 million

Scary Movie 3 (2003)

Budget: $48 million
Box Office $220.7 million

Me, Myself & Irene (2000)

Budget: $51 million
Box Office: $149 million

Big Momma's House (2000)

Budget: $30 million
Box Office: $174 million
The Actor Has Made More Money From TV Roles
Anthony Anderson's acting career has been a robust one that covers both small and big-screen projects. However, he has enjoyed more success in the small-screen and has possibly made more thereof compared to movies. To the best of our knowledge, his first television role was in 1995 when he appeared in three episodes of The Wayans Bros., a sitcom that aired on The WB from January 1995 to May 1999. For the rest of that decade, he portrayed various characters in TV movies and series like Night Stand, JAG, In the House, Alien Avengers, Highly Incident, NYPD Blue, Liberty Heights, Malcolm & Eddie, The Breaks, and Hang Time which was his first significant TV role.
The 2000s was a very busy decade for the actor as he featured in many TV shows. Prominent among them were his roles as Anthony Anderson in 16 episodes of All About the Andersons, Antwon Mitchell in 15 episodes of The Shield, Cofeld in six episodes of 'Til Death, Marlin Boulet in 11 episodes of K-Ville, and Detective Kevin Bernard in 50 episodes of Law & Order. Between 2012 and 2013, Anthony Anderson played Gary in 18 episodes of Guys with Kids. He was also seen as Derek Watson in four episodes of Treme before he landed the role that has defined his acting career.
The actor is most known for his lead role as Andre "Dre" Johnson in Black-ish, a sitcom that premiered in September 2014 and has thus far spewed 162 episodes across seven seasons. This role has earned Anthony Anderson numerous nominations for prestigious awards, including two Golden Globes Awards for Best Actor in a Comedy Series. Among other coveted gongs, he has won six NAACP Image Awards for the role, all under the Outstanding Actor in a Comedy Series category.
Anthony Anderson Pockets As Much As $400,000 Per Episode of Black-ish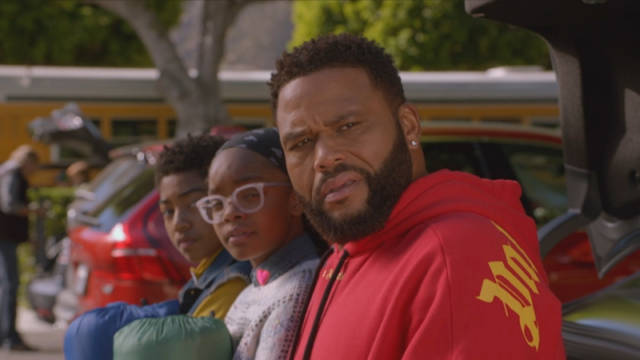 Most members of the American TV audience are likely going to be familiar with the character 'Andre Johnson' (better known as 'Dre') in the ABC sitcom, Black-ish. In case you don't know Dre's real name, he is the one we are talking about here: Anthony Anderson. He pockets $400,000 per episode of the show which is now in its seventh season. This includes a base salary of $100,000, plus other perks. He is also a narrator on the show, as well as one of its executive producers. With the show having completed its 6th season with a run of 163 episodes thus far, it is clear that Black-ish has been one of his most financially rewarding projects.
The success of the show has led to spin-offs like Grown-ish and Mixed-ish. Apart from them, the actor has made appearances in numerous TV shows which has contributed to his wealth in no small manner, even though what he made from them, apart from Black-ish, are yet to be revealed to the public.
Since his professional career kicked off, Anderson has been in many successful movies and television shows which are the major source of his wealth. But apart from what he has made from movies and TV series, the actor has also made good money from other avenues in the entertainment industry.
Earnings From Hosting Gigs Have Buoyed Up His Net Worth
Anthony Anderson is multi-talented and it has helped him thrive in other areas of the entertainment business. One area that has been a stable source of income for him is hosting shows. The Black-ish actor hosted 10 episodes of Golf in America in 2010 and in 2014, he hosted the Food Network show, Carnival Cravings with Anthony Anderson.
Since 2016, Anderson has hosted several episodes of the television panel show, To Tell the Truth. That's not all, in 2017, precisely on the 3rd of May, he served as the host of Jimmy Kimmel Live!. Jimmy was on paternity leave and Anthony was brought in to stand in for him. Also in 2017, the actor served as a judge in The Gong Show, an amateur talent contest.
His next hosting gig came in December 2019 when he served as a guest host for The Late Late Show with James Corden. Most recently, the actor was seen as a guest in Extreme Makeover: Home Edition and Who Wants to Be a Millionaire. He once won $250,000 on the latter, this was in 2011. Each of his hosting gigs must have been financially worth it for the actor and altogether, they make a significant sum that has contributed to Anthony Anderson's status as a multi-millionaire.
Anderson Also Makes Money From Writing, Directing, and Producing Small and Big-Screen Projects
The actor became known as a producer in 2003 when he produced three episodes of the sitcom television series, All About the Andersons. He was also credited as the writer of the show's pilot that same year. After that, nothing was heard from Anthony Anderson in that regard until 2011 when he served as the executive producer of a documentary titled You Laugh But It's True. That same year, he also worked as the executive producer of at least five episodes of the comedy series, Matumbo Goldberg.
After that, he executed the production of eight episodes of the TV series documentary, Eating America with Anthony Anderson, this was in 2014. The following year had him serve in the same capacity on six episodes of Carnival Cravings with Anthony Anderson. His next project as an executive producer was in 2017 when he oversaw the production of 10 episodes of the series, Animal Nation with Anthony Anderson. His most significant works as an executive producer are in Grown-ish, Black-ish, and Mixed-ish. He has respectively, executed the production of 51, 127, and 35 episodes of the TV shows as of May 2021.
The actor is also credited as the executive producer of the 52nd NAACP Image Awards of 2021, Jimmy Kimmel Live!, and Beats, a 2019 coming-of-age drama film. Anthony Anderson directed two 2019 episodes of Black-ish and the 2006 TV special documentary, Katt Williams: The Pimp Chronicles Pt. 1. His other work as a writer, apart from the aforementioned, was for Jimmy Kimmel Live!. What Anthony made from each of these may never be known to the public but no one needs to be told the amount involved is significant.
All The Sources of His Massive Wealth
Paychecks from acting roles in movies and TV shows.
Earnings from hosting gigs.
Income from writing, directing, and producing shows.
How Anthony Anderson's Net Worth of $30 Million Grew Over The Years
As already mentioned above, Anthony Anderson currently sits on an estimated net worth of $30 million. Of course, the major part of this amount was accrued from his movie work, but he has also had other sources. For instance, apart from just acting, he has been involved in directing, producing, and what have you.
Looking at his massive fortune, one might be tempted to think that the actor has always been this wealthy, this is not so. The actor born in Compton, California, has come a long way. After he decided to pursue a career in entertainment, he suffered a massive disappointment as his first stand-up comedy gig was a massive flop. Anthony was encouraged by a friend to not give up, he didn't, and it has been one of the best decisions he has made in his life.
As the year went by, the actor gained mainstream recognition which enables him to make more money from his career. Considering he was worth less than $10 million in the 90s', it's remarkable that his net worth is now estimated at $30 million. All things being equal, Anthony Anderson's wealth would cross the $50 million mark in the nearest future. Below is a look at how his net worth has grown over the years.
1999 – $7 million
2005 – $12 million
2008 – $15 million
2012 – $18 million
2015 – $20 million
2017 – $25 million
2021 – $30 million
Profile Summary
First Name:
Anthony
Last Name:
Anderson
Estimated Net Worth:

$30 million
Salary:
$400,000 Per Episode of Black-ish
Source of Wealth:
Films/Movies, Game shows
Also Known As:

Tugga
Sex/Gender:

Male
Profession:

Comedian, writer, and game show host
Famous For:
'All About the Andersons', Black-ish
Colleges/Universities Attended:

LACHSA (Los Angeles County High School for the Arts), Howard University
Educational Qualifications:

N/A
Religion:

Christianity
Birthday & Zodiac

Age/Date of Birth:

53 years old (15 August 1970)
Zodiac Sign:
Leo
Birth Place:

Augusta, Maine, United States
Nationality:
American
Ethnicity/Race:

African American
Country of Residence:

United States of America (USA)
Physical Attributes

Height:

5 feet, 11 inches (1.8 m)
Weight:

272 lbs (123kg)
Eye Colour:

Black
Hair Color:

Black
Other Body Measurements:

Chest: 45 inches
Waist: 42 Inches
Arm/Biceps: `4 inches
Relationships

Marital Status:

Married
Spouse/Partner:

Alvina Stewart (m. 1999)
Family and Relatives

Father:

Sterling Bowman
Mother:
Doris Hancox
Children:

Kyra Anderson, Nathan Anderson
Siblings:
Derrick Bowman - Brother
Other Relatives:

N/A