Anna Kooiman is an American journalist, TV news anchor, panelist, fitness expert, and entrepreneur who works at Network Ten in Australia.
For a long time in her career, she was based in New York where she co-anchored Fox and Friends on Fox News Channel. After getting married to an Australian man, made a choice, she relocated to start a family with her partner in his home country. Kooiman currently serves as an anchor on news programs Studio 10 and The Project for the Australian network, Ten. She is also an entrepreneur who runs a blog site and writes about fitness, lifestyle, and travel.
Profile Summary of Anna Kooiman
Full Name: Anna Brooks Kooiman
Date of Birth: 7th February 1984
Age: 38 years old
Place of Birth: Charlotte, North Carolina, United States
Nationality: American
Ethnicity: White
Religion: Christianity
Education: University of California
Occupation: Journalist, TV News Anchor, Blogger, Fitness Coach, Entrepreneur
Parents: Walley Kooiman (father) and Susan Kooiman (mother)
Siblings: Michael Kooiman (brother)
Marital Status: Married
Spouse: Tim Stuckey
Facts About Anna Kooiman's Background To How She Built a Successful Journalism Career
1. She Comes From a Family of Four
The journalist was born on the 7th of February 1984 in Charlotte, North Carolina. Her father, Walley Kooiman, and mother, Susan Kooiman, are business owners. The Kooimans own a Southeast Oasis Pool, and Charlotte's Peppermint Forest Christmas Store. Anna Kooiman has an older brother named Michael Kooiman.
Aside from being an American, Anna's ancestors are from the Netherlands, thus, she is of Dutch ancestry. The TV anchor grew up with her brother under her parent's care in Charlotte. The 38 years old is 5 feet 9 inches tall, and she weighs about 61 kilograms. Basically, she is of the average structure.
Get ready for your Monday w/ one of these @YumiKim rompers! Check out the new #shopthelook https://t.co/10QLwVRdD4👗https://t.co/APXNerVSRO👗 pic.twitter.com/wLfaKWhCkj

— Anna Kooiman (@annakooiman) June 19, 2017
2. The Journalist Grew Up and Schooled in North Carolina
When Anna Kooiman came of schooling age, she attended and graduated from Myes Park High School in Charlotte. While in school, she played softball for SouthPark Youth Association. After high school, she got admitted to the University of California where she graduated with a Bachelor's Degree in Broadcast Journalism
Clearly, the smart and focused lady had defined her career pathway back in college and started preparing early for the challenges. Today, she is one of the most successful anchors and journalists, and the decisions she made in college obviously have a hand in her success.
3. She Started Her Career While in School and Now Works at Ten Australia
Like the go-getter that she is, Anna started her career in journalism in 2004, with Fox Sports while still in college. Anna Kooiman worked there as a volunteer reporter. After graduating from the University of California, she joined WWAY in Wilmington. There, she worked as a reporter, anchor, and video journalist. When she moved to Toledo in Ohio in 2007, she started working as an anchor and a reporter for WNWO, one of the affiliates of NBC. She also worked as a licensed special reporter for a partnership with US Marshals that helped with the arrest of more than one hundred criminals.
Later in 2008, the journalist started working for WCCB-TV in Charlotte. She was their anchor, reporter, and host. At WCCB-TV, she exercised her hosting skills fully by hosting a four-hour entertainment show titled Fox News Rising.
By 2011, Anna Kooiman became a correspondent on Fox News Channel. She delivered reports on health and general issues from New York. She also hosted an American daily morning talk show titled Fox and Friends, and Fox News Extra Segment. In addition to these, she handled the Fox News debates and a number of New Year's Eve specials that are broadcast across all Fox News Channel.
After many years of working with Fox News, the TV anchor had to try something new. In 2016, she relocated to Australia after getting married to an Australian native. Currently, she works as a panelist and fill-in on Channel Ten News programs. She also works with a number of Australian television networks as a freelance host. Nonetheless, she comes around sometimes as a substitute host for a News Corp show. News Corp is the parent company of Fox News.
While Kooiman was still at Fox News, she started a show titled 'Roadtrip with Anna Kooiman'. The show is a traveling show in which she showed her audience different places in the United States of America whenever she went on the road.
Morning! Can't wait to join this cool cast in a few hours! I hope you'll tune in! @studio10au #Studio10 pic.twitter.com/o7hK3rMZwa

— Anna Kooiman (@annakooiman) February 22, 2017
4. Anna is One of the Most Successful and Richest Female News Anchors
There is no information about her exact monthly or annual earnings as an anchor with Channel Ten. However, while with Fox News, she was earning about $350,000 yearly, with which she accumulated a meaningful net worth for herself. Being a person of high value and a well-focused lady, she probably wouldn't settle for less at Australia's Channel Ten.
Regarding her net worth, a list released by 'Worldation' ranks Kooiman as one of the richest female news anchors. Although not the richest on the list, she is not the one with the least net worth either. She has an estimated net worth of $4 million which is most likely limited to her earnings as a journalist and TV anchor. If all her income sources were to be analyzed, she will probably have a higher net worth than the one stated. This is because as a hardworking and dedicated lady, Anna has a few other accomplishments to her name that have nothing to do with her work on TV and she also makes good money from there.
Concerning the list published by 'Worldation', it is safe to say that Anna is doing very well for herself, especially when compared with other women on the list who are in their thirties and forties. Her colleague, Amy Robach, has an estimated net worth of $1.4 million. Jenna Lee is estimated to be worth $5.5 million. Molly Line is worth $2 million and Melissa Theuriau is estimated to be $18 million rich. The list is long with women of different ages and net worth. The important thing is that they are all strong-willed and successful women, and Anna Kooiman is one of the best on the list.
5. The Journalist Lives a Modest Lifestyle
Despite being in a position to be able to afford as much luxury as she wants, Anna chooses to live a simple and modest life. As a mother, she is more concerned about keeping her house in order and taking care of her kids than she is about driving the latest cars. She lives with her husband in a modest apartment in Sydney, Australia. Although there are no details about their houses and cars and how much their properties are worth, her social media page reveals that she is more concerned about being a fit mum than she is about driving cars.
6. Anna Kooiman is a Fitness Enthusiast and Coach
One thing that keeps the entrepreneur busy aside from journalism and mummy duties is her fitness and bodybuilding activities. As an online fitness trainer, Anna is more concerned about women, especially those who have given birth. She trains them to lose excess fat through workouts and exercises and to stay fit before, during, and after pregnancy. Most of her posts, across all social media, are centered around bodybuilding and fitness instructions.
Anna Kooiman has always been involved in sports and exercises. She had competed in different marathons and triathlons in the past. In 2008, she ran the Glass City Marathon and came third for the women's section. Later in November 2014, she ran another marathon, the New York City Marathon, and made about $55,000 on Crowdrise for Folds of Honor. With the money, families of American troops who died or were injured in service are provided for and given scholarships.
7. The Journalist is Happily Married with Two Kids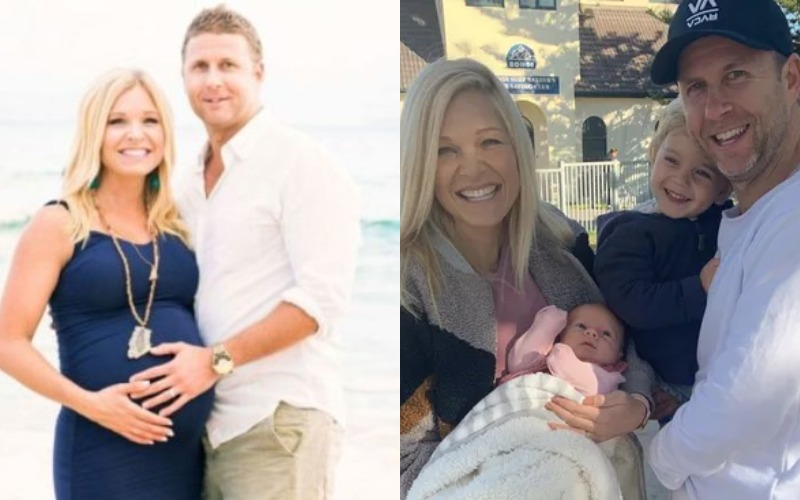 Anna Kooiman is married to Tim Stuckey, a worker at Tullett Prebon financial firm. They met for the first time in 2012 on a hurricane sandy weekend trip with mutual friends. Soon after their first meeting, they became closer and later started dating. Eventually, on the 8th of February 2015, Tim proposed and they wedded on the 31st of July the same year. They had an elaborate reception at Manhattan's Central Park, Loeb Boathouse. It was after her marriage that she relocated to Sydney, Australia where she now lives with her husband and kids.
The next year after their wedding, Tim featured in the cooking segment of Fox and Friends, where he used Vegemite in cooking. Using the Aussie condiment signature drew a lot of social media attention to the program. She had her first child, a boy, in 2018 and then a daughter in May 2020. Her daughter, Annabel was born on the 24th of May.
So far, there has not been any controversy involving Anna Kooiman or her husband, Tim Stuckey, and they appear to be nothing but one happy family.