Aneta Corsaut was an American actress and writer who lived from November 3, 1933, to November 6, 1995. She is best remembered for portraying the characters of Helen Crump, Judge Cynthia Justin, and Jane on The Andy Griffith Show, Matlock, and The Blob respectively.
When it comes to The Andy Griffith Show, the name Aneta Corsaut is one that can't be forgotten in a hurry. Her impressive performance on the show made her one of the most famous television actresses of her time. Although the actress had roles in other TV shows and films, it was her portrayal of Helen Crump on The Andy Griffith Show (1963–1968) that brought her into the limelight. She also reprised her role in the show's sequel, Mayberry R.F.D (1968-1969).
Aneta Corsaut's Early Life
The actress was born Aneta Louise Corsaut and her birth date is given as November 3, 1933. She is the daughter of Opal J. and Jesse Harrison Corsaut, who are Hutchinson, Kansas, natives. While the details of her early life are currently not available, we do know that she was classmates with Polish-born American actor, Lee Strasberg. The duo was both students at Northwestern University, where she was a drama major.
In her third year of study, Aneta Corsaut opted to drop out of school to pursue a professional acting career. She moved to New York, where she bagged roles in the television series Producers' Showcase and Robert Montgomery Presents in 1955. By 1958, the young actress was able to get her feature film debut in the science fiction horror film, The Blob, the same film where Steve McQueen made his acting debut.
Her Career Achievements and Rise to Fame
In the following years, Corsaut appeared in numerous television shows, such as Unsolved (1960), Dick Powell's Zane Grey Theater (1960), The Law and Mr. Jones (1960), Harrigan and Son (1961), Mr. G. Goes to College (1961-62), and Saints and Sinners (1962), among many others. In 1963, her career moved to greater heights as she was cast to play the role of schoolteacher Helen Crump in The Andy Griffith Show (1963-1968). During that time, Corsaut further appeared in the movies Good Neighbor Sam (1964) and A Rage to Live (1965). She then decided to go back to school, enrolling at the University of California, Los Angeles, where she earned her degree.
In 1968, Aneta Corsaut reprised her Helen Crump character in Mayberry R.F.D (1968-1969), the spin-off and sequel of The Andy Griffith Show. All through the '70s and '80s, she made her name as a television actress, as she appeared in several other television series like Nanny and the Professor (1970), Owen Marshall: Counselor at Law (1973), Adam-12 (1975), Rich Man, Poor Man (1976), The Runaways (1979), House Calls (1980-1981), Days of Our Lives (1984), Return to Mayberry (1986), and Matlock (1987, 1990, 1991-1992).
Beyond building an impressive career as an actress, Aneta can also add being an author high on her list of achievements. She co-authored a 191-page long book – The Mystery Reader's Quiz Book, with Muff Singer, and Robert Wagner. The book is taught to have significantly contributed to her total net worth. According to several sources, Aneta Corsaut was, at the time of her death, estimated to have a net worth of about $3 million.
The 5 feet 4 inches tall actress was able to accumulate her wealth through her acting career, which spanned over four decades. In 2006, she was posthumously nominated for a TV Land Icons Award in the Teacher of The Year Category for her work on The Andy Griffith Show.
Was Aneta Corsaut Married?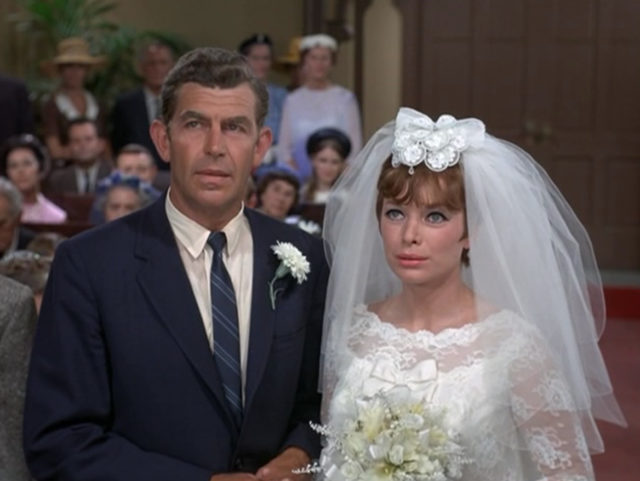 Aneta Corsaut was never married and did not have any children. A few publications have wrongly reported that the actress was married, citing the above picture of her in a wedding dress with Andy Griffith. This is, however, false as the picture above is from a scene in the first episode of Mayberry R.F.D., where she exchanged vows with the main character of the show, Sheriff Andy Taylor, who was played by Griffith.
Even though they are not married to each other, it was well documented that the two were having an affair during their time on the show. In the book Andy & Don: The Making Of A Friendship And A Classic American TV Show, writer Daniel de Vise reported that the two stars' on-screen chemistry was so electrifying that they could not stop themselves from getting involved with each other, even though Griffith was at the time married to actress Barbara Griffith.
How Did She Die?
Aneta Corsaut had a long battle with cancer; however, she gave up the ghost on November 6, 1995. The actress passed away just a few days after her 62nd birthday, in Studio City, Los Angeles, California. She was subsequently interred at Valhalla Memorial Park Cemetery located in North Hollywood, Los Angeles. Although it's been years since her demise, Corsaut's memory still leaves through her movies and TV shows.