Some people have the knack of being funny just by being themselves and for holding their acts together for a long time no matter what circumstances they are presented with. Andy Richter is not just one of those but has shown to have the ingredients required to succeed: determination, diligence, and hard work. He is an American actor, writer, comedian, and late night talk show announcer.
His acting career spans over two decades. He is best known for his role as Conan O'Brien's assistant on his programs: Late Night and The Tonight Show both on NBC as well as Conan's self-titled show on TBS. On the Conan show, Andy worked as an announcer, writer, general sidekick, and participant in comedy sketches.
In between these shows he worked on, he appeared in a number of TV series. They include Andy Ritcher Controls the Universe (2002-2003) and Quintuplets (2004-2005) both on Fox though they were canceled after a few seasons due to poor rating. He also portrayed the role of an accountant cum a private investigator on the 2007 television series, Andy Barker P.I. which was co-written and executive produced by Conan.
The comedian has also hosted a number of game shows. He hosted the Team Coco Presents the Conan Writers Live comedy special in 2010 for TBS at the Just for Laughs festival in Chicago. In addition, Andy Richter held the reins for Fox's Step Up show in 2013 and in 2017, he started hosting ABC's Big Fan.
His other TV credits include Malcolm in the Middle, Will, and Grace, Monk, Arrested Development where he portrayed himself and every member of a fictional group of identical Richter quintuplets, The New Adventures of Old Christine. He has also lent his voice to a number of characters in Nickelodeon TV productions which include Ben on The Mighty B!, Simon Cristini on True Jackson, Mort on The Penguins of Madagascar.
Andy has not only shown his aptitude for acting on television shows but has a lot of films to his credits as well. He has starred in Aliens in the Attic, Big Trouble, Elf, Seeing Other People, New York Minute, Madagascar, Madagascar: Escape 2 Africa, Madagascar 3: Europe's Most Wanted, My Boss's Daughter, Scary Movie 2, Frank McKlusky, Pootie Tang, Talladega Nights: The Ballad of Ricky Bobby, Blades of Glory, Semi-Pro, Lenny the Wonder Dog, and Cabin Boy. 
Andy Richter Bio
Paul Andrew Ritcher was born on October 28, 1966, in Grand Rapids, Michigan, United States. He was raised in Yorkville, Illinois.
He graduated from Yorkville High School where he was the prom king in 1984. Andy went to the University of Illinois at Urbana/Champaign before moving to Chicago's Columbia College where he studied film. While in college, he learned the basics of comedic acting and writing by starring in numerous student films and videos. One of the productions he took part in was a class film titled My Dinner with Andy. After he left college, he played in several Chicago improvisation groups.
Andy Richter Net Worth
The actor extraordinaire has been able to establish a level of success for himself which he has interestingly improved on over the years. Andy has a net worth of $15 million which he accumulated from his years of being actively involved in the showbiz arena.
Is Andy Richter Gay? Wife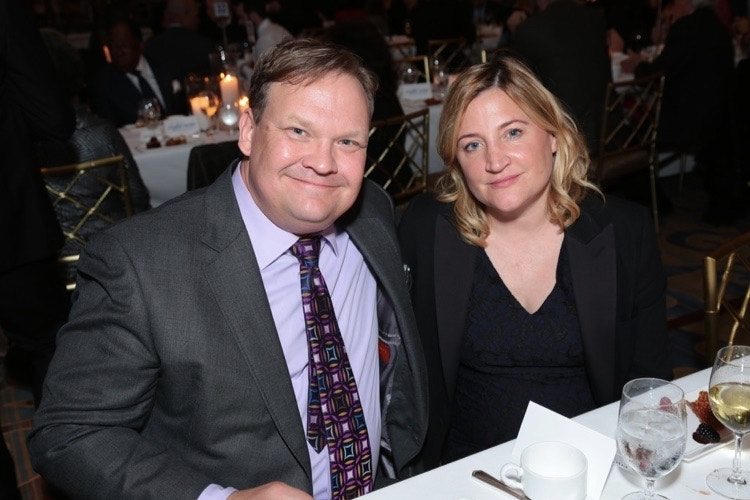 The actor's father came out as gay after he divorced from his wife. That may have led up to a lot of speculations about his (Andy's) sexuality. He has tweeted severally that he is not gay and that he loves and thinks about his wife.
Andy married actress and writer, Sarah Thyre on March 18, 1994. They met in 1992 when they were both in the Los Angeles production of The Real Life Brady Bunch, a spoof of the 70's sitcom.
Sarah was born on July 7, 1968, and is best known for her role on the TV show, Strangers with Candy as Coach Cherri Wolf. She has also written a memoir, Dark at the Roots which was released in 2007. The book is about her growing up as a middle child in the middle-class South of the 1970s. It also describes her rebellious and irreverent childhood as well as its secretly deeply class and status consciousness, which had her struggle through Catholic school as an outsider. The memoir which was published by Counterpoint Press is being developed for television.
As a couple, the twosome has appeared on Late Night with Conan O'Brien and Comedy Central's Upright Citizens Brigade. They have two children; a son, William Oscar Richter (born in 2001) and daughter, Mercy Josephine Richter (born in March 2007). The family of four live in Los Angeles.
See Also: Josh Gad Married, Wife, Gay, Daughter, Family, Net Worth, Bio, Age
Andy Richter Family, Brothers
Andy is the second of four children born to Glenda Swanson (nee Palmer), a kitchen cabinet designer, and a Russian linguist Laurence R. Richter, who taught Russian at Indiana University for more than 3 decades. His folks divorced when he was four which threw him into a bout of depression, a condition he fought for almost his whole life. Nevertheless, he now leads a very healthy and successful life both in his home and at work. He is of German, French, Swedish, English, and remote Welsh.
One of his siblings who is in the media is his brother Victor Swanson. He is a teacher at Glenbard East High School as well as a Navy vet. Victor is a Democratic candidate in the 2018 election in Illinois's 14th district.
Andy's Height
The Arrested Development actor is on the tall side with height which is 1 inch above 6 feet which is 1.88 m. He looks heavy and just as his weight has been obtained to be 249 lbs or 113 kg.