Andy Gibb was a singer, songwriter, performer and all-round music star of English origin. He rose to fame in the 1970s when several of his hit songs reached the top 10 of music charts in the US and Australia. Between July 1977 to July 1978, the music superstar made history by becoming the first male solo act to have 3 consecutive #1 hits on the Billboard Hot 100.
Born into a family of highly talented musicians, Gibb's older brothers Barry, Robin and Maurice make up the Grammy Award-winning music trio "Bee Gees" and thus they gave him great assistance throughout his own solo career.
However, Gibb's success as an international music star was marred by his personal struggles with drug addiction and clinical depression and sadly, his life came to an untimely end on March 10, 1988, only a few days after he'd turned 30.
Andy Gibb's Bio
Andy Gibb was born Andrew Roy Gibb in Manchester, England on March 5, 1958. His mother Barbara (née Pass) was a vocalist and his father Hugh Gibb was a drummer. He was raised alongside a sister named Lesley and 3 brothers, Barry, Robin and Maurice.
Growing up, Gibb's parents moved around several times and thus he spent bits of his childhood in Brisbane, Australia; Ibiza, Spain as well as The Isle of Man. As described by his mother, Andy Gibb was somewhat rebellious as a child as he found every opportunity to skip school. However, it has been revealed that the youngster did not like attending school because he was often victimised by his schoolmates as a result of his older brothers' fame. He ultimately quit school at the age of 13 and opted to find solace in music.
Armed with an acoustic guitar given to him by his older brother, the teenage Andy Gibb began playing at tourist clubs in Ibiza. When his family moved to The Isle of Man, he formed his first music group "Melody Fayre" alongside guitarist John Alderson and drummer John Stringer. The group was managed by Gibb's mother and they scored regular bookings in clubs and hotels on the Island. The band relocated to Australia in 1974 with the hope of recording and producing their own music.
However, their alliance did not last for too long as Alderson and Stringer returned to the UK leaving Gibb behind in Australia. Afterwards, Gibb joined another band "Zenta" alongside guitarist Rick Alford, bassist Paddy Lelliot, another vocalist Glen Greenhalgh and drummer Trevor Norton. He achieved some level of success with the band but did not remain with them for too long.
In early 1976, Andy Gibb got signed as a solo artist to RSO Records, owned by Robert Stigwood. Consequently, he moved to Miami, Florida where he began working on his first studio album. The album Flowing Rivers was released in September 1977 and it contained hit singles like "I Just Want to Be Your Everything" and "(Love Is) Thicker Than Water" both of which peaked at #1 in the US. His sophomore album Shadow Dancing was released in April 1978 and it was equally as successful as his debut album.
The album's title track "Shadow Dancing" peaked at number 1 in the US and thus, Gibb made history as the first male solo act to record 3 back-to-back number 1 singles on the Billboard Hot 100. The album also contained other Top Ten singles like "An Everlasting Love" and "(Our Love) Don't Throw It All Away".
The music star's third studio album After Dark and a compilation album Andy Gibb's Greatest Hits were both released in 1980. Despite the success of these 2 projects, Gibb was released from his contract with RSO Records as a result of his addiction to cocaine and other behavioural problems. He later landed a hosting gig on the music TV show Solid Gold (1981-82) as well as an acting role in the stage production of the musical Joseph and the Amazing Technicolor Dreamcoat. However, his battle with cocaine addiction ultimately cost him both jobs. He continued to perform his music afterwards and also made guest appearances on a number of TV shows.
Andy Gibb entered into a drug rehabilitation program in early 1987 with the hopes of finally ditching his habits. He returned to the studio in June of that year to begin recording songs for a possible 4th album. Gibb seemingly overcame his drug habits by the following year and was billed to sign a recording contract with the UK branch of Island Records in March 1988. Unfortunately, he fell into clinical depression afterwards and the deal with Island Records never came through.
What Happened To Him, How Did He Die?
Owing to Andy Gibb's history of drug addiction, it was widely reported that he died of an accidental drug overdose. However, these claims have been strongly refuted by the musician's family as well as his medical reports.
The international music star was admitted for a few days to John Radcliffe Hospital in Oxford after complaining of chest pains. While investigations were ongoing to determine the cause of his ailment, he slumped into unconsciousness in the morning of March 10, 1988, and eventually died later in the day.
Gibb's chest pain was ultimately diagnosed to be as a result of myocarditis, an inflammation of the heart muscle caused by a recent viral infection he had suffered. It is also reported that the myocarditis was aggravated by the singer's prolonged abuse of cocaine.
See Also: Michael Jackson Daughter, Son, Wife, Siblings, Height, Cause Of Death
Wife, Daughter
Andy Gibb was married once during his lifetime. He tied the knot with Kim Reeder on July 11, 1976. The couple had one child together, a daughter named Peta Gibb born on January 25, 1978. Gibb's marriage to Reeder was shortlived and the duo parted ways even before the birth of their child. Their divorce was concluded on January 15, 1978.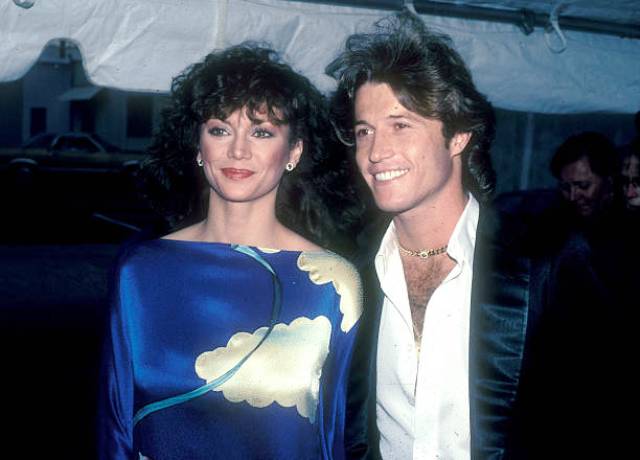 Beyond his first and only marital union, Gibb also made headlines for his high-profile relationship with American actress Victoria Principal. The duo met in 1981 on the set of a TV show and their romance progressed rapidly afterwards. Soon after their first meeting, the couple performed a duet together 'All I Have to Do Is Dream' in commemoration of their love. Sadly, their relationship lasted for about a year as it came to an end in March 1982. Their split was as a result of Gibb's protracted battle with drug addiction.