Anyone who is familiar with shows that air on the National Geographic Channel must have come across the docu TV series Life Below Zero. It is a show which demonstrates both the daily and seasonal struggles of subsistence hunters who reside in remote areas of Alaska as they try to not only survive in the temperature which is well below zero but also to make a livelihood by hunting. Unlike people living in human-populated areas, these Alaskan wilderness dwellers are entirely dependent on themselves and are able to pull through life by making use of resources at their disposal. Among the main cast of Life Below Zero is Andy Bassich.
He has spent more than 10 years of his life (and still counting) in the Alaskan wilderness with his over 25 sled dogs. Opting to live with no electricity, no readily available drinking water and no connections to the internet is a choice that a lot of people would outrightly reject but not Andy Bassich, who has established himself among the few people that have proven to be brave enough to deal with the difficulties of living in the life-threatening environment.
The musher enjoyed as normal a life as anyone on the wilderness could have, living with his wife, Kate Rorke, and their dogs over the years. However, things took a different turn in 2016 following his divorce from his wife. There's more on that below.
Andy Bassich's Fact Card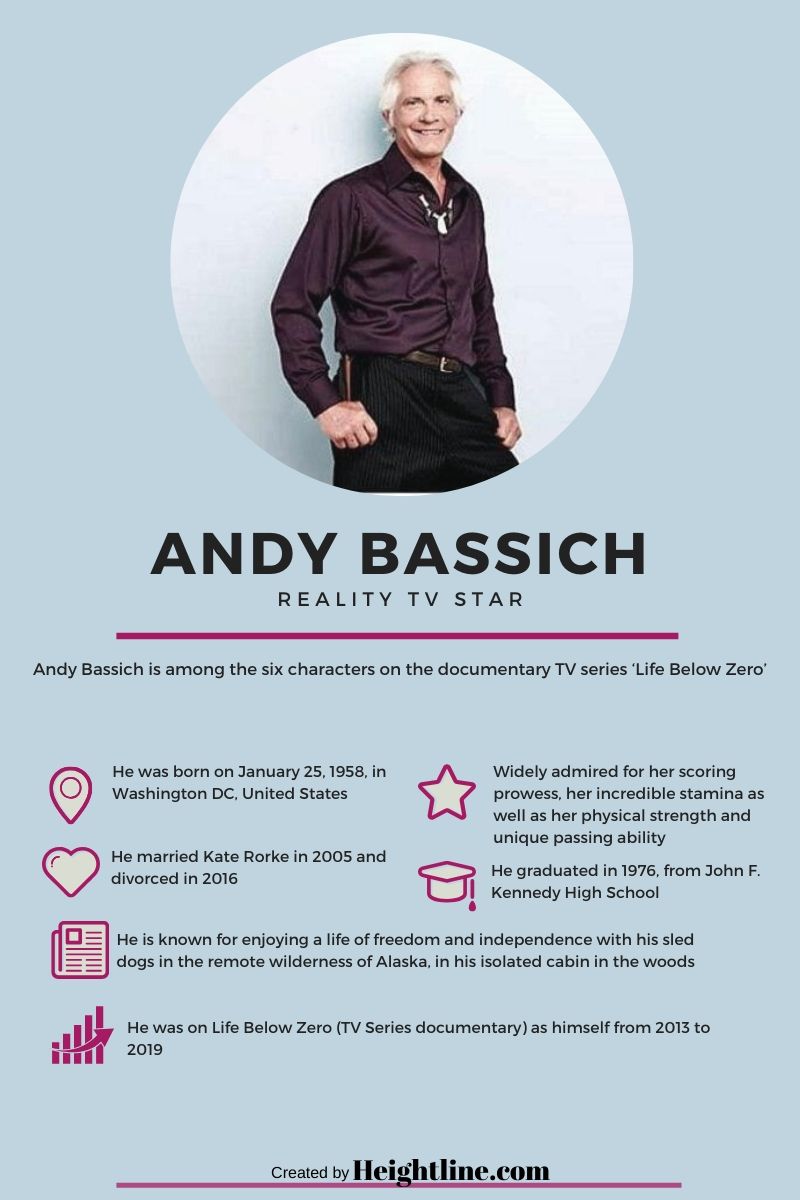 Andy Bassich's Background And His Journey To Becoming A TV Star
Born sometime in 1959 in Washinton DC, where he also grew up with his siblings, Andy came to love hunting as a very young boy. He attended John F. Kennedy High School where he learned carpentry and cabinet making and graduated in 1977. Afterward, he worked as a carpenter for a number of years before he began considering moving to Alaska. Knowing very little about the place at the time, Andy went to explore the area and loved it.
Consequently, he relocated from Washington, D.C. to Alaska in 1980 and lived in Anchorage, working as a musher in addition to doing menial jobs to fend for himself. Two years later, he moved to the Alaskan bush and several years on, the hunter received an invitation to join the cast of the documentary television series Life Below Zero which airs on the National Geographic Channel. The series debuted in the US on the 19th of May 2013 and has currently aired for 12 seasons.
Andy Bassich presently lives with his sled dogs on the Yukon River, close to Eagle, Alaska, a place where the only means of going in and out is either by boat or snow machine. To him, there is no better place he can live than in the remote area of Alaska as it enables him to live the kind of life he is passionate about.
Apart from Andy, the docu-series also features Sue Aikens, a woman in her 50s and Chip and Agnes Hailstone, who live on the Kobuk River in Noorvik with their 7 children. Other main casts are Glenn Villeneuve, Jessie Holmes, Erik Salitan, and Ricko DeWilde.
The series turned out to be a fan favorite, attracting more than a million views in the US. As a result, Andy and his co-casts became popular while the show became one of National Geographic's highest-rated shows as of 2018.
How Much Money Does He Make?
Despite living off-the-grid, the reality television star leads a comfortable and classy lifestyle. Even though this is an indication that he earns a decent amount of money from Life Below Zero details of the exact amount he makes from the show remain unknown. Nevertheless, judging by the level of popularity that the show has gained in recent years, a number of online sources have estimated that his salary from the series should be nothing less than $100,000 per episode.
In addition to his television career, Andy also has a dog mushing school known as Alaska Yukon Adventure. He equally runs a survival school in his Yukon River area residence which he established with his ex-wife, Kate, and while he charges individuals the sum of $2500 per week, couples pay $500 less for the same duration of time. Through all of these ventures, the musher garnered an estimated net worth of $250,000 as of 2018.
The Reason Andy Bassich And Kate Rorke Divorced
Kate Rorke was born in 1956 in the United States and as a young adult, she developed a passion for research. This led her to Alaska upon completion of her education and there, she lived for 12 years conducting a number of researches. It was during her stay in Alaska that she met her future husband, Andy, in Dawson City and after dating for several years, they tied the knot in 2003.
When Life Below Zero came into the picture for the couple, they featured together on the show from 2013 and appeared to have it all together as they spent most of their mornings sipping hot drinks due to the extreme cold condition. However, while the couple did a good job of sustaining the impression that their union was perfect on-screen, it was far from the reality off camera as they were at odds most of the time.
By 2015, Kate was unable to endure the excessive abuse Andy allegedly subjected her to and as a result, she decided it was time to move on. Although she left the marriage in 2015, their divorce was not finalized until the following year. Speaking during an interview after the divorce, Kate disclosed that she had to stomach both physical and emotional abuse from her husband for many years while doing all she could to preserve her marriage. However, as the torture became more severe, she threw in the towel.
Fans of the television stars remained in the dark about the crash of their marriage until information about the couple's divorce was made public in an episode of Life Below Zero. By this time, Kate had already left her husband and the show also.