Andrea Anders is an American actress from Madison, Wisconsin. She is best known for portraying the characters of Alex Garrett in NBC's Joey, Linda Zwordling in ABC's Better Off Ted, and Nicole Allen in The Class.
Andrea Anders is an American actress who is fast becoming someone to watch out for. The screen star, who became a fan favorite thanks to her jaw-dropping performances in a number of movies and TV shows, began her professional acting career in 1999 with a minor role in the long-running ABC soap opera, One Life to Live. Since then, she has gone on to star in several other TV series and films.
In addition to her film and TV appearances, she has also featured on Broadway productions such as On the Jump, Proof, Fat Pig, and lots more. Below is a breakdown of the beautiful actress's career, including details of her family and love life, specifically her dalliance with Hollywood actor and comedian Matt LeBlanc.
Details of Andrea Anders' Family Life
Andrea Anders grew up with her family in Wisconsin. She was raised alongside her brother Sean and sister Torrie. While there is not much information regarding her childhood, we know that she came from an entertainment-grounded family and was enthused about becoming an actress right from a very young age.
Just like Andrea, her two siblings have equally established themselves in the American entertainment industry. Sean pursued a career as a film director and screenwriter. He has written and directed several movies, a few of which his sister has appeared in. Some of Sean's most notable works include Instant Family, Daddy's Home, and She's Out of My League. Torrie, on the other hand, is an actress best known for her appearance on Never Been Thawed and Daddy's Home.
In regards to her having her very own family, Andrea Anders has never been married and does not have any kids even though she has had her fair share of romantic relationships, most notably a long-term one with her Joey co-star, Matt LeBlanc.
Andrea Anders at a Glance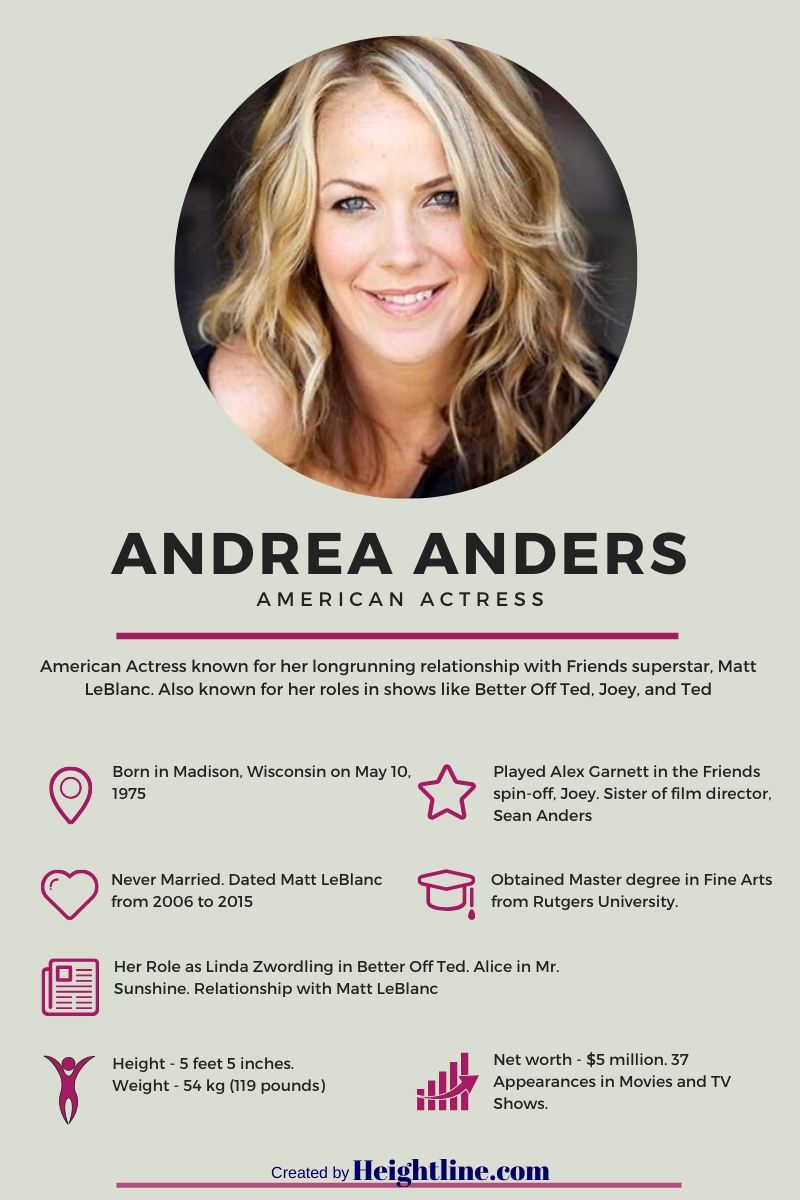 Relationship With Matt LeBlanc and Why They Split
Matt LeBlanc is a multitalented actor, comedian, and TV host who is popular for playing the character of Joey in the sitcom Friends; a role he reprised on Joey. Another show he is also famous for starring in is Man with a Plan, where he doubled as the executive producer.
Andrea and Matt met each other on the set of Joey in 2004 where they starred as an on-screen couple. After a while, the pair hit things off and began an off-screen romantic relationship in 2006, shortly after Matt ended his three-year marriage to Melissa Mcknight. The Joey co-stars went on to enjoy a blissful relationship that lasted for almost 9 years before they decided to call it quits in 2015.
The couple announced that they had parted ways in 2015 and although there were rumors of Matt's incessant flirting with other women, the two did not confirm the reason for their split. After their separation, Matt quickly moved on to another relationship while Andrea has reportedly remained single.
Andrea Anders' Movies and TV Shows
In the course of her professional career, Andrea Anders has appeared in a handful of TV shows, as well as a few movies. In 2003, she was cast in Tom Fontana's drama series OZ, a year after which she went on to make her big-screen debut in the science fiction horror comedy film The Stepford Wives, alongside Nicole Kidman and Matthew Broderick.
Later on in 2004, she appeared as Emma Leeds in the TV pilot News To Me and as Kathy in the supernatural drama series Tru Calling. Before the year ran out, she earned her first major role in the NBC series Joey. There, she portrayed the recurring role of Alexis Garrett from 2004 to 2006.
The year 2005 saw the actress play the role of Christian Band Slut in Never Been Thawed; an independent film directed by her brother. Next, she joined the cast of the sitcom The Class where she played the role of Nicole Allen until 2007. In 2008, Andrea made a guest appearance in Numb3rs and also portrayed the role of Brandy in Sex Drive.
Andrea Anders went on to play the role of Linda Zwordling; a recurring character in the ABC satirical sitcom Better Off Ted from 2009 to 2010. Thereafter, she bagged a role in yet another popular sitcom titled Mr. Sunshine as well as Necessary Roughness in 2011. After a few years of relative quietness, the actress garnered wide attention through her top-notch performance as Trish in the 2014 drama film Return to Zero where she appeared along with Minnie Driver, Sarah Jones, and Kathy Baker.
Other notable appearances by Andrea can be seen in About a Boy (2014-15) where she portrayed Joanne; Modern Family (2014-15) where she played the role of Amber LaFontain, and Speechless (2016) where she was cast as Audrey. Others are 9JKL and Young Sheldon both in 2018, and Nancy Drew and the Hidden Staircase in 2019.