Amirah Dyme, also known as Cake Queen is a German-born Sudanese Instagram model and social media influencer with close to 4 million followers. Amirah Dyme who is rumored to be Ray Hushpuppi's girlfriend gained popularity by posting her beautiful and sultry images of herself on her page. She has since been able to use her social media fame to make a career for herself as she often promotes numerous fashion brands like Fashion Nova, NA-KD, and Blanco Bay.
Details of Her Background and Early Life
Dyme is an Instagram personality, who is best known for modeling for various brands such as NA-KD, Fashion Nova and Blanco Bay. The Cake Queen, as she is often called keeps a very low profile when it comes to her personal life. Asides from being from Sudan (a country in North Africa which is popular for its long history of unstable paramilitary government) which many know about and being born in Germany, little is known about her biological family: parents and siblings.
Amirah Dyme was born on the 14th of January, 1995. She has seven siblings, whose names are unknown but one of them – her brother – appears on her posts on Instagram sometimes.
Nothing is known about Cake Queen's educational background. The elementary and other schools she might have attended are not known. Her only career that is known to the media is her modeling career on social media. It is not also certain if she is in any relationship at the moment as there are no records that suggest that.
Amirah At A Glance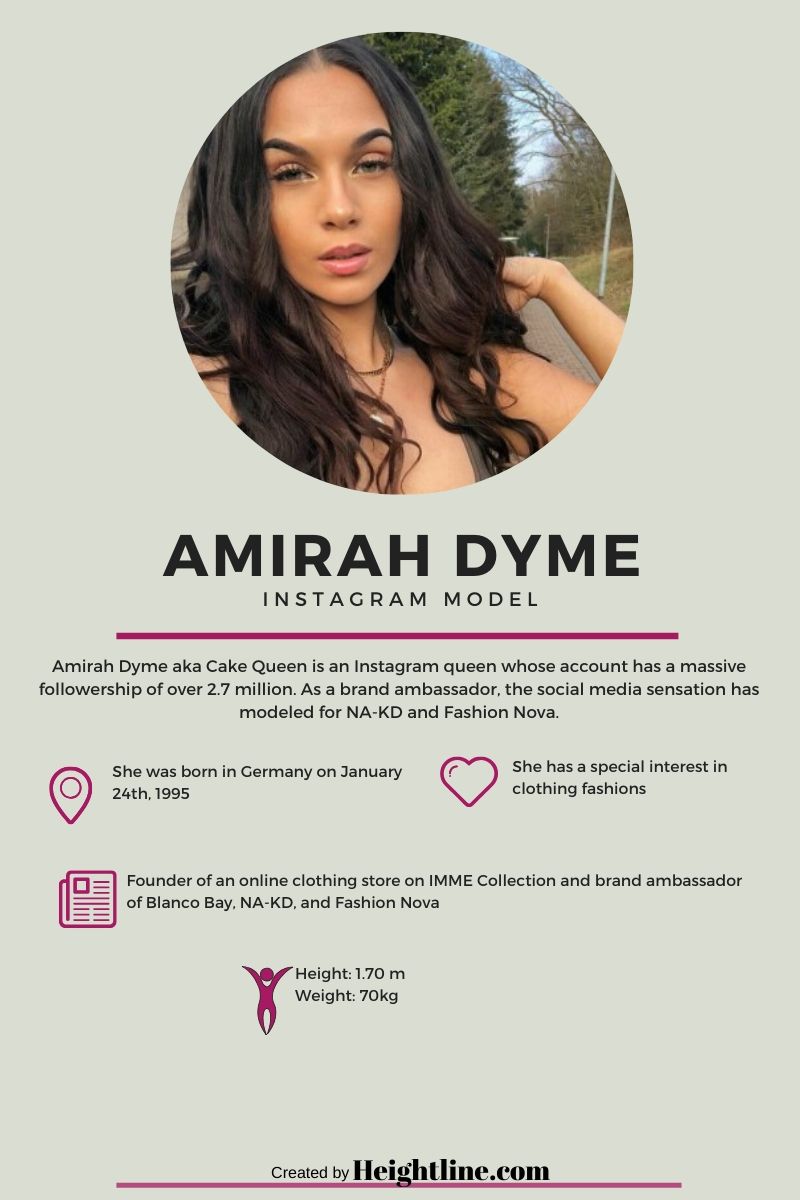 What then makes Amirah Dyme thick and why is she making waves on Instagram you may ask, well, you will find answers in the next paragraph.
Here's Why Amirah Dyme is Popular on Instagram
Amirah is not the only model on Instagram but she is also one of those that makes the social media platform busy with her amazing and sizzling hot body. With her stunning pictures, she has gotten lots of attention which has earned her millions of followers.
It is not exactly known when the Instagram Seductress and Queen of hotness as many love to address her launched her Instagram account, however, it is known that she began posting on the eponymous account in June 2016. With millions of followers, it is obvious why her uploads quickly trend as soon as she makes them.
Instagram has not just brought her fame and followers to Amirah, but cheques also. As mentioned above, she has modeled for various fashion brands and has been nicknamed the Cake Queen. She might probably become a professional model in the future or be represented by any agency.
However, a well-known fact about Amirah other than her social media presence is her patriotism for her home country — Sudan. With a long history of unstable paramilitary government, Amirah Dyme has taken to her social media account to plead for peace in the country. Sometime in 2019, she used her Instagram page to spread the message about the need for peace in Sudan — a patriotic act that brought the happenings in the North African country to the knowledge of many of her followers.
Other Interesting Facts About the Stunning North African Model 
Her Body Measurements

When the word 'model' is used for females, we often expect a slim tall figure but today, this is not always the case. Models of today come in all shapes and sizes. Fortunately, everyone now has a category they can belong to. Our celebrity subject, Amirah Dyme, doesn't have a slim figure, rather she is sinfully curvy with surplus bodily endowments. She uses this body and her beautiful face to woo her fans to her page and to also model. Sadly, we may not be able to give you her exact body measurements as they are not readily available at the moment.
What is Amirah Dyme's Net Worth?
Over the years, modeling has proven to be a very lucrative career. Little wonder then, why Amirah cued into it and built her career therein. The Sudanese model has been modeling for fashion brands through social media since 2016. With this, it is expected that she has gained a certain amount of financial stability. However, it is not known how much the model earns, neither is her net worth available to the public.
Amirah's Relationship Status
The young beautiful and attractive Amirah Dyme will surely have numerous admirers worth with her beauty. For a long time, Amirah has been able to completely keep information about her love life away from the media and public until recently when she shared this:
…suggesting that she is in a relationship and that Ramy Freeny is her boyfriend.
However, she recently shared a photo on her Instagram account sometime in February 2020 which she captioned "That's daddy ????." The picture showed her kissing a black man whose face wasn't shown. As you would expect, her Instagram followers who commented on the photo interpreted it to be the man she is possibly in a relationship with. While some of her fans wished the duo well, others held an entirely different opinion which they couldn't hold back but to express.